The debate between OKX vs Binance has been going on in the Crypto market for a long time, now it's time to find the answer to it. Digital currency is a contemporary way of investing money in today's era. Therefore, today we will compare two of the best crypto exchanges – OKX and Binance. So let's see which exchange is better.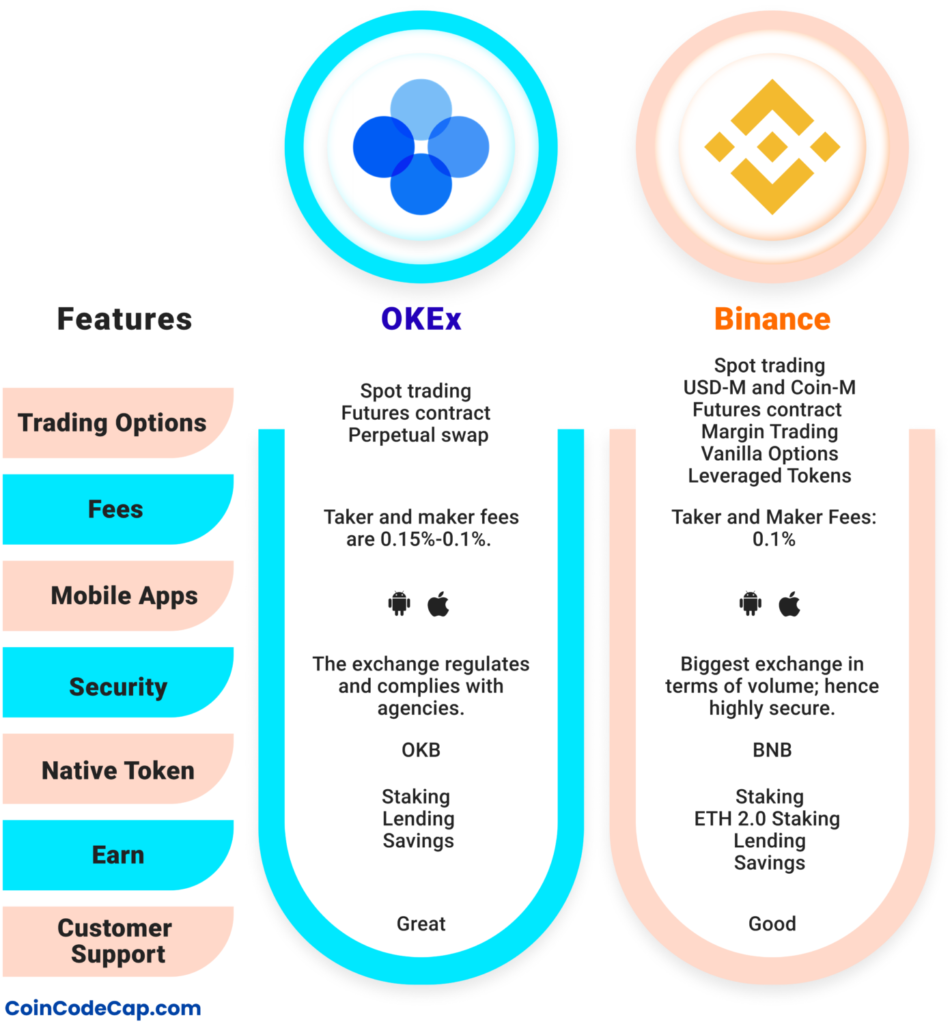 Summary
Firtsly, OKX and Binance are the leading market exchanges of the crypto industry.
Secondly, both the platforms support multiple trading options with few differences.
Further, looking at the trading fees, Binance fees is slightlylower when compared to OKX.
Both of these exchanges have a mobile app that works for both android and iOS users.
Moreover, OKX and Binance both have a robust security mechanism that prevents hackers from stealing their data.
Coming to customer support, OKX steals the show by offering excellent customer support for its users, whereas Binance would require some work on its support system.
Both of these exchanges have various other functions to offer, making them unique in their own way.
Besides having many payment options, with OKX having an edge with the acceptance of Wire Transfer. 
OKX vs Binance: Overview
OKX
The crypto exchange platform OKX was set up in 2017 and is headquartered in Malta. Furthermore, it was set up by its current CEO Jay Hao, and his team of developers. It is an exchange platform that deals with Cryptocurrency and other digital assets. Moreover, it has a technically sound trading platform, making it one of the best in the market with low fees and high liquidity, making it a perfect destination for advanced traders. To know more read our OKX review.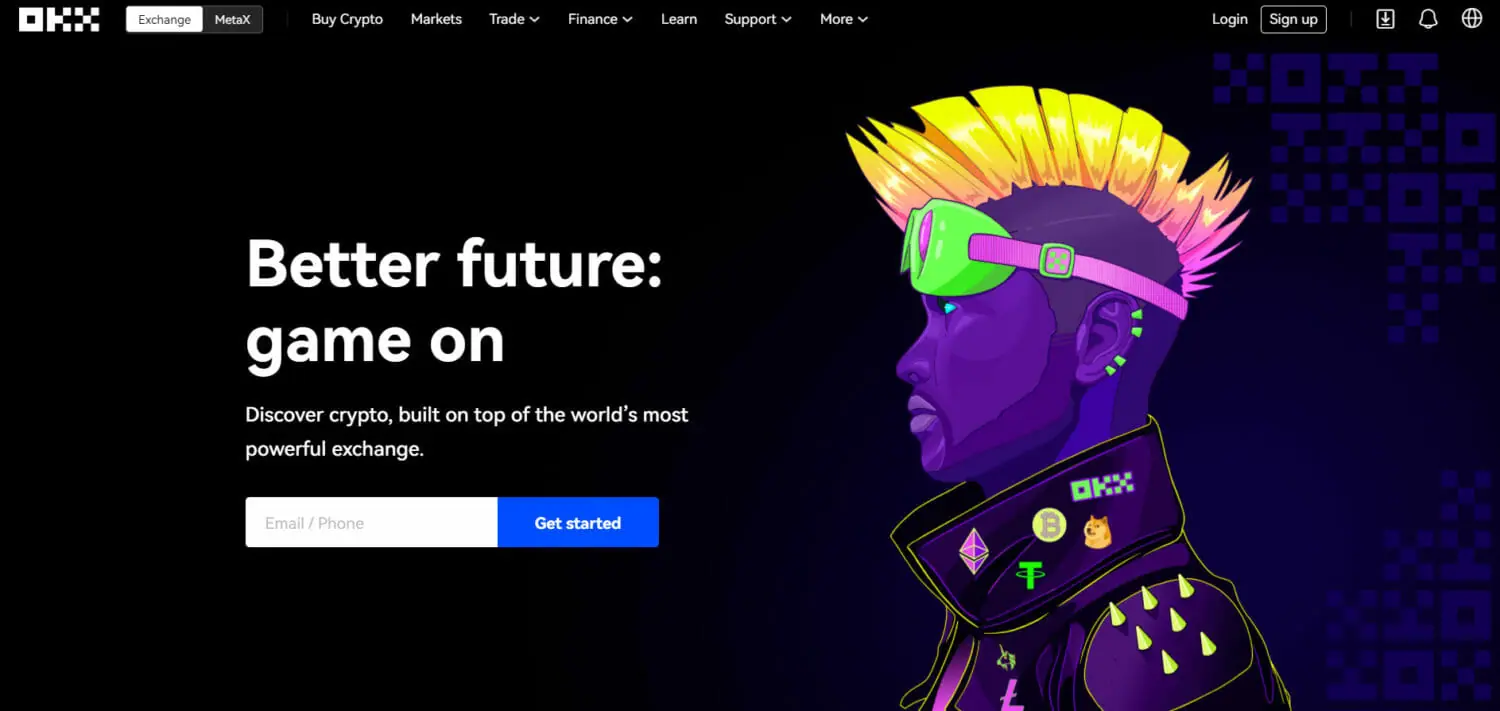 Binance
Binance is currently the largest crypto exchange globally in terms of the daily trading volume and weekly visits. It was founded in 2017 and is domiciled in the Cayman Islands. It was founded by Changpeng Zhao, a high-frequency trading software developer. He created this platform for advanced cryptocurrency traders worldwide who want access to various currencies and features designed to maximize profits. To learn more, read our Binance review.
OKX vs Binance: Features
OKX (Previously OKEx) Features
Integrated storage wallet:- OKX (Previously OKEx) exchange has an integrated storage wallet that helps the users to store their digital assets in it. However, Binance does not provide this feature; instead, it recommends its users download Trust Wallet separately.
Crypto-to-Crypto trading:- It is the act of speculating on cryptocurrency price movements via a C.F.D. trading account.
Crypto-to-fiat trading:- OKX crypto exchange offers this option to trade from Fiat to crypto means buying cryptocurrency with fiat money. So, for example, buying Bitcoin with USD.
Supports several payment methods:- OKX gives its users a variety of payment options. Some are Credit Card, PayPal, Apple Pay, Bank transfer, AliPay, Skrill, Wire Transfer, and many more options.
Also, read 6 Best OKX Trading Bots in the Market.
Binance Features
Cross collateral: Binance offers users an innovative feature to collateralize their crypto assets to borrow against another asset. Learn more about it from here.
Leaderboard: A fusion of social networking and cryptocurrency trading allows users to view and follow the positions of the best traders on the platform.
Battle: This particular feature allows gamification of cryptocurrency trading by placing traders head to head in a battle to see who is the most profitable over a certain period.
Also, read Top 5 Binance Trading Bots.
Binance vs OKX: Trading Options
OKX (Previously OKEx) Trading Options
Spot Trading
Spot trading is the process of buying and selling digital assets for immediate delivery. To simplify, the cryptocurrencies are transferred from the buyers to the sellers directly. In a spot market, you have direct ownership of cryptocurrencies and are entitled to withdraw assets and store them in hardware wallets.

To learn more, read our guide to OKX spot trading.
Futures Contracts
Futures Contracts in the crypto industry mean buying and selling contracts that represent the value of a specific cryptocurrency. When you purchase a futures contract, you do not own the cryptocurrency but own a contract with an agreement to buy or sell a particular cryptocurrency at a specific date and time in the future. To learn more, read our guide to OKX (Previously OKEx) Futures Trading.
Perpetual Swap
Perpetual swaps are derivatives that let you buy or sell the value of underlying assets with several advantages:
There is no expiry date for your position.
The underlying asset itself is never traded.
The swap price closely tracks the cost of the underlying asset.
Unlike the Futures, there is no expiration date, making it a stylish way of trading.
Binance Trading Option
Spot Trading
Binance facilitates spot trading activities, enabling users to conduct fiat-to-crypto and crypto-to-crypto transactions. In particular, spot exchanges act as intermediaries for buyers and sellers to bid and ask for a crypto asset. When a bid or offer is matched, the exchange will simplify the trade. In addition, spot exchanges operate 24 hours a day/ 7 days a week, which means you can buy and sell crypto any time and any day.
Futures Contracts
Binance Futures facilitate the trading of derivative products such as crypto futures. Just like spot exchanges, derivative exchanges operate 24/7. However, the main difference between spot and derivative exchanges is that they have safeguards and risk management mechanisms such as insurance funds due to the complexity of their products. To learn more, read our guide to Binance Futures Trading.
OKX vs Binance: Other Functions
OKX (Previously OKEx) Rewards
OKX has added a new feature where users can earn rewards by doing elementary tasks. For example, one can earn Bitcoins and Rebate cards. To claim the rewards, users should complete the tasks within 30 days of registration. 
OKX Loans
Furthermore, OKX also provides its users collateral to borrow money. The currency of borrowing can be realized and withdrawn at any time, with an ultra-low interest rate and a large amount of borrowing, so the security is guaranteed.
Binance Liquid Swap
Binance Liquid Swap is based on a pool of liquidity. There are two tokens in each pool, and the relative amount of tokens determines the price between them. In addition, you can always trade them as long as there are corresponding tokens in the pool. As a result, Binance Liquid Swap offers more stable prices and lower fees for large transactions.
Also, read Binance Card Review: Is This the Best Crypto Card?
Binance Earn
Binance Earn is a one-stop hub on Binance where you can see all your earning possibilities open for you and the crypto funds you hold. In addition, you can find alternative crypto earning options if you are a Holder. Furthermore, Binance offers other earning options such as Binance staking, lending, ETH 2.0 staking. You can also earn a commission by sharing your Binance referral code.
Binance vs OKX: Mobile App
OKX (Previously OKEx) Mobile App
OKX app is available for both Android and iOS devices. It's a bitcoin trading program that does everything. Users can buy and sell digital goods in any form using the app, regardless of time or location. The software includes:
Real-time streaming quotes.
Deposit and withdrawal functionality.
It has digital wallets for crypto coin storage.
Binance Mobile App
Binance also has a mobile app that is both Android and iOS friendly. However, the app is a bit complex and advisable only for intermediate and advanced traders. Regardless, you can use it at any time and location at the discretion of the user. The Binance app makes it effortless for the users to trade.
OKX vs Binance: Trading Fees
Trading fees determine the number of people wanting to trade from that cryptocurrency platform. Therefore, low fees can play a critical role when trading larger position sizes with margin and performing multiple trades in a single day which can be detrimental to your potential profits.
OKX Trading Fees
The highest trading fees payable for low-volume accounts are a 0.15% maker fee and 0.2% taker fee. However, this drops as low as 0.02% and 0.05% for makers and takers fees, respectively. Additionally, OKX provides the cheapest withdrawal fees among all notable exchanges. For example, at the time of writing, BTC's withdrawal fees on OKX (Previously OKEx) are 0.0004 BTC. Finally, considering deposit fees, OKX does not charge anything to fund your account with crypto.
Binance Trading Fees
Binance fees is charged for trading, buying, and selling, as well as some withdrawals and deposits. You can withdraw funds in USD or one of 55 cryptocurrencies. Minimum withdrawal amounts and fees vary based on your withdrawal method and currency.
| ITEM/ SERVICE | BINANCE COST |
| --- | --- |
| Spot trading fee | 0.1% or less |
| Instant buy/sell fee | 0.5% |
| USD debit card deposit | 4.5% |
| USD ACH transfer withdrawal or deposit | Free |
| USD wire transfer deposit | Free |
| USD domestic wire transfer withdrawal | $15 |
| USD international wire transfer withdrawal | $35 |
One can get a 25% discount on the trading fee by paying in the platform's native currency, Binance Coin (BNB). Your trading fee percentage depends on your trading volume in the past 30 days and BNB holdings.
| TRADE VOLUME | BNB BALANCE | MAKER/ TAKER FEE |
| --- | --- | --- |
| > $50,000 USD | > 50 BNB | 0.1% / 0.1% |
| $50K – $99,999 | 50 – 99 BNB | 0.09% / 0.09% |
| $100K – $499,999 | 100 – 199 BNB | 0.08% / 0.09% |
| $500K – $999,999 | 200 – 399 BNB | 0.07% / 0.08% |
| $1mm – $4,999,999 | 400 – 799 BNB | 0.05% / 0.07% |
| $5mm – $9,999,999 | 800 – 1,499 BNB | 0.04% / 0.06% |
| $10mm – $24,999,999 | 1,500 – 2,499 BNB | No maker fee / 0.06% |
| $25mm – $99,999,999 | 2,500 – 3,999 BNB | No maker fee / 0.05% |
| $100mm – $249,999,999 | 4,000 – 5,999 BNB | No maker fee / 0.04% |
| $250mm – $499,999,999 | 6,000+ BNB | No maker fee / 0.03% |
| $500mm+ | 6,000+ BNB | No maker fee / 0.02% |
Binance vs OKX: Security
Security is one of the most important factors when it comes to trading. Security is essential to preserve user data and funds. Hence, traders need to consider if the exchange is secure.
Is OKX (Previously OKEx) Safe?
OKX (Previously OKEx) is the most secure cryptocurrency exchange, with numerous security measures in place. In addition, it employs cutting-edge technologies such as the cold wallet and the core private key encryption algorithm. As a result of these strategies, it is a sophisticated platform with the best private encryption.
Furthermore, OKX (Previously OKEx) abides by the Virtual Financial Asset Act ("VFAA") and is regulated by the Malta Financial Services Authority. 
Is Binance Safe?
While Binance USA is one of the latest cryptocurrency exchanges on the market, its users and the digital currencies community swiftly managed to gain a high degree of confidence.
However, the exchange does not notify users sufficiently about how the funds are secured, but we want to assume that safety is treated seriously. There is two-factor authentication and always a good sight to see. However, if you're still sceptical about Binance, read the best Binance alternatives.
OKX vs Binance: Customer Support
OKX (Previously OKEx) Customer Support
OKX provides 24*7 help across different modalities. In addition, OKX (Previously OKEx) has a solid and reliable support team to contact traders.
There is a special section for further FAQs. This area of questions often asked functions as a starting guide and resolves all trading queries. By applying, traders can inquire about their doubts.
Traders can also speak directly with their customer support team. In addition, users can contact members directly via their community section on their site. In all, OKX has a perfect customer support mechanism.
Binance Customer Support
The Binance support team reacts responsively and can help traders in need. Support tickets shall be sent online, and responses shall be received via email. The tickets are provided online. Unfortunately, no live chat help and no telephone number are available for clients to contact the support personnel.
OKX vs Binance: Pros and Cons
OKX (Previously OKEx) Pros and Cons
| PROS | CONS |
| --- | --- |
| Over 400 unique trading pairs | Might be a bit overwhelming for beginners |
| Buy or Sell Cryptocurrencies with a diverse set of options such as Bank Transfer, Visa, MasterCard, ApplePay, Paypal, and more. | Geographical restrictions to major countries. |
| Impenetrable Multi-layered Security System | Withdrawal transfer limitations |
| Seamlessly designed mobile app for Apple and Android Users | |
| Zero Deposit Fees | |
| Nominal Trading and Financing fees compared to other options in the market | |
| Extensive range of pro trading options such as futures | |
| An extensive range of over 100 cryptocurrencies supported | |
| Low Fees | |
Binance Pros and Cons
| PROS | CONS |
| --- | --- |
| Low fees | Not beginner-friendly |
| Earn up to 10% APY on holdings | Limited crypto selection in the U.S |
| Buy crypto with a debit card | |
| Crypto-to-crypto or fiat-to-crypto trading | |
| Over-the-counter trading interface | |
OKX vs Binance: Conclusion
After closely investigating both the exchanges, we have seen plenty of similarities in both the platforms, and it boils down to the preference of the users to decide. But saying that, the fee of Binance is slightly lesser than OKX.
Binance is an exchange used by intermediate to advanced traders, and if someone is starting their crypto trading journey, OKX is highly recommended for them. Looking at the support and customer services, OKX will steal the show with its 24*7 availability.
Moreover, Binance could indeed work on it and make it easier for its users. But to sum it up, both these exchanges offer many other features for their users which make them unique in their way.
Frequently Asked Questions
Is OKX safe to trade on?
OKX emphasizes security. Security options such as 2FA, KYC, and M.F.A. have become the standard measure throughout the cryptocurrency industry. In addition, it has a clean record when it comes to hacks. To conclude, yes, OKX (Previously OKEx) is a safe platform to trade cryptocurrency.
Does OKX have an app?
Yes. OKX has an app that works for both android and iOS users. In addition, the app is seamlessly designed and well developed.
Does Binance have an in-built wallet?
No. Binance is not recommended for beginners. However, intermediate to advanced traders should use it.