HaasOnline Review – 10% Discount Coupon
HaasOnline is one of the oldest and most reputable automated trading companies in crypto. Their distinguished reputation comes from their trade automation software that has been executing trading strategies for crypto traders since 2014.
What is HaasOnline Trade Server?
In essence, HaasOnline is a technology company that specializes in high-frequency trading products. Their current flagship product, HaasOnline Trade Server, is particularly popular with traders with experience that are coming from traditional markets such as Forex and are looking to maximize efficiency and profitability within cryptocurrency markets.
HaasOnline Trade Server is a locally hosted trade server that allows you to integrate with over two dozen spots and leverage platforms and uses their API keys without withdrawal permission to maximize your wallet security. In addition, HaasOnline has developed its own proprietary scripting language, HaasScript, which is similar to other powerful languages such as PineScript. You can create, test, and refine automated trading strategies that have never before been attainable with crypto trading.
HaasOnline review: Summary
Privacy-focused
High performance
Capable of complex trading strategies
Quality exchange integrations
Great company reputation
Use coupon "COINCODECAP" to get 10% discount on HaasOnline
HaasOnline Features
Trade bots are not a new concept and have been prevalent in traditional markets for years. HaasOnline was one of the first companies to deliver fully functional trading software for the public to use on some of the earliest crypto exchanges, which is now a common practice.
Custom bots, trade bots, and HaasScript
Their software offers 15 custom bots so that you can choose a trading strategy like scalping, adjust basic settings, and deploy on an integrated exchange.
For example you might want to set up a scalping bot on a sideways market on FTX that uses native limit orders with 0.8% target and a stop loss of 0.4% with a trade amount of 0.005 BTC.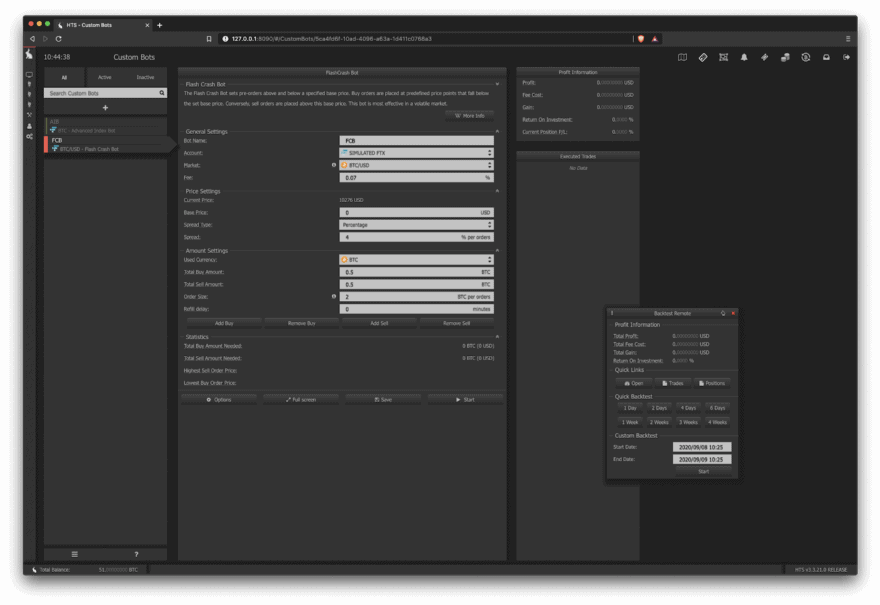 A variation of their custom bot, is the powerful trade bot. Their framework allows you to configure technical indicators that generate buy and sell signals on specific exchanges and selected crypto pairs.
You can even create synthetic order templates if the native exchange order types don't fit your strategy.
In addition, you can combine the technical indicators with proprietary safeties and insurances that help make sure you enter and exit positions based on exchange or price activity.
Want to activate a strategy based on volume and generate buy signals with MACD, make sure trades cover fees, and disable losses?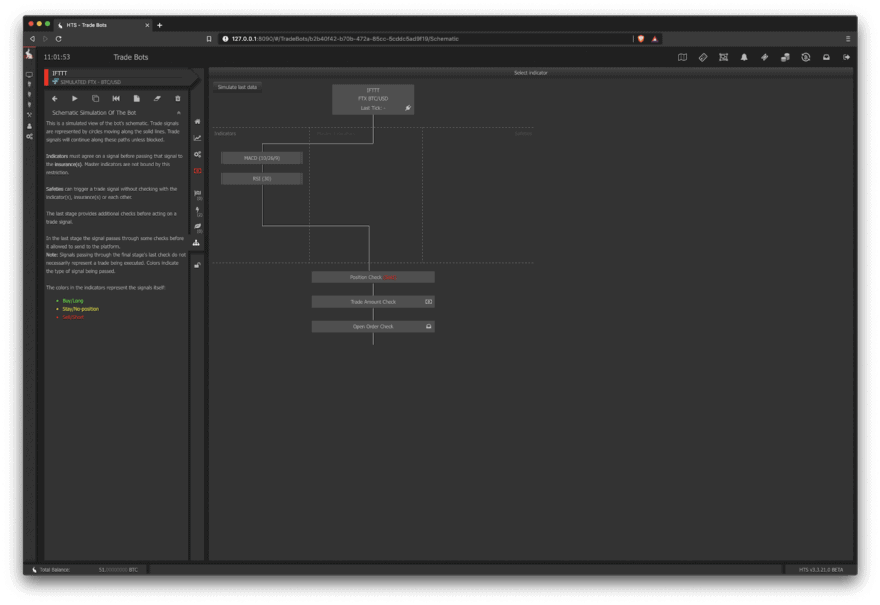 Enter HaasScript. This is HaasOnline's answer to traders who are looking for a highly capable scripting language that can be used to create highly complex trading algos on crypto exchanges.
They offer a visual drag-and-drop designer so you can generate scripts without coding and also an intelligent editor if you like to get dirty.
You might use HaasScript to develop a hedge dollar-cost-averaging strategy or an advanced grid bot that uses the Average True Range. There are very few limitations to what is possible with HaasScript.
Backtesting and paper trading
A key component to creating a resilient trading bot is thoroughly testing your bots with different market conditions. HaasOnline's backtesting engine allows you to choose from closing or order book prices when testing strategies with up-to twelve months of historical market data and is capable of three years.
Watching how your trade bot reacts to live markets with paper trading will help you iron out pesky logic flaws or see missed opportunities in real-time. Paper trading is a priceless tool because you're not risking actual capital during your testing phase. You can choose from price reached or price breached while paper trading with your simulated wallet funds.
Backtesting and paper trading is not infallible, in fact, there are issues and edge cases that we won't get into in this review. You should be aware that live trading conditions can be extremely volatile and change without notice due to external factors like exchange outages.
Use coupon "COINCODECAP" to get 10% discount on HaasOnline
Market data, charting, exchange integrations
Another feature that makes HaasOnline products unique is their dedicated cloud infrastructure. Unlike many of their competitors, they utilize historical price data from redundant sources that allow for quicker and more reliable market data instead of relying on direct exchange API access.
HaasOnline sets an industry standard when it comes to maintaining quality exchanges with its products and they go to great lengths to prevent users from trading on low-quality platforms. They will actively drop support for exchanges that don't maintain their reputation or consistently have degraded API performance, like with the now-defunct Cobinhood.
There are several other massive features like HaasLabs, an indicator scanner, external portfolio management, and so on — you'll need to explore for yourself to grasp the entirety of the platform.
How HaasBot Works
Let's see how HaasBot works
Total Time: 5 minutes
Buy HaasOnline Trade Server License
First, you need to buy the HaasOnline trade server license and create an account on the HaasOnline website with the same email.
Download Software
Next, you need to download the HaasOnline trade server based on your operating system.
Start Creating Bots
Now, you need to create trading bots and connect crypto exchanges to execute them.
Security and Privacy
On-premise
This is both a blessing and a curse for some traders. It offers the highest level of protection from prying eyes and malicious activity but requires a greater level of technical ability.
You are in complete control of your installation, whether you're running it locally or on a virtual private server. We should also note that HaasOnline plans to offer a cloud-based version in the future.
Privacy-focused
Your trade data privacy should be a top priority for all providers, however, this is not stressed enough. There's a growing trend of providers selling or giving third-parties access to everything that you do.
HaasOnline remains one of the only providers that takes your privacy seriously. They do this by not embedding intrusive analytics tracking and because of how they set up the HaasOnline Trade Server infrastructure, there's no chance they can monitor the trade activity between you and your integrated exchanges.
Use coupon "COINCODECAP" to get 10% discount on HaasOnline
Non-custodial trade bots
In an effort to help you keep your exchange wallets secure, HaasOnline Trade Server does not require withdrawal permission in order to execute trades on your behalf.
One of the drawbacks to this is that if you're deploying strategies like an arbitrage bot, you will have to manually settle your accounts.
You might also be interested in:
Let's compare HaasOnline's features and benefits against some of the other popular platforms we've previously reviewed.
HaasOnline vs Pionex
There's a movement of exchanges maintaining and distributing their own trade bots. In this case, the exchange is Pionex. While the concept sounds ideal for traders, there may be potential for conflict of interest between the exchange and traders. Let's explore these possible scenarios.
Limited trade bot availability
Pionex offers several popular trading strategies from grid trading to dollar-cost averaging. However, once you've mastered these techniques there's no room to grow your skills as a trader. With a dedicated and neutral trading platform from HaasOnline, you are able to develop finely tuned trading strategies based on indicators and other safe measures that are tailored to your style of trading.
Transparency issues
Another glaring issue with black box trading strategies that have been provided from an exchange you're trading, is a technique called front running. In this specific use case, the exchange would know every trader's positions or active strategies and could potentially use that information to the exchange's advantage.
Lack of exchange support
One of the final issues with using trade bots provided by Pionex, is that they can only be used and configured for their exchange. Using an impartial trade platform allows you to capitalize on market movement even if your primary exchange becomes unavailable. This also limits proven strategies like arbitraging between multiple exchanges.
HaasOnline vs 3Commas
Both 3Commas and HaasOnline do not have a market place from which traders can unitize to get access to public trading strategies. Let's look into some of the differences between HaasOnline and 3Commas offerings.
No historical backtesting support
While 3commas does offer simulated trading also known as paper trading, there is no internal backtesting engine that lets you test strategies with historical market data. This missing component is a critical aspect of fine tuning high-frequency trading algorithms and allows you to test your strategies in bear, bull, and sideways markets. HaasOnline's powerful backtesting engines gives you deeper insight while backtesting.
Limited trade bot strategies
3commas offers an easy-to-use framework for their built in trading bots that include popular strategies like grid and options trading. This is a great option if you don't require granular control of your trading bots, you're limited to the settings they provide. Both HaasOnline and 3commas lack third-party bot and signal providers through a public marketplace.
HaasOnline review: Privacy and security
There's no surprise that partnerships are commonplace between companies and they help facilitate a healthy ecosystem. However, once a company takes outside investment or relies heavily on subsidies from the exchanges they integrate with, the water gets muddied and can leave you paying the price. This of course is referring to their close relationship with Binance and presents similar concerns as with Pionex.
Use coupon "COINCODECAP" to get 10% discount on HaasOnline
HaasOnline vs Cryptohopper
Where HaasOnline is already a established player supporting features for more advance users, Cryptohopper have some limitations when it comes to supporting trading strategies. Let's see some of the difference between HaasOnline and Cryptohopper offerings.
Entry-level trade bot strategies
Cryptohopper excels fostering a community and platform for entry-level trade bots. You can choose from rigid templates and adjust their settings, which is similar to HaasOnline's custom and trade bots. With the innovation of HaasOnline's HaasScript traders now have scripting capabilities that have only been available to traders in traditional markets.
Limited exchange integrations
It's no secret that experienced traders demand access to high-quality spot and leverage platforms. Cryptohopper does offer around a dozen of some of the most popular exchanges, however they're missing platforms like ByBit, FTX, and BitMEX.
Rudimentary strategy designer
Cryptohopper has created a tool for users to visually create and edit trading bots. However, the designer is limited to technical indicators and other basic settings. In contrast, HaasOnline offers a true drag-and-drop algorithm designer that generates trading scripts using a library of over 600 visual blocks that are built with the powerful HaasScript.
HaasOnline Pricing
HaasOnline do not currently offer a free trial. However, they offer a discounted 2-week trial license, which can be used to test the full software suite without such a large commitment. We also offer public instances setup for you to test configuring HaasBot trade bots within our software.
Public Servers:
Demo Server #1
Demo Server #2 (SSL)
Credentials:
Username: showme
Password: evolution
HaasOnline Trade Server license price starts from 0.047 BTC. If you are a beginner you should start with the beginner plan.
Use coupon "COINCODECAP" to get 10% discount on HaasOnline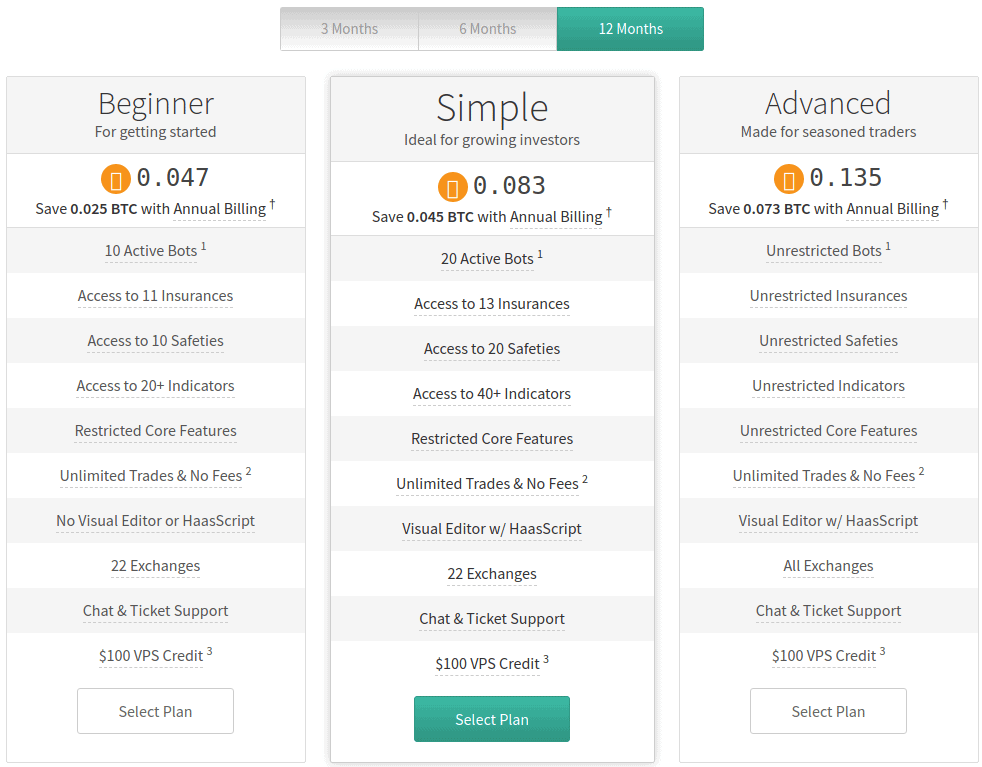 Pros and Cons
Pros
Limitless strategies
High performance
Privacy and security-focused
Cons
Not beginner-friendly
High technical barrier
Premium pricing
HaasOnline review: Conclusion
In conclusion, HaasOnline develops cutting-edge trading technology of which traces can be seen all around in crypto fintech. Their powerful trading bots, scripting language, and analysis tools afford traders the opportunity to maximize their profits and increase efficiency.
HaasOnline's price and learning curve may be too steep for those just getting started with trading, but if you're a power trader coming from Forex or traditional markets and are familiar with tools such as Metatrader, Ninjatrader, or Tradestation you will feel right at home.
Frequently Asked Questions
Can I try HaasBot for free?
Yes! HaasOnline offer publicly hosted HTS instances for you to test configuring HaasBot trade bots and other aspects of our software.
Public Servers:
Demo Server #1
Demo Server #2 (SSL)
Credentials:
Username: showme
Password: evolution
Warning: These are public servers and traffic on the servers can be high. Do NOT use private credentials or personal information on these servers as they're public.
What are the trading fees?
HaasOnline is not a crypto exchange like Binance. It connects to crypto exchange to provide powerful trading tools and charge a licensing fee.
Does HaasOnline have a free trial?
HaasOnline does not currently offer a free trial. However, they offer a discounted 2-week trial license, which can be used to test the full software suite without such a large commitment. We also offer public instances setup for you to test configuring HaasBot trade bots within our software.
Public Servers:
Demo Server #1
Demo Server #2 (SSL)
Credentials:
Username: showme
Password: evolution
HaasOnline Alternatives
3commas is an online platform for people interested in trading cryptocurrencies using automated bots. It is especially attractive for people without a technical background in finance or extensive experience in stock markets. Also, read our 3Commas review.
Bitsgap, a one-stop crypto trading platform that caters to all your trading needs. It allows its users to bring all their crypto-exchange accounts under the same roof and trade from an integrated interface. Also, read our Bitsgap review.
Quadency, a crypto trading automation platform launched in 2018. It brings you a smarter way to trade and manage your crypto. Also, read our Quadency review.
Related Article