The crypto market or the crypto industry has come a long way in the past couple of years, and so have the derivatives trading exchanges. Today, many top exchanges offer derivatives, and with this article, we will look at the "5 Best Derivatives trading exchanges".
Detailed Summary
| | | | | | |
| --- | --- | --- | --- | --- | --- |
| Crypto Exchange | BYDFI | Binance | Bybit | BitMEX | Gate.io |
| Headquarters | Singapore | Seychelles | Dubai | Seychelles | George Town, Cayman Islands |
| Fiat Deposit | Yes | Yes | No | No | Yes |
| Leverage | Up to 100x | Up to 25x | Up to 100x | Up to 100x | Up to 5x |
| Supported cryptocurrencies | AAVE, BNB, DAI, DOGE, USDT, BTC, USDC, XRP, SUSHI, 1INCH, LTC, and many more. | BTC, ETH, OXT, PAXG, ADA, LINK, USDT, and more. | AAVE, BTC, DOGE, ETH, XTZ, SOL, LTC, DOT, ADA, ETC, FIL, and more. | BTC, BCH, TRX, ETH, LINK, LTC, DOT, BNB, ADA and many more. | BTC, ETH, SOL, XRP, SHIB, DOGE, AVAX,GALA, and many more. |
| Mobile App | Yes, Available for both Android and iOS. | Yes, Available for both Android and iOS. | Yes, Available for both Android and iOS. | Yes, Available for both Android and iOS. | Yes, Available for both Android and iOS. |
What is a Crypto Derivative Exchange?
A derivative exchange is like an organized marketplace that transfers financial risk from one party to another. Crypto derivative platforms facilitate trading in cryptographic assets. These are a little different from spot exchanges, where all the buyers and sellers of cryptos execute their crypto orders via direct trades and without using derivatives.
List of best derivative trading exchanges
1. BYDFI
What is BYDFI?
BYDFI trading exchange is one of the best cryptocurrency trading platforms present in the crypto market. The platform has been running in the market since 2019 and has its headquarters in Singapore.
Besides, it has a massive network covering almost 150 countries, allowing all its traders to trade independently of their country.
In addition, BYDFI trading aims to provide the opportunity to all of its current traders from around the globe to trade their crypto assets with utmost ease. This is because BYDFI strongly believes in the concept of "Complex contract simple trade."
Is BYDFI safe or legit to use?
Yes, BYDFI trading is an absolutely safe, legit, and reliable platform. All the platform traders can trade without worrying about their owned assets on BYDFI. Furthermore, the platform takes and implements all safety measures in order to reduce fraud and online theft.
Moreover, BYDFI has set up many wallets that are stored online to keep its trader's assets more secure. Furthermore, the platform also makes use of SSL encryption and has acquired several licenses over the past few years.
BYDFI App
The mobile app that BYDFI provides all its traders is much easier to access than the actual website. Although the BYDFI app contains almost all the same features as that of the website, it is still easy to use and much faster.
Further, traders may be sitting anywhere and at any time, but they will still have access to the crypto market and copy trading. The mobile application is made available for devices with Android and iOS.
BYDFI: Pros and Cons
| | |
| --- | --- |
| Pros | Cons |
| In order to do technical analysis, BYDFI provides all its traders with multiple charting tools. | The platform provides only limited withdrawal options. |
| The trading platform is safe to use as it has a number of licenses. | |
| Demo trading accounts are made available for novice traders in order to try their hands on the platform. | |
| BYDFI trading platform is all about providing its traders simplified trading experience. | |
Also read: Bybit vs. Binance vs. BYDFI
Binance
What is Binance?
Binance exchange stands amongst the most renowned and world's leading cryptocurrency exchanges that C.Z. aka Changpeng Zao founded in July the year 2017. Initially, Binance was situated in China, but later with time, it was moved from there because of all the strict cryptocurrency laws existing in China.
As a result, Binance's current headquarters is in Malta. Moreover, the exchange has been experiencing astounding success since its inception in the crypto market.
Furthermore, we can say that Binance is like a one-stop-shop for buying and selling cryptos, crypto loans, cryptocurrency trading, liquid swaps, earning interest, and many more things.
Is Binance safe or legit to use?
Yes, the Binance exchange is a safe and legit trading platform that uses a multi-system security architecture. The funds related to all the trader's accounts are stored in air-gapped cold storage wallets.
Besides, in order to increase security, the platform also makes use of 2FA (Two factor authentication), where a confirmation email is sent out to traders for every withdrawal that is made.
Furthermore, traders can also enable 'Anti-Phishing,' which will give them a code in each email. This is to make sure that they click on an email sent by Binance only.
Binance App
The Binance app is the most renowned apps and is only available to non-US citizens and residents. However, U.S. citizens and residents should install the Binance.US application. The Binance mobile application design lets traders switch between Lite and Pro interfaces with a single tap.
Also, the mobile application is simple, yet it has access to most of the advanced trading features. In addition to this, the app is made available for Android, iOS, Windows, and also Linux devices.
Binance: Pros and Cons
| | |
| --- | --- |
| Pros | Cons |
| Binance platform is an easy-to-use platform that further provides all its traders with many tutorials on how to use it. | As a lot of options are provided by Binance so it can sometimes be a little tricky and overwhelming for traders. |
| About 150 currencies are supported by Binance. | |
| The trading fees in Binance are low as compared to other platforms. | |
| Traders can make use of fiat money in order to do deposits and withdrawals. | |
Bybit
What is Bybit?
Founded in the year 2018 and based in Singapore, Bybit exchange is a unique crypto derivative exchange that focuses on leverage trading. As a result, the platform offers up to 100x leverage, essentially on trading pairs like ETH/USD and BTC/ USD.
In addition to this, Bybit has also built up considerable and sizable liquidity in a short period.
Furthermore, one noteworthy point here is that traders cannot use Bybit in the U.S., just like numerous other crypto exchange platforms, due to U.S. regulatory issues.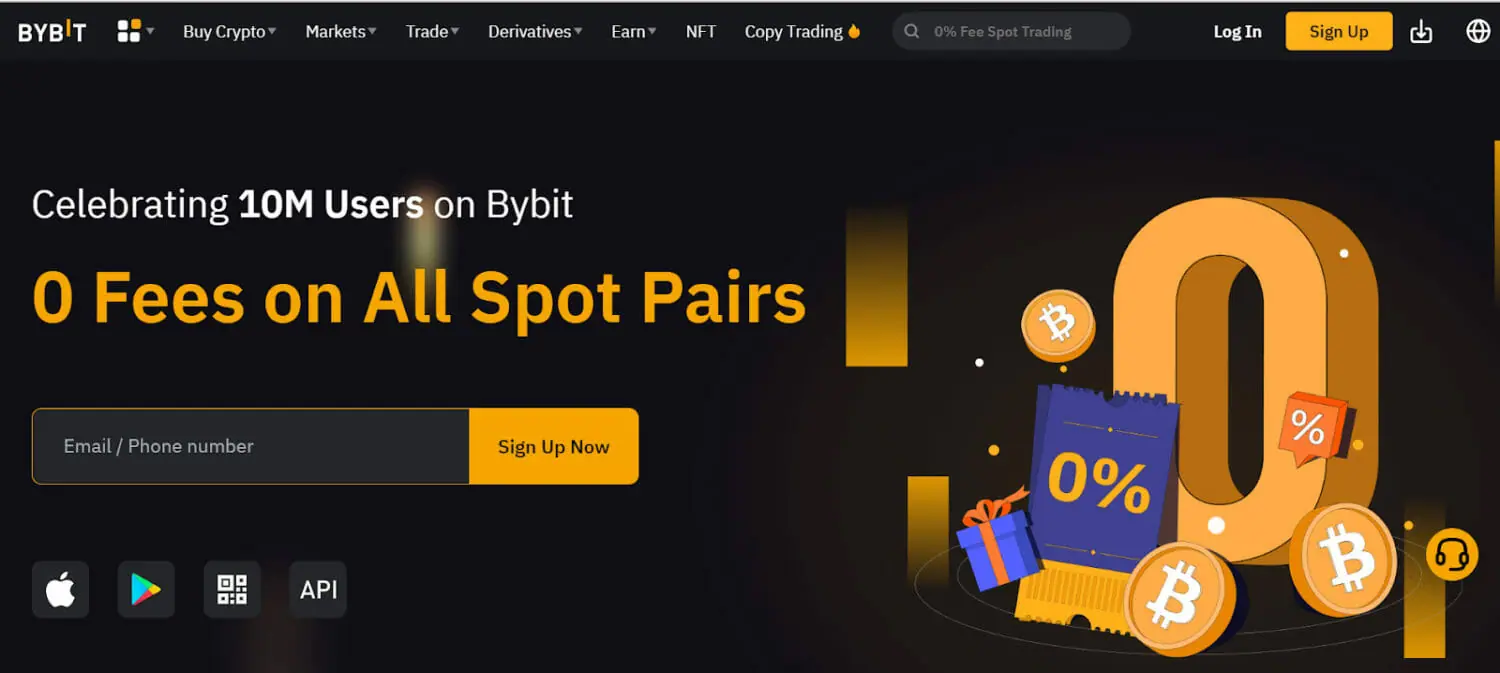 Is Bybit safe or legit to use?
Bybit is a safe and legit platform and has included the below features to keep the exchange platform safer for trading.
Bybit has been built on the impenetrable cold wallet system that stores all the traders' funds offline in order to keep them safe from digital thefts. The deposit address given to the traders is a cold wallet address.
Traders are allowed three withdrawals in a single day. If the public keys do not match, the trading gets immediately frozen, and the system is closed.
It also makes use of two-factor authentication via email, Google Authenticator, or SMS.
SSL encryption is also made in use for website security.
Bybit App
Traders can now have access to all the unique features of Bybit anytime, anywhere on their android and iOS devices. The Bybit app aims to provide a fast, seamless and better trading experience to all traders.
Furthermore, with Bybit's multilingual support, traders can check their balances, monitor their positions, and also quickly place a trade with a few clicks.
Bybit: Pros and Cons
| | |
| --- | --- |
| Pros | Cons |
| Bybit exchange is most suitable for investors and technical traders. | The platform's user interface can be a little intimidating for novice traders. |
| It tracks real-time market data and also provides a smooth trading view. | The platform is not made available to U.S. Traders |
| Traders can connect to the biggest tuned community on discord. | |
| NFT trading is available in Bybit and is extremely secure. | |
BitMEX
What is BitMEX?
BitMEX is among the world's most advanced peer-to-peer crypto trading platforms. Moreover, it stands for Bitcoin Mercantile Exchange. The platform has been running in the market since the year 2014. BitMEX allows all its traders to deal with crypto and future margin trading with a leverage of their choice.
Is BitMEX safe or legit to use?
BitMEX exchange stores all of its trader's funds in offline wallets and makes use of its one-of-a-kind multi-signature deposit and withdrawal scheme. The BitMEX exchange engine operates in KDB+, which banks use to protect their servers from hackers.
Moreover, the platform also runs bug bounty programs on platforms known as HackerOne. Traders can participate in this bug bounty program by clicking here.
BitMEX App
BitMEX app was launched in the year 2020, and now it is currently available in over 140 countries. The application provides all the trading exchange's critical account features. Traders can learn more about the mobile application by clicking here. The BitMEX mobile app is available on both Android and iOS.
BitMEX: Pros and Cons
| | |
| --- | --- |
| Pros | Cons |
| There are trial versions of the website provided by BitMEX, which is known as BitMEX testnet. | BitMEX's user interface is not that up to date. |
| The leverage offered by them is up to 100x. | Deposits and withdrawals on the exchange platform are only accepted in bitcoins. |
| They provide great customer support service and high liquidity. | Verification of accounts is mandatory in order to begin trading. |
| They pay a maker's rebate and charge competitive market fees. | |
| There are a lot of features for professional traders. | |
Also read: How to use BitMEX in the USA?
Gate.io
What is Gate.io?
Gate.io is among the earliest crypto-to-crypto exchanges from China. The platform was then revitalized to Gate.io in 2017. However, at current times it is not associated with China and seems to be US-based. Its headquarters is located in Virginia.
It serves the wide crypto community with more than 367 markets, including some major ones like USDT, BTC, CNYX, ETH, and time-limited markets.The team that works behind Gate.io is still not known.
However, its availability is almost worldwide except for a few like Washington State, Crimea, North Korea, New York State, Cuba, Iran, Sudan, Syria, Pakistan, and Venezuela.
Is Gate.io safe or legit to use?
Yes, Gate.io exchange is safe to use and also comes with enhancing security both for traders as well as their servers. The traders are provided with many Gate.io security tricks to keep their funds protected like Two-factor authentication (2FA) with Google Authenticator, Login verifications, Blind IP logins, Additional fund withdrawal passwords, SMS 2FA, Blind IP logins, and Anti-Phishing code.
In addition to this, Gate.io ranks among one of the most secure crypto exchange platforms. However, it continues to strive for better in the security area.
Gate.io App
Traders who spend most of their time using their smartphones can totally rely on this fantastic Gate.io app. The trading platform has made a lot of effort to make this the most likable mobile application among traders. This mobile app is made available for both Android and iOS users and is easily downloadable from either App Store or Play Store.
Gate.io: Pros and Cons
| | |
| --- | --- |
| Pros | Cons |
| Gate.io platform comes with over 400+ markets and consists of a wide range of cryptos. | The F.A.Q. section of Gate.io is not up to the mark and lacks some details. |
| Advanced features are made available to the traders. | Fiat deposits are not available. |
| There is no deposit fee that is charged on Gate.io. Also, the trading fees are low. | There is a little lack of transparency. |
| The trading platform has a user-friendly interface, making everything easy for novice traders. | |
Conclusion
There are many factors that should be kept in mind while deciding on the best derivative trading exchange. If you are in quest for a simple platform yet a powerful pick, BYDFI can be one of your choices. Moreover, Bybit and Binance can also be great choices if you are searching for many powerful platforms.
Frequently Asked Questions
u003cstrongu003eHow to trade short on BitMEX?u003c/strongu003e
At the BitMEX trading platform, traders can either open short or long positions. By opening a short, traders will be predicting a fall in the underlying assets' value. Therefore, in order to go short, traders have to enter all the required details on the trading tab and then hit the short/sell/red button that is present on the screen. 
u003cstrongu003eWho can all create a sub-account at Gate.io?u003c/strongu003e
A sub-account is like a secondary account which is basically used for facilitating investment and all asset management strategies. Traders can create up to 20 sub-accounts by VIP5-VIP 9 main account, and VIP10-VIP 16 can make up to 100 sub-accounts. 
u003cstrongu003eWhat is a Binance Card?u003c/strongu003e
The Binance Visa Card present on the Binance website is a crypto card that works almost similar to any of the debit cards with some more features added to it. For example, traders through this u003ca href=u0022https://coincodecap.com/binance-card-reviewu0022 target=u0022_blanku0022 data-type=u0022postu0022 data-id=u00229016u0022 rel=u0022noreferrer noopeneru0022u003eBinance Cardu003c/au003e app can deposit their funds in fiat or cryptocurrency. In addition to this, they can make use of this card for making regular payments without selling cryptos, thus, making your experience as a trader completely seamless.