Ethereum has been in the market for far too long and has a massive adoption among developers and investors. Further, to build on top of the Ethereum blockchain it is essential for developers to own ETH, and for that, they'll need some of the industry-leading Ethereum wallets.
| | | | |
| --- | --- | --- | --- |
| Wallet | Type | Security | Pricing |
| Trezor Model One | Hardware | Firmware and pin verification along with BIP39 passphrases and U2F hardware token. | 49 EUR |
| Coinbase Wallet | Digital | Provides privacy settings and provision for biometrics verification. | Free to use but network fee applicable. |
| Metamask | Digital | Sets password for each instance of Metamask using recovery seed plus non-custodial nature. | Gas Fee applicable. |
| Fortmatic | Digital wallet | The private keys are encrypted and stored in AWS's Key Management Solution along with SOC 2 Type 1 compliant. | Gas Fee applicable. |
| Ledger Nano S | Hardware | Secure Element (SE) and Ledger live security. | $59 |
| Exodus | Digital wallet | Lock wallet provision and provide 2FA with a hardware wallet like Trezor. | The network fee is applicable. |
Crypto Wallets
A crypto wallet is nothing but hardware or software programmed to store your private and public keys for cryptocurrency transactions. This essentially means that you can either make an account on the wallet-providing website/app or buy a device that does this work.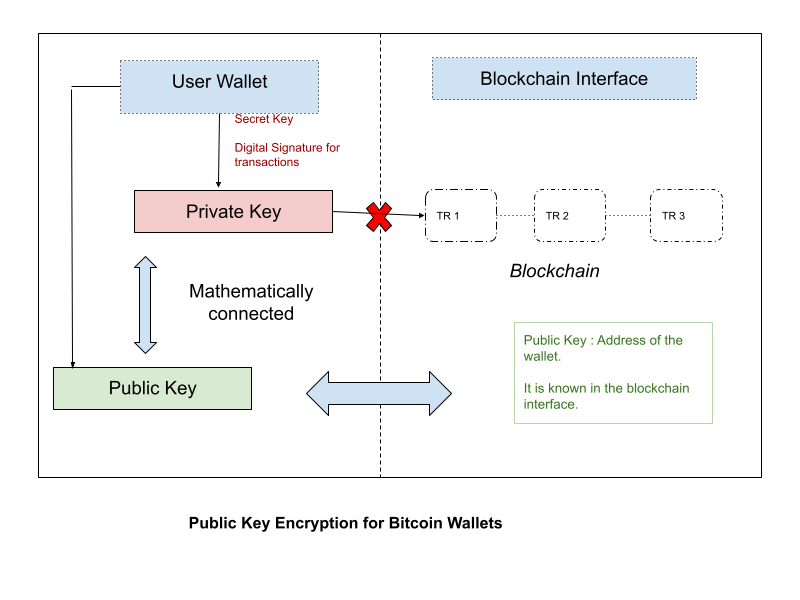 How do crypto wallets work?
Crypto wallets work the same way as public-key encryption.
The protocol has two keys- private and public.
The private key is generated at random, which has a respective public key.
A public key is generated from the private key, and this public key undergoes hashing to create an address.
This address can be shared to transfer crypto to wallet(s).
The private key(s) should only be accessible by the user. Never share this with anyone else.
Points to keep in Mind
There are several factors to consider while selecting a wallet.
Type of Wallet: There are several types of crypto wallets. Wallets with desktop and mobile versions primarily provide complete access to the keys. Hardware wallets are the safest ones.
Classification: Apart from the above type, wallets are categorized as hot wallets or cold wallets based on the connectivity to the internet. Web, mobile and desktop fall under the hot category and hardware wallets fall under the cold ethereum wallet. One should go for a non-custodial crypto wallet.
Multi-currency crypto wallet: A wallet must extend support to multiple currencies.This would allow you to transact different currencies with ease.
Link crypto wallet to bank account: Make sure you check whether your crypto wallet allows you to transact to and fro from your bank.
Here it is, our top picks for Ethereum Wallets in 2021.
Trezor Model One
Trezor One is a hardware wallet developed at SatoshiLabs.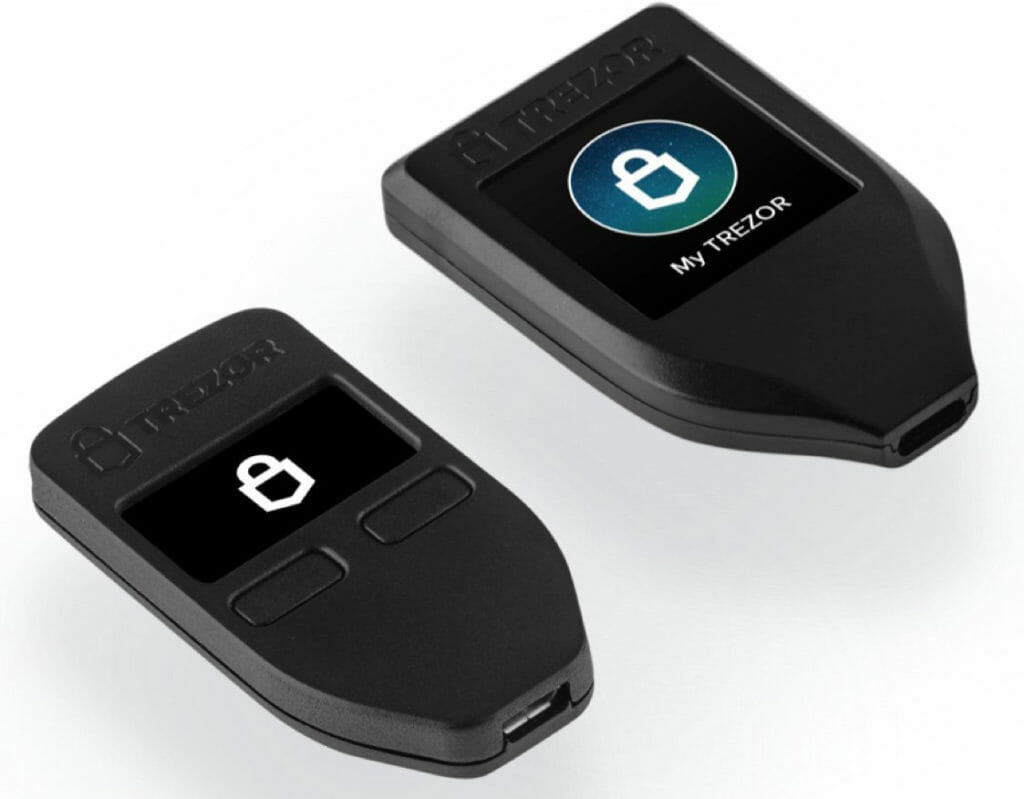 Features
Description
Accessible
Hardware Device.
Supports Desktop Platforms: Windows, macOS
LinuxMobile Platforms: Android and iOS
Application Interface
Desktop app suite with native altcoin support.
Trezor One Security
Firmware verification.
Key operations authenticated by PIN.
BIP39 passphrases supported.
U2F Hardware token.
The bootloader is not vulnerable to attacks involving write or JTAG manipulation.
Multiple Cryptocurrency
Trezor One coins include more than just Ethereum.
Display
Monochrome along with 2 buttons.
Support
Premium support provided.
Recovery
Recovery seed generated in the case restoring is required or because of hardware loss.
MicroSD Card
Not available for this version.
Colours Available
White and Black
Dimensions
Size: 60mm x 30mm x 6mm (2.4in x 1.2in x 0.2in)
Weight: 12 g (0.42 oz)
Screen Resolution
Bright OLED 128×64 pixels.
CPU
120 Mhz embedded ARM processor.
Trezor One Price
49 EUR
On Purchase Accessories
Trezor Model One device.
Micro USB Cable2x Recovery seed card.
Trezor Stickers
Recommended For: Since Trezor crypto wallet is a cold wallet, anyone who prioritises security and likes HODL assets should go for this. There are newer models to come in the market with advanced updates but they fall on the pricer end. You can know about trezor model t vs trezor one in our comparisions articles.
Ledger Nano S vs Trezor one vs Trezor T vs Ledger Nano X
Coinbase Wallet
Coinbase is an exchange platform as well as a wallet platform. Both are exclusive to each other. Coinbase Wallet is a digital wallet that not only stores crypto-like Altcoins but also digital art or NFTs on the user's device itself. Read our Coinbase wallet review to know more.
Features
Description
Accessible
Available as a Mobile app for Android and iOS. Also available as a chrome extension.
Interface
Easy to use.
Needs good processing power for mobile applications.
Coinbase Token supported
ETH along with popular altcoins as well as bitcoin.
Coinbase wallet Security
Provides privacy settings. You can either go public or private (anonymous) as per your preference.
Add biometrics/ passcodes/ face id, whichever is compatible with your environment.
Seed phrases for backup.
Complete ownership of private keys
Coinbase support for DEXes
Users can access decentralized exchanges to trade cryptos.
Users also have access to crypto platforms from the app.
Lending Service
The wallet allows users to accumulate interest by lending and shows the balance on the wallet screen quite easily.
Username Service
This name can be used instead of long addresses to send/receive cryptocurrency.
Coinbase wallet Fee
Applicable fee when transferring on the network (not using coinbase exchange).
Wallet Switch
By importing the 12-word recovery seed, you can switch to this wallet.
KYC
Not required.
Is a coinbase account required for a wallet?
No.
Backup Feature
Encrypted google drive and iCloud recovery phrase backup.
Metamask
What is metamask wallet? Well, Metamask is a community of individuals who work on blockchain technology so as to create a space where people have access to the decentralized web in an autonomous manner. It is a wallet as well as a browser.
Trust Wallet vs MetaMask – Which is the Best Crypto Wallet?
Features
Description
Accessible
Android and iOS. Browser Supported: Chrome, Firefox, Brave, Edge
Metamask Wallet Tokens supported
ETH and ETH based tokens.
Security
It provides you with a 12-word secret recovery seed.
Sets password for each instance of Metamask using recovery seed.
The user data is stored on the user's device. It is non-custodial.
Gas Fee
Applicable for all work done. It includes a base fee + priority fee. A normal transaction costs about 21,000 gas.
Withdrawal in Fiat
Metamask wallet or platform does not support exchange for fiat. This has to be manually done by sending your tokens to any exchange and then cashing it out.
Recovery
The 12-word seed can be recovered via password. However, if the password is lost on the user end then there is no way to recover the phrase.
Metamask Collectables Supported
Yes
Any Hardware Wallet support with Metamask?
Trezor and Ledger when used with the extension. Mobile support is yet to come.
MetaMask as a Browser
You can buy, send, spend or exchange your assets. You have exposure to all things the decentralized web has to offer.
Fortmatic
Formatic is an ethereum wallet. The fortmatic wallet app is specifically designed to make the wallet experience user-friendly. Fortmatic is now known as Magic. To know more, read our Fortmatic wallet review.
Features
Description
Accessible
Web Browser: Desktop and Mobile supported modern browsers.
Private key storage and Security
The private keys are encrypted and stored with the trusted 3rd party that is AWS's Key Management Solution.
SOC 2 Type 1 compliant and non-custodial HSM architecture.
Formatic Token supported
Ethereum based tokens include ERC20 and NFTs (ERC720, ERC1155).
Non-Custodial Formatic Wallet
Since users directly interact with AWS's Key Management Solution, it surpasses Formatic's system. Hence, Formatic has no access to the user's keys.
Dapps that can be used
Zerion, Uniswap or Opensea.
Deposit Funds
You can either buy: Moonpay or a Debit/Credit Card. Deposit crypto you already own.
Recovery of 2FA codes
A backup png with a scannable QR is created. This QR can be scanned.
Gas Fees
Calculated as Gas Limit* Gas Price
Fortmatic Gas Fees
The fees incurred goes to the miners, not Fortmatic ever.
Importing Private Key or Seed Phrase
Not supported.
Transferring Crypto into Fiat
Not supported.
Ledger Nano S
Ledger Nano S wallet is one of the most in-demand hardware wallets in the market. It has a more advanced version known as Ledger Nano X. Nano S is a beginner-friendly hardware wallet with the following specifications. Below are the features of Ledger Nano S ethereum Wallet and multicurrency wallet. You can also earn free crypto on Ledger Nano S through staking,
Features
Description
Type
Hardware Wallet.
Exchange Platform
Ledger Live.
Ledger Nano S supported coins
Ethereum plus all leading tokens.
Security
Secure Element (SE): A type of chip that is extremely secure in comparison with the other chip available. It can even hold out against external attacks.
Transaction to and fro and on Ledger Live is secured by the ledger wallet.
Backup of a 24-word recovery phrase.
Connection
Can be connected to a laptop or phone via USB.
Material Used
Brushed stainless steel and plastic.
Nano S Dimensions
56.95mm x 17.4mm x 9.1mm
Nano S Weight
16.2g
Compatibility
Windows 8.1+, macOS 10.14+, Linux all 64-bit supported. For phones, Android 8.1+ and this is all via an OTG kit.
Microcontrollers and Connector
USB Type Micro-B with CC EAL5+ and ST31H320 (secure) + STM32F042.
Screen Resolution
128*32 pixels.
Ledger Nano S Apps (capacity)
6 apps pre-installed and ~100+ supported
Ledger Nano S Price
₹5,265.00 without GST and duty.
Colours Available
Matte Black, Saffron Yellow, Flamingo Pink, Jade Green, Lagoon Blue, Transparent.
What's in the Box
1 Hardware Wallet and 1 USB cable.
Recommended For: HODLers who are looking for a safe, affordable and secure hardware wallet should go for this. It is quite appealing and easy to carry.
Note: Ledger Nano S chrome app has been replaced by Ledger Live.
Check out Ledger Nano S vs Trezor one vs Trezor T vs Ledger Nano X for a detailed comparison of the above-mentioned wallets.
Exodus
Exodus is a well-liked mobile and desktop wallet. Now the question is "Is exodus wallet safe?" and in their own words the answer is "Exodus is only as secure as the computer it's installed". For this very reason, they have 4 Tiers of suggested security guides to prevent external attacks.
Features
Description
Accessibility
Mobile and Desktop
Exodus Wallet Security
Lock wallet provision where the wallet itself gets locked after a selected amount of time and everything is re-encrypted.
Provides 2FA with a hardware wallet like Trezor.
Exodus Wallet Supported Coins
Including Ethereum, 145+ assets are supported.
Buy and Sell Support
Provided.
Send and Receive Support
Provided and easy to use.
Exodus Wallet Fees
Only the network fees are incurred. Exodus does not charge any fees for sending or receiving.
Does not charge for transactions when withdrawing.
Custom Fees
You can set custom fees for transactions.
Exodus Wallet Backup
Exodus creates a backup once you start using its services.
Recovery Phrase
Use your 12-word secret phrase to restore access.
Hardware Wallet Support
Trezor Model T and Trezor One
Exodus Compound Finance Support
Compound Finance built on the ethereum blockchain. Exodus only allows users to lend DAI into it.
Is Exodus open source?
It is built on open-sourced components but as a whole, it's not completely open-sourced.
Technical Support
Provides 24/7 human support.
Exodus Wallet to Bank Account
Currently does not support transfer to the bank.
Note: Exodus has updated app navigation. You can find documentation regarding this navigation on their official site.
Best Ethereum Wallets: Conclusion
The rule of thumb in the cryptocurrency world is that one should always HODL their crypto assets on the hardware wallets. However, it is also a rule of thumb that you DYOR (Do Your Research). Always make sure that the wallet you go for also supports multiple cryptos since the crypto market is volatile and doesn't hurt to keep your options open. Therefore, our best choice for the Ethereum wallets is Ledger, Trezor, and Coinbase wallet.
Frequently Asked Questions
What is a multi-currency crypto wallet?
A multi-currency crypto wallet is a wallet that supports the storage of more than one cryptocurrency. These wallets also support their transaction and all their activities. Suppose you have Ethereum coins but you might want to invest in something other than ETH, for storage you might want to look at a multi-currency wallet.
What are cold Ethereum wallets?
Cold wallets are offline wallets that have minimal to no connectivity to the internet. Hardware wallets are categorized as cold Ethereum wallets. For example, Ledger Nano S. These wallets are the most secure wallets with extensive security protocols and strong backup and recovery.
Also read,