To be precise, KuCoin is an easy to use, safe, and secure crypto exchange with features such as futures trading, margin trading, trading bot, lending, etc. Think reading the entire article is too much? Here's a brief KuCoin review to help you out:
| | |
| --- | --- |
| Spot/ Margin/ Futures | Available |
| Maker Fee | 0.10% |
| Taker Fees | 0.10% |
| Sign-up Bonus | UPTO $500 USDT |
| Crypto Lending | UPTO 300% USDT APR |
| Buy Crypto | Credit/ Debit Cards Supported |
| Support | Decent |
| App | Android, iOS |
| Trading Bot | in-built KuCoin bot |
| Token | KCS Discount token |
Summary (TL; DR)
KuCoin has around 5 million users from 200 countries.
Further, it has over 200 cryptocurrencies and more than 400 markets.
It allows users to earn crypto by lending or staking through its Pool-X.
This platform comes under those with the lowest fees in the market.
They have their coin Kucoin Shares (KCS) tokens.
The platform has 24/7 customer services support. It's an additional impressive benefit.
It allows you to trade anonymously. However, by verifying your account, you will be able to use and enjoy more features.
The platform efficiently works well on desktop computers, Android, and iOS.
What is KuCoin?
KuCoin is a safe and easy-to-use cryptocurrency exchange platform for the global audience to trade crypto assets. Furthermore, the platform is based in Seychelles and the founding members are experienced in running projects such as Ant Financial and iBox PAY.
Kucoin is often called "The People Exchange." The platform offers various features such as trading bot, margin trading, futures trading, lending, etc. Furthermore, according to the platform 1 out of 4 HODLers globally use KuCoin;
Kucoin has its cryptocurrency, Kucoin Shares (KSC). If you hold KSC coins, you will get an impressive discount on trading fees and earn more crypto. Furthermore, according to CoinMarketCap, KuCoin is among the top 10 crypto exchanges in the world.
KuCoin Review: Core Features
We told you earlier about the advanced features of KuCoin, and now we talk about the various other parts of this platform. If you are still wondering whether KuCoin is the right choice or not, then take a look at some of KuCoin's core features to get your question clarified.
User-Friendly and Interactive Platform – KuCoin's interface has a contemporary design where traders can enjoy the fun of robust trading. This feature will make trading even more enjoyable for you.
Efficient Engine – It can handle millions of transactions per second (TPS).
Advanced-level Charting – You can look for exciting and advanced charts on Kucoin for a more in-depth understanding of your trading strategy. KuCoin uses TradingView Charts which have indicators too, with the help of which you can reach a decision.
Order Types: Kucoin offers limit, post-only, stop, market, and iceberg orders.
Non-custodial Trading : In Cooperation with Arwen, KuCoin now supports the trader to opt for non-custodial trading directly from their wallet to ramp up their crypto security. If you opt for Non-Custodial trading, exchange platforms don't have custody over your money. On Kucoin, you as a trader will have complete ownership and responsibility for your money.
As rightly said, "Not your keys, Not your Crypto".
KuCoin lets you download a private key file or a mnemonic phrase. To protect your coins, Arwen uses the blockchain itself as an escrow agent and does not entrust a third-party authority.
KuCoin Review: Products
Margin Trading: The margin trading feature wasn't available until November 2019. Using this feature, investors and traders can use other users' funds on Kucoin to gain a higher capital amount. This allows them to leverage positions. On Kucoin margin trading, there are 15 cryptocurrencies like KCS, ETH, and BTC are available.
Futures Trading: KuCoin officially launched Futures trading in July 2019. It was previously called KuMEX, and its other name is contract trading. With this service, users buy and sell future standardized contracts of financial assets. According to this service, the buyer buys assets at a particular price and specified time (Delivery date) in the future. In contrast, the sellers will have to deliver the asset at that specific price and time.
OTC Trading Desk: In July 2019, KuCoin officially launched OTC Trading Desk that is the Over-The-Counter Trading Desk. Under this service, traders can execute larger trades with specific prices without causing any fluctuation in the price of that crypto. It allows users to purchase USDT, BTC directly, and other cryptocurrencies using CAD, IDR, VND, and CNY. KYC is compulsory to start OTC trading.
Lending: The lending platform at KuCoin allows customers to lend cryptocurrencies to other users while earning decent interest on their crypto. Here's a brief overview of lending on KuCoin.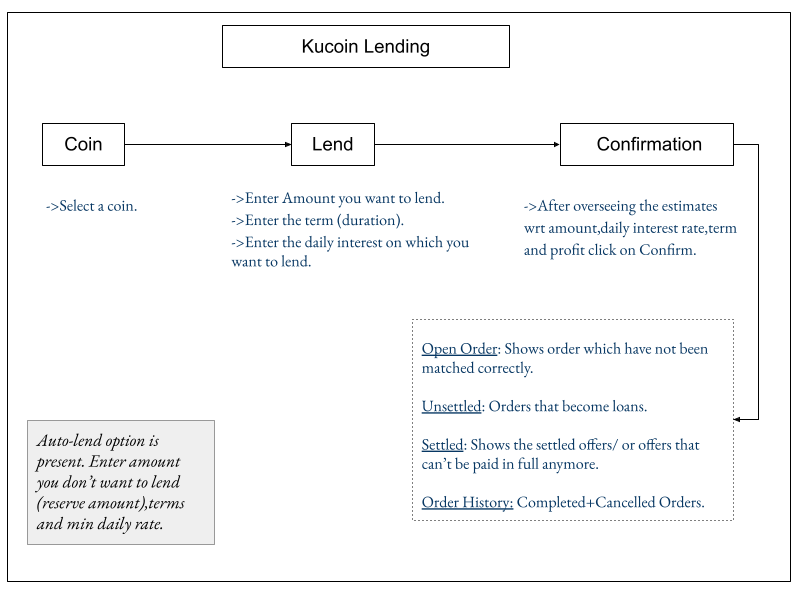 KuCoin Trading Bot
The kuCoin trading bot is only accessible via the platform's mobile app. At the moment, the trading bot covers two trading techniques in general. The first is DCA, and the second is traditional GRID. The traditional grid can be used to purchase low and sell high in a given price range. Dollar-Cost Averaging, on the other hand, is a strategy of investing in which investments are made on a regular basis. To learn more, read How to Use the KuCoin Bot?
KuCoin Leveraged Token
Leveraged Tokens are tokens accompanied with the feature of leverage, which is under the management of the fund manager. It aims to bring traders with a specific multiple of profits of the underlying assets by trading Leveraged token shares. For instance, if the underlying asset is BTC, when its price increases by 1%, the net value of BTC3L will increase by 3% whereas that of the BTC3S will drop by 3%.
How to use KuCoin Exchange?
Before knowing how to buy on KuCoin, you must know how to get started on KuCoin. No worries, it's straightforward to get started since verification is optional if you are planning to make small trades. However, to reap more benefits, you may want to get your identity verified. For which all you will need is an email ID and an identity document.
Sign Up on KuCoin
Enter your email address and choose a solid password to start the KuCoin login process. Keep an eye on your email address to receive the confirmation link.
Complete KYC at KuCoin
Adding 2-factor authentication can enforce extra-level security for your account. To enable this, you have to find the Settings tab and look for 'Google 2-step'. However, if you are a new user, you will first install the Google Authenticator app. Thus, you will complete the formal security check-ins that were necessary to create your account. You may get a verified account by uploading the document of identity required, and your KYC will soon be approved.
Further, before placing any buy or sell order you'd have to create a KuCoin trading password. This helps in protecting your account from mallicious attackers or people accessing your account without your permission to place buy or sell orders.
How to fund KuCoin?
To see the existing trading pairs, check out the market overview screen, which compromises new, rare, and popular coins. KuCoin has a clean layout. Hence you can find all the tabs and categories easily.
If you haven't selected or decided on a coin, you can click on 'Deposits' under the 'Assets' section of the top main menu. Here, you will find a list of coins that you can deposit. Also, the Spot Trading option lets you see the coin's chart and your order book. If you have already decided on the coin part, click on the 'Deposit' option, select the coin from the list or search for it. Then select an account, add the address and amount and paste it on the withdrawal platform.
Demo Trading at KuCoin
Cryptocurrency trading is overwhelming but it becomes more profitable when you understand the working of the financial market. Moreover, it requires knowledge of the price movements along with a lot of practice. Therefore, the Kucoin demo trading account helps beginners to create trading strategies that work. This enables the users to get aware of the market.
How to buy Crypto on KuCoin?
Cutting to the chase, let's tell you about how you can start your trading journey on KuCoin.
Firstly you should fund your account.
You can click on the 'Markets' option visible at the screen's top if it is. Here you can search for the coin you want in the search bar on the page's top right side. Kucoin will show a list of available trading pairs for the currency you wish to buy. Kucoin has more than 300 different trading pairs.
Click on the trading pair which matches the coin deposited. It will lead you to the main trading screen, where on the right side below the order list, you will find a buy box.
Now all you have to do is enter the number of coins you want to buy, click on the best price button and click on the green buy box to complete trading. It's that simple.
How to withdraw money from KuCoin?
You can withdraw money from KuCoin in two ways; one is directly transferring the crypto you own, and the other is selling the crypto for fiat and then withdrawing it into your bank account. Let' look at the steps to withdraw crypto:
Login to your account and head over to the assets section.
If you have funds in trading account, transfer them to your main account.
Click on the crypto you wish to withdraw.
Click on the withdraw button.
Make sure you've enabled 2FA or Google authenticator.
Paste you wallet address, and verify yourself using 2FA or Google authenticator.
Kucoin Fees
One of the main reasons why KuCoin has so many users is that it offers the lowest fees than other altcoin exchanges. The Kucoin trading fee is simple and straightforward, so users find it easy to understand.
Spot Trading Fees
Here, in KuCoin spot trading, every deal has a fixed fee of 0.1%, which is below the global industry average. Users' 30-day trading volume and Kucoin Shares holdings determine the decrease in the spot trading fees. You also get other trading fees discounts based on the factors mentioned above.
The participants of institutional investor programs also get significant trading fee discounts.
Futures Trading Fees
KuCoin Futures has adjustable USD/USDT lending rates because the relative funding rates can be positive or negative. The Futures funding happens after every 8 hours. Below is the detailed list of Kucoin future trading fees:
KuCoin Withdrawal Fees
KuCoin withdrawal fees is the lowest in the crypto industry. It charges 0.0004 BTC whenever a user makes a withdrawal of BTC. This fee is below the industry level, which is another user why millions of people prefer it. The withdrawal fees depend on the different cryptocurrencies that are available on this platform. You can check it here.
KuCoin Deposit Fees
KuCoin deposit fees are zero. It means it does not charge a penny to users for depositing related transactions.
Buying Limits
You can withdraw up to 2 BTC per 24 hours without verification with a 1400 USD limit for buying. Verifying your account raises your withdrawal limit to 100 BTC per 24 hours, and KuCoin incurs a 1400 USDT fiat-to-Crypto trading limit. Moreover, a Verified institutional report presents your withdrawal limit to 500 BTC per 24 hours and your trading limit to 70,000 USDT.
Supported Cryptocurrencies
As per CoinMarketCap, KuCoin has over 400 markets for ~200 cryptocurrencies like BTC, ETH, MXR, DAG, BCH EOS, LTC. Moreover, you can also get tokens like DADI, KCS, OMG, etc.
As of February 23, 2021, you can buy crypto with 22 added fiat currencies on KuCoin through the Simplex, Banxa, and OTC platforms. The supported fiat currencies include EUR, GBP, RUB, CNY, AUD, KRW, JPY, TRY, VND, IDR, CAD, ZAR, NZD, HUF, ILS, PLN, SEK, CHF, CZK, DKK, NOK.
Supported Countries and Languages
The global reach of KuCoin is simply amazing. KuCoin supports countries like UK, US, Canada, Australia, Singapore, India, Japan, etc. The top fiat currencies with which you can buy coins are USD, EUR, CNY, GBP, CAD, AUD, and many more.
17 languages are available, including English, Russian, Dutch, Portuguese, Chinese (simplified and traditional), German, French, Vietnamese, Spanish, Italian, Turkish, Malay, South Korean, Indonesian, Hindi, and Thai. 12 different languages and prices are also available in more than 30 fiat currencies.
KuCoin API
Coming to KuCoin API, the platform provides extensive services such as Quantitative trading strategy, trading fee discount, interest-free loans, SandBox trading competition, etc. to its users. To learn more, about the KuCoin API, you can click here.
KuCoin P2P
In February 2020, the exchange launched its instant exchange service. Not only this, but KuCoin has also made a notable increase in the number of supported fiat currencies for crypto purchases through its "Buy Crypto" with a bank card option.
On June 24, 2020, KuCoin announced that its P2P crypto marketplace supports buying and selling using PayPal, among other convenient fiat payment methods.
The team is constantly improving and adding new features regularly, which will help you in the Kucoin exchange.
KuCoin Referral Code
The platform offers UPTO a $500 KuCoin Sign up bonus. You can claim your sign-up bonus by using the KuCoin referral code: rJ45SVB or using the button on the left to create an account on KuCoin.
Is kuCoin Safe or Legit?
Yes, KuCoin is a safe and legit crypto exchange as it provides bank-level asset security to ensure the safest environment possible for all transactions and account holders.
It uses various security measures like micro-withdrawal wallets to both splits. It secures your withdrawals as they take place, dynamic multifactor authentication, industry-level multilayer encryption, and a dedicated internal risk control department to ensure that your funds are safe.
Further, the KuCoin team regularly checks whether groups are doing day-to-day data operations following strict security standards or not.
Kucoin has over 6 million registered users as of now. It keeps gaining the trust of many others by keeping a check on your trade's security and dedicating a considerable amount of resources to adding new security features.
What is the KuCoin Hack?
According to the on-chain data company, Chainalysis, on 25th September, 2020 hackers stole over $275 Million dollars in on of the biggest crypto exchange hacks. The below graph represents how the hackers used decentralised protocols to launder the stolen assets.
However, the platform has learned from its past mistakes and has increased its security levels. As of September 27, 2021, KuCoin is functioning as one of the biggest exchanges. However, if you're a trader with high volume then prefer using hardware wallets instead of storing your funds in centralised exchanges.
KuCoin Customer Service
The KuCoin customer service is entirely focused on and aware of your trade issues. They take immediate action if needed. Help is available 24/7. You also get the FAQ section and the feature of live chatting to get your questions solved.
Later in the article, we have talked about KuCoin's well-structured maker and taker fee, high liquidity, and security in more detail.
KuCoin Pros and Cons
While KuCoin boasts of several valuable features, it also has some cons. Here, is a summarized table for better understanding.
| | |
| --- | --- |
| Pros | Cons |
| Simple UI with advanced charts and order books | No bank deposits are available. |
| Free deposit and very low trading fees | Higher fees for fiat-crypto trades |
| The high number of assets available to trade | Some difficulties faced during high-traffic periods |
| Enabling of buying of crypto with fiats | |
| KuCoin Lending comes with UPTO 300% APY. | |
| Non-compulsion of KYC (compulsory for withdrawals) | |
KuCoin Review: Conclusion
KuCoin has been successful in making trading enjoyable, transparent, and interactive with its advanced API. It has about 456 trading pairs to choose from and is currently #6 on the "Top Cryptocurrency Exchanges."
It is a relatively young exchange platform in the industry experiencing significant growth. It is serving about six million users currently, which tells us about the reliability of this platform.
We have covered almost everything in this blog. From KuCoin's liquidity to security to the trading, possibly everything has been touched. The core features mentioned in this blog will help you make a well-thought-out decision about using KuCoin.
Kucoin has been built with exceptional features and is undoubtedly one-of-a-kind. Hence, soon, it wouldn't come as a surprise to see KuCoin take the lead in the crypto industry.
Frequently Asked Questions
Where is KuCoin based? Where is KuCoin located?
KuCoin is a cryptocurrency exchange based in Seychelles.
Is KuCoin KYC verification necessary?
Yes, we strongly recommend all KuCoin users complete the KYC verification. KYC verified accounts could also enjoy a higher daily withdrawal limit. KYC can also reduce money laundering, fraud, terrorist financing, and other malicious activities. But yes, You can still make small trades without a verified account. You can withdraw up to 2 BTC a day without KYC.
Can we buy crypto using fiat currencies on KuCoin?
Yes, KuCoin supports 22 different fiat currencies for buying coins.
Can you use a credit card on KuCoin?
KuCoin has partnered with Banxa to enable current and new KuCoin users to purchase cryptocurrencies using Visa/MasterCard, Apple Pay and 10 other payment options.
Can I trust KuCoin? Is KuCoin Legit?
In terms of trading fees, KuCoin is one of the lowest fee exchanges. KuCoin's biggest competitor is Binance, as both exchanges have similar competitive strategies. They both charge almost equally low fees. KuCoin shared (KCS) offers additional advantages.
How much can you transfer on the KuCoin platform?
The limit varies depending on the mode of payment. Whether you are performing a transaction using Paypal, Wire transfer, or Interac e-Transfer. Each of them has its limits. Check out here the limitations of each of the methods.