Decentralized Finance (DeFi) and blockchain-based Financial Technology (FinTech) platforms are all the rage these days.
These platforms take some of the best parts of the traditional finance realm and enhance them using the efficiency of blockchain technology and the profitability of cryptocurrency assets like Bitcoin (BTC).
YouHodler is one such platform that's gained a lot of notoriety this year due to its diverse range of lending, trading, exchanging, and interest-earning capabilities.
With its user-friendly interface, it's never been easier to enter the world of crypto-finance than it is with YouHodler.
So if you have some money and want to start making it work for you, here are four ways to do it right now on YouHodler.
#1. Open a YouHodler Savings Account and Earn 12% Interest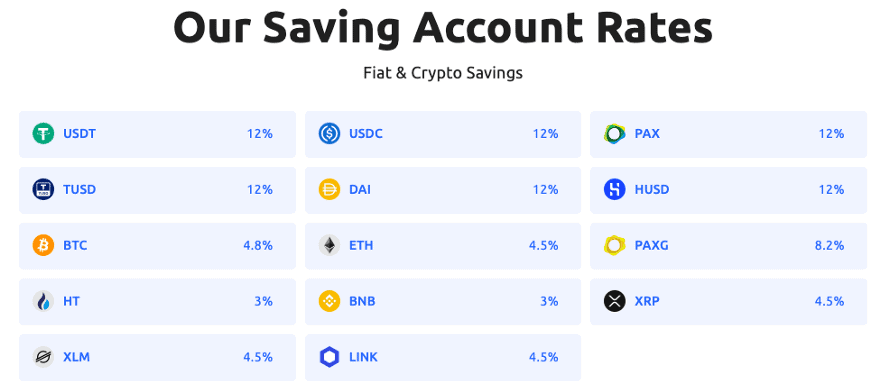 Perhaps the quickest way to start earning a passive income on YouHodler is through the platform's famous savings accounts.
As you can see in the photo above, they have fourteen different cryptocurrency and stablecoin options to choose from. Rates range from 3% – 12% and feature compounding interest.
To start, simply sign up on YouHodler, verify our ID and then deposit the crypto of your choice into the appropriate crypto wallet.
Immediately, the platform will start calculating your interest, updating earnings every four hours, and paying out the profit every seven days.
Users can deposit up to $100,000 worth of crypto into their accounts. If they want to earn interest on amounts above $100,000, then they can open a Multi HODL position and earn interest on the value of that entire position. More on that later.
Also Read: BlockFi vs CoinLoan vs Nexo | Best Lending Platform?
#2. Use a crypto-backed loan to buy more crypto
There are two different types of HODLers in the world of crypto: passive HODLers and active HODLers.
Passive HODLers are the people who buy crypto and then sit back and watch it rise and fall.
These types generally don't like to take risks and while that's fine, they will miss out on potential profits as a result. Active HODLers, on the other hand, prefer to take profits into their own hands.
A crypto-backed loan is a perfect tool for the active HODLer who doesn't want to sell their crypto but wants to buy more crypto also.
YouHodler is the best platform for that due to their industry's best loan to value ratio of 90%. Here's an example of how you can use it to your benefit: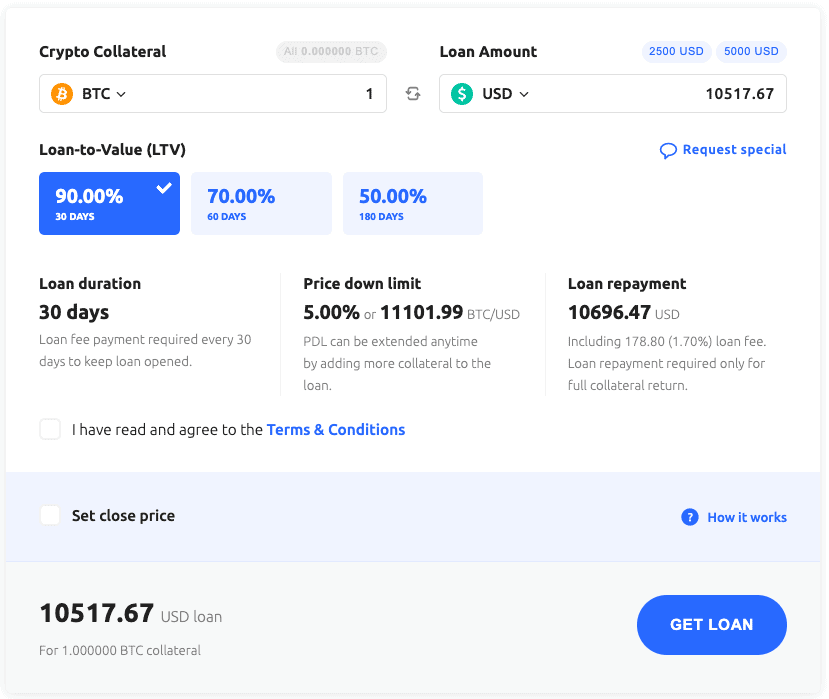 Let's say you have 1 BTC (priced at $10,000 for this example) and you want to buy more BTC while the market is down to take advantage of a good price.
Instead of using your hard-earned cash or selling that Bitcoin for fiat, use it as collateral on YouHodler. With a 90% LTV, you get $9,000 to go buy 0.9 BTC.
Now, when you pay back the loan, you have 1.9 BTC, which is equal to $19,000. Then, a week later, the price of BTC goes up 10% meaning you now have more than $21,000. All this came from just one simple crypto-backed loan.
#3. Take a chain of loans and profit with Turbo Loans
YouHodler's Turbo Loans takes the previous strategy and "turbocharges" it. Instead of taking a single crypto-backed loan to buy more crypto, you can now take a chain of loans to multiply your crypto instantly more than x6. Here's how it works.
How YouHodler Works
Choose Your Crypto
Choose crypto to use as the initial collateral
Select Plans
Select a loan plan
Select Loans
Select how many loans you want to have in the chain (3-10)
Set Close Price
Set the close price of the loan (optional)
Turbocharge
Click "Turbocharge" and multiply your crypto
In this specific example, the user started with just 1 BTC and by the end of the Turbo Loan now has 6.5 BTC. Then, when the price of BTC rises, the user can cover his loan payment and keep the extra profit.
#4. Profit when the market goes up and down with Multi HODL
Also Read: Gemini vs BlockFi – How to Earn more Interest Rates?
While Turbocharge is best used for bull runs, YouHodler's Multi HODL tool takes the same concept and applies it to both bullish and bearish market conditions.
Multi HODL uses the same "chain of loans" principle but with several more additions to help users control their risk and profit more.
Another major difference is you can multiply the sources funds via various cryptocurrencies market behaviour, even if you don't own that cryptocurrency.
For example, let's say you have $15,000 and want to multiply it using BTC's volatility, but don't actually own BTC.
That's not a problem since Multi HODL is lending you money to either buy more crypto or sell more crypto spending in the direction you choose (up or down).
From there, simply choose the multiplier amount (x2 – x20). This dictates how many loans will be in the chain.
More loans equal to more buying/selling power. Another cool feature about Multi HODL is that users can set their own Take Profit and Margin Call levels, which will help them exit the market at the perfect time without 24/7 monitoring.
Once all the parameters are set, the user clicks "starts" and can actively follow their chosen crypto's growth or decline via YouHodler's hourly, daily, weekly, and monthly chart varieties.
This is not only a very fun tool but a fantastic way to benefit from each and every movement of the crypto market.
Taking a look at crypto charts, you'll notice they move constantly, with many peaks and valleys.
Each peak and each valley symbolizes an opportunity to profit and Multi HODL's automatic ability makes it easy to do with just a couple clicks of a button.
Well, that sums up everything for today. These are just four main ways to make money with YouHodler but don't let that stop you. Get creative with this diverse platform and let us know how you discovered a new way to benefit.