With minimal regulations and price fluctuations almost every single day, many people believe that cryptocurrency investments are a massive risk. However, if you play your cards wisely, you can earn a great deal of interest for the money you invest in the ever-expanding crypto market. One of the fastest-growing sectors in the crypto industry is crypto interest accounts via interest-bearing savings account.
There is no shortage of crypto savings accounts available these days, but it can also make things a bit confusing. This is particularly true for people who are relatively new to the crypto world.
Features of Cryptocurrency Savings Accounts
Typically, the best cryptocurrency savings accounts out there are ones that feature the following:
High-interest rates
No deposit fees
No locking of funds
No need to invest in a platform token to unlock higher rates
Compounding interest rates
Good security
A large list of currencies to earn interest on
Now that we know what to look for in a good savings account, let's introduce you to the basics and then compare a few to help you make the best decision on where to put your funds.
What are cryptocurrency savings accounts?
Crypto storage accounts provide users with complete access to the crypto market, allowing them to gain interest, similar to how a regular bank savings account works. If you plan to make long-term investments in the cryptocurrency world, an account like this can be ideal for accruing interest and safeguarding your coins at the same time.
As mentioned earlier, there are plenty of crypto investment options available these days. However, every crypto savings account is different and has its own sets of features, options, etc. If you are new to cryptocurrency savings accounts and wondering which one would suit you the most, continue reading this piece as it lists down some of the best.
This table briefly compares the most interesting options from the companies below. Read further for more detailed information about each company.
| Category | YouHodler | BlockFi | Hodlnaut | Linus | Gemini | Outlet Finance | Celsius Network |
| --- | --- | --- | --- | --- | --- | --- | --- |
| Min. Amount | From 100 USD | No Minimum | No minimum | From 500 USD | No minimum | No minimum | No minimum |
| Duration limit | Unlimited | Unlimited | Unlimited | Unlimited | Unlimited | Unlimited | Unlimited |
| Stablecoins max.APR % | 12% | 9.3% | 8% | 4% | 8.6% | 6% | 11.55% |
| StablecoinOptions | USDT, USDC, TUSD, HUSD, PAX, DAI, EURS | USDC, GUSD, PAX, USDT, BUSD, PAXG | DAI, USDT, USDC | USDC | DAI | No | USDT, USDC, TUSD, TGBP, TAUD, TCAD, THKD, PAX, DAI, etc. |
| Mobile app | iOS, Android | iOS, Android | Soon iOS | No | iOS, Android | iOS, Android | iOS, Android |
| Founded | 2018 | 2017 | 2019 | 2019 | 2015 | 2017 | 2017 |
| Security | Ledger Vault | Gemini | BitGo | No data | FDIC | Fireblocks | FireBlocks and PrimeTrust |
1. YouHodler
Let's start this list with the best crypto savings accounts out there. This savings account for cryptocurrencies offers users unmatched variety. Whether you want to invest in bitcoin or any other type of cryptocurrency, you can breathe a sigh of relief knowing that you can use YouHodler for your crypto-saving needs.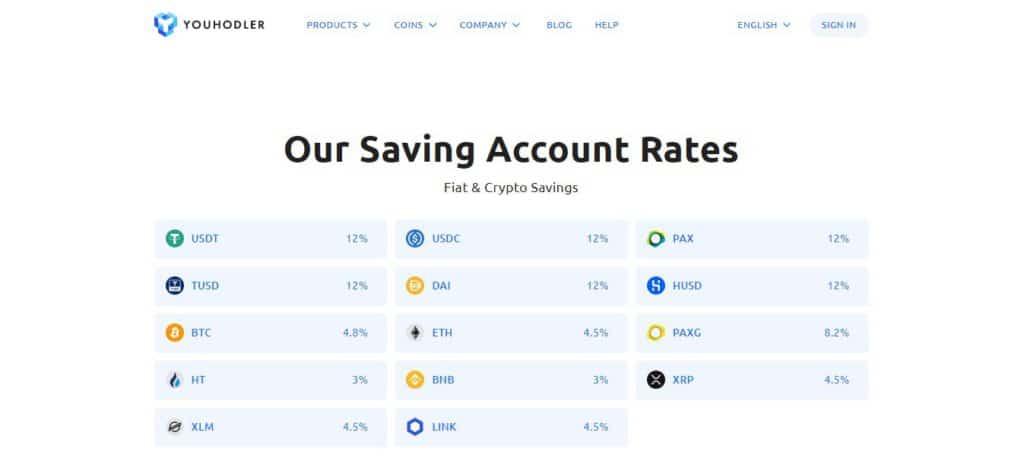 What makes YouHodler stand out from a large number of crypto apps is that it enables you to earn around 12% APR along with compound interest on a variety of cryptocurrencies and stable coins. With this crypto savings account, users can easily gain interest by making investments in various cryptocurrencies like XRP, BCH, LTC, LINK, ETH, Bitcoin, etc.
The main stablecoins you will find on this platform are EURS, DAI, BUSD, HUSD, PAX, PAXG, TUSD, USDT, and USDC. Each crypto savings account must offer a high level of insurance and security and this one is arguably the finest. While a large number of Bitcoin savings accounts are very limited when it comes to cryptocurrencies (most of them only feature bitcoin), YouHodler takes the extra step and offers some other features too.
This platform has a handy conversion tool that allows clients to purchase Bitcoin and several other cryptocurrencies at excellent conversion rates. What's most impressive about all of this is that YouHodler users don't have to worry about any limitations. If you happen to be an experienced trader, this crypto saving app has advanced tools known as Multi HODL and Turbo Charge.
Using these tools, clients can take loans to short or long the cryptocurrency market. The method is tremendous for using small sums of capital to increase the chances of profits. There are no withdrawal or deposit fees associated with the crypto savings account at YouHodler. That said, you may need to pay a small sum of withdrawal fees for some cryptocurrencies and stable coins.
To learn more, read our comprehensive YouHodler review.
2. BlockFi
If you're an active member in the crypto ecosystem, chances are you probably heard about BlockFi. The crypto lending giant recently announced their $350M series D investment round with a $3B valuation.
An established crypto lending platform, BlockFi is a great platform for those who want to take their crypto assets to the next level. Whether you're a seasoned investor or just found out about crypto recently, there's something for everyone at BlockFi.
Currently, BlockFi offers interest account, trading account, and crypto-backed loans. The interest-earning accounts support 8 digital assets where users can earn up to 8.6% APY in which the interest is accrued daily and can be withdrawn monthly. It's good to note that BlockFi offered lower interest rates for BTC and ETH compared to others in this list, however, it does provide higher interest rates on stablecoins.
Another exciting feature from BlockFi is the credit card with a Bitcoin rewards program. Right now, there's a waitlist available for early adopters of BlockFi. However, the card is slated to be released in the US only at the moment with a limited release in a few states.
To learn more, read our comprehensive BlockFi review.
3. Hodlnaut
Hodlnaut is one of the leading crypto borrowing and lending platforms based in Singapore whose mission is to provide financial services to cryptocurrency users. The platform currently has over $100 Million USD of Digital Assets under Management and is growing at an average of 20% month on month.
The main feature of Hodlnaut is the savings account. The Hodlnaut Interest Account supports five different asset classes: Bitcoin (BTC), Ethereum (ETH), Dai (DAI), USD Coin (USDC), and Tether (USDT). With the Hodlnaut Interest Account, users can grow the productivity of their idle assets with an effective annual percentage yield of up to 8.3%.
Hodlnaut will credit the accrued interest to the user's account every week on Monday. Besides Interest Account, Hodlnaut also offers Corporate Loans. Through crypto loans, clients can obtain a credit line using their crypto assets as collateral. With loans starting from $50,000 and flexible loan-to-value, 25%-100%, Hodlnaut can tailor the loans to fit the client's business needs.
Hodlnaut is a certified Fintech by the Singapore Fintech Association, an accreditation recognized by the MAS (Monetary Authority of Singapore). Hodlnaut is also currently undergoing license application under the PS Act 2019 (by the MAS) and is looking to become the first regulated entity in Singapore within the Crypto Borrowing and Lending Space.
To learn more, read our Hodlnaut review.
4. Gemini
Gemini is one of the most secure cryptocurrency savings and exchange accounts you will find. Based in the United States, Gemini has FDIC protection and has been free from hacks so far. The platform is relatively straightforward and its user-friendliness makes it an excellent option for anyone looking to invest in crypto.
You will need to fund your Gemini account using a bank account. The max funding limit (per day) on Gemini is 500 and 1500 USD per month, with a daily withdrawal limit being USD 100,000. This crypto savings account also lets you earn excellent interest on your savings with its Gemini Earn feature.
5. Linus
Linus, which some people also refer to as Linus Financial LLC, is a renowned crypto savings account that offers an incredibly high yield. Matt Nemer, the CEO and Founder of Linus used to be BTC Incorporated's Head of Finance. It would be fair to think of this company as a cryptocurrency and blockchain-based savings account. However, since it is not insured by the FDIC, it leans more towards the side of the investment.
Linus offers retail consumers an excellent opportunity to utilize high yield savings with the help of its open finance protocols. What's more, you only need to make an initial deposit of five hundred dollars for this cryptocurrency savings account without worrying about maintaining it. Linus pulls off a tremendous APY of 4%, which is quite incredible for a savings account. This is mainly because this company is far different from a traditional savings account.
The customers at Linus are more similar to investors rather than depositors. This savings account essentially converts USD to USDC, which is more than a simple cryptocurrency. For those who are wondering, it is known as stablecoin. When this savings account converts USD into USDC, they become available in digital capital markets.
What's most impressive about this savings account is that you can use your debit card for transferring cash to your account at Linus, a convenience that very few offer. With this crypto savings account, you can do as many transfers as you want with Linus. However, keep in mind that you may not be able to access your money right away.
6. Outlet Finance
If you are looking for a cryptocurrency savings account that offers highly competitive interest rates, few options would be as good as Outlet finance. Backed by the renowned blockchain solution company Consensys, Outlet Finance is a highly recognized name among crypto savers across the world. This company offers a lot of value to those looking for nontraditional crypto savings accounts.
Outlet takes advantage of blockchain technology for lending digital dollars and generating interest that goes as high as six percent. It specifically utilizes Ethereum smart contracts in conjunction with the Celsius network, which is a famous lending platform.
Outlet makes use of stable coins for completing transactions. Instead of going through fluctuations like a lot of currencies, the stable coins act like fiat currencies, keeping things stable all the time. So, once you start depositing your funds using Outlet, they become accessible to the borrowers. This is the reason why this savings account offers high interest.
7. Celsius Network
This is another lending platform based on blockchain. Celsius formed during 2017 and released its very first coin in 2018. This crypto savings account company is based out of the UK and it aims to target what accounts based in the United States haven't been able to capitalize on, and that is access to interest and credit income.
It would be fair to say that Celsius, at its core, is a lending solution that takes full advantage of blockchain technology. What makes this crypto savings account stand out is that it allows people to borrow or even leave their cryptocurrencies for lending, to earn interest later. Celsius allows you to borrow its native token, CEL, or cash. It would be best if you borrowed in cash if you want to spend some money.
Celsius offers users a lot of leniencies when it comes to the amount of crypto they want to put up as collateral. Remember, you should always consider putting up a higher amount of collateral compared to the loan's value. As far as the CEL goes, sure it can undergo some fluctuations, which is why it is best to weigh the pros and cons before making your final decision.
Celsius network also offers convenient loan configurations that have incredibly low-interest rates (around one percent). With this crypto savings account, you can use more than thirty coins as collateral. Plus, it's worth noting that Celsius could lend the collateral you provided to various institutional investors. Celsius offers instant loan approvals without worrying about the worry of credit checks.
Savers and investors on this platform can earn extra rewards or cryptocurrency, simply be saving their crypto with Celsius. You don't need to worry about minimum fees or balance for earning interest on crypto deposits. The best thing about this deal is that this crypto savings account offers weekly payouts.
Celsius uses the term "rewards" for earnings. Rewards can be different depending on various things like the cryptocurrency type, your location, etc. In case you are not a U.S resident, you can still be eligible for the loyalty tiers Celsius offers. These tiers offer reward bonuses contingent on the crypto portfolio percentages in Celsius tokens.
How to choose a Crypto Savings Account?
When choosing a crypto savings account, there's a couple of things to consider. First is the security of your funds. To determine whether your assets will be safe when depositing is to look into the company. Who is running the company? This is important because at its core, crypto savings accounts are considered as centralized finance (CeFi) institutions. Which means you're entrusting your assets to the individuals or companies behind the platform.
Credentials and licenses can come in handy when it comes to choosing the right platform to invest. While cryptocurrency is not a legal tender and not backed by any government, having some recognition from regulated entities could give you peace of mind as you entrust your assets with the said platform.
The technology stack on the savings account also plays an important role. How do they store their funds? Is it in a hot wallet or cold wallet? Do they have a multi-signature authentication feature? In case of defaults, how are they going to return the funds to you? These are some important questions and features that you need to pay attention to when choosing the right savings account.
Benefits of Crypto Savings Account
Depositing your assets into a crypto savings account comes with a few benefits. The main one being growing the productivity of your idle assets.
These crypto savings accounts offer high-interest rates on your Bitcoin, Ethereum, and other crypto-assets compared to the rates that banks are offering for their savings account.
The process is much simpler compared to let's say opening a bank account, all you need to do is to create an account that takes a few clicks. The next step is to go through their KYC process which often includes submitting identification documents such as a passport or driving license.
Once approved, you can begin depositing your digital assets to earn interest immediately. Another benefit is that the terms are flexible with crypto savings accounts.
Usually, there are no lock-in periods, no minimum deposits, and you can withdraw your assets at any time. With such flexibility, users can focus on growing their assets to get maximum yield with less risk.
Cryptocurrency Savings Accounts: Conclusion
In recent years, cryptocurrency savings accounts are taking off rapidly as cryptocurrency gains more momentum in the financial market. As with any financial decision, it's very important to pay attention to the details and read the fine prints of the company where you're intending to store your assets.
Some platforms offer better rates for popular crypto such as BTC and ETH but not so much on stablecoins, some have licenses while others are pending but with significant recognitions and reviews from happy users.
Ultimately, it's not so much about the best crypto savings account to choose from, but rather, which one gives you what you're looking for.