This OKX (Previously OKEx) review will tell you everything about OKX, an international digital asset and cryptocurrency exchange platform, which allows users to trade on hundreds of tokens. It is an innovative exchange that was founded in 2014 by Star XU. This exchange was born out of OKCoin, with its target on the more advanced cryptocurrency traders.
Summary (TL;DR)
OKX is a leading one-stop cryptocurrency trading platform.
It has an easy-to-use interface and is user-friendly.
Both beginner and advanced level traders can trade on this platform.
OKX (Previously OKEx) accepts 30 fiat currencies including, USD, CNY, EUR, and others.
It has 17 payment methods like VISA, MasterCard, and others, for purchasing crypto.
OKX (Previously OKEx) fiat gateway allows users to buy Bitcoin, Ethereum, USDT, Ripple, Litecoin, and OKB with transaction fees as low as 0%.
The spot trading feature has a high liquidity order book with low spreads.
Users can trade crypto with up to 100x leverage on Perpetual swap and future markets.
It focuses highly on security and uses offline cold storage measures.
Other programs like Referral and affiliate reward users for bringing users to this platform.
The support system is highly efficient and supports multiple languages.
What is OKX (Previously OKEx)?
OKX (Previously OKEx) exchange is listed as one of the largest crypto exchanges in the world on CoinMarketCap.com. According to their official website, their daily turnover is around $1.5 billion only from its Bitcoin futures trading product.
In early 2018, Like the other Chinese exchanges, OKX (Previously OKEx) also launched their utility token cryptocurrency. Users can use this token to settle trading fees or to pay for exclusive services like enhanced API rate limits and customer support on the exchange platform.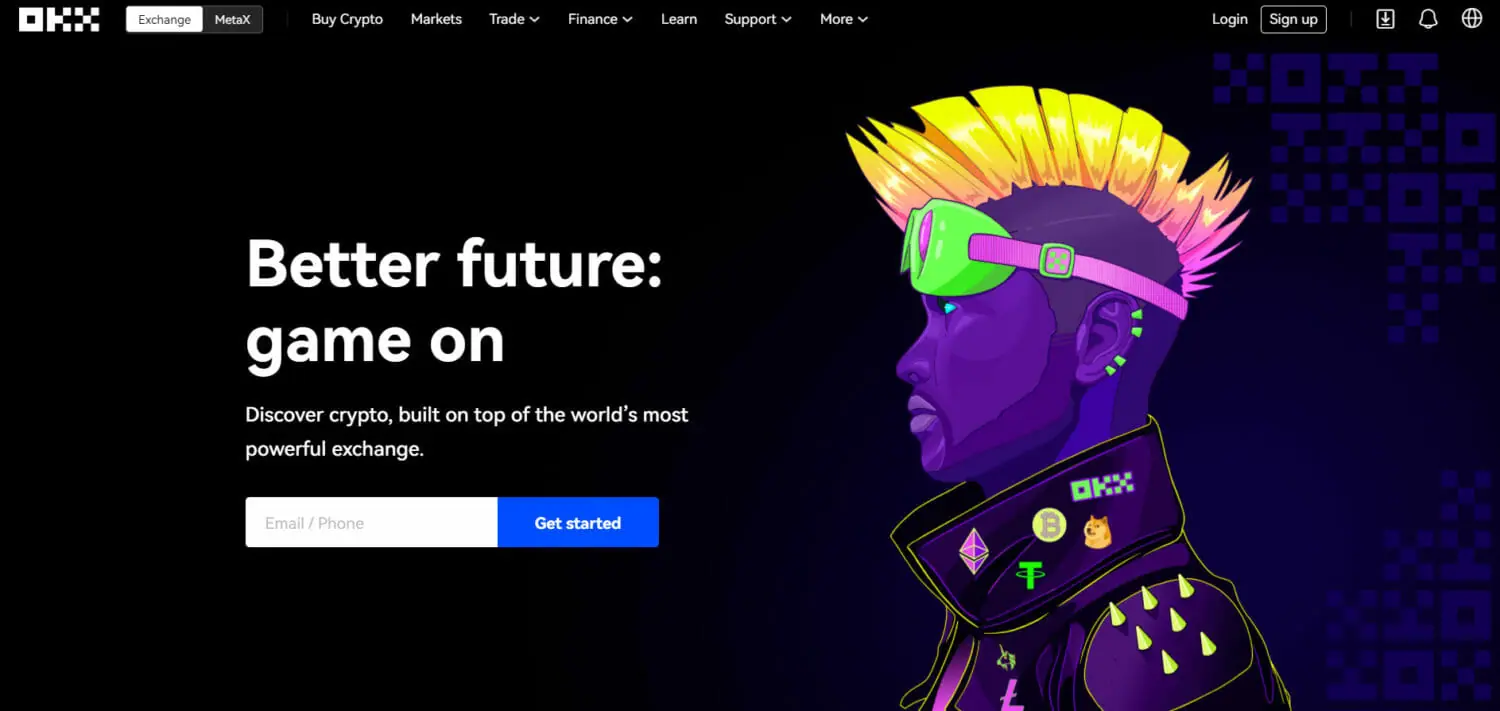 How to get started with OKX (Previously OKEx)?
Follow these steps to get started with the OKX (Previously OKEx) platform. First, click on the 'sign-up button on the top right corner of the official website of OKX (Previously OKEx). After clicking, you will find the sign-up window. Fill in all the details including, a valid Email-Id with a strong password. After completing the details, click on sign-up.
You will receive a code on the email id you entered while signing up. Enter that code. After confirmation of the code, your registration process will end. Now, you can log in to your account.
OKX (Previously OKEx) Verification Process
To start the OKX (Previously OKEx) verification process, first, click on your profile and then click on verification. A window like shown below will open up on your PC.
We will be doing the process taking "Individual Account" into consideration.
Step 1: Individual Verification
To complete this part of KYC, enter your full name, select your nationality, ID type, and ID Number of the specified ID. After completing the details, click on submit. Once verified, your 24 Hour withdrawal limit will increase up to 200 BTC.
Step 2: Photo Identification
This is level 2 of KYC verification. Under this, you will have to upload the document's images, which you selected in the level 1 verification. After completing this, your withdrawal limit will increase up to 300 BTC.
Step 3: KYC
This is the final part of completing your KYC. After completing this, users will get leverage of increased withdrawal limit and other benefits.
OKX (Previously OKEx) Fees
The trading fees for Spot, Futures, and Perpetual Swaps are different. The OKX (Previously OKEx) trading fees also differ whether the user is a regular or a VIP.
For example, if you are a regular user engaging in spot trading, you will get charged 0.10% for takers and 0.08% for makers. However, if you somehow achieve a 30-day trading volume of more than 5,000 BTC and hold more than 1,000 OKB tokens, you only have to pay 0.09% for the taker and 0.07% for the maker.
OKX (Previously OKEx) Spot Trading Fee
The trading fee for the takers on the OKX exchange is 0.10% for spot trading. This amount is below the industry average, which is 0.25%. Also, the fee for both takers and makers varies on the trading volume of the investors. Moreover, VIP users can enjoy even more competitive trading fees of 0.030%-0.080%.
OKX (Previously OKEx) Futures and Perpetual Fees
Like spot trading fees, the maker and taker OKX fee for both futures and perpetual starts at 0.02% and 0.05%, respectively. This fee also varies or reduces based on the OKB tokens the users hold.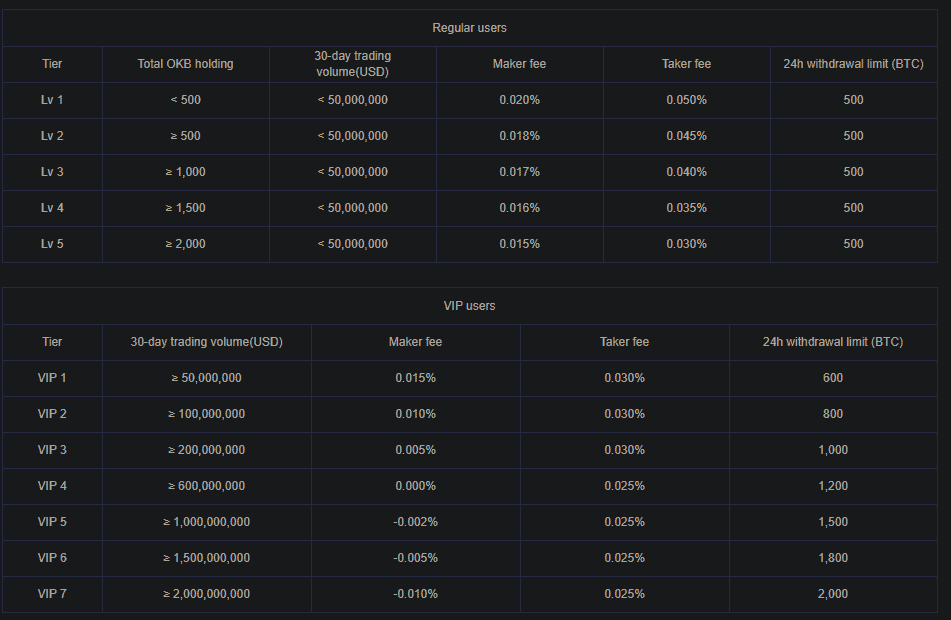 OKX (Previously OKEx) Deposit and Withdrawal Fees
OKX does not charge users any fee for deposits and withdrawals. However, there is a minimum amount of Bitcoin network fee that users have to pay when they withdraw Bitcoin from the exchange. The OKX (Previously OKEx) withdrawal fee is about 0.0005BTC.
How to Deposit Funds on OKX?
In this platform, users can fund their accounts using digital currencies only. OKX does not have any options to transfer fiat currency to the exchange. Therefore, the two options that are available for the users to fund their new account:
Users can transfer the cryptos from another exchange or a hardware wallet.
They can purchase crypto with suitable and available payment methods on the website.
OKX Review: Supported Cryptocurrencies
OKX (Previously OKEx) offers more than 246 different cryptocurrencies, which users can trade on the website against ETH, USD, BTC, DAI, and OKB pairs. In addition, the platform also offers discounts on trading fees if the users trade with the OKEx utility token OKB.
To burn the 300 million circulating supply of OKB, OKX (Previously OKEx) has started a buy-back scheme that occurs after every three months. This is a positive way to drive up the price of the token by reducing the supply amount.
OKX Pool
OKX (Previously OKEx) exchange platform provides a mining pool, which is a shared group of cryptocurrency miners. These miners combine their computational resources over a network to mine digital assets. Besides this, it also supports Proof-of-work (PoW) mining of nine significant cryptocurrencies. Furthermore, it means users can offer their computer hash rate, and in return, they will get additional income.
OKX (Previously OKEx) Review: Algo-Order Options
To help investors place a trade at a predefined volume and price, different market orders and the ability to use Algo orders are vital for active daily users. Therefore, the OKX (Previously OKEx) platform allows users to trade with different types of orders. Orders like stop-limit order, market order, limit market orders, advanced limit order, trailing top order, Time-weighted average price orders, and iceberg are available.
OKX (Previously OKEx) Reward System
OKX (Previously OKEx) offers a reward system for all users. Using this, users can earn Bitcoin and Rebate cards for completing the tasks and free Bitcoin learning missions. Please keep in mind that users must complete the tasks before 30 days of registration to claim the rewards.
OKX (Previously OKEx) Wallet
The OKX exchange platform offers a native wallet that is accessible by simply downloading the wallet application separately. Moreover, the wallet supports 36 digital assets, multiple vaults and integrates seamlessly with the main OKX trading application.
OKX Review: How to buy/sell Cryptocurrencies?
Step 1: OKX (Previously OKEx) Login
Log in to your OKX account to buy or sell any cryptocurrency. First, click on the "Log in" on the top right corner of the official site of OKX. Then, enter your details and sign in.
Step 2: Select Buy/Sell
After logging in, you will find the option "Buy/Sell" on the top menu. Click on it to move to the next step.
Step 3: Select your Buy/Sell method
The next step is to select the method you would prefer to buy or sell cryptocurrencies. In general, there are two primary options available on OKX:
Quick Trade
P2P Trade
OKX Review: Quick Trade
OKX Quick Trade is the simplest way to buy cryptocurrencies on the OKX platform. All users have to select the cryptocurrency they prefer and the fiat currency they wish to spend. Please input the correct amount of your fiat or cryptocurrency before choosing the payment method. Once the payment is complete, the cryptocurrencies get transferred into your account automatically.
OKX (Previously OKEx) Review: P2P Trade
Under OKX (Previously OKEx) P2P Trade, click on the currency you want from the dropdown menu and select the desired currency. Next, enter the amount and payment mode, and finally, click on the "BUY" option to buy that cryptocurrency.
OKX (Previously OKEx) Payment Methods
Before using OKX (Previously OKEx) or any other trading platform, you must know what all payment methods are available to you. OKEx offers several different payment methods to serve its users and provide them with a user-friendly experience. Therefore, some of the available payment options are Mastercard & Visa debit/credit cards, bank transfers, Google Play, Skrill, PayPal, bank transfers, Apple Pay, and Western Union. Moreover, you can also use gift cards from Amazon, Steam, and Google Play.
OKX (Previously OKEx) Mobile Apps
OKX (Previously OKEx) supports the mobile application for both Android and iOS users. The OKX (Previously OKEx) application is an all-in-one trading app for cryptocurrency trading. With this, users can buy and sell digital assets in all forms, irrespective of the time and place. They can also view real-time streaming quotes, deposit and withdraw funds, and store crypto coins in built-in digital wallets.
OKX (Previously OKEx) Review: Supported Countries and Regions
OKX (Previously OKEx) is a global trading platform that is available to over 100 countries across the globe. However, these countries also have other options than OKX (Previously OKEx). The list of the countries is North Korea. Crimea, Syria, Ecuador, Bolivia, The USA and its territories, Hong Kong, Sudan, Malaysia, Kyrgyzstan, Bangladesh, and Cuba.
Is OKX (Previously OKEx) Safe?
When it comes to security standards in cryptocurrency, OKX is one of the safest trading platforms. Several new-ages, innovative technologies like the cold wallet technology and core private key encryption algorithm making it one of the most advanced platforms with the best private encryption.
Moreover, OKX (Previously OKEx) is also one of the biggest trading platforms, which makes it highly reliable. This platform's trading services and digital assets comply with the Virtual Financial Asset Act ("VFAA") and are regulated under the authority of the Malta Financial Services Authority.
These are the ways through which user can secure their assets more:
Verification code via email
Verification code via phone for drawing out funds and security settings.
Authentication via two factor
OKX (Previously OKEx) Review: Customer Support
OKX has a solid and reliable technical support team that offers 24*7assistance over various modes. It also has a dedicated FAQ section, which holds general queries faced by users. The other way to enquire about your doubts is by submitting a request. You can also directly chat with their customer support team. Users can also directly contact the members on their platform through their "join the community" section.
OKX Review: Pros And Cons
| PROS | CONS |
| --- | --- |
| The financing and trading fee are pretty low. | All U.S. citizens cannot gain access to it. |
| PayPal is an accepted mode of payment. | There are limitations when it comes to withdrawal transfer. |
| The deposit fee is not required, and the trading and withdrawal fee is quite negligible. | All the customer reviews are not very satisfactory. |
| Get access to the broadest range of unique digital asset coins. | Currently, CNY only flat is supported. |
| You will receive customer support throughout the day. | |
| The trading platform is high-level, and you will get the most extensive range of pro trading options. | |
| Fiat currency deposits are received. | |
| The mobile app for this platform is highly user friendly. | |
OKX Pros and Cons
OKX Review: Conclusion
Whether you are just a one-time investor or an active daily trader, it doesn't matter. OKX (Previously OKEx) is a professional trading platform that is well-backed and has international goals. It offers various trading options and that too at low trading fees. Users can also win bitcoins and other rewards using the special features OKX offers. The customer support is impressive, and users can communicate in various ways. Finally, OKX is also a secure platform with no records of severe hacks.
Frequently Asked Questions
How long does a deposit take OKX (Previously OKEx)?
The digital asset transfer is a simple three-step process: 
● Request 
● Confirm 
● Credit 
At times it might get slow due to network congestion, but the process is usually fast.
Is KYC mandatory to use OKX (Previously OKEx)?
No, KYC is not mandatory for using the OKX (Previously OKEx) trading platform. However, you can complete the KYC to get extra benefits like an increase in 24-hour withdrawal limits. 
Is OKX (Previously OKEx) safe?
Till now, there have been no rumours of having OKX (Previously OKEx) hacked. Moreover, when it comes to security and reliability, OKEx is one of the leading platforms.
Are the U.S. traders allowed to use OKX (Previously OKEx)?
No, OKX does not offer its services to U.S. citizens due to their strict internal regulations outside the exchange's control. Therefore, investors will need to find a licensed trading platform in the USA to invest in cryptocurrency.