In this article, we will talk about Bitsgap- a one-stop crypto trading platform that caters to all your trading needs. It allows its users to bring all their crypto-exchange accounts under the same roof and trade from an integrated interface. So read out this Bitsgap review to know in detail.
Summary
Trading terminal to trade across exchanges
Market signals provide opportunities to make right trading decision
Manage portfolio, track funds
GRID Trading bots to automate your trades
Futures trading terminal for FTX and Binance
What is Bitsgap?
Bitsgap is an all-in-one crypto trading platform that let you do trading, manage portfolios, access trading bots, provide signals, and much more. Further, it has integrated over 25 major exchanges, including Coinbase Pro, Binance, Poloniex, Kraken, Bitfinex, etc.
The sign-up process won't take you more than two minutes, as it only requires an email account verification. Alternatively, users can connect through their Google or Facebook accounts. Moreover, Bitsgap provides a 14-day free trial in which the trader can enjoy several features free of charge.
Bitsgap Review: Features
The following features are just an iceberg's tip of all the great, ready-to-use features available on the platform.
Trading Terminal

– Top-notch tools are available to help you trade on multiple exchanges using a single interface

Signals — lookout for any market anomalies for the best trading decisions
Portfolio Tracking– traders will have a live-generated portfolio that will enable them to track their funds and earnings.
Automated trading bots — Bitsgap provides pre-configured trading bots that are optimized using machine learning.
High security — Customers connect their exchange accounts to Bitsgap using API keys of the exchanges, no deposits are ever made on the platform itself. Bitsgap can never access the customer funds, it only conducts traders on behalf of the user. All orders through API are secured by Bitsgap using high-end 2048-bit encryption for further security.
Demo Exchange– 'My exchanges' is a display of all the exchange accounts that the user is connected through API. 'The Demo' feature on the other hand allows the trader to practice using all the special features on Bitsgap, it helps the user to familiarize themselves with all that the platform has to offer.
How to use Bitsgap?
Let's see how Bitsgap works:
First, create your account on Bitsgap.
Link your Bitsgap account with one of the supported exchanges with your API keys.
Now, simply place an order or start a Grid bot.
Trading Terminal
If you ever traded on any crypto exchange, you must already know that exchanges focus more on liquidity rather than providing the best trading tools.
That's why solutions like Bitsgap focus on providing the best crypto experience to traders. Bitsgap trading terminal provides a single interface to trade on multiple crypto exchanges.
Trading tools like taking profit, shadow orders, limit market, and stop-loss give you an advantage while creating market orders.
Bitsgap GRID Trading Bot
Bitsgap trading bot is powered by the GRID algorithm, which works by allowing the trader to define range and limits for investment. Then it goes ahead to distribute these investments proportionally. Therefore, each time the system executes a limit order, GRID will place another sell order for a price slightly higher than the market value.
The vice versa is true for limit orders, in that each time the previous order is executed, Bitsgap goes ahead to make another buy limit at a price slightly lower than the market value. Thus, provided the crypto prices do not exceed the trader's predefined value range, the system will keep on conducting trades nonstop. Learn more about GRID's trading strategy here.
Bitsgap provides pre-configured trading bot strategies.
Also Read: 5 Best Crypto Grid Trading Bots | Grid Bot
Backtesting
Bitsgap backtesting feature actively optimizes the pre-configured trading bots for a bull (uptrend) and a bear (falling) market. The team utilizes machine learning by studying and analyzing historical data to maximize profitability and reduce the risks involved. Traders can choose any trading pairs based on their history and trading bot returns.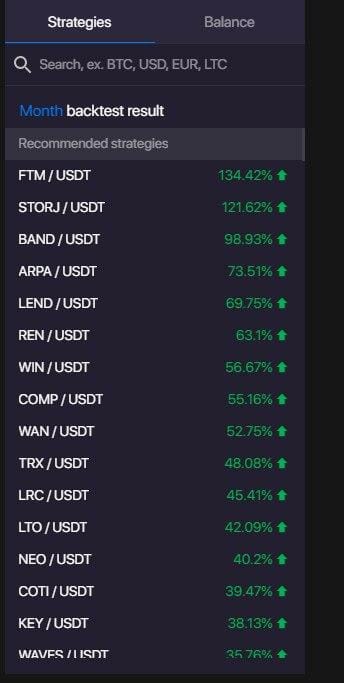 Bistgap Signals
Bitsgap also shows market signals. These signals are price anomalies in the market, meaning there is a sharp movement in the price of a particular cryptocurrency.
This helps traders to identify price movements early and benefit from that. In addition, you can search these specific crypto assets. However, you can't configure price movement alerts.
Bitsgap Review:Crypto Portfolio Tracking
You can easily track your crypto portfolio on Bitsgap. You can view all your holdings, ROI (Return of investments), and positions. In addition, you can also check your open orders and history. You can also filter your portfolio for any specific exchange if you are using more than one crypto exchange.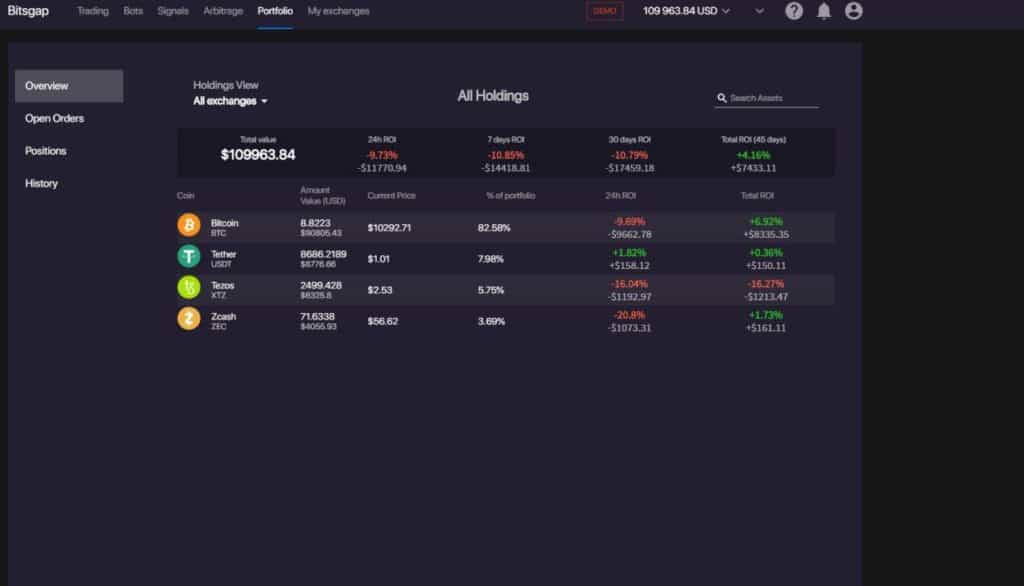 Bitsgap Review: Pricing
Bitsgap provides three subscription plans. All the plans come with 14 days free trial. If you are a beginner, we recommend starting with the Basic plan because it includes the DCA and Grid bots.
Bitsgap Supported Exchanges
Bitsgap has integrated more than 20 crypto exchanges and with every exchange the service coverage remains the same.Some of the bitsgap supported exchanges are OKEX, Bybit, Coinbase, Gemini, Bitstamp, Gate.io etc.
Bitsgap Review: Demo Account
Bitsgap demo account enables beginners to trade with zero financial risk. The demo account comes with stimulated paper money to allow trading. Moreover, with the Bitsgap, you can have the following benefits:
With Bitsgap demo account you can easily get access to the 5 leading crypto exchanges.
You can practice trading with 5 BTC present in your virtual fund.
You can choose the desired strategy and thereby test them.
You can gain experience of trading in live market conditions.
Bitsgap Affiliate Program
Bitsgap offers you an opportunity to earn a 30% commission from every purchase by simply inviting your friends to join Bitsgap. All you need to do is follow the below steps:
Get your personal affiliate link from Bitsgap, copy it and then share it on social media.
The more friends you are able to invite, the more money you can get.
Earn 30% commission on every Bitsgap referral made by you.
Bitsgap Review:Security
Bitsgap ensures high security and keeps your funds under your control. You can make use of 2FA to ensure the extra security of your personal funds. Adding, your funds and assets are secured and connected only through your fully encrypted API keys. Moreover, these APIs allow Bitsgap to execute trades and gather all the information on your behalf.
Bitsgap review: Pros and Cons
| | |
| --- | --- |
| Pros | Cons |
| Pre configured trading bots | Limited trading bot functionalities |
| Market signals dashboard | No mobile app |
| Simple configuration | |
| Easy and fast start | |
| All features are in one place | |
| Free package for small budget accounts | |
| Gives 2 weeks of trial no credit card attached | |
Bitsgap Pros and Cons
Conclusion
In Crux, we can say that Bitsgap is an all-rounder platform with automated trading algorithms to generate a constant stream of revenue no matter the state of the market. Not to forget the additional features like stop-loss, take profit, exit strategies, and trailing up, which ensure your safety and higher ROI (Return-on-investment). Furthermore, its security a top-notch and provides satisfactory customer support.
Frequently Asked Questions
u003cstrongu003eIs Bitsgap legit or safe?u003c/strongu003e
Yes, Bitsgap is safe and legit. The team has worked hard on its trading platform.
u003cstrongu003eIs there a Bitsgap mobile app?u003c/strongu003e
Bitsgap does not have a mobile app for iOS or Android devices for now. But, Bitsgap has a fully responsive website, and you can check it on mobile browsers.
u003cstrongu003eDoes Bitsgap take any fees from trades?u003c/strongu003e
No, there are no fees from trades. You only pay a monthly subscription fee for using the platform to access useful tools that make trading and managing crypto more efficient.u003cbru003e
u003cstrongu003eWhat are the Pros and Cons of Grid Strategy?u003c/strongu003e
The main advantage of trading on the grid is that it requires just a little market forecast – in what direction the price is likely to go in the future. That's why it is a u003cstrongu003egreat tool for beginnersu003c/strongu003e and regular traders.u003cbru003eBut there are always some risks involved when you let this strategy be automated, especially in unfavourable market conditions. For example, a sudden price spike or drop may and will affect your results. To protect your investment, you can use either the stop loss or trailing option.
u003cstrongu003eDoes Bitsgap have access to my exchange wallet?u003c/strongu003e
Bitsgap does u003cstrongu003enotu003c/strongu003e have an option to access your exchange wallet and make any changes there. Therefore, your funds will always stay on your exchange account.
Where is Bitsgap headquartered?
Bitsgap is headquartered at Rotermanni 18, 10111 Tallinn, Estonia.
Bitsgap Alternatives
Quadency, a crypto trading automation platform launched in 2018. It brings you a smarter way to trade and manage your crypto. Also, read our Quadency review.
HaasOnline is one of the oldest and most reputable automated trading companies in crypto. Their distinguished reputation comes from their trade automation software that has been executing trading strategies for crypto traders since 2014. Read our HaasOnline Review.
3Commas is an online platform for people interested in trading cryptocurrencies using automated bots. It is especially attractive for people without a technical background in finance or extensive experience in stock markets. Read our 3Commas review.
You might also be interested in: