Bitstamp is a cryptocurrency exchange platform, established in 2011, Europe. Furthermore, it helps European traders to exchange Euros for crypto. In this Bitstamp review, we will go through all of its features, trading fees, steps to buy crypto using Bitstamp.
Summary (TL;DR)
Bitstamp was founded in 2011 and is among the oldest crypto exchange platforms.
Bitstamp takes all the necessary measures while opening the account to ensure its safety and security.
It gives you various trading options like Market, Limit, Stop, Instant, Fill-or-Kill, and Trailing stop loss.
You earn rewards in the form of cryptocurrencies through Bitstamp Earn and Staking.
Bitstamp also supports Open-banking.
Lightning Network is a collection of inter-connected lightning network nodes.
Bitsatmp's CaaS gives banks the leverage to allow their customers to trade in cryptocurrencies.
Bitstamp allows many institutions to take crypto access.
Through Bitstamp, you can use Credit or Debit cards to trade in bitcoins.
The trading, withdrawal and, deposit fees is relatively cheaper when compared to other exchanges.
Bitstamp is a reliable and trustworthy platform offering 24 hours customer support.
Mobile App makes the platform more user-friendly.
Also, don't miss a chance to earn through their referral program.
What is Bistamp?
Bitstamp is a cryptocurrency exchange platform serving clients globally from Luxemburg. Bitstamp allows trading in over 600 varied countries, helping their clients with loyalty. Furthermore, it is among the most reputed crypto exchange platforms.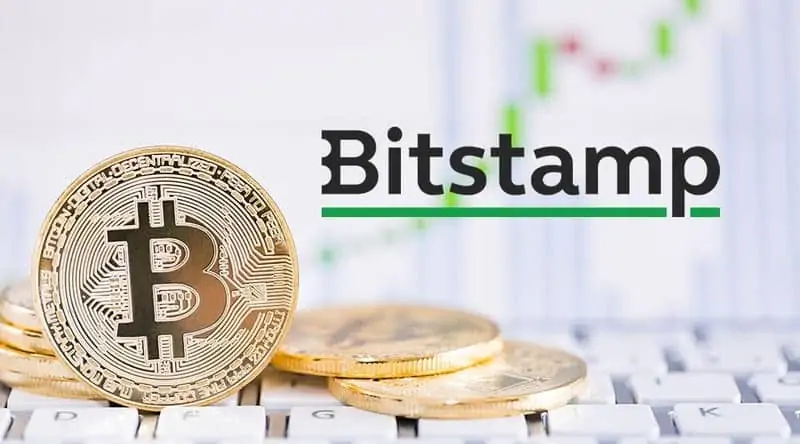 How to use Bitstamp?
If you are willing to open an account on Bitstamp, the below steps will give you a headstart about the platform.
Bitstamp Sign-up: Visit the homepage of Bitstamp and click on register. Then, enter your Name, Residential Country, and Email Address.
Email Verification: After entering all your details, you need to confirm the email address. You will be further required to remember this account Id for logins into Bitstamp.
Bitstamp two-factor authentication: You can increase your account's security through 2FA. Further, to make your account more secure, you can activate the email confirmations. It notifies you through an email whenever you perform any functions on your account.
Bitstamp account Verification: If you plan to deposit your funds through a Debit/ Credit card, verify your identity. Yet, if you are depositing funds through cryptocurrency, then this step eliminates.
How to deposit funds at Bitstamp?
A deposit column will appear at the top of the site. Clicking on that, you will be able to see all the available payment methods on the platform. Next, select your desired payment method and input the number of funds you wish to deposit. Finally, click on confirm for your transaction to come into action.
How to buy bitcoin at Bitstamp?
After all the above steps, click on buy and sell from the top at Bitstamp. Next, select bitcoin and further enter the total amount you wish to invest. Then, indeed, specify whether you are willing to buy or sell.

Bitstamp Review: Trading Options
Instant Order: It executes straight away under the current price on the market at Bitstamp.
Limit Order: This order type sets a limit price at which you wish to sell/ buy your desired amount of cryptocurrency.
Market Order: A market order helps you to buy cryptocurrencies at the most suitable market price.
Stop Order: This type of order has the potential to limit your losses if the cryptocurrency prices hikes or fall.
Trailing Stop Order: This helps you secure profits and increases your order's value by following a good direction.
Fill-or-Kill order: The Fill-or-Kill order sets a limit to buy/sell cryptocurrency that is filled; otherwise, it cancels.
Bitstamp: Earn and Staking
The trading exchange Bitstamp enables you to earn rewards when you stake your assets for a specific time.
Furthermore, you can lock your assets on the blockchain. However, you can't trade or withdraw that asset for a set time. Also, the market conditions decide the smallest staking amount.
Does Bitstamp Support Open Banking?
Open Banking gives access and control of account data through Bitstamp APIs that are available. Bitstamp is currently offering open banking to customers of the European S.A. entity. They can share account data through tokens with third-party providers and can connect to Bitstamp. However, open banking does not make you eligible to perform payments through Bitstamp. It only allows you to transfer between your bank account and your account in Bitstamp.
Bitstamp Review: Lightning Network Node
The Lightning Network improves the performance of the blockchain connections. As a result, millions of transactions are handled using bitcoin every second. Moreover, it is capable of handling small payments in our everyday lives. Also, it does not have to wait for network confirmations. Thus, it outstands the traditional payment systems that rely on mediators.
Lightning Network Node is software connecting to the lightning network. It sends and receives bitcoins from other nodes. Furthermore, the network becomes more strong if there are more nodes. Moreover, the network is alive until the nodes are online. It also increases liquidity as more nodes open payment channels. If you don't have your lightning node, you can connect to Bitstamp Lightning Node using their connection code.
Bitstamp CaaS
Bitstamp's Crypto-as-a-Service lets banks or financial institutions enable their customers in buying and selling cryptocurrencies. Furthermore, it builds innovative crypto business models through leverage crypto. It helps you in entering a growing market without high overheads. Bitstamp's CaaS is a complete crypto trading on-demand solution.
Bitstamp Review: Getting Started with CaaS
Open a Bitstamp trading account.
Connect to Bitstamp API.
Add an interface to your platform to buy and sell crypto.
The operations are automated after the initial setup.
Institutions and Partners of Bitstamp
Bitstamp enables crypto access for a range of institutions like:
Brokers
Neo Banks
Fintechs
Banks
Prop Traders
Family Offices
Aggregators
Hedge Funds
Bitstamp Fee Structure
Bitstamp Review: Trading Fees
You have to pay 0.25% for every trade you make at Bitstamp. Yet, if you are an expert in this field, you can bring down the trading fees to 0.10%. However, this is possible only when you trade for more than 20 million dollars in a month. For more information on fees, head over to the Bitstamp fee schedule.
Withdrawal Fees
There are no withdrawal fees on credit and debit cards. Furthermore, the withdrawal fees on European Bank Withdrawals are Euro 0.90.
Bitstamp Deposit Fees
A 10$ deposit fee is on debit cards, and for transactions of more than 10$, you have to pay 2%. Yet, in credit cards, the deposit fee comes to 5%. For European Bank Transfers and cryptocurrency, no deposit fee is taken.
Bitstamp App
The application came into the picture in 2019 and is available for Android as well as iOS. This app offers you trading options and you can still disable it from your desktop device if you lose your mobile.
Is Bitstamp Safe?
Before using any crypto exchange platform, one needs to be very sure whether the platform is reliable or not. Moreover, cryptocurrency exchange platforms are prone to security issues and hackers. Bitstamp, too had been a victim of it in the year 2015. 19,000 Bitcoins had to deal with hackers. As a result, the Bitstamp community took some primary security measures. The Two-Factor Authentication while performing functions on the account. Moreover, email confirmations and getting the auditing done by big four accounting firms.
Bitstamp Support
The Bitstamp team is always at your rescue if you face any issues related to the Bitstamp exchange. Furthermore, there are three options available for that:
You can contact the customer help team through a call. They are available 24*7 rounds a year.
You can send an email to contact them anytime, and they will always stand up for your help.
Referral Program
The Bitstamp Referral Program allows you to earn rewards whenever you invite your friend. Moreover, your friend also gets the same reward once they start trading and make a trade of $100 or more. Thus, for each successful referral, both parties earn a $20 bonus. The ongoing referral program will last till 31st March 2022.
However, Bitstamp referral program is currently at hold.
Bitcoins Review: Pros and Cons
| Pros | Cons |
| --- | --- |
| Low Fees | International transfers take time. |
| It is available in all countries when depositing with crypto. | Invasive questioning for KYC. |
| It accepts bank transfers as well as credit and debit cards. | It has a slow verification process. |
| However, the selection of chart tools is awe-inspiring. | |
Bitcoins Pros and Cons
Bitstamp Review: Conclusion
Bitstamp exchange is among the most famous crypto exchange platforms. On the one hand, it is effortless to use, and so, it charges trading and deposit fees which are very expensive. Moreover, Bitstamp allows you to buy crypto assets using Debit/ Credit cards. Additionally, the platform extends its services to pro-traders and institutions as well.
Frequently Asked Questions
Where is Bitstamp located?
The Bitstamp location is in Luxemburg. The company's office is in the United States. The company believes in quality over quantity and has been operational since the year 2011. 
How to withdraw from Bitstamp?
To withdraw from Bitstamp, click on the wallet and then select the withdrawal option. Next, input the amount you wish to withdraw. It should correspond to your bank account details and then confirm. 
How safe is Bitstamp?
Bitstamp has proven itself over the past years and speaks a lot about its reliability. Bitcoin provides excellent security services and also keeps an eye on every record. Moreover, the platform does not get its hands into any malpractices.
How to close the Bitstamp account?
After you log into your Bitstamp account, head over to your account section. Thereafter, head over to the settings page and find the option "Deactivate Account."