Gemini is one of the most popular crypto exchanges in the USA. Hence, this Gemini review will go through all the platform features and dive deep into its fee structure. We will also learn various things about how you can make a passive income through Gemini Earn.
Summary
It is available for U.S. residents of all states.
Users can buy, sell, store, and spend their cryptocurrencies through the website and mobile app.
The main selling point of Gemini is its secure and easy-to-use interface.
This exchange platform supports 30+ cryptocurrencies.
Users can trade on Gemini using a debit card.
It supports USD, AUD, CAD, EUR, GBP, SGD, and HKD fiat currencies.
They also offer a product, "Active Traders," for advance level trading and Gemini trading for beginner level traders.
Besides that, it also supports other products including, Gemini custody, Gemini wallet, Gemini Pay, and Gemini Clearing.
With the Gemini earn feature, users can earn up to 7.4 % interest on their crypto.
Gemini crypto exchange also has its coin, "Gemini Dollar."
Users can get the answers to their queries by submitting a request or through live chat.
It focuses highly on security and has been one of the most secure platforms.
What is the Gemini exchange?
Gemini is a New-york based cryptocurrency exchange, which was founded in 2014 by Winklevoss Twins. The founders of Gemini are also known for ConnectU (the predecessor to Facebook). It comes under those few cryptocurrency exchanges that are regulated in the U.S.
This exchange offers around 30+ cryptocurrencies with the highest safety and security measures. They support products for both beginner and advanced level traders and much more.
Gemini Review: Account Registration
First, visit Gemini's website and click on the "Get Started" on the top right corner.
Now, fill in the details, and click on the next.
They will ask you to enter your phone number, fill it and click on "Next."
Enter the OTP you received on your phone, and your account has been registered.
The steps to register using the Gemini application is similar to the Gemini web.
Gemini Review: Verification
The verification process of the Gemini exchange is mandatory. Without the verification, users won't be able to start trading. The documents you will require for the U.S. Residents:
They can submit either state-issued ID, driver's license, passport, passport card, or Permanent Resident Cards.
For International users: Users passport from their country of citizenship or national ID and/or driver's license.
Steps to starting your verification
First of all, log in to the Gemini exchange.
Now, on the right side, under the "Complete your account section," click on "Upload Id to purchase and withdraw."
Now, enter your correct address, and upload the document.
How to use Gemini?
Once you have completed your registration and verification process, you need to set up your bank account. After that, you will be able to start trading.

How to deposit funds to Gemini?
Gemini supports three payment methods
Gemini Review: Link bank instantly via Plaid
With Plaid, you can deposit and withdraw your amount.
Users can buy bitcoin instantly (Only available for U.S. residents).
Users have to submit their contact details, account transaction details, and, lastly, account details.
Link bank Manually with Gemini
If you don't find your Bank in the previous method, then you can use this one.
Users can deposit and withdraw their amount.
The verification of a bank account with deposits takes around five business days.
Add money to Gemini using Debit Card Method
Gemini platform allows its users to link their debit cards. With this:
Users can buy crypto instantly.
They can verify their card via microtransactions within two business days.
Users can only link those debit cards whose native currency is one of the fiat currencies that Gemini supports.
How to buy bitcoin on Gemini?
Log in to your Gemini account.
Search the crypto you want to buy from your dashboard (in this case bitcoin) and click on it.
On the right side, you will see the "Make A Trade" section.
Click on "Buy," select the frequency, enter the amount, and click on continue.
Click on "Review Order" and move toward the confirmation screen.
After reviewing, click on "Place Order" and execute your order immediately.
Gemini Fees
The Gemini crypto fees are divided into five parts: Mobile Fee, Web Fee, ActiveTrader Fee, Custody Fee, and Transfer Fee.
Gemini Review: Mobile and Website Fees
Although the platform treats the mobile and web view fee differently, the Gemini market order fee for both is the same. However, unlike the convenience fee, the Gemini transaction fee depends on the user's order amount and fiat currency. For instance, for an order of 10 USD, the transaction amount will be $0.99. You can check the mobile and web transaction fees on the platform.
Gemini Exchange Fees
Like all other platforms, Gemini also utilizes the maker-taker fee model for determining trading fees for all orders. The Gemini trading fees depend on the user's gross trading volume in national USD. Moreover, the higher the 30-day trading volume, the lower the Gemini trading fees rates. Therefore, the highest taker and maker fees rate is 0.35% and 0.25%, respectively, for 0 trading volume. And the lowest taker and make fees rate is 0.03% and 0%, respectively, for $500,000,000 and more trading volume. Please note that these fee details only apply for ActiveTraders (Product of Gemini).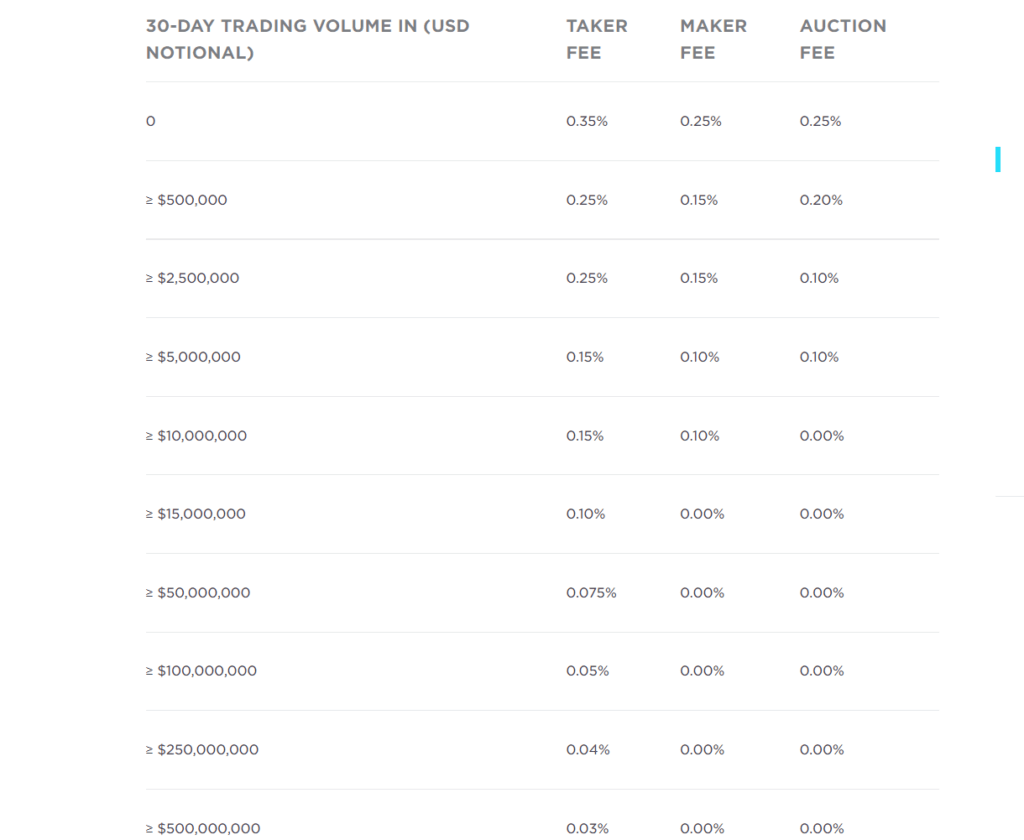 Gemini Custody Fee
The fee for the Gemini product "Custody" differs a lot. Different factors like users/investors and institution's requirements, activity volume, asset mix, and size holdings play a prominent role in determining the final fee. Therefore, Gemini always has a special price for their customers.
Gemini Withdrawal Fees
Gemini does not charge any fee for depositing supported cryptocurrencies and Fiat through wire transfer. However, it demands a fee of 3.49% when users deposit the funds through a debit card. The Gemini withdrawal fees for individual customers are free, with a limitation of 10 withdrawals per month. If these limits exceed, they have to pay a separate fee based on the withdrawal type. Similar is the case with institutional customers, where the limit is 50 withdrawals per month. Furthermore, the Gemini bitcoin fee is around 0.001 BTC per bitcoin. Visit the Gemini Fees section to check more details regarding the Gemini withdrawal fees.
Gemini Review: Products
Gemini Crypto Exchange
It is most suitable for beginners because of its simple and easy to interact interface.
Users can check the Top Movers, Top Traded, recently launched, and DeFi cryptos.
Gemini exchange also allows users to add coins to their watchlist.
You can trade assets, set recurring buys, and manage your holdings.
Under portfolio sections, users can check their complete transactions, recurring purchases, Price alerts, and pending orders.
Gemini ActiveTrader
Gemini ActiveTrader is an advanced trading interface, which offers advanced charting, additional order types, trading pairs, and deeper order book visibility.
It supports eight order types: Market, Limit, Immediate-or-Cancel (IOC), Fill-Or-Kill (FOK), Maker-or-Cancel (MOC), Auction-Only Limit (AO), Indication of Interest (IOI), and Stop-Limit.
ActiveTrader of Gemini exchange can execute trades in microseconds.
It also has a central limit order book, which follows a price-time priority model.
Users can execute multiple order types, including block trading.
Auctions are also conducted for specific trading pairs every day, including weekends and holidays.
How to place an Order on ActiveTrader?
Switch to the ActiveTrader from the Gemini settings page.
Select a trading pair of your preference from the dropdown menu on the top left corner.
Select Buy -> Market (Order Type).
Enter the quantity under the "Quantity" section.
Confirm the order details and press "Buy" to complete your order.
Gemini Earn
Gemini Earn is a lending program where users can lend their crypto to institutional borrowers and earn daily interest.
You can earn interest compounded daily up to 7.4% APY.
However, Gemini Earn is available only for U.S. and Singapore residents.
For redeeming your assets, there's no hidden fee, withdrawal, or transfer fee.
The rates of cryptos change based on the supply and demand of that particular coin.
Getting started with Gemini Earn
Log in to your Gemini account.
Click on the Gemini Earn tab in the navigation bar.
Select the crypto of your preference and enter the amount of crypto you want to deposit.
Review and agree to the Terms and Authorization agreement and agree to the Master Loan agreement (if this is your first deposit).
Now, review the confirmation page, and click "Confirm."
Once your crypto is moved, you will start earning interest per day.
Gemini Review: Clearing
With the help of this Gemini exchange product, users can settle a trade-off of the continuous order book.
Gemini clearing does not require any minimum trade size and is available at a competitive market price point.
The transaction details remain anonymous, and no data gets published on the Gemini market data feed.
Gemini Custody
Gemini Custody is used to store user's digital assets in a secure, regulated, and compliant manner.
This product is regulated as a New York State Trust Company.
It is a second offline proprietary Cold Storage System.
This is preferred for the users who want the highest level of security.
Users can withdraw the assets on the same day and Instant liquidity for trading on the Gemini platform.
The customers also receive dedicated account representatives and 24/7 expert customer support.
Gemini Custody stores all assets that it supports.
Gemini Pay
With Gemini Pay, users can now spend their cryptos to buy in retail stores.
Gemini Pay lets you connect with more than 30,000 retail locations across the United States.
The transactions done by customers will be private and secure, plus it does not charge any fee.
Gemini Pay was developed in partnership with Flexa, a payment network built using cryptocurrencies to bring buyers and sellers together.
You can access Gemini Pay from the Gemini app.
Gemini Wallet
Gemini allows its customers to use Gemini deposit addresses to store their assets in either a hot wallet or cold storage system.
Users get Insurance against theft of Digital Assets from Gemini's hot wallet, backed by world-class underwriters.
Gemini Dollar
Gemini Dollar is a Gemini stable coin, which is a token built on the Ethereum network and is pegged 1:1 to the U.S. dollar.
The Gemini Dollar can also transfer it on the Ethereum network.
Users can use it to lend and earn interest.
You can also use GUSD to trade and stake on DeFi.
Along with Gemini Pay, customers can also spend it.
This platform does not offer any buy or sell fee for GUSD.
Gemini Mobile App
Gemini apps are available for both Android and iOS users. The user interface is sleek and easy to use. For example, with the mobile app, users can:
Securely buy, sell, and store cryptos, which Gemini support.
Create price Alerts.
Set recurring buys.
Maximize their trading strategies.
Put their assets into Gemini Earn and can earn interest up to 7.4%.
Complete their verification.
Use the support system.
Buy stuff through Gemini pay.
Gemini Exchange Customer Support
Gemini customer support has an in-depth FAQ section covering all the information from the sign-up to their products. The other option through which users can ask their queries is the email support service. Moreover, they also live chat support, but it does not support live chat with Gemini customer support. According to them, if user's queries are resolved even after contacting the support, they can complain to the New York State Department of Financial Services (For users residing in New York). You can get more information on Gemini Support.
Gemini Security System
The Gemini computerized security system revolves around these three points:
Defending the system and user's assets against external threats.
Protecting against human errors.
And finally, guarding against the misuse of insider access.
They keep the majority of user's crypto in their offline, air-gapped Cold Storage system. At the same time, a small portion is held in an online Hot Wallet. Also, the Gemini KYC is there to cover the third point, that is, through KYC, they try to eliminate frauds.
For account security, Gemini supports Two-Factor Authentication (2FA), which is required when a user logs in to their account or makes crypto withdrawals.
Gemini Reviews: Pros and Cons
Pros
Gemini offers more than 30 cryptocurrencies.
High security.
Around eight different products to earn more profit.
Best for both beginner and advanced level traders.
Available for U.S. residents.
Good customer support.
The signUp process is accessible without any hectic process.
A mobile application is available.
Cons
The fee is a bit high compared to other platforms.
In addition, the platform is regulated and does not support margin trading.
Gemini Review: Conclusion
Finally, we can say that no matter if the user is a beginner or an advanced level trader, Gemini is fit for both. From an easy and intuitive web platform to its Advance ActiveTrader platform, Gemini offers features that could support every user. It provides more than 30 cryptocurrencies with high security for users. The fee is a bit high in contrast with other platforms. However, its products and safety cover that up. They also support a dedicated FAQ section to help their customers with an email to contact Gemini for further queries.
Frequently Asked Questions
Is Gemini Exchange Safe?
Gemini comes under one of those licensed exchanges whose first motto is the security of users' data and assets. Moreover, till now, Gemini has never been hacked. Furthermore, users USD stored in their Gemini account is FDIC insured. This platform utilizes security by being compliant in SOC 1 Type 1, SOC 2 Type 1, and Type 2. 
Where is Gemini Exchange Located?
Gemini cryptocurrency exchange platform headquarter is located in New York City, New York, U.S.
How much can you add to the Gemini exchange in a day?
If the deposit method is through wire transfer, there are no deposit limits on individual and institutional accounts. The same goes for crypto assets deposits. However, there is a daily limit of $1,000 on debit card purchases.
How to withdraw from the Gemini exchange?
– Log in to your Gemini account.
– Select the transfer icon in the navigation toolbar and select "Withdraw from Gemini."
– Select the "Currency" and Bank Account from the dropdown menu.
– Enter the amount you want to withdraw.
– Review your withdrawal and press "Request Withdrawal."
Does Gemini have a referral program?
Yes, the Gemini trading platform has made available the referral program to users. They offer $10 to both parties if the referred user either buys or sells any crypto worth $100 within 30 days of the account created.