Today, we came up with a comprehensive BlockFi review, a crypto lending platform founded in 2017 and has its headquarters in New York. With BlockFi, You can earn up to 8.6% annual returns (APY) by lending cryptocurrencies. BlockFi is available in almost all countries worldwide.
Summary (TL;DR)
BlockFi is a crypto lending service that allows you to earn interest on cryptocurrencies and take loans up to $20k.
They offer payment flexibility offering you to earn in cryptocurrency of your choice.
BlockFi interest calculator helps you in estimating the interest you can earn.
You can deposit into your BlockFi account using wire or crypto transfer.
BlockFi allows you to buy and sell cryptocurrencies under their trade section.
The Blockfi withdrawal fees is quite low. Furthermore, the withdrawal limit depends upon the cryptocurrency you can choose.
Gemini is its primary custodian to secure its funds and the New York Department of Financial Services (NYDFS) regualtes it.
Two-factor authentication, allow listing wallet addresses, PII verification, and more to ensure that the platform is completely safe.
BlockFi supports applications on both Android and iOS to help you manage your trades easily.
The BlockFi affiliate program allows you to earn up to $1000 in commission for every referral with no limit to the number of direct referrals.
They offer institutional services such as customizable borrowing and lending of stablecoins, cryptocurrencies, and USD.
First-ever crypto rewards credit card from BlockFi. Get UPTO 1.5% credit card interest in Bitcoin on your everyday purchases using BlockFi Crypto rewards Credit Card.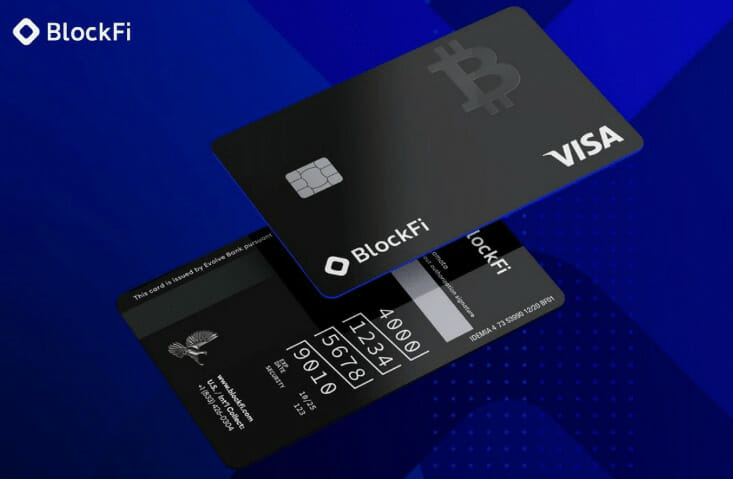 What is BlockFi?
BlockFi is a crypto lending service provider that allows you to earn interest on your Bitcoin and other crypto-assets (including Stablecoins) through a BlockFi Savings account. In other words, BlockFi is a sort of crypto bank.
BlockFi operates within the federal and state guidelines of the United States. Furthermore, BlockFi's investors include some of the crypto industry's biggest names, such as Galaxy Digital, Valar Ventures, etc.
How to create a BlockFi cryptocurrency interest accounts?
You can create a crypto Interest account by visiting BlockFi or calling customer care at 888–978–6139. However, you should be at least eighteen years old.
You have to go through a BlockFi KYC process, where you need to upload a clear photo of your documents for identity verification. If all the details are correct, the platform approves your account within minutes. However, if your account is not approved in 48 hours, you can write to them at [email protected].
For business accounts, you have to submit identification information of your business's managers and equity owners. In addition, BlockFi offers promotions to attract customers and is currently offering up to a $250 sign-up bonus with a $25 or higher deposit in crypto.
The first step on the Blockfi login process is that you need to login into your blockfi account. Then, you are required to complete your KYC. As it helps the organization to prevent money laundering activities and other such practices.
BlockFi Promo— Use this link and get a $250 sign-up bonus with a $25 or higher deposit in crypto.
BlockFi Interest Rates
The bitcoin interest account provides compound interest on deposits on the first business day of every month. Furthermore, you do not require a minimum balance in your crypto interest accounts.
If you don't own any of the above coins, you can wire USD into your BlockFi Interest Account (BIA). Thereafter, the platform will convert your fiat to any of the above coins of your choice. These rates may change, keeping other factors in mind, but you will be given prior information. Also, they change once in two or three months compared to other platforms that change rates weekly. Therefore, BlockFi provides consistent earnings.
BlockFi offers Payment Flexibility. Moreover, if you are depositing your funds in a particular cryptocurrency, you can earn interest in a cryptocurrency of your choice. For example, if you deposited BTC, you can earn in BTC, ETH, LTC, GUSD, PAX, PAXG, USDC, or USDT.
You have to adjust this information at least two business days before the month's last business day. If you fail to do so, you will earn interest in the type of cryptocurrency you had deposited.
BlockFi Review: Interest Calculator
BlockFi Interest Calculator allows you to check the interest you can earn by setting the cryptocurrency, amount, and duration. However, the actual interest may differ depending on the interest rate during that time.
Furthermore, BlockFi provides monthly statements that state the funds you hold, the interest you have earned, and the projected interest you can earn next month. BlockFi will email you the monthly statements, and you can also download them in PDF format from the platform.
You can also download the transaction history in CSV file format under your account section. Additionally, you can also filter transactions in a specific date range and download accordingly.
BlockFi generates interest by lending its funds to trusted corporates and institutional borrowers, buying ETFs and other securities. However, it does a thorough credit analysis before lending money to anyone.
BlockFi Review: Deposit
You can deposit to your BlockFi account using two methods –
Wire Transfer – You can purchase stablecoins by transferring USD from your bank account. The recommended amount is $5000 or more and generally takes 1-3 business days. Additionally, you can use this method to buy bitcoin or any other crypto on BlockFi.
Crypto Transfer – You can directly send crypto to your BlockFi address. It will be available in your wallet after network confirmation.
How to buy or sell crypto on BlockFi?
To buy or sell cryptocurrencies on BlockFi crypto exchange, you have to click on the Trade option. You can choose the cryptocurrency you want to buy or sell.
Furthermore, you have an option to repeat the trade, and you can choose from daily, every week, every 1st of the month, or every 15th of the month.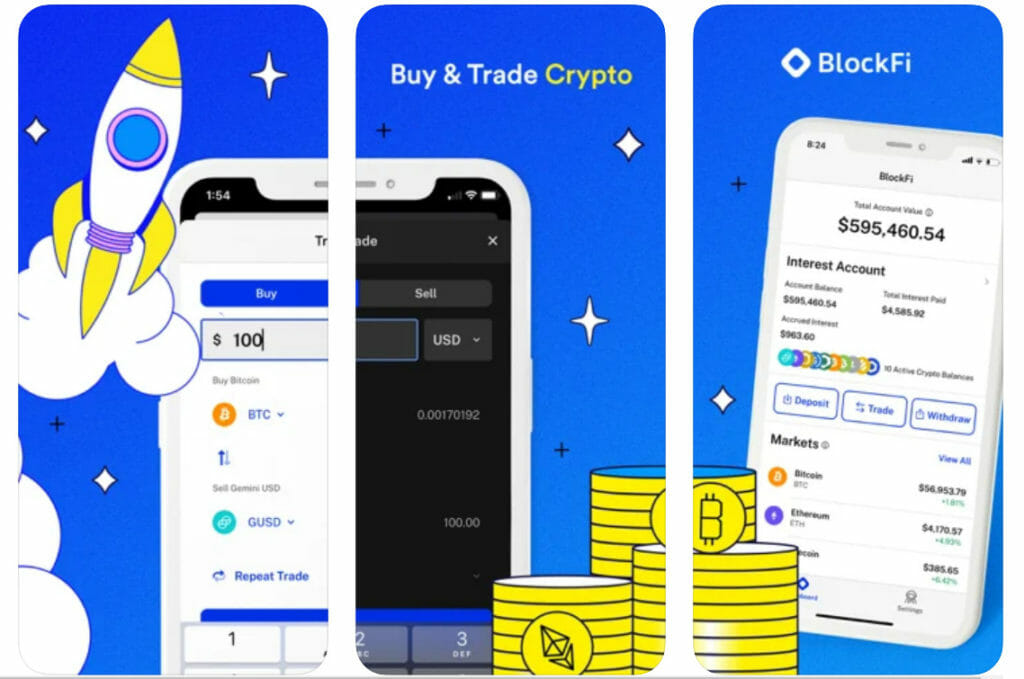 BlockFi Fees
You get one free crypto and stablecoin withdrawal every month, and you can withdraw it anytime. Each free withdrawal applies to a single cryptocurrency each month. After you place a request, your cryptocurrency will be first transferred to BlockFi Trading LLC and then to the required address. However, if you want to make an additional withdrawal, you will be charged as follows.
BlockFi accounts are subject to Gemini's minimum withdrawal amount, which is 0.003 BTC and 0.056 ETH. However, if your withdrawal amount is smaller than this, it may take up to 30 days to complete the process. If you are using wire withdrawal, you will have a limit of $5000.
BlockFi Review: Loans
The BlockFi loan amount depends on the collateral you deposit against your loan. Additionally, 20% of LTV is applicable only for BTC-backed loans of up to $20k.
Also, read BlockFi vs CoinLoan vs Nexo 2021 | Best Lending Platform?
Closing you BlockFi account
You can close your account whenever you want. If your wallet has cryptocurrencies, you can get it transferred to another account along with its interest. However, with the deposit rates updated if you don't deposit any amount within sixty days of opening your account, it will be closed automatically.
BlockFi Insurance
BlockFi uses Gemini as its primary custodian to secure its funds regulated by the NYDFS. Furthermore, it has a SOC2 Type 1 compliance audit from Deloitte. Gemini stores 95% of their funds in a cold wallet, i.e., offline and safe, and the remaining 5% in the hot wallets, insured by Aon. BlockFi also states its client funds are placed ahead of employee funds or equity in losses.
In case your account is compromised, it will be frozen for one week. Then, BlockFi will conduct a video call with you and will verify your identity. After your account is verified, you can change your email address and password and regain control of your account.
BlockFi Review: Mobile app
BlockFi app offers a user-friendly interface. Additionally, they offer apps that support both Android and iOS to manage your accounts on the go.
Is BlockFi safe?
BlockFi uses two-factor authentication for securing your account. Once you enter your password, you have to enter a verification code from the Google authenticator app. To enable two-factor authentication, you have to go under the profile setting and click on BlockFi security.
BlockFi also offers a wallet address book that allows you to save your frequently used crypto addresses. Furthermore, the platform provides Allowlisting which adds another layer of security. Allow listing allows cryptocurrencies in your BlockFi account to be transferred only to a list of known withdrawal addresses. You can configure your Allowlisting settings here. In addition, you can also label withdrawal addresses. If your allowlist is empty, you cannot make any withdrawals. To make a withdrawal, you have to add active addresses to your BlockFi wallet. Furthermore, the platform takes 7 days to approve the address; hence you might consider doing it beforehand. You can make allowlist changes only through the web platform. BlockFi mobile app provides read-only information.
You can also enable PII Verification. They are fed by various factors such as amount, the velocity of transactions, and geographic location. In addition, it has an automated risk management system that monitors 24/7.
BlockFi Referral Bonus
If you refer BlockFi to any of your connections, they deposit $100 or more into their BlockFi Interest Account (BIA). As a result, you and your connection can both earn $10 in BTC. However, you must deposit the $100 into the account until the following interest payment day to receive the benefits.
To refer, you have to follow the following three steps:
Sign in to your BlockFi cryptocurrency interest accounts. Go to your dashboard.
Click on "Refer a Friend" in the top right corner.
Now you will share the Blockfi referral code with your connection.
After completing five referrals, you will get $20 BTC for each referral, while your connection will continue to get $10 BTC.
BlockFi Review: Affiliate Partner Program
You can earn passive income by joining BlockFi Affiliate Partner Program. First, you have to introduce your audience to BlockFi Financial Tools. Then, the platform will provide you with basic training and will connect you to a dedicated Partner Manager for guidance.
You will have a cookie window of 30 days. All the marketing and promotional resources are available in the dashboard, and you can also track your performance and earnings in the dashboard.
You will earn 0.5% of all the deposits your network invests in BlockFi, up to $1000 in commission for every referral. Furthermore, the platform will pay you through PayPal or directly in your bank account. There is no limit on the number of referrals.
You can market in BlockFi in many ways, such as –
Link BlockFi in your articles
Ads on your website
Social media posts
Create new content
Institutional Services
BlockFi provides institutional services such as customizable borrowing and lending of stablecoins, cryptocurrencies, and USD. It customizes lending products according to the client's business strategy. BlockFi supports rapid onboarding, fast trade execution, and enterprise-level reporting. They help you develop insights by being your strategic partner. For further details, you can contact them by filling out this form.
BlockFi Reviews
There are over 225 reviews of BlockFi on Trustpilot and almost 67% of those were in the Excellent category. Moreover, BlockFi has a 4.2-star rating on Google Play Store, being one of the most trusted and used apps in the industry. BlockFi also offers a crypto rewards credit card that can be used to pay for your groceries and daily life shopping.
BlockFi Customer Service
You can contact BlockFi Service at +1 646 779 9688. You can also write to them at their support email – [email protected].
BlockFi also runs a YouTube channel where they hold interviews with BlockFi staff and provide more information about the platform. They are also active on Twitter.
BlockFi Review: Pros and Cons
Let's summarize BlockFi's pros and cons.
Pros
Institutional quality financial services.
You earn interest monthly and in compounds.
They provide responsive customer support.
They provide consistent earnings.
BlockFi APY — 8.6%
Cons
BlockFi has a limited crypto-asset option compared to other platforms.
KYC is mandatory.
Lower value withdrawals take a lot of time.
BlockFi Review: Conclusion
BlockFi App is also available on Android and iOS and has an intuitive interface. Furthermore, we can consider the platform to be one of the best crypto loan providers. Moreover, with a BlockFi Crypto Credit card, you can spend your crypto holdings just like FIAT.
We can conclude that BlockFi is a trustworthy platform as it is backed by big names in the crypto space, insured by Aon. Furthermore, the NYDFS regulates BlockFi and uses various techniques to secure the platform. In addition, BlockFi has competitive cryptocurrency interest rates, a user-friendly platform, and extensive customer support.
So what are you waiting for? Get a bitcoin loan using Blockfi today.
Frequently Asked Questions (FAQ)
How does BlockFi make money?
BlockFi generates interest by lending its funds to trusted corporates and institutional borrowers and buying ETFs and other securities.
What is BlockFi used for?
BlockFi can be used for earning interest on cryptocurrencies and taking loans up to $20k. Additionally, it can also be used for buying or selling cryptocurrencies.
Is BlockFi safe? Is BlockFi insured? How safe is blockfi?
Digital currency is not legal tender and is not backed by any government. The BlockFi Interest Account is not a bank account or a brokerage account and is not subject to FDIC, SIPC, or other similar protections. Interest rates, withdrawal limits, and fees are subject to change and are primarily dictated by market conditions. This is not a risk-free product, and loss of principal is possible.
Is BlockFi legit?
BlockFi operates within the federal and state guidelines of the United States and is regulated by the New York Department of Financial Services (NYDFS).
Is there Blockfi Stock?
BlockFi does have its stock.
What is GUSD?
Gemini Dollars (GUSD) is a stablecoin issued by Gemini, one of the United State's largest cryptocurrency exchanges.
How to get a job in BlockFi?
Check out the BlockFi careers page and check open positions.
Who owns blockfi?
BlockFi is a privately owned company founded by Flori Marquez and Zac Prince, it has raised funding from various investors.
Where is BlockFi headquarters?
BlockFi New york is its headquarters office.
Who all are BlockFi competitors?
Some of the BlockFi competitors are Coinbase, Ledn, Celsius Network, Cobo Wallet, Abra and many more.