What if there was a way such that, as a beginner, you could be guided by a professional trader? Crypto Trading Signals allow you to follow the trading opportunities based on the analysis of professional traders. Hence, in this article, we will be covering all the nitty-gritty of crypto trading signals.
Summary (TL;DR)
Crypto signals allow you to learn about the market and gain returns from a professional trader's market analysis.
Most of the crypto trading signals provide you with buying price range and selling prices to take profits.
Almost all the crypto signals operate through telegram or discord to make it easier and faster to spread the information.
The admin in these channels posts the trading opportunities, and it is up to you to follow a signal.
Crypto trading signals are available for leveraged as well as spot trading.
The professional traders post trades of coin they are sure of performing well; however, you can always skip a signal and follow your strategy.
Telegram channels also provide you a trading bot, which helps you automate your crypto trading signal.
As a beginner, you get to interact with professional traders through these telegram groups.
What are crypto trading signals?
It is challenging to analyze the crypto market and predict the market movement mathematically. It might take years before you learn things and calculate market movements successfully. As a beginner in trading, it is nearly impossible to learn everything on your own.
This is where crypto trading signals come in handy; they enlighten you with market opportunities. These signals provide you with buying and selling prices of a market opportunity, and you can use a bot or place an order manually.
How do crypto signals work?
All of the crypto signals you receive are highly anticipated predictions of the market. Yet, you must always keep it in the back of your head that these are mere predictions, and the market can go sideways.
The crypto market analyst with years of market experience uses mathematics to determine the possible prices of an asset. Then you receive the signals with 3 to 4 market entry prices, take-profits, and stop-losses. Subsequently, you can either set up your trading bot or place the order manually.
What do crypto signals offer?
There are many free crypto signal groups on Telegram; however, these groups rarely provide you with significant signals and often urge you to get their premium membership. Once you are in the premium signals group, you receive buying positions of assets, take-profits, stop-losses, and platinum chat group.
The chat group allows you to learn and interact with the professional traders who create these signals. You become a part of a community, and by simply reading the conversation of traders, you can learn a lot of things.
Where can you find a crypto signal?
There are various platforms such as Bitsgap, Cryptohopper, etc., which provide crypto signals with subscription plans. You can also go for many available telegram channels, such as VCT, and subscribe to their premium service.
What are crypto signals telegram channels?
Once you subscribe to one of the crypto signals in the market, you'll have to join their various telegram groups. We can distinguish these groups or channels based on the information present in them. There is a Premium group chat that is only accessible to premium subscribers. There can be various channels based on the trading strategy a signal follows.
How do these channels work?
After analyzing a market opportunity, the admin posts a message containing all the details of a trade. It is then up to you to decide whether you want to follow the signal or wait for another market opportunity. In some instances, such as the Verified Crypto Traders telegram channel, the analyst even explains market movements using YouTube videos that are only accessible to premium members.
Best crypto signals telegram channels
Almost all the crypto trading signals function through telegram groups and channels. Some of these channels are as follows:
Verified Crypto Traders [Recommended]
Universal Crypto Signals
Fat Pig Signals
Be In Crypto
You can read our article on the Top 3 telegram channels for crypto trading Signals and learn about the features provided by these channels.
Crypto Signals – Jargon
You must understand jargon to properly execute the trades and market opportunities provided by the crypto signals.
Target Buy price
The latest message in the Signals channel will provide you with a buying range of an asset. The price might be lower than the current market value depending on the analysis. The buying range allows you to use Dollar Cost Average and buy the asset in the entire field.
Target Sell price
The take profit price range allows you to sell the assets at a particular position and take returns over the entire range of price distribution, maximizing your returns. You should consider the take profit prices as targets and move the stop loss to the buy price once the market price is near the take profit level.
Stop loss
The stop loss helps you in minimizing your risks once the market goes sideways. Yes, even the signals can give out negative results at times as nobody can truly predict in which direction the market is headed.
Once you open a position, you also have to set the Stop-loss to minimize your losses. Once the market moves to the 1st take profit price (TP1), you should move the stop loss to the buy price. When the price hits TP2, move the stop loss to TP1 and so on until the final sell price. This will prevent you from losing your capital and also locking your returns from a trade.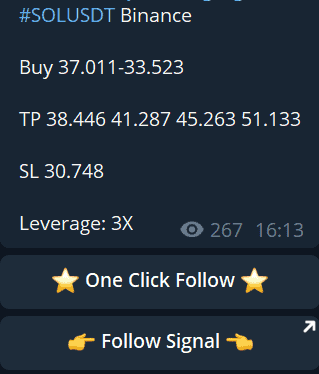 Leverage
There are mainly two types of signals; one is the short term which is for leveraged positions, and the other for a more extended period which is for the spot. Leverage provides you an opportunity to open a more prominent position than your capital. The exchange lends you assets with your capital as collateral. You need to return the borrowed amount after the completion of a trade.
While providing the signals for leveraged positions, the channel also specifies the leverage you should use for optimal results. Leveraged positions are precarious, and it is suggested that beginners do not get involved with leverage trading.
Suppose you're still interested in learning more about leverage trading. In that case, you can read our guide on Margin trading or our article on leveraged tokens. If you're looking for a platform to perform your leveraged trades. In that case, you can read our article on the best crypto margin trading platforms or best bitcoin margin trading platforms.
One-click follow
Most of the crypto signals telegram channels come with a trading bot to automate your trading experience. You can customize these bots in Telegram by connecting them to your trading platform using API keys. Henceforth, you can follow a signal with just a single click on follow button in the signals channel.
What coins should you buy/ sell?
There is a considerable variety in the signals, and almost all the signal providers cover most market opportunities. The signal providers do not provide signals based on fundamentals, rather it's purely technical analysis. However, you always have an option not to follow these signals. You should also do your research before investing in cryptocurrency.
What are crypto trading bots?
Trading bots help you automate your crypto trading strategies. You can customize a trading bot based on your requirements and connect it to your trading account using API keys.
What are crypto signals trading bots?
The crypto signals providers also integrate with trading bots to automate your crypto trading. These bots are primarily based on telegram and perform most of the features an average trading bot can perform. Cornix is the trading bot provided by the Verified Crypto Trading signals channel.
How to use the trading bots for your signals?
At times it can be confusing how to set up your crypto signals trading bot. Hence below; we are specifying the steps to customize Cornix on telegram successfully:
First of all, you'll have to click on the Follow Signal button below the signal you wish to follow.
Then you'll be redirected to activate the bot, and here you'll have to type "/start" to get started.
Now you can simply follow the instructions of the bot and complete the configuration.
Follow all the steps, get the API keys from your trading exchange. Then separating the API key and the Secret key with a comma sends them in the bot chat.
How can a beginner benefit from a crypto signal?
There are a lot of things that a beginner is not able to realize. Hence, you must understand why should you prefer crypto trading signals as a beginner:
Crypto signals provide a beginner opportunity to be a part of an active community of traders through its subscriber-only telegram group.
You, as a beginner, can get a chance to learn a lot from the experienced team of signal providers.
The signals help you understand and develop your trading strategy.
You don't need to do your research before following a signal. And you can keep learning about investing in cryptocurrency while taking returns from the market.
The trading bot helps you automate your trading, and hence even if you're busy at your day job, you will still be completing trades.
How to choose a crypto signal provider?
There are many factors that you should check before choosing your preferred crypto signals provider. Some of those factors are as follows:
You need to make sure the signal provider you choose provides its service through the exchange you're using.
There are many free signal providers in the market but do they have neither quantity nor quality. You must also check the price of paid signals and the services provided at that price.
The frequency and quality of signals by a provider matter the most. If there's just one signal in a month, it's not worth it; and if there are a million of them, and only ten are accurate, it's not worth it either.
Many signals providers explain the technical analysis and keep you updated on crypto news.
You must make sure that the signals provider you choose offers you support and a complaint system.
Crypto Trading Signals – Pros and Cons
| Pros | Cons |
| --- | --- |
| Signals are based on trade analysis, therefore it's always better than beginners try to chase the market. | You don't do your research and hence limit your learning capacity about the market. |
| The telegram group helps you interact with veteran traders. | At times the market can go sideways within seconds, and the bot might not implement stop-loss. |
| The trading bot enables automated trading. | |
| You can use leverage on short-term signals. | |
Conclusion
Crypto trading signals help you place orders and even automate your crypto trading based on an experienced trader's analysis. Being a beginner, you understand the market better while making profitable returns using crypto signals. Most of the signal providers offer you both leverage and spot market signals depending on your subscription plan.
The market analyst does his research and mathematically calculates the possible market prices. Hence, making the signals more accurate than a random guess. Most of the signal providers offer a monthly plan, so you can also try their service for a month. If you like the service provided by them, you can then increase your plan duration.
Frequently Asked Questions
Is crypto signal legit?
There are numerous crypto trading signal groups on telegram and discord. However, there are also scams in the name of crypto signals, so you must always be aware of the services you're being offered. You should also do a background check on the platform providing you signals.
Can you make money with crypto signals?
The crypto trading signals are just a way to provide you with information about the market. If you're a beginner, market signals from some experienced traders can help you take some returns. However, since the market is highly unpredictable, you can even lose all of your capital.
Which is the best crypto signal group in telegram?