Kraken is one of the best exchange platforms, that has been around since 2011. This Kraken review article will help you know everything related to the platform before you start using it.
Summary
Their trading fees are pretty reasonable and decrease with users increasing 30-day trading volume

.
They have 24/7 customer support with services like live chat with professionals to solve your inquiries.
Kraken has three levels of the verification process.
Kraken also has a dedicated FAQ section.
It supports Margin trading to supercharge your trades up to 5x.
Other features include Futures trading with up to 50x leverage, OTC desk, Stacking, and Cryptowatch.
Around 60+ cryptocurrencies are available.
This exchange platform is available for U.S. residents, excluding two regions: Washington and New York.
What is Kraken Exchange?
Kraken has been a San Francisco-based cryptocurrency exchange platform since 2011. Furthermore, it is one of the oldest and largest exchange platforms founded by Jesse Powell. With its interactive and user-friendly interface, you can exchange fiat currencies, including USD, Canadian, Euro, and GBP, with 60+ available cryptocurrencies.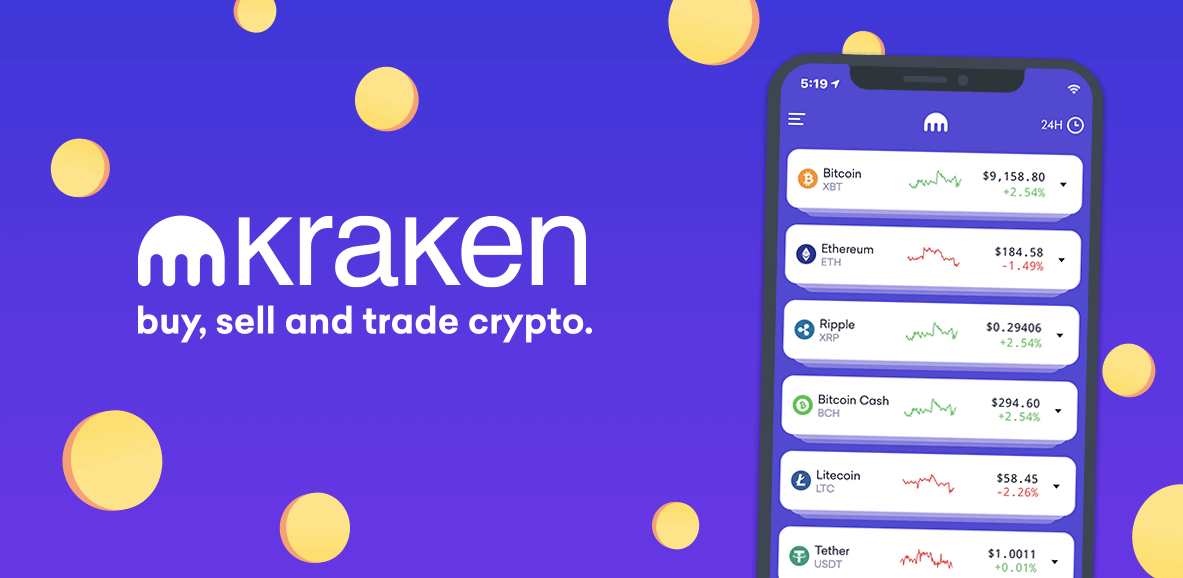 However, residents of Washington and New York cannot partake in Kraken services. Nevertheless, it offers plenty of features, including impressive 24/7 support, OTC desk, margin trading, Futures, Indices, Staking, and Account Management option.
How to Create a Kraken Exchange Account?
To create an account On Kraken, first, visit the official site of Kraken. Then, click on "Create Account" on the Kraken home page in the top right corner.
Fill in the valid details, and click on Create account.
You will receive a verification email. Either click on the given link to verify or enter the code and complete your registration process.
Trading on Kraken?
To start trading on Kraken, You will first have to create your account, verify it, and deposit the funds to start trading. In addition, you can check the above section to know the steps to create your account. Please note that without verification, you cannot deposit funds.
How To Verify Your Account?
Kraken has five levels of verification, Starter, Express, Intermediate, and Pro-personal, and Pro-Business. However, based on your geographical area and account type, the level differs. For instance, if you are a non-U.S. resident and have a personal Kraken account, you will only have three levels: Starter, Intermediate, and Pro-personal. Also, You will get different leverages based on the level of your verification.

Kraken level 1 Verification
Level one or Starter level verification will give you unlimited cryptocurrency deposits, plus you can withdraw around $5k per day. In addition, you will be able to use features including, Buy, sell, or convert cryptocurrencies, trading with margin, and Staking. However, you won't be able to do Bank Transfers.
Firstly, click on your username in the top right corner, and click on "get verified." A new page will open. Under the starter section, click on "Verify."
Secondly, fill in the details, and click on the "Continue."
Finally, it usually takes 1-2 minutes to get verified, and the process of this level verification is automated.
Kraken Level 2 Verification (Intermediate)
To complete this process on Kraken, click on "Verify" in the "Intermediate" section. Under this, you will have to verify your identity. Based on your occupation, the documents needed to be uploaded also differ. Therefore, to avoid delays in your verification, upload valid documents, and they meet the required criteria. Refer to Kraken Support to check all the requirements.
After completing this, you will be able to do Bank Transfers with $100K per day. Your withdrawal limit will also increase from $5k to $500K per day. Also, users will be able to use all the features except the OTC desk. It usually takes 4-5 minutes to verify.
Kraken Level 3 Verification (Pro)
Under Kraken Level 3 Verification, you will have to give your financial info, and you will be able to deposit, withdraw, bank Transfers without any limits. Moreover, you will be able to use all the features. It is compulsory to complete the Intermediate level verification before starting with Pro level verification. However, the verification process takes a few days to complete.
How to deposit funds in Kraken?
To begin trading at Kraken, you either need to deposit fiat currency or cryptocurrency. Below are the steps to fund your account:
Firstly, if you are using a laptop, click on "Funding" from the top menu.
Secondly, if you are using a mobile phone, tap the action icon at the bottom of the navigation bar and select "Deposit."
Thirdly, you can use the search bar to find your preferred fiat currency/ cryptocurrency or click on the "Show all Assets" option.
Now, select any one of them and click on "Deposit."
Then, you can select any one funding provider from the drop-down menu.
Finally, follow the instructions given on the Kraken depositing page and complete your transaction.
Kraken Review: Fee Structure
Kraken fees are reasonable and are competitive.
Kraken Pro
On Kraken, users who trade less than $50,000 per month have to pay a 0.16% maker fee and a 0.26% taker fee. This amount keeps on decreasing as the trade volume of the user increases. The users at the highest trading volume that is $1,000,000+, do not have to pay any maker fee and the taker fee is as low as 0.10%.
Futures Trading fee
Again, the fee depends on the monthly trading volume of the user. For Kraken futures, users with a trading volume less than $100,000 are 0.0200% maker fee and 0.0500% taker fee.
Kraken withdrawal Fee
Kraken's withdrawal fee matches that of most of the exchanges. They typically charge a 0.0005 withdrawal fee for BTC and around 0.005 for Ethereum (ETH). The coins are notably cheaper. Besides this, coins, including Tether, have a high withdrawal fee of 5.0 USDT and 0.05 for EOS. To see the complete list of withdrawal fees, visit Kraken Support.
Kraken Review: Deposit Methods
Users can deposit either cryptos or Fiat as funds into their accounts. Kraken allows its users to have unlimited crypto deposits, even for traders who have not done KYC. However, the withdrawals are limited. This platform accepts the cryptocurrencies that it supports.
On the other hand, to make Fiat deposits, users have to complete their KYC until the intermediate level. Kraken supports CAD, JPY, GBP, USD, CHF, AUD, and EUR.
Kraken does not have any credit card facilities. Therefore the only way to deposit funds is through a bank or wire transfer. The supported methods include SEPA (for E.U. residents), SWIFT for worldwide, FedWire (for the U.S. residents), and SIC (for Liechtenstein & Switzerland).
Kraken Review: Features
Besides trading, buying, and selling crypto and Fiat, Kraken has some extra features for users.
Kraken Futures
Kraken futures allow its users to trade top cryptocurrencies with up to 50x leverage. This feature is quite complicated for beginners, and therefore it is recommended for experienced clients only. Trading Futures have few advantages over trading their assets directly:
Kraken futures fees are as low as 0.0200% for the maker and 0.05% for a taker.
It allows users to benefit from increments and decrements in prices.
Futures provide users with financial leverage.
Currently, there are five cryptos available for Kraken Futures: Litecoin, Bitcoin Cash, Bitcoin, Ether, and Ripple XRP. The profits from Futures trading will be instantly settled and available.
Kraken Margin Trading
Kraken allows its users to trade with up to 5x margin. It means you can complete a purchase on this exchange platform with as little as one-fifth of the necessary collateral, and the rest Kraken puts up as leverage. This will help you in increasing your profits potentially from trading. This does not mean there won't be any losses. Higher profits always come with higher risks.
Any verified user can use margin trading, and currently, it supports 16 cryptocurrencies, including:
Bitcoin (BTC),
Ethereum (ETH),
Tether (USDT),
Bitcoin Cash (BCH),
Tezos (XTZ),
Litecoin (LTC),
Cardano (ADA),
EOSIO (EOS),
Dash (DASH),
Tron (TRX),
Monero (XMR),
Ethereum Classic (ETC),
Augur (REP),
Ripple (XRP),
Chainlink (LINK),
USD Coin (USDC).
Please note that Margin trading is riskier compared to other tradings. Therefore, you should use this feature only when you have advanced knowledge about investing. To learn more read our article on margin trading.
Kraken Review: Cryptowatch
Cryptowatch is a premium trading terminal, which analyzes and provides real-time data on 4,000 markets, real time crypto charting, and trading services for around 25 cryptocurrency exchanges in one place. With this, you can see the movements in the Market along with your portfolio across different exchanges. Users have to create a separate account to use Cryptowatch.
Benefits of Cryptowatch
These benefits are those which you will get without buying premium services.
Trade on multiple exchanges for free from one terminal (Also available on mobile).
You can view your orders, positions, and trade history on your portfolio page.
Users can chat with other traders in the Trollbox.
Users can analyze charts with popular tools and indicators like Moving Averages, MACD, RSI, and Bollinger Bands.
You can set your price, technical analysis alerts, and volume on your charts.
The paid version of Cryptowatch provides extra services like pulling market data into Google Sheets, automating orders and alerts, and others.
Kraken Review: OTC Trading
Over-the-Counter (OTC) desk trading on Kraken is ideal for clients who want to conduct large orders without placing them on a crypto exchange. With this, customers will interact with Kraken traders directly and perform specific transaction prices and details. Kraken offers deeper liquidity and a private yet personalized service to high-net-worth users.
Benefits of OTC desk
It supports all available cryptocurrencies that Kraken offers.
This service is free of cost.
It will quote a competitive price near the spot rate irrespective of the size of the order.
Users will get superb one-on-one service.
You will be given expert market insight by the highly skilled members of the desk.
Kraken Review: Staking
Kraken staking service encourages users to keep their money on the platform. With this feature, you can buy assets, which you will gain rewards over time. You can compare it with your savings account. You can stake on ten different cryptocurrencies.
Kraken Review: Mobile app
Kraken has three official mobile applications for both android and iOS users.
Kraken App
This application of Kraken has stunning vibrant designs. It is beginner-friendly and is made to buy and sell crypto quickly. With this, you can:
Create an account of the Kraken crypto exchange platform.
Complete your verification process.
Can deposit or buy with your payment card or ACH online banking at any moment.
Sell or withdraw instantly.
Save your favorite cryptocurrencies.
Complete your transactions with credit and debit cards. Here note that the purchases are currently only available in euros. Head over to Kraken support to know the complete requirements.
Read the articles from the blog.
Hide your balances.
Set up your Two-Factor Authentication.
Manage the approved devices.
This application is available for all countries and regions except Crimea, Cuba, Iran, Japan, North Korea, and Syria. Download the app for Android and iOS versions of phones.
Kraken Pro
Kraken pro was released in 2019 for all the users of Kraken to avail trading from anywhere and anytime. With this application, users can:
Do margin trading with 5X leverage.
View their stacking and trading portfolio balances.
Get professional trading experience.
Take profit order types and can trade with the Market, limit, and stop loss.
View candlestick price charts.
You can get the application for both Android and iOS phones. You should know that Kraken Pro connects with your Kraken account using an API keys rather than using a username and password.
Kraken Futures
Kraken Futures is another official application of Kraken. With this, users can:
Receive seamless access to the Futures services of Kraken.
Get up to 50x leverage.
Trade with order types including Market, Limit, Stop Loss, Stop Loss Limit, Take Profit, Take Profit Limit, Bracket, Trigger Entry, and Trigger Entry Limit.
Transfer funds from their Kraken account to Kraken Futures.
Transfer from your Kraken account to Kraken Futures.
Use personal support and educational content.
It is available for Android 4.4 and up and for iOS 10 and up. Also, note that the Kraken Futures app connects with your Kraken account using a Mobile token. Before downloading the app, check your eligibility criteria from Kraken Support.
How to generate Mobile Token?
Sign in to your Kraken account, and click on your profile.
Click on Settings -> Sessions -> Mobile Token -> Request New Mobile Token.
A new Q.R. code will be generated for the mobile token and valid only for 2 minutes.
Open your Kraken Futures app, click on sign in and then click "Next."
Scan the Q.R. code, and you will receive a six-digit confirmation code.
Enter that six-digit and click on the "Save" button.
Wait for the Success message, and you will be all set to start using this.
How to use Kraken API to connect to Kraken Pro?
Follow the below instructions to connect Kraken Pro with your account
Sign in to your Kraken account and click on your name in the top right corner.
Click on Security -> API -> Add Key.
Edit two sections, "Key description" and "Key Permission."
In the key description, enter a name you will remember and give permissions to Query Funds, Query Ledger Entries, Query Open Orders & Trades, Query Closed Orders & Trades, Modify Orders, and Cancel/ Close Orders.
Click on "Generate Key."
Now, open your Kraken app and scan the Q.R. code.
After scanning, click on "Save," and you are set to trade.
Kraken Review: Customer Support
Kraken's customer support is genuinely impressive. If a user somehow feels like they are not satisfied, they can always contact support and submit a request. Furthermore, for emergencies, the live chat is also available 24/7.
The best thing about this live chat is, it is not only just a virtual assistant (A.I.) replying, but you can also connect directly to a live specialist. Through live chat, it takes around 5-10 minutes before support is assigned to you.
Users can also contact them through email-Id, but the Kraken support number is not available.
Kraken Review: Security
Kraken has been one of the oldest and most secure exchange platforms that has never been hacked. They claim that the deposits and funds of the users are kept in offline, air-gapped, geographically distributed cold storage. The personal information of the user's data is also secured through encryption at both the system and data level.
The accounts of the users themselves are protected by various Kraken security features that are available. Security features like 2FA (Two Factor Authentication), email confirmations for withdrawals, global settings time lock, PGP signed and encrypted email, and few others.
Kraken review: Pros and Cons
Pros
Low Trading Fees.
Focuses highly on security.
Highly efficient 24/7 customer support with a live chat option.
Have high liquidity.
Features like Staking, OTC desk, Futures trading, margin trading, and crypto watch are available.
Three mobile applications with different purposes.
User friendly with an attractive interface.
Cons
Not for beginners.
The account funding process is low.
No tax support is available.
Kraken Review: Conclusion
Overall, we can say that Kraken is one of the best available crypto exchange platforms. This platform has been existing since 2011 means the services it offers must have been preferred by users. With elite security measures and numerous crypto and fiat currency, users can trade, buy, sell, and stake.
Out of the three available applications, the latest one, "Kraken," is a beginner-friendly app with extra features. With the way it's moving ahead, Kraken will undoubtedly continue developing and providing the best services to its users.
Frequently Asked Questions