Coinbase and Kraken are among the best crypto trading platforms. Coinbase does not offer advanced trading options like margin trading. On the other hand, using Kraken, you can trade on leverage. Hence, in this article, we will be comparing these two trading platforms.
Summary (TL;DR)
Both Kraken and Coinbase are US-based crypto trading platforms.
Kraken offers products like Kraken pro , Kraken Futures, Cryptowatch, etc.
Coinbase offers products like Coinbase Pro, Coinbase Prime, etc.
Kraken has a beautiful and graphically enhanced user interface, while Coinbase has a beginner-friendly and straightforward user interface.
You can set up accounts on both exchanges within a few minutes.
Coinbase has high fees as compared to Kraken. Kraken claims to charge fees as low as 0%.
Both the exchanges treat security as one of the major priorities. However, Coinbase is insured by FDIC.
In case of a security breach, you can easily lock your account by calling Coinbase.
Kraken offers leverage of up to 50x on its future derivatives.
What is Kraken?
Kraken was established in 2011 by Jesse Powell, and presently the exchange supports more than 50 new cryptocurrencies. It is an exchange based in the USA that offers various advanced trading options.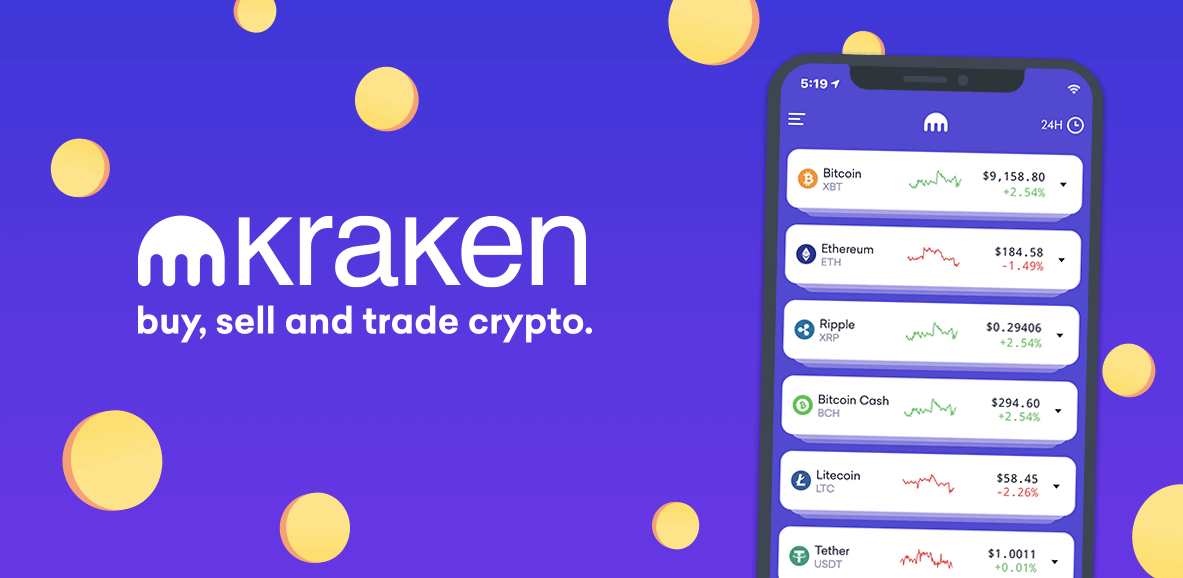 Apart from all this, it is a well secured and transparent cryptocurrency exchange and sticks to all the security norms. The exchange is well suited for beginners as well as professional traders. Besides, it offers 24×7 customer support with chatting bots.
What is Coinbase?
Coinbase was founded in 2012 by Brian Armstrong and Fred Ehrsam. Since then, it has gained the spotlight and has become a highly recognized cryptocurrency exchange in the US. Coinbase does not offer some advanced trading alternatives like leverage trading.
It has intuitive applications like the Coinbase wallet app. You can easily store your crypto assets or send them to your friends directly from your wallet. The platform parts into various segments like Coinbase Prime and Coinbase Pro, which exist for investments in crypto assets by individuals and institutions.
Kraken vs Coinbase: Trading Options
It is almost impossible to skip this point. While comparing any two big crypto exchanges, it is mandatory to discuss how to gain returns through them.
Kraken Trading Options
Kraken offers a wide variety of features and trading options. Some of which is margin trading, futures trading, over-the-counter service, etc. Let us understand the same below:
Margin trading: Kraken offers a leverage of up to 5x on almost all the crypto assets listed on its exchange. It also provides a variety of order types with customizable timings. You can open long and short positions easily by using the intuitive and advanced trading platform of Kraken.
Future trading: You can use the leverage of up to 50x while trading in futures on Kraken. However, to test your understanding of the futures market and leverage, you have to answer a questionnaire on the platform before trading in futures. Based on which you gain a title as "retail trader' or "professional trader" or "large undertaking."
Retail traders are eligible for taking leverage up to 2x. Professional traders or large undertakings can leverage up to 50x; the leverage is vast in itself, and you must use it cautiously.
Over-the-counter service (OTC): This service is not for everyone as it happens off the open Kraken crypto exchange. It primarily exists for giant institutions and individuals with heavy net worth who require deeper liquidity and personal services.
Buy and sell crypto assets: Kraken also delivers the service of buying and selling various crypto assets. You need to complete the verification process to buy, sell, and trade crypto assets on Kraken.
Cryptowatch: This feature makes it easy for users to keep an eye on their crypto portfolio and the crypto market. Through this, it becomes for the users to understand and analyze the market and trade when the market demands it.
Coinbase Trading Options
Coinbase is also a leading crypto exchange with a variety of services and features. Occasionally it also offers some free crypto assets to the users. So let us understand them all.
Buy and sell crypto: Coinbase is a legit and prominent platform for buying and selling a wide variety of crypto assets. For purchasing any crypto asset, you first need to deposit the required funds into your account. The exchange also offers you $10 for enabling a recursive buy of $50 at the 4th and 8th buy.
Coinbase Pro: Coinbase Pro exists to cater to the needs of individual and advanced traders. The platform depicts the crucial information through advanced charts and a variety of options. However, the exchange lacks motivation as the UI is a bit difficult to understand compared to Coinbase. Besides, it also offers insurance to the users.
Coinbase prime: Coinbase Prime is fabricated for giant institutions, individuals with heavy net worth, corporate investors, and organizations. It is a blend of advanced tools and trading options like margin finance, algorithmic orders, etc.
Coinbase Learn and earn crypto: Well, it is an exciting feature offered by Coinbase. In this, Coinbase delivers free educational content on various crypto assets and trading options. Also, it gives you some of that crypto-asset to test how it works in practical ways.
Kraken vs Coinbase: User Interface
So user interface plays a vital role in any crypto exchange. Simple, attractive, and sorted UI makes the lives of users extremely easy. In short, the simpler the UI, the faster you can operate on that exchange.
In this case, both Coinbase and Kraken have a simple, intuitive, and attractive user interface. Kraken has an intuitive, engaging, and clean interface full of illustrations. Talking about Coinbase, it also has a sorted, colorful and simple interface. However, Kraken's UI is a bit more interesting, attractive, and easy to use than Coinbase.
Kraken vs Coinbase: Wallet
So wallets are an essential part of every crypto exchange. They help the traders to store and send crypto assets easily. This is the reason why it becomes vital to gather information about the wallets at both exchanges.
Kraken Wallet
Kraken lacks behind Coinbase in delivering a separate personalized wallet service to its users. However, it does supports a digital wallet to keep the crypto assets between a purchase.
Coinbase Wallet
Well, the Coinbase wallet secures your digital assets using a Secure Enclave and biometric authentication. It also helps you in storing all your crypto assets in one place. Through the Coinbase wallet app, you can quickly pay your friends directly.
Kraken vs Coinbase: Mobile App
In this world of connectivity, mobile phones can not be taken for granted as mobile applications have become an integral part of human lives. That is the reason why mobile app plays an essential role while comparing both the exchanges.
Kraken Mobile App
Kraken has three mobile apps that are Kraken, Kraken pro, and Kraken futures. All of these apps are available at the Google play store as well as the App Store. These apps have beautiful UI and consist of all the available features on the exchange's official website.
Kraken's official app is best suited for beginners. Simultaneously, Kraken Pro supports advanced trading options on the go, and Kraken futures allows trading in futures with leverage up to 50x.
Coinbase Mobile App
The Coinbase mobile app allows the users to trade with all necessary options required to trade judiciously. Apart from this, the application has a neat and fascinating user interface. However, many users have questioned the stability of the app. Many users claim to face multiple delays on the app. So, in the case of mobile apps, Kraken provides better and faster services than Coinbase.
Kraken vs Coinbase: How to buy Bitcoin?
Bitcoin is one of the most popular crypto-assets. Most people around the globe start their trading journey by investing in Bitcoin. So, lets us discuss how you can buy Bitcoin on both Kraken and Coinbase.
How to buy bitcoin at Kraken?
So let us discuss the step-by-step process to buy Bitcoins at Kraken quickly.
Go to Kraken's website and sign up for an account by giving a username, strong password, and an email.
Now, go to your entered email to copy and paste the activation code that appears after you hit the sign-up button.
Complete the verification process once you have created an account on the exchange. Click on your name appearing on the top right corner and click on get verified.
Now, provide the necessary documents and details to confirm your identity on the exchange.
To deposit funds using fiat currency goes the navigation bar and click on funding.
A new page will open on which you have to choose your fiat currency and method of depositing.
Check your account balance. Once the funds deposit into your account, you are all set to buy bitcoin by clicking on the Buy crypto option.
How to buy Bitcoin at Coinbase?
You can buy Bitcoin from Coinbase by following the step-by-step guide given below:
Go to the official website of Coinbase and login into your account.
Click on the sign-up button and create an account if you don't have one already.
Get your account email verified and log in to your Coinbase account.
Now for depositing funds, go to the portfolio tab and hit the deposit funds button.
Head towards your dashboard and hit the buy/ sell button.
Choose Bitcoin as a buying option, enter the amount you wish to buy, and click on the buy button.
Kraken vs Coinbase: Fees
The fee is a crucial factor that you need to keep in mind before indulging in any trade on crypto exchanges. Hence we will be comparing the fee structure and the cost you have to pay for trading at both exchanges.
Kraken Fees
Kraken charges a fee as low as 0%. The platform charges a fee of 0.9% for stablecoins and FX pairs and a fee of 1.5% fee for any other crypto while purchasing account balance. For detailed information, visit the fee schedule of the exchange.
For calculating your trading fees you can refer to the 30-D trading volume on Kraken pro with the help of below table:
| 30- Day Volume (USD) | Maker | Taker |
| --- | --- | --- |
| $0 – $50,000 | 0.16% | 0.26% |
| $50,001 – $100,000 | 0.14% | 0.24% |
| $100,001 – $250,000 | 0.12% | 0.22% |
| $250,001 – $500,000 | 0.10% | 0.20% |
| $500,001 – $1,000,000 | 0.08% | 0.18% |
| $1,000,001 – $2,500,000 | 0.06% | 0.16% |
| $2,500,001 – $5,000,000 | 0.04% | 0.14% |
| $5,000,001 – $10,000,000 | 0.02% | 0.12% |
| $10,000,000+ | 0.00% | 0.10% |
Coinbase Fees
Coinbase is famous for charging a significant amount of fees from its users. However, it also has some perks. It allows you to buy crypto assets using various options like Debit cards, PayPal, etc. Coinbase's baseline trading fees are 4% which is the highest in the market.
While dealing with Coinbase pro, you have to pay a fee between 0.04% to 0.5% to complete an order. It all depends on a tier system. You must observe the taker and maker fees for different tiers in the below table:
| Pricing Tier | Taker Fee | Maker Fee |
| --- | --- | --- |
| <$10K | 0.50% | 0.50% |
| $10 – 50K | 0.35% | 0.35% |
| $50 – 100K | 0.25% | 0.15% |
| $100K – 1M | 0.20% | 0.10% |
| $1- 10M | 0.18% | 0.08% |
| $10 -50M | 0.15% | 0.05% |
| $50 – 100M | 0.10% | 0.00% |
| $100 – 300M | 0.07% | 0.00% |
| $300 – 500M | 0.05% | 0.00% |
| $500M + | 0.04% | 0.00% |
Kraken vs Coinbase: Security
It is evident for us to expect that our assets remain within utmost security on the trading platform. Both Coinbase and Kraken have taken strong security measures but let us understand which one is best.
Kraken Security
Kraken has a comprehensive approach towards safeguarding your money and information against theft. They claim to keep customer security above everything. Let us understand some unique security features at Kraken.
Safe Coin Storage: Now that means 95% of all the deposits made by you are kept securely in air-gapped, offline, and geographically distributed cold storage. You can withdraw your funds anytime from the highly secured vaults of Kraken.
Platform Security: The servers of Kraken are guarded by armed guards and are under video monitoring 24×7. That means the code deployment and any type of physical approach are strictly prohibited.
Information Security: All the users' critical information is encrypted both at the system and data level. Any sort of access is strictly controlled and supervised.
Penetration Testing: The expert team in this phase tests and tests again for any possible and imaginable attack vectors. Kraken also runs a bug bounty program rewards you if you come up with a significant and relevant bug. For more detailed security information, click here.
Coinbase Security
Coinbase has also some strict security measures, which can be classified as follows:
2 Step Authentication: The exchange stores your credentials separately from the regular database. Also, it deploys 2-factor authentication across all its platforms.
Offline Cold Storage: Almost 98% of all the crypto assets at Coinbase remain in a secured cold storage vault whose geographic location is known to only a few people on the globe.
Coinbase bug bounty program: Anyone is eligible to receive up to $50,000 on reporting a relevant and crucial bug to the platform. Coinbase runs a bug bounty program in association with Hackerone. For more relevant information on Coinbase security, click here.
Kraken vs Coinbase: Customer Support
Kraken has live 24×7 chat support. The Client Engagement specialists who hold great expertise in crypto-assets and financial space are always there to answer the queries within a day. However, there has been speculation regarding poor customer support delivered by Kraken.
Coinbase has strong customer support. You can consult your issues by reporting them on the contact us column present on every window. After registering a problem, you can select the product or assets you face by choosing relevant alternatives. At last, enter your email and hit the submit button.
Kraken vs Coinbase: Conclusion
Coinbase does not support leverage trading options. On the other hand, Kraken supports advanced trading options like trading in futures, etc. Both the exchanges are based out of the USA and provide their services around the globe. If you are a beginner, it is good to go with Coinbase as the trading options are pretty beginner-friendly. In contrast, you can go for Kraken if you're looking for a friendly UX, lower fees, and better trading options. In the end, the choice comes down to your personal preference and demands.
| Kraken | Coinbase |
| --- | --- |
| Kraken offers low fees, high security, and comparatively more crypto assets. | Coinbase is beginner-friendly, and withdrawals are easy using PayPal. |
| Kraken does not provide a personalized wallet service but has a digital wallet to store funds between purchases. | Coinbase provides a personalized hot wallet service with applications available on the Google play store and app store. |
| The exchange has been questioned several times for inadequate customer support measures. | The platform secures the US customer's USD wallet through FDIC insurance. |
| The platform supports leverage trading. | Coinbase does not support leverage trading options. |
| Kraken offers a user interface with interactive illustrations. | At Coinbase, you can directly send your crypto to your friends from your wallet. |
Frequently Asked Questions
How to close a Coinbase account?
From your Coinbase account, you can go to the settings sections and then head over to the Activity page and scroll down. At the bottom, you'll find the option to close an account. Click on that and disable your account. However, make sure you don't have any funds in your Coinbase account.
How to transfer Bitcoin from Coinbase to Kraken?
Heading over to the funding page in your Kraken account and from there, copy your bitcoin wallet address. Now, head over to your Coinbase account at Coinbase Pro and click the withdraw button. Then enter all the details and paste the address you just copied, and hit the send button.
How to withdraw from Coinbase?
If you wish to withdraw from Coinbase, then head over to the Accounts section and then click on BTC wallet and hit send. If it is a Coinbase Pro account, click on the withdraw button, choose the crypto you wish to withdraw, and enter the withdrawal amount on the next page. Then paste your wallet address and hit the withdraw button.