Matic has been observing unprecedented growth and adoption in the recent past. Hence, by doing in-depth research we can consider it a good investment opportunity. Moreover, in order to invest in the Polygon network, you can lookout for the best places to buy matic such as various CeX (Centralised exchange) or DeX (Decentralised Exchange).
"This post contains affiliate links, and I will be compensated if you make a purchase after clicking on my links"
Summary (TL;DR)
Matic is the native token of the Polygon blockchain.
You can easily buy the Matic coin on swap platforms, centralised exchanges, or decentralised exchanges.
Binance is one of the leading platforms for trading crypto-related assets.
0x protocol comes out to be the liquidity endpoint for DeFi on Polygon, BSC, and Ethereum.
1inch network has an algorithm that finds different ways of trading the assets in the cheapest way possible.
SushiSwap is a DeFi platform providing services to earn, swap, stack yields, borrow, lend, leverage all on one decentralized, community driven platform.
Coinbase offers MATIC buying and selling of Matic tokens around the globe.
What is the MATIC coin?
MATIC is an Ethereum nominal that is operated by a multi-chain Ethereum ascending solution Polygon blockchain. The main intent of Polygon Ethereum is to deliver faster and cheaper trades on the leading chains along with Layer 2 side chains. Furthermore, the polygon sector has been rapidly flourishing, along with DeFi and NFT proposals joining them lately.
In response, the MATIC prices have also been rising, multiplying briskly recently. On the other hand, there have been massive uplifting costs of Ethereum and high requirements for asset trades on UniSwap. Considering these areas, the decentralised exchanges (DEX) on Polygon MATIC L2 are becoming more prevalent and admired.
Five places to buy MATIC coin
Buy Matic on Binance
Binance is one of the leading platforms for trading crypto assets. Furthermore, it has primary world direct-class matching support that supports up to 1,400,000 transactions per second. This helps the customers to have a hassle-free and reliable crypto trading experience. On a global level, Binance has wonderfully emerged as the world's most liquid cryptocurrency exchange. To learn more, read the Binance review.
Steps to buy Matic on Binance
Visit the official website of Binance. Log in using your previous details or create a new account with your email id.
Click on the Buy Now option on the dashboard.
You have the choice of buying crypto with various fiat currencies. Enter your desired fiat amount, and it will automatically convert into the crypto amount. Click on Continue.
Complete the transaction procedure by selecting your preferred payment method, i.e. debit card or credit card.
Check the amount details and card details properly and confirm your order within 1 minute. This is because the amount of crypto would be recalculated according to the current market price.
Lastly, an OTP will be sent to your registered mobile number, and you have to enter it. The amount will reflect your Binance wallet after completion of all network confirmations.
Buy Matic on SushiSwap
Another platform that is gaining popularity in the cryptocurrency sector is SushiSwap. Basically, SushiSwap runs on a DeFi platform on the Ethereum blockchain that lets its customers directly swap their tokens. There are two types of fees in SushiSwap. One is the trading fees, and another is the withdrawal fees. You are charged an approximate cost of 0.3% when you want to trade. At the same time, there are no such withdrawal fees.
Furthermore, it has a feature wherein the token's price is calculated automatically with the help of smart contracts. SushiSwap also tends to eliminate some custody as well as insolvency risks.
Steps to buy Matic on SushiSwap
To buy a MATIC coin through SushiSwap, you need to visit official website.
Next, click on Enter App.
Now, you will be redirected to the page where you will have to select the assets you already own and are willing to trade, such as ETH, BTC, etc.
After you select the initial asset you want to trade, choose MATIC in the next option.
Next, enter the amount of SushiSwap that you wish to exchange; for example, 50.
Next, click on the connect to the wallet button present below.
Now, choose the wallet that you want to connect to. For example, you choose Metamask. Click on Metamask, log into the chrome extension or Metamask and unlock it. Connect it to your Metamask wallet.
Complete all the formalities regarding all the transactions. Once you are finished with the transaction, your initial asset would exchange into the amount of Matic in your wallet.
Buy Matic on 0x Protocol
0x protocol is a platform that almost entirely works on the base of the Ethereum blockchains. This platform has an easy-to-use menu that lets you split up your transactions across various decentralised exchange platforms. This helps with the lowest slippage possible. Further, the 0x protocol supports free limit orders as well as peer-to-peer liquidity without any hassle. For trading, Matcha is another platform that is initiated by 0x protocol.
Steps to buy Matic on 0x
Go to the official website of 0x protocol. Then, click the Trade option on the Matcha option that is located in the header.
Search matic in the search bar.
Click on the Polygon (Matic) option.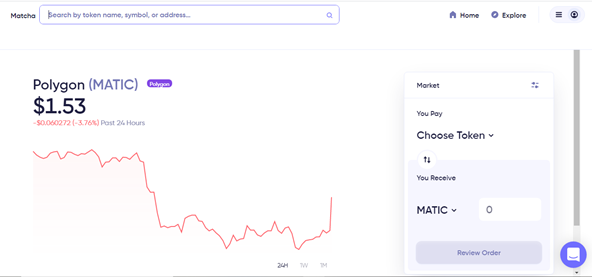 Next, select Ethereum in YOU PAY.
Now, click on matic in YOU RECEIVE.
Make sure to enter the amount of ETH.
Click on receive order.
Connect your wallet and make sure you have sufficient ETH.
Wait for all network confirmations.
As soon as it gets completed, you'll receive matic in your MetaMask wallet.
Buy Matic on 1inch
1inch network is one of the best-decentralised exchanges, favouring routine operations in the DeFi space. Furthermore, a 1inch network has an algorithm that finds different ways of trading the assets in the cheapest way possible. This online platform makes all the efforts to ensure its customers get the best deal while buying a MATIC coin.
Steps to buy Matic on 1inch
Visit the official website of 1inch.
Thereafter, click on Launch Dapp.
Next, you will have to connect to your wallet.
Choose the initial asset that you have, i.e. Ethereum, Bitcoin, DAI.
In the next step, choose MATIC as your following asset.
Complete the transaction process, the order amount will reflect the amount in your account soon.
Buy Matic on Coinbase
Last but not least, Coinbase offers MATIC coins on its trading platform. There is no such online platform as Coinbase that has been successful in attracting first-time cryptocurrency hodlers. The main focus of Coinbase is to educate the people who are new in this industry and to further draw their attention towards investing. Later, they also pay the people who learn more about the crypto industry. To learn more, read the Coinbase review.
Steps to buy Matic on Coinbase
Go to the official website of Coinbase.
Log in to the website with the help of your previous account details or register yourself using your email id and password.
Now, add a payemt method such as bank account, debit card, or credit card.
Select, buy/sell on the upper right corner.
Click the buy filed to select the asset you wish to buy, in our case Matic.
Enter the amount you wish to invest.
Select the payment method.
Next, head to the transaction window and complete all the formalities.
Best Places to buy Matic: Conclusion
MATIC has been quite successful in indulging and attracting new customers in a long-term sense. Talking about some numbers, in early January 2021, MATIC was valued for about $0.0018 and in just 6 months its value has risen to $1.6. Furthermore, you can buy Matic on centralised exchanges such as Binance or Coinbase, or you can go for decentralised exchanges such as 1inch, SushiSwap, and 0x.