In this article, we will review BitMEX, a leading crypto margin trading exchange that provides perpetual contracts and futures trading products.
Summary (TL;DR)
BitMEX is one of the oldest trading platforms, which provides contract trading products.
Getting started at BitMEX can be tedious due to its complex features and outdated user interface.
You cannot trade at BitMEX without completing your identity verification.
BitMEX offers its services in leverage trading, perpetual contracts, and futures trading.
You get one of the best insurance funds at BitMEX.
BitMEX recently launched its mobile app for both Android and iOS.
The entire BitMEX trading engine is in KDB+ software, which banks use to secure their network.
BitMEX offers an extensive support system and an affiliate program that benefits both sides.
What is BitMEX?
BitMEX is one of the early movers in crypto trading market. It is located in Seychelles and has been up and running since 2014. BitMEX is a peer-to-peer platform that offers leverage trading.
BitMEX provides you perpetual contracts products, and you can only use Bitcoin to trade at BitMEX. It also provides anonymity from the order book; however you have to complete your KYC verification to place orders.
How to use BitMEX?
BitMEX comes with an outdated but complex user interface, and at times getting started can be a tedious process. Hence, we provide you with a step-by-step guide from creating an account to placing an order and withdrawing your returns.
How to create an account on BitMEX?
Creating an account at BitMEX is very simple, and all you have to do is follow the below steps accurately:
Visit the official website of BitMEX.
Now click on 'Register' from the top right corner of the screen.
On the next window, enter your email and password.
Once you agree to all the privacy policies, click on register.
Now verify your email through a link in your mailbox.
How to complete your verification at BitMEX?
You cannot trade at BitMEX without completing your KYC verification. Hence follow the below steps to complete your KYC verification:
Once you login to your account, you can now start your KYC verification process.
Go to the trade tab and click on 'begin identity verification' from the screen's top-left corner.
Now you have to complete the verification process in four parts.
Firstly, select your country and then upload your government-approved ID cards.
Secondly, capture a selfie or upload a video for facial verification.
Thirdly, upload a government-approved document for location verification or enable the location of your device.
At last, provide the information regarding the funding of your BitMEX account.
How to deposit funds in your BitMEX account?
Now that you've verified your BitMEX account, you will want to begin trading. To do so, you would need funds in your BitMEX account, and you can now follow the below steps to fund your BitMEX account:
Then visit the 'account' section from the header of the trading tab.
Now, click on the deposit button.
Finally, either scan the QR code or copy the wallet address to deposit funds.
Remember, BitMEX only accepts bitcoins as a deposit, so do not send any other crypto to this wallet address.
Now that you have funds in your BitMEX wallet, you would want to jump straight into trading. However, jumping in directly without much information about the platform might cause a lot of harm to you in your initial trading days. Hence to prevent that loss, let us first learn some important things regarding trading at BitMEX.
Trading options at BitMEX
BitMEX allows its users to trade both in crypto as well as the futures market. However, unlike other platforms, BitMEX does not support spot trading. And according to Coindesk, BitMEX CEO recently said that the exchange is planning to add the spot trading feature.
BitMEX Leverage Trading
BitMEX offers margin trading services by keeping your initial margin as collateral and providing additional funds to open a position based on your leverage. You can easily select an asset you wish to trade from the header and go long or short.
BitMEX employs two different methods of leverage trading, which are as below. Read our guide to learn more about BitMEX margin trading.
BitMEX Cross Margin
BitMEX cross margin allows you to use your entire account balance to prevent liquidations. In certain situations, you can lose more than your initial margin for a particular position, but it'll prevent you from liquidation.
BitMEX Isolated Margin
BitMEX isolated margin puts only your initial margin at risk, as in the case of liquidations, it does not use any of your account balance. It can prevent extra losses by not putting your entire account balance at risk but cannot prevent liquidations.
BitMEX Perpetual Contracts
BitMEX perpetual contracts is in a way similar to traditional futures. A perpetual contract allows you to trade on approximately the same reference index price of the underlying assets as that is used in spot markets.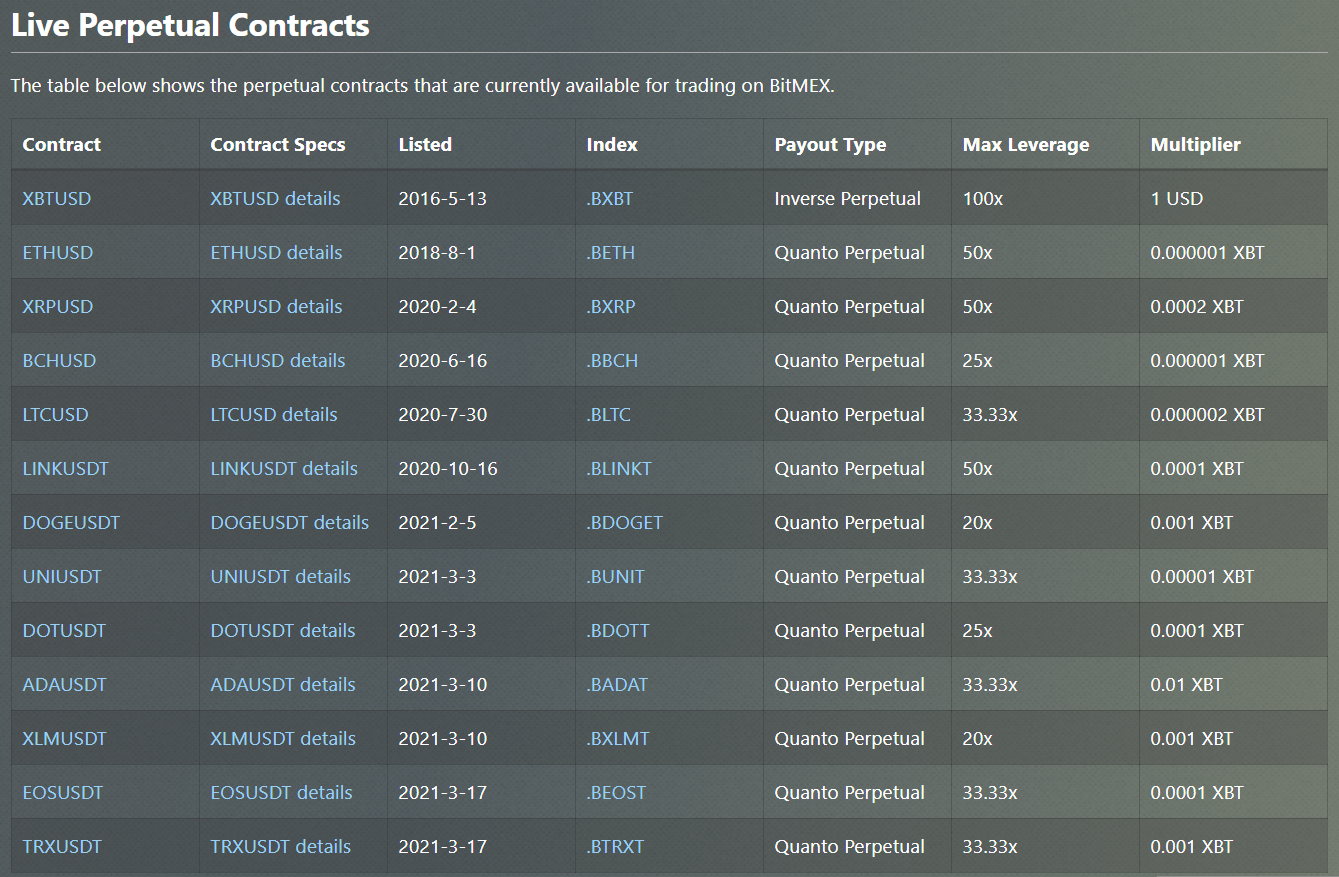 The perpetual contracts do not expire or settle; however, they are subject to early settlement.
Inverse perpetual contract
The inverse perpetual contract is most suitable for traders who wish to go long or short on BTC against USD. For example, XBTUSD is an inverse perpetual because the underlying asset is USD/ XBT.
If the underlying asset's price moves in the other direction in inverse perpetual, then you suffer a higher loss due to the contract's non-linear and inverse nature.
Quanto perpetual contract
The Quanto perpetual contract offers a derivative whose underlying commodity is denominated in on currency. This currency itself settles in another currency at some fixed rate. However, it would be best if you kept in mind that your PNL and margin are in bitcoin, so you are still at market risk.
BitMEX Futures Contract
A futures contract refers to buying an underlying commodity at a predetermined price in the future. BitMEX offers three different types of futures contracts, which are
To know more about the futures contracts, you can read our BitMEX margin trading article.
BitMEX leverage and leverage slider
BitMEX offers maximum leverage of 100x on its Bitcoin/ USD perpetual contract. The leverage varies depending on the asset, and you can observe the optimum leverage on the 'trade' window.
BitMEX offers a leverage slider to its users so they can easily choose their desired leverage and open a position.
BitMEX API
BitMEX updates its user and market data in real-time and makes it available. BitMEX provides a powerful streaming WebSocket API and a fully-featured REST API along with BitcoinCharts API and UDF API.
BitMEX Calculator
BitMEX offers an easy-to-use calculator on its 'trade' window. You will find the calculator icon above the Limit/ market order option on the trading tab. You can easily calculate your Profit/ Loss, target price, and liquidation price by entering all the required details of the position you wish to open.
BitMEX Bot
BitMEX provides two automated trading bots to its users. One is BitMEX market maker, an adaptation of Liquidbot and allows its users to quote two-sides market. You can find the source code of the bot at Github. The other is FMZ which is known as the largest algorithmic trading platform in China.
BitMEX Insurance Fund
To prevent auto-deleveraging in your positions, BitMEX uses an insurance fund. BitMEX uses the funds to aggress unfiled liquidation orders before the auto-deleveraging system takes over the orders.
Now that you know almost everything about trading at BitMEX, it is time we go through the steps to open a position and making withdrawals. However, if you still wish to learn more about the features provided at BitMEX, read our article on BitMEX margin trading.
How to trade on BitMEX?
Crypto trading sounds very attractive, but the truth is it is equally risky. So it's better if you've completed all your research work before following the below steps. And if you have, then just jump in:
Visit the official website of BitMEX and log into your account.
Then head over to the 'trade' tab and choose your preferred asset.
Now on the left-hand side of the screen, customize all the options accordingly.
Fill in all the details and press buy/ long to go long and short/ sell to go short.
Once your order executes, you'll be able to see its status at the bottom of the screen.
Now to close an order, just hit the close button.
How to withdraw from BitMEX?
Once you've gained sufficient returns and are ready to withdraw bitcoins to an external wallet, then you can follow the below steps:
After you've logged in to your BitMEX account, click on 'account' from the header.
On the next window, click on the blue color withdraw button.
Now, since you can only withdraw BTC, enter your wallet address and the amount you wish to withdraw.
Once you process the transaction, you will receive funds in your wallet within an hour.
BitMEX Mobile
BitMEX launched its mobile app in September 2020, currently available in over 140 countries, and provides all the exchange's critical account features. You can know more about the mobile app by clicking here. The BitMEX app is available to both Android and IOS, and you can download the APK by clicking here. You can also download the app for Android and IOS from the links below:
What is BitMEX testnet?
Wouldn't it be nice if you could first test all the features of an exchange platform before directly jumping into the market? Well, this is where BitMEX testnet comes in; it allows you to try all the exchange's features without really placing an order in the real market.
To use BitMEX testnet, you'll separately have to create an account on testnet.bitmex.com. You can follow the below steps to do the same:
Firstly visit testnet.bitmex.com.
Secondly, click on the register button and enter your email and password on the next window.
Thirdly, verify your email from your mailbox.
Finally, log into your account and try all the features BitMEX has to offer.
BitMEX Fees
BitMEX does not charge you any fees for deposits or withdrawals apart from bitcoins' dynamic prices due to blockchain load. In case you have any open orders during settlements, then BitMEX will also charge you a settlement fee.
BitMEX Trading Fees
BitMEX charges a 0.075% trading fee and offers a 0.025% maker's rebate. You can have a look at the trading fees for perpetual contracts in the table below. To learn about the trading fees of traditional and quanto futures, you can click here.
BitMEX also charges a funding fee, and you can know more about it from here.
BitMEX Review: Security
BitMEX stores all of your funds in offline wallets and uses its one-of-a-kind multi-signature withdrawal and deposit scheme. The BitMEX trading engine operates in KDB+, which banks use to prevent their servers from hackers. BitMEX also runs bug bounty programs on platforms such as HackerOne. You can participate in the bug bounty by clicking here.
BitMEX Support
BitMEX offers its support services in many different languages, such as Chinese, Russian. Korean, English, and Japanese. You can contact them by visiting the contact section from the bottom of any window at BitMEX.
All you have to do is enter your email, choose a suitable subject, attach any relevant files, select a category, write your issues, and hit the submit button.
BitMEX Affiliate Program
BitMEX provides a referral program that benefits both sides. As a person sending your referral code to a friend, you would be getting a percentage of commissions paid by your friend. Simultaneously, your friend will be getting a limited-time discount on fees. You can look at the affiliate program payout structure in the below table, and to know more about the affiliate program; you can click here.
BitMEX Review: Pros and Cons
| Pros | Cons |
| --- | --- |
| The platform comes with a series of features for professional traders. | The exchange provides an outdated user interface. |
| BitMEX provides a trial version of the website as BitMEX testnet. | The platform can be overwhelming for beginners. |
| The platform offers a leverage of up to 100x. | They have allegations of illegal activities. |
| They support anonymity from the order book. | The platform does not provide spot trading as of April 2021. |
| The exchange offers high liquidity and good customer support. | BitMEX accepts deposits and withdrawals only in bitcoins. |
| They charge competitive market fees and pay a maker's rebate. | You cannot begin trading without verifying your account. |
BitMEX Review: Conclusion
BitMEX is one the best platforms offering leverage trading services in the market. The exchange is famous for its perpetual contracts but operates only using bitcoins. The exchange charges a market-competitive trading fee and provides top-notch security to your assets. If you're looking for a platform providing margin trading services at high leverage, then BitMEX might be your perfect destination.
Frequ
ently Asked Questions
Why is BitMEX banned in the USA?
BitMEX is an unregulated exchange that offers its services only in bitcoins. Since the USA's government regulates crypto trading and for an exchange to operate in the USA, it needs to register with the CTFC and obtain a broker's license. BitMEX does not provide its services in the USA.
How to short on BitMEX?
At BitMEX, you can either open a long position or a short position. By opening a short position, you will be predicting a fall in the underlying asset's value. Hence, to go short, you just have to enter all the details on the trading tab and hit the Short/ sell/ red button on the screen.
Where is BitMEX located?
BitMEX is based out of a small island called Mahé, which originates in Seychelles.