NFTs are ownership rights to things ranging from pictures, music, posters, motion graphics, videos, tickets, etc. They are unique because of their non-interchangeable nature, unlike Bitcoin or Litecoin. Thus, the owner has a unique asset and is one of the primary reasons for the popularity of NFTs (Non-Fungible Token).
NFTs have become quite popular in 2021, with significant football and cricket players releasing their NFT drops (a term used for NFT release). Before finding the best NFT Tokens to buy, you need an excellent NFT wallet. We have selected six Best NFT Wallets that perform well on our metrics based on the above criteria.
Features
Metamask
Kukai
Math Wallet
Alpha Wallet
Trust Wallet
Coinbase Wallet
Safety
12 phrase, non-recoverable
Social media login
12 Phrase
12 phrase, Secure Enclave
Biometric
SMS, 4-pin, Secure Enclave
Interoperability
All major platforms
Tezos only
86 blockchains
Major Blockchains
53 Blockchains
Over 500 tokens
User Friendly
Yes
Yes
Hard for beginners
Yes
Yes
Yes
Source Code
Free
Free, Developer Access
Free, Developer Access
Open Source
Free, Developer based Restrictions
Free, Developer Access
Cross-Device Usage
Chrome,
Android,
iOS
Web Page only
Android, iOS
Android, iOS
Android, iOS
Chrome, Android, iOS
How to create an NFT?
Creating NFT has been a popular way to sell ownership rights to artwork online. The benefit of embedding art in the blockchain is that the art piece becomes unique.
Here's a guide to creating and selling your first NFT using Rarible.
Importance of NFT Hot Wallets
Top NFT platforms like Rarible and Opensea allow you to mint NFTs. However, once minted, these NFTs need to be stored somewhere safe. Cold wallets (hardware wallets), however safe, are prone to physical damage. On the other hand, software wallets (installed on your PC and Mobile) and web3 wallets provide the luxury of having easy access. Moreover, popular NFTs need to be secured owing to their price and rarity.
You can use multi-step logins to make it more secure. Also, wallets like Coinbase have recovery phrase backup stored in Google Drive, making a recovery a lot easier. Wallets like Metamask NFT wallets store the data so that even Metamask cannot see or recover the passphrases once lost. These wallets provide one of the highest levels of security that is available.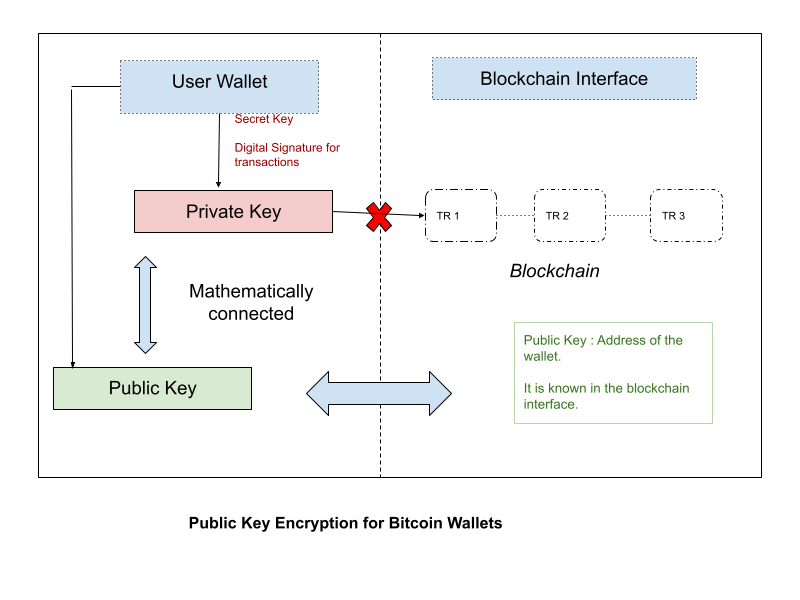 Also read, Set up MetaMask for Binance Smart Chain
Best NFT Wallet: Our Selection Criteria
Safety and Recovery
The most primary criterion for wallet selection is safety. Since the past few years, online fraud has gone through the roof. Hence, today safety matters much more than ever. Recovery is yet another essential criterion.
Interoperability
The number of cryptocurrency exchanges has increased dramatically due to people's interest in cryptocurrencies and NFTs. These exchanges need to be integrated by the wallet to place all your crypto assets in one wallet. A good wallet, thus, needs to be able to support multiple cryptocurrency exchanges. Besides, direct peer-to-peer transfer is also an important criterion.
User Friendliness
Since almost all people investing in cryptocurrencies are new to the field, it becomes essential that the user interface is simple, yet it can perform all the necessary functions.
Source Code
Almost all crypto wallets are free. Few wallets like Alpha wallet, an open-source platform, also let you contribute to the project if you are a developer. Few wallets might charge some fee for your holdings, but that is later. As of now, you do not need to pay for most of the well-known wallets.
Cross-Device Usability
Not everyone has an iPhone, and neither do all have Androids. A significant number of people wish to transact over their PC for security reasons. People also buy new gadgets and phones all the time. Thus, it becomes critical that wallets are supported across different platforms like iOS, Android, Browser Extension, Hardware Wallets, etc.
We understand the value of digital art in the new age of finance. Through this article, we hope that even the newest collector can understand the differences. We have listed six popular NFT wallets based on the following criteria:
Also, read What is the Future of Stolen NFTs?
Metamask Wallet
It is a software wallet used to interact with the Ethereum blockchain (you can connect it with other blockchains like Binance Smart Chain, Avalanche, Polygon, etc. as well). Metamask is perhaps the most known wallet for storing cryptocurrencies and NFTs.
Is Metamask Safe?
This feature is perhaps is also the most secure one. Its security protocols are so strict that if you lose the 12-word passphrase (used for recovery), you will lose access to your account permanently. Not even Metamask has access to those codes. However, apart from being secure, it costs you a decent fee to trade through Metamask.
Also, read Best Ethereum Wallets : Secure your ETH in a Hardware Wallet
Interoperability
Almost all major NFT platforms support Metamask. When used as a browser extension, metamask is detected by major exchanges, which allow you to transact through Metamask directly. In addition, most popular NFT platforms like Rarible readily support Metamask integration.
Also read, Trust Wallet vs MetaMask – Which is the Best Crypto Wallet?
User Friendliness:
It has a straightforward user interface. You can add multiple accounts to your main account. The 12-word passphrase is displayed while creating the account, which is advised to write on a few papers and store in various locations. It does not store your name or other details. It boasts 21 million users worldwide.
Source Code:
Metamask was developed by Consensys and is free to use.
Cross-device Usability:
It is available as a browser extension, Android app, and iOS app.
Kukai Wallet
Kukai is one of the most popular wallets in the Tezos Ecosystem which is a proof of stake blockchain and has its token called TEZ.
Is Kukai Wallet Safe?
Kukai aspires to be a wallet where new users can feel safe and have a good experience. However, it seems a bit less secure as it uses your Google, Facebook, Twitter, or Reddit for login. Social media accounts are one of the most hacking-prone accounts on the internet. It is also rumored that hackers on the dark net can hack social media accounts for a mere $100.
Also, read Best Crypto Hardware Wallets to Store Bitcoin
Interoperability:
Kukai is a part of the Tezos ecosystem and hence very restricted cross-platform usage. The Tezos ecosystem evolves, but depending on one platform is a significant disadvantage for a wallet.
User Friendliness:
The user interface is easy to navigate. For example, the NFT page has many NFTs listed, but we had difficulty finding the place to buy Tez, the Tezos token.
Source Code:
The source code is not available for ordinary users. However, a DirectAuth page for developers lets you access the source code to create your own Kukai wallet iteration.
Cross-device Usability:
Kukai is only available as a web page at present.
Math Wallet
Math wallet is a cryptocurrency and NFT wallet that enables token storage of 86+ public chains in various forms. It is a popular wallet backed by big names such as Binance Labs, Alameda Research, Fenbushi Capital, Fundamental Labs, Multicoin Capital, and NGC. Here, users can store NFTs and submit their own NFTs. It also supports Defi Apps and a developer mode.
Is Math Wallet Safe?
The security is good because it has its own Defi browser integrated into it. It also lets you import wallets from other service providers and has the same backup-phase secured account as Metamask. However, it does not allow you to create an account via a web page for security.
Interoperability:
Perhaps after Metamask, Math wallet has the widest adoption for public chains. It supports more than 86 public blockchains and perhaps is the most suitable app for both NFT collectors and creators.
User Friendliness:
Perhaps it would be a little intimidating for those new to the world of NFTs, but those who have little experience will find Math Wallets to be one of the best experiences. The navigation on the page is easy, and with a bit of guidance, a user can easily navigate the system. The apps also provide excellent advice to new users.
Source Code:
The developers' page provides all the necessary documentation for the developers.
Cross-device Usability:
Math wallet is supported in both Android and iOS. It is also available as a browser extension and readily integrates with Chrome, Brave, Edge, etc. It also supports the hardware wallet Ledger Nano.
Alpha Wallet
The alpha wallet is an open-source ethereum wallet that is entirely open-source. This means users can download the source code, develop and build their version. It also has a blog that keeps you updated within the NFT world.
Is Alpha Wallet Safe?
It is the first wallet to use Secure Enclave Technology. The wallet provides hardware wallet-grade security. It also has the option of a biometric lock. Further, the recovery is the same as in other wallets, a 12-word phrase. It also has an email or phone number-based security to prove that you are the original user.
Also, read 9 Best Bitcoin Wallets India
Interoperability:
The application provides a host of integrations with popular blockchains such as Ethereum, efficiently storing and transacting on NFTs.
User Friendliness:
The wallet has a straightforward user interface. It has a favorite section for the most recently used NFTs or cryptocurrencies. The QR code on the top right is based on your public address, and the camera scans other QR codes.
Source Code:
The alpha wallet is an open-source project. You can download the source code, make modifications and republish it without permission.
Cross-device Usability:
The alpha wallet is currently available for Android and iOS. An android installer file is also provided for regions with restrictions on the app.
Trust Wallet
Trust Wallet is an Ethereum wallet and a DApp Browser that supports over 1 million assets. Trust wallet is currently owned by Binance and is currently free to use.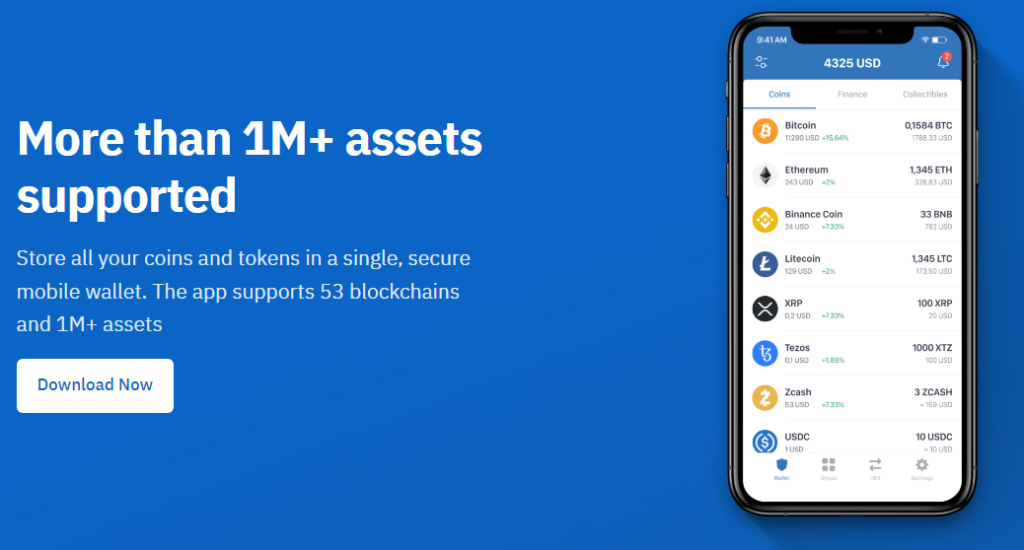 Is Trust Wallet Safe?
The trust wallet employs several security features like biometrics (fingerprint), conducts regular audits with its partner Stateful and never stores information on its servers.
Interoperability:
The wallet supports over a million tokens, coins, and NFTs, including 53 blockchains.
User Friendliness:
The wallet interface appears simple, with upper tabs for coins and collectibles(NFTs) and the lower tabs for accessing Wallet, dApps, Settings, and cryptocurrency exchanges. The app also has its own charting system for advanced users.
Source Code:
The wallet is free to use. A developers page provides access based on a few criteria like top 30 rank on CoinMarketCap.
Cross-device Usability:
The app is available only in Android and iOS versions on Google Store and Apple Store.
Coinbase Wallet
The Coinbase Crypto Exchange launched the Coinbase wallet, and it is also one of the main reasons for its popularity. It is very much suitable for beginners.
Read our Coinbase review to know more.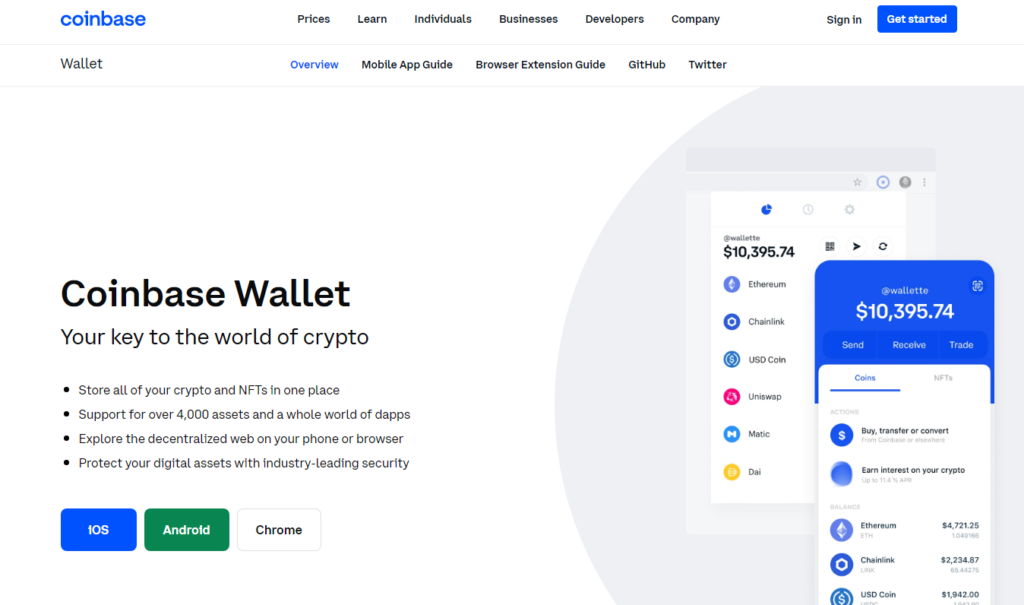 Is Coinbase Wallet?
It uses Secure Enclave Technology and also features a 2-factor authentication available through SMS and Google Authenticator App. On top of it, it has 4-pin access. The recovery backup phrases are stored in the Cloud.
Interoperability:
Coinbase wallet supports over 500 tokens and 400 assets, including NFTs.
User Friendliness:
The wallet is suitable primarily for beginners and has a host of beginner-proof features like storage of backup-phrase in the Cloud in case you need to recover them. Moreover, the navigation is relatively easy and has a simple appearance.
Source Code:
The source code is not available. However, the developers' page features the additions and integrations developers can make.
Cross-device Usability:
The wallet is available in Android, iOS, and a Chrome browser extension. Additionally, support for Hardware Wallet Ledger has been recently announced.
Coinbase Card Wallet:
It is an upcoming feature where users could spend cryptocurrencies via a debit card using the VISA gateway. The NFT integration is yet to be seen. The card wallet page will be displaying all its features when launched.
Read our Coinbase Card review to know more.
Best NFT Wallets: Conclusion
In our comparison, we found that all the wallets are generally feature-rich. However, the wallets would better suit users according to their experience. For example, new users would like Coinbase wallet better, whereas users wanting more support across various chains would love Metamask. Users wishing a feature-rich wallet would select the Math Wallet.
Which wallet is best for beginners?
Coinbase wallet is best suitable for beginners due to its easy recovery of lost passwords. Its user interface is also one of the most simple to navigate.
Which wallet should I use if I have experience and need more features?
The best wallet for experienced users is Math Wallet and Metamask. Both of these wallets provide the highest security and cross-chain compatibility.
What if I lose my backup phrase?
Wallets like Coinbase offer you to store the backup phrase in the Cloud for easy recovery. However, this feature is not available in Metamask. If you cannot recover your backup phrase, all of the crypto-asset in your wallet will be lost forever.
Why is it necessary to use cold wallets when we have Hard wallets?
Hot wallets cannot get physical damage. Cold wallets can be damaged by many factors such as impact, water, temperature, etc. Hot wallets are stored on the internet and cannot be damaged through physical means.
Also, read