Coinbase as a platform is easily one of the best cryptocurrency exchanges available in the crypto industry. Not only does it attract professional-level traders with decent knowledge about the crypto market, but also beginner-level investors can use the platform effectively. Statistically, there are around 43 million global Coinbase users, and 2.8 million of them engage in crypto exchange each month.
The platform creators have focused on ensuring top-notch usage quality for their users, and the latest focus is on Coinbase NFTs showcase. Multiple companies in industries like gaming and retail are understanding the benefits of NFTs, and Coinbase aims to centre on that.
But what exactly are Coinbase NFTs, and why should you look forward to its launch? In this article, we shall delve more into that in detail.
Overview of Coinbase
The 2012-born Coinbase is a leading US-based corporation that offers easy, efficient and secure crypto trading benefits. The platform was originally a brokerage service provider for Bitcoin transactions.
However, now, Coinbase is an advanced crypto trading platform with multiple tools and feature integration. It also offers different types of altcoin options, holds high liquidity, and has a simple navigational structure. In addition, the platform itself is fully regulated and holds relevant licenses for operation in many US jurisdictions.
Read our Coinbase review to know more.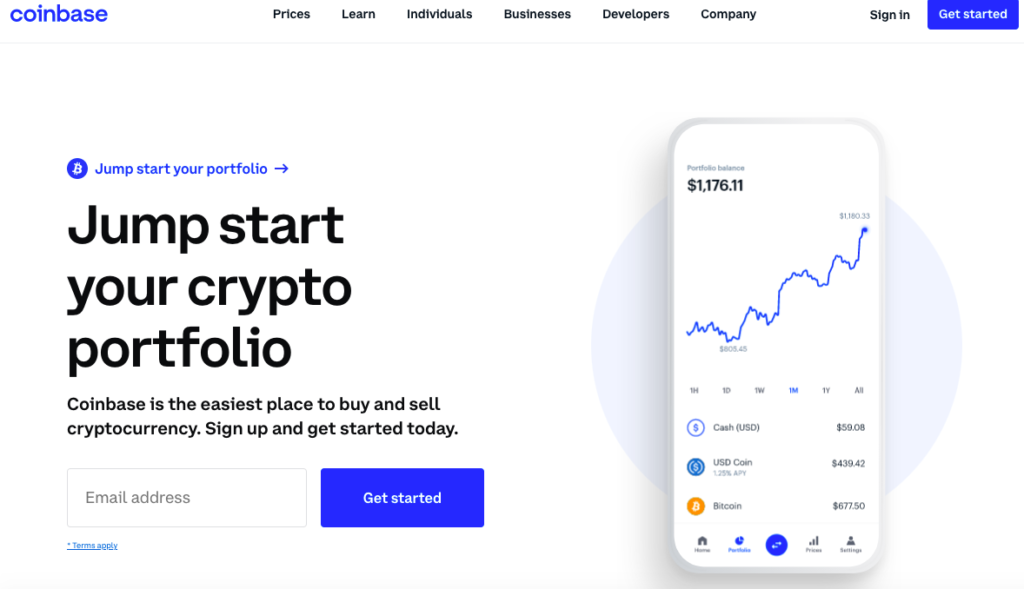 Coinbase: Advantages and Disadvantages
The following are the main benefits users experience while using Coinbase.
The interface of the platform is highly customer-oriented and user-friendly, making it very simple to utilise.
The onboarding process on Coinbase is straightforward and easy.
There are multiple opportunities available for investment with suitable fee structures.
Also, there is insurance for funding in case of cyber-attacks.
The withdrawal and deposit process steps are simple.
High-quality documentation benefits.
For experienced professionals with trading experience and tasks, Coinbase offers useful features such as charts, overlays, and indicators.
As for the disadvantages, there are some.
The fees for joining and using Coinbase resources is higher than other platforms in the market.
What is Coinbase NFT?
Coinbase has been one of the pioneers in providing access to Bitcoin for people globally. It intends to repeat that with NFTs. Coinbase NFT is essentially a peer-to-peer marketplace for minting, showcasing, purchasing, and browsing NFTs securely via one platform. The aim of the developers is to create a user-friendly interface for optimal customer experience.
There are multiple social features in this application that makes it easier to discover creators and ensure high-quality interactions. Further, the company centres highly on building a safe and inter-connected creator community, giving a good platform for NFT artists to branch their services. Additionally, the platform provides features that make it easier for NFT artists and regular users to create NFTs with a few taps.
The centralised marketplace has an intuitive design that provides a creative outlet for the creators, focusing on highlighting imagination.
Why is it necessary to focus on NFTs: Market Statistics
NFTs have been growing in popularity in many sectors with many investors focusing on this exchange for profit potential. Reportedly, there were exchanges of NFTs worth over $200 million in 2020 alone. Following that, February of 2021 saw a higher volume compared to the previous year's record. The total value in sales was $340 million.
In August, this count of NFT sales grew to surpass $4 billion in volume across the top-rated marketplaces. In non-Ethereum platforms, secondary sales value shows more than $10 billion of NFT volume in the third quarter.
With such counts, it is easy to notice that there has been a high growth rate in the NFT market over the years prior. It is expected that the count would continue increasing in the upcoming period.
Benefits of Coinbase NFTs
The following are the best benefits related to the NFTs after Coinbase launches them.
1. Pull Pipe Service
In the context of centralized exchange or CEX, asset custody is highly important to focus on. One of the main priority points for Coinbase is to make sure the retail traders using their platform do not lose their assets. Plus, they want to ensure that getting locked out of their accounts does not occur after forgetting passwords.
In this context, Coinbase can provide this in a better-streamlined manner due to its association with top-rated NFT platforms and NFT customers. Instead of focusing on self-hosting, investors with high net worth can get better control of their data and transactions while hosting with high-value Coinbase NFTs.
In the NFT marketplace, the company can list down the traders who are bidding on NFTs available in the Coinbase Custody. Thereafter, liquidity related to NFT would occur in Coinbase.
2. Intellectual property sharing and partnership
Due to the wide user base of Coinbase that exists, focusing on NFTs would allow the company to venture out and opt for partnerships.
It can work with other influencers and enterprises, providing higher visibility to the brand. Coinbase, in particular, has gotten into partnerships with notable organizations like the NBA and WNBA. This would ensure higher distribution of talent and creativity in the field.
Moreover, Coinbase offers legal contracts for setting the partnerships that would ensure safety during exchanges. Benefits here include secure and efficient royalty-centric transfers and a higher focus on intellectual property rights.
Also Read: Adobe Will Offer NFT Verification in Photoshop
3. Branding benefits
In the context of large-scale exchanges, people notice higher amounts of funds for spending, large brands, and a solid target base in place. Coinbase, with its launch of NFTs, would get competitors in high-level platforms like Robinhood and OpenSea. After that, Coinbase can convert some portion of its target audience into multiple unique NFT traders.
Coinbase additionally works with many top brands for easier accessibility to the best NFT projects and artists. It can ensure better liquidity when the companies launch their project on their official platforms. This improves the brand popularity of Coinbase.
When Will Coinbase Set the Launch of NFTs?
The Coinbase NFT will operate as a unified digital marketplace for users to collect, create, and find their NFTs in one location. Coinbase is planning to launch the marketplace between 2021-2022.
In this context, the company is settling into competition with other notable platforms like OpenSpace. For this purpose, Coinbase is creating and distributing a waitlist for users to avail of the solutions by the year-end.
Guide to NFT Waitlist
If interested, you can apply for the NFT Waitlist for early access to the newly launched service of Coinbase. This is accessible via the official site of the company. In this context, there are important points that users should keep in mind.
Eligibility requirements– Applicants over the age or of 18 years can get into the NFT waitlist. Additionally, they must be citizens of the US. It is expected that the company will expand this eligibility criterion to other nations later after the initial launch.
Joining period- The authorities of Coinbase NFT would directly send the date of the waitlist timeline to the applications. They would get the information after they sign up for the waitlist now in their email. The public date for the launch is still not available. It is expected that the announcement will come in late 2021.
Visibility of list- For all applicants, it is possible to view the total number of names of the participants or referred individuals. People applying for the waitlist get information on their rank in the waitlist only to ensure user privacy.
Waitlist timeline completion- People on the waitlist for Coinbase NFT would get their position ranking in later 2021. The individuals would receive their ranking sequence.
Also Read: How to Mint your First NFT on FTX?
Is it essential to join the NFT waitlist?
For many individuals interested in the new launch of the NFT marketplace from Coinbase, it is helpful to apply for the NFT waitlist. Those on the list would get priority invitations into the platform after the launch. Moreover, they would receive necessary updates from Coinbase about essential data like the official launch date information.
Conclusion: Comprehensive Guide on the Launch of Coinbase NFT
Overall, Coinbase is planning on launching the NFT marketplace, which would benefit companies and NFT artists equally. You can join the waitlist for the launch ahead of time to get the necessary information about the final unveiling. Then, for additional information or queries, interact with the experts for the best results.
Frequently Asked Questions
Who is suitable to use or work with Coinbase NFT?
Coinbase NFT is useful for organizations such as Governmental institutions, non-profits, startups, freelance agencies, mid-sized businesses, and enterprises. 
What types of services are integrated within Coinbase NFT?
The platform of Coinbase NFT can integrate with services such as the main Coinbase platform, Ethereum, and Coinbase Wallet. 
What is the main language of usage for Coinbase NFT?
The main supported language in Coinbase NFT is English. 
How can people access Coinbase NFT?
Accessing Coinbase NFT is not difficult for users through online portals. 
Also read,