Estimated reading time: 14 minutes
In this article, we will be talking about margin trading at the Bybit exchange. Bybit offers its services in perpetual contracts. We will guide you through steps for margin trading at Bybit while explaining all the platform features.
Summary (TL;DR)
Bybit only offers margin trading, therefore Bybit is optimized for it.
You can open positions with margin and then use leverage to increase your capital.
Bybit offers three contract options, i.e., Inverse perpetual, USDT perpetual, and Inverse futures.
It is one of the few crypto margin exchanges to offer both cross and isolated margin trading.
There is maximum leverage of 100x, and it is non-adjustable in the case of cross-margin mode.
The exchange provides many features such as conditional mode, leverage slider, maintenance margin, hedge mode, etc.
The exchange charges a high taker's fee; however, they also pay a maker's rebate.
What is Bybit margin trading?
Margin trading is popular due to its flexibility and higher returns with lower capital. At Bybit, you can use leverage to multiply the returns you gain from margin trading. However, if the market goes sideways, you can also incur huge losses.
How does margin trading at Bybit work?
After you have funds in your Bybit wallet, you can go to the margin trading tab and go long/ short. On entering your margin amount or collateral and then setting the leverage, the platform automatically provides the funds to open a position.
Contract options
Bybit provides margin trading in three different contract options:
1. Inverse perpetual
Bybit offers inverse perpetual contracts in BTCUSD, ETHUSD, EOSUSD, and XRPUSD. The BTC or any other asset will be your base currency, and you need to own that asset to use inverse perpetual.
Suppose if you don't own ETH, then you cannot trade ETHUSD perpetual contracts. However, Bybit offers an asset exchange function to exchange an asset you possess for ETH and then use ETHUSD perpetual contract.
2. USDT perpetual
Bybit offers a USDT perpetual contract in BTCUSDT, ETHUSDT, LINKUSDT, BCHUSDT, etc. Bybit margin trading uses a linear contract in USDT. USDT perpetual contract uses stablecoin as margin, and hence you don't need to hedge positions.
3. Inverse futures
Bybit has recently launched its inverse futures contract in BTCUSD0625 and is coming up with another contract, BTCUSD0924, soon. You can use one BTC margin trading account across BTCUSD perpetual and futures contracts.
Bybit isolated margin trading
The isolated margin at Bybit puts only the funds of that particular position at risk. In case the market goes sideways, you'll have to add more funds or might need to suffer liquidation. However, in the case of liquidations, the exchange won't deduct funds from your original account balance.
Bybit cross margin trading
Cross margin at Bybit uses all of the users' account balances to prevent liquidations. If the market goes sideways, then cross-margin trading can cost you more than your initial capital. If the equity of the trading pair goes lower than the maintenance margin, then liquidations occur.
Leverage at Bybit
Bybit offers maximum leverage of 100x on the cross and isolated margin trading. You can change the leverage of isolated margin trading from the slider provided; however, there is fixed leverage of 100x on cross margin trading.
The candlestick chart
Bybit offers a customizable candlestick chart with features like XABCD, Long Position, Pitchfork, etc. You can easily customize the chart using the settings button in the candlestick chart's top right corner.
Features of the margin trading tab
There are many features on the margin trading tab of Bybit, and almost all of them are as below:
Limit Order
Limit orders allow you to set a limit price, and then the order will execute when the limit price is met. The limit can also lead your order never to complete if your requirements are never satisfied by the market.
Market Order
Market orders allow you to open positions in real-time, and your orders execute with the best price in the order book. You can use them for entering or exiting fast-moving markets.
Conditional Order
These are advanced order which only meets when the market reaches a trigger price. When the order requirements are met, the order's place fils immediately. A conditional limit order is placed in the order book. This limit order will execute when the market reaches its preset price.
Close on trigger
Close on the trigger is only available in conditional orders. This option guarantees the execution of your stop-loss orders even if you have an insufficient margin.
Leverage slider
Bybit allows you to adjust your leverage using a leverage slider in the isolated margin tab. However, this feature is not available in the cross-margin tab.
Post-only Order
A Post-only order ensures that your limit order is placed in the order book and receives a market rebate, and only then executes successfully. However, the system automatically cancels a limit order that might immediately execute upon placement if you select this option.
Reduce-only Order
Reduce-only ensures that your positions will not increase unintentionally. For example, you have a stop-loss limit at 4800 USDT and holds 1000 BTCUSDT contracts at 5000 USDT. The trader also has a limit price set at 5200 USDT to take partial profits.
If the market value first meets 4800 USDT, then the stop-loss limit price and the 5200 USDT order automatically cancel.
Long/ Short with TP/ SL
You can place an order with TP/ SL details by either going Long or Short. You can do so by entering 'take profit price,' 'stop-loss price' and clicking on the appropriate checkbox.
How to go long on Bybit?
By going long, the exchange lends you funds to buy an asset at a lower price and then sell it at a higher price to keep the difference as your positive return.
You can go long by clicking on the Buy/ Long/ Green button on the right side of the screen.
How to go short on Bybit?
Going short means that the exchange lends you assets, and you sell it at a higher price. You then again buy the asset when its price lowers and return it to the exchange.
You can go short by clicking on the Sell/ Short/ Red button on the screen's right side.
Mutual insurance
You can purchase mutual insurance at Bybit to hedge your losses. The amount you pay to the mutual insurance will reflect in your mutual insurance fund. The mutual insurance fund will compensate for any losses you incur.
Maintenance margin
It is the total amount of funds required in your margin account to keep a position open. The best amount would be 0.5% for BTC and 1% for EOS, ETH, and XRP. in the case of inverse contracts, the liquidation price will be a bit higher than USDT contracts.
Calculator
There is a tiny calculator icon below the notifications icon. You can enter your preferred market values and use them to calculate Profit/ Loss, target price, and liquidation price.
Preferences
You can access preferences from the icon beside the calculator icon. From the preferences, you can set pop-up options and risk limit of trades. You can also choose between one-way mode and hedge mode for inverse futures.
One way mode
One-way mode allows you to hold a position in only one direction, i.e., you can either go short or long.
Hedge mode
Hedge mode allows you to hold both long and short positions simultaneously in the same BTCUSDT Futures. You can prevent liquidation forever by having offsetting long and short positions that might lead to the cross margin mode.
How to start using Bybit?
Getting started at Bybit is very simple, and you have to do is follow the steps in the parts below:
Total Time:
Create an account
You can follow these steps to set up your account for margin trading:
1. Visit the official website of Bybit and click on sign-up.
2. Now, enter your email and password.
3. Confirm your account by entering the code sent to your email id.
4. Now go to settings and enable google authenticator. If you don't do so, you won't be able to withdraw any funds.
5. Now login and deposit funds to begin margin trading.
Deposit funds
You can follow the below steps to deposit funds in your Bybit account:
1. Click on my assets button from the profile dropdown icon.
2. Now click on the transfer button across the asset you wish to deposit.
3. Scan the QR code or copy the wallet address.
4. Upon a successful transaction, the assets will reflect in your wallet within an hour.
Place an order
Follow these steps to make your first trade on by but margin trading:
1. Hover over trade and chose one from inverse perpetual, USDT perpetual, and inverse futures.
2. On the next window, customize all the options that suit you best.
3. Now enter the details required to place an order.
4. Click on long/ buy to go long and sell/ short to go short.
5. Once the order executes, it will be visible at the bottom of the screen.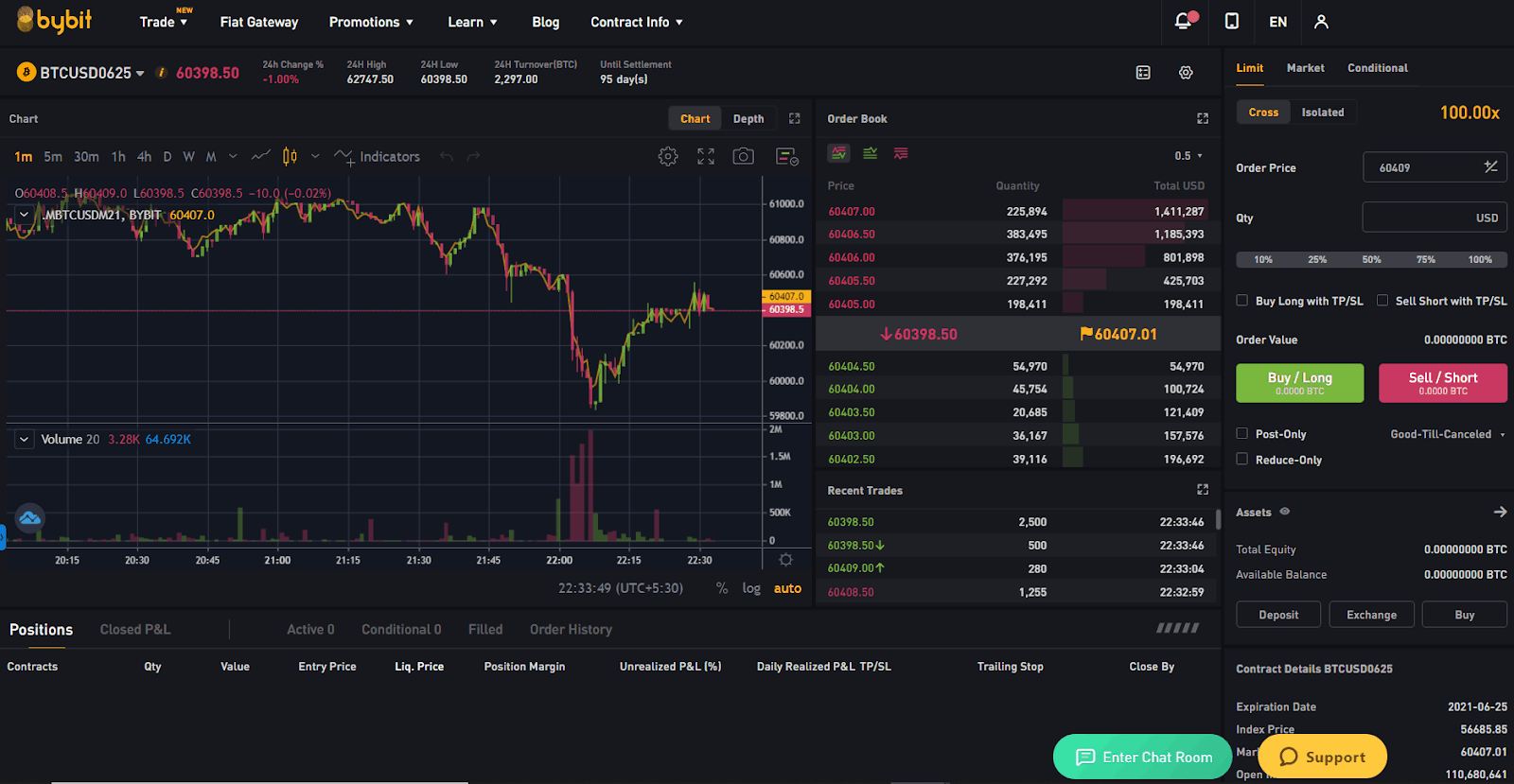 Withdraw funds
Once you gain some returns from your trades, you can withdraw your funds by following these steps:
1. Hover over your profile icon and click on my assets.
2. Now click on the withdraw button across the asset you wish to withdraw.
3. You can now enter the wallet address or scan the QR and complete the transaction.
Bybit Fees
Bybit deducts the trading fee from your account balance, and it does no affect your margin for a particular position. Bybit charges traders a taker fee for taking liquidity out of the order book. However, Bybit also pays a maker's rebate to a trader who increases the order book's depth.
You can observe the maker's rebate and taker fee for inverse and USDT contract in the table below:
| Inverse contract | Maker's Rebate | Taker's Fee |
| --- | --- | --- |
| BTC/USD | -0.025% | 0.075% |
| ETH/USD | -0.025% | 0.075% |
| XRP/USD | -0.025% | 0.075% |
| EOS/USD | -0.025% | 0.075% |
| For USDT contract | -0.025% | 0.075% |
Risks with Bybit margin trading
Margin trading can help you gain significant returns with minimal capital. However, like a coin, it too has two sides. You can also incur substantial losses if the market goes against your bet. Here are some of the risks or points to consider about margin trading:
Cross margin trading at Bybit comes with only a single100x leverage, which increases your chances of incurring a loss by several times.
You cannot leave your screen after placing a margin order, as the market can go sideways in an instant.
The higher the leverage you use, the higher will be your chances of suffering a liquidation.
You should practice hedging to avoid unnecessary losses. However, Bybit provides hedging only in the futures contract.
Bybit margin trading: Pros and Cons
| Pros | Cons |
| --- | --- |
| Bybit is entirely devoted to margin trading. | The exchange is still introducing futures contracts as of March 2021. |
| The exchange is stacked with many necessary tools and features. | The exchange can be overwhelming to new users. |
| They provide both cross and isolated margin trading. | You cannot change the leverage for cross-margin trading. |
| The exchange plays a maker's rebate. | The exchange charges a high taker's fee. |
| You do not need to complete your KYC to begin trading. | |
Bybit margin trading: Conclusion
Bybit is entirely devoted to providing margin trading services to its users. It offers margin services in all major types of contracts and charges a reasonable fee. Many features might act as a lifesaver to a trader, and at the same time, overwhelming to a beginner. If you are looking for simple yet powerful margin trading exchange then you should Try Bybit.
To learn more about the exchange, read our comprehensive review of Bybit Exchange.
Frequently Asked Question
Is Bybit legit?
Bybit Fintech Ltd. operates Bybit, and it is a legitimate trading platform. Bybit has been providing its services since the year 2018 and is one of the industry's best trading platforms. The exchange is not regulated in any country as of March 2021. Hence the users do not require to complete their KYC.
Can US citizens use Bybit?
Due to US regulatory laws on cryptocurrency, Bybit does not offer its services to traders from the USA.
How does Bybit leverage work?
Leverage allows the trader to open positions with minimal capital and multiply their returns on trades. Bybit offers maximum leverage of 100x, and you can easily customize it using the leverage slider for isolated margin trading.