5 Best Crypto Futures Trading Exchanges
Trading on the crypto futures market needs the right skill set and a platform to survive in the market. A platform that allows you to not over-leverage your positions and ultimately get REKT. So here are some of the best crypto futures trading exchanges:
Summary
| Platform | FTX | BitYard | Binance | ByBit | dYdX |
| --- | --- | --- | --- | --- | --- |
| Headquarters | Bahamas | Singapore | Seychelles | Singapore | San Francisco |
| Transaction Fees | 0.1 – 0.4 % | 0.05 % | 0.015 – 0.1 % | 0.1 % | 0.02 – 0.10 % |
| Fiat Deposit | YES | YES | YES | NO | NO |
| Maximum Withdrawal | $ 300,000 | 100,000 USDT | $ 7,500,000 | 500 BTC/Day | $200,000 |
| Mobile App | YES | YES | YES | YES | YES |
| Easy to Use | Easy | Easy | Moderate | Moderate | Easy |
| Customer Support | YES | YES | YES | YES | YES |
What are Crypto Futures?
Crypto futures enable you to buy or sell a digital asset market without actually owning it. Instead, the value of crypto futures is generated from the underlying digital assets, such as Bitcoin or Ethereum. Moreover, such contracts have a predetermined expiration date and price.
The expiration date is used to identify futures contracts. The trader will close it with cash when the contract is about to run out or has already expired. They are used to shield against crypto asset price fluctuations and extreme volatility.
Also read, 3 Best Futures Trading Bots | Future Bot
FTX: 1st Best Crypto Futures Trading Exchange
FTX is one of the most well-known cryptocurrency exchanges based in the Bahamas. Sam Bankman-Fried, an MIT graduate, founded it in 2019. It's a cryptocurrency exchange created by and for traders. FTX offers industry-first derivatives, alternatives, volatility products, and leveraged tokens, among other products. They are working to create a reliable and user-friendly platform for professional trading firms.
Key Features:
Futures Trading: Traders can use more than 100 quarterly and permanent futures lineups with approximately 101x leverage to place short and long bets on popular cryptocurrencies.
Spot Trading: Users can choose from over 500 markets.
Wide selection of cryptocurrencies: FTX offers over 275 different cryptocurrencies, much more than most other exchanges.
Options Trading: It's equivalent to derivatives, except users don't have to buy the underlying asset when the contract expires.
NFT Marketplace: FTX has a marketplace that focuses on non-fungible tokens (NFTs). Users can put in an offer and buy NFTs on FTX. Users can also create their own NFTs and sell them on the marketplace.
Also read, 5 Best FTX Trading Bots
FTX Fees
Low crypto trading fees are one of FTX's main attractions. Fees for both makers and takers begin at 0.10 per cent and 0.40 per cent, respectively. Transactions that are filled right away are charged taker fees, while transactions that aren't filled right away are charged maker fees.
Is FTX Safe?
When selecting a new crypto exchange, security is the main factor to consider, and FTX promises not to disappoint. There is a custom-made hot and cold wallet fix, and each account has two-factor authentication (2FA). You can also protect your account with an additional 2FA and password for crypto withdrawals.
FTX Ease of Use
FTX has been designed for both newcomers and qualified crypto traders on the platform by providing a simple, easy-to-navigate, and intuitive user interface.
FTX Customer Support
FTX offers a variety of ways to contact their customer support team, including Telegram and Support Email. Beginners can access the web site's FAQ section by clicking on the 'Help' button at the bottom of the page. In addition, there is a long list of articles covering a wide range of topics.
BitYard: 2nd Best Crypto Futures Trading Exchange
BitYard is a crypto trading exchange that provides a secure, simple, and quick trading experience in more than 150 countries worldwide. As a result, customers can expect a simplified trading experience from the cryptocurrency trading exchange. It is a Singapore-based cryptocurrency exchange that offers derivatives products in the cryptocurrency market that could be traded with up to 100x leverage.
Also read, BitYard Review: Is it Safe or Legit?
Key Features:
Low Minimum Deposit: The minimum deposit is only $5 USDT.
The registration process is quick and straightforward.
Decrease transaction fees or earn more cryptocurrencies by trading with Bityard coin BYD.
Enhanced copy trading system with best traders from all over the world.
With over 500,000 users in over 150 countries, BitYard has a global presence.
Also read, Bityard Margin Trading | An Ultimate Guide
BitYard Fees
Once an order is opened and closed, Bityard charges a 0.05 per cent transaction fee. In addition, an overnight fee may be charged for positions held for more than 12 hours. The fees are reasonable when compared to several other crypto trading exchanges. Bityard does not charge a deposit fee to transfer cryptocurrency or fiat currency.
Please see here for a total breakdown of the fees involved in using the platform.
Also read, Bityard Copy Trading – An Ultimate Guide
Is BitYard Safe?
According to Bityard's website, the platform employs several safety measures to protect users' funds from theft and fraud. In making any transaction from the BitYard exchange, users must first set up a Pin. Then, each time a user withdraws money, they must enter their Pin. Two-factor authentication (2FA), multiple offline verifications, cold storage of assets of clients, real-time risk assessment audit, and a full refund guarantee are among the security features.
BitYard Ease of Use
BitYard has a straightforward and user-friendly interface. The BitYard platform's trading interface is well-equipped with features and functionalities, as well as a pleasant user interface. Bityard ensures that new users are not intimidated by the platform.
BitYard Customer Support
BitYard provides guidance and support to its clients 24 hours a day, seven days a week. Email, social media, and a live chatbot are all options for communicating with the Bityard team. Users can also look up answers to frequently asked questions in the extensive FAQ section.
3rd Best Crypto Futures Trading Platform: Binance
Binance is a Seychelles based cryptocurrency exchange that started operating in July 2017. The exchange has millions of users from all over the world and is frequently praised as the best trading platform in exchange reviews and social media. People can purchase, trade, sell, earn, stake, and quickly swap digital assets on a user-friendly and simple-to-use platform.
Binance is renowned for possessing one of the widest selections of trading pairs and cryptocurrencies available for exchange, as well as the ability to securely store electronic funds in a wallet and collect interest on crypto in a Binance savings account.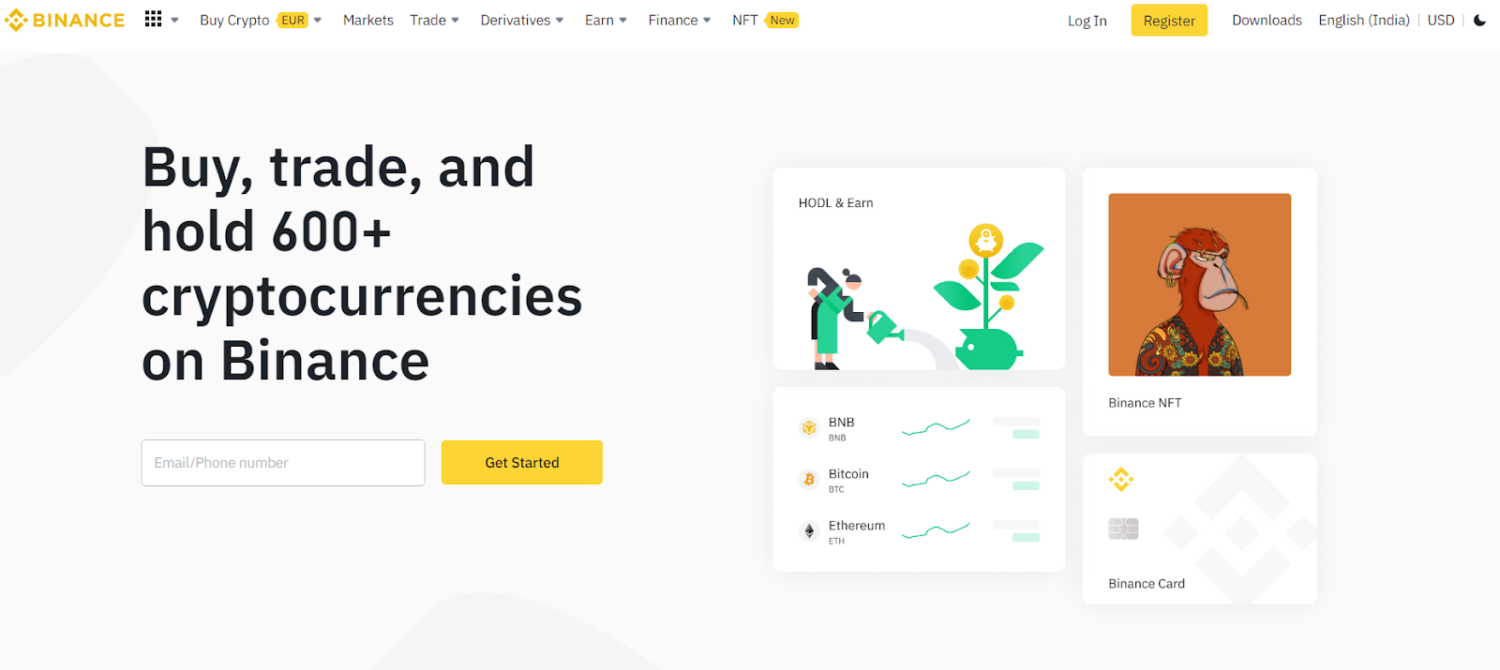 Also read, Binance Card Review: Is This the Best Crypto Card?
Key Features:
Binance offers many different trading options, such as peer-to-peer, margin and spot trading.
Binance is one of the world's largest cryptocurrency exchanges. It provides users with more than 370 currencies and many trading pairs to choose from. Decentralised finance (DeFi) tokens, stablecoins, Bitcoin (BTC), and altcoins are all examples of this.
Due to cheaper fees, traders can keep their earnings and investments.
Binance Fees
The trading fees at Binance are comparatively lower than the fees and commissions charged by even the highest-rated crypto exchanges. For example, the most expensive spot trading commission is 0.1 per cent.
Binance does not require payment for depositing crypto assets. As a result, users can send coins from other trading platforms to Binance entirely for free. Similarly, there are no fees associated with withdrawing assets from the Binance wallet to a third-party website or wallet. The only charge is the blockchain fee, set by the network congestion at the transaction time rather than Binance.
Binance Safety
Binance is one of the most secure and reliable exchanges globally, with multiple levels of 'bank-like' security procedures and management protocols to ensure its customers' personal information and funds. It has a two-factor authentication system, including hardware, app-based, SMS, and email options. In addition, security features such as IP whitelisting, API access restriction, wallet address whitelisting and device management with enhanced access control are also available to users.
Also read, KuCoin vs Binance: Read this before choosing [Important]
Binance Ease of Use
Binance is a complex and advanced platform to assist experienced traders in maximising profits. However, if you're new to crypto investing, its vast market selection and detailed dashboards may be intense and challenging to navigate.
ByBit: 4th Best Crypto Futures Trading Platform
ByBit is a cryptocurrency derivatives trading exchange that concentrates on leveraged crypto trading, offering up to 100x leverage. In addition, the derivatives exchange provides perpetual contracts based on the spot price of a cryptocurrency rather than the actual cryptocurrency asset.
Bybit is a British Virgin Islands-registered trading exchange with its headquarters in Singapore. Traders from all across the world can use the platform.
Key Features:
Up to 100x leverage: Bybit allows you to trade cryptocurrencies with 100x leverage. Because leveraged trading increases the potential trading rewards (and losses), experienced traders can make a lot of money and increase the risk.
In the case of a liquidation, ByBit has a clause called the "Insurance Fund," which reduces the risk of auto-deleveraging.
Bybit has an impressive range of resources, headlines, and insights for traders of all levels. "Bybit Learn," for example, explains how to use tools and interpret chart patterns.
Bybit claims to process 100,000 transactions per second, far outnumbering its competitors. It takes every precaution to prevent any server downtime.
Also read, Bybit vs Coinbase
ByBit Fees
Trading, withdrawal, and deposit fees are the three types of fees to be aware of. Bybit levies a maker/taker fee for trading. Whether you're adding or picking up liquidity out from the market will determine this.
To deposit cryptocurrency to the exchange, Bybit does not charge a fee. However, withdrawing funds from Bybit incurs a minimum Bitcoin network fee, which would be calculated by the blockchain network load, which is generally around 0.0005 BTC.
Also read, A Guide to Bybit Margin Trading
ByBit Safety
Bybit appears to be a safe leveraged trading platform with bank-like security and operational procedures in place to protect clients' funds. The exchange has never really been hacked or compromised, according to our research. The safety measures include offline cold wallet backups, multi-signature withdrawals, and two-factor authentication.
ByBit Ease of Use
When you first enter into Bybit, you'll notice that the exchange interface is exceptionally well-designed, with advanced features that are visually appealing.
The top bar is static and contains links to the 'Trade' window, your 'Assets,' and a 'More' dropdown containing links to various Guides and FAQs.
ByBit Customer Support
The extensive set of guidelines and blogs in the Bybit FAQ section, which covers a wide range of topics, is a thing that stands out.
Users can simply contact the customer support team using the Zendesk live chatbot if they can't find the answer to a question here or on the Bybit blog. 
dYdX: 5th Best Crypto Futures Trading Platform
dYdX (dYdX) is a decentralised cryptocurrency leverage trading platform for BTC, ETH, SOL, DOT, and other assets. dYdX was established in 2017 by Antonio Juliano, a former Coinbase engineer, drew immediate investor interest.
The Ethereum blockchain hosts the majority of dYdX's crypto margin trading products. Although, the exchange recently launched Layer 2 for low-cost, and instantly settled trades.
dYdX raised the bar by introducing margin and perpetuals for various cryptocurrencies. Furthermore, to decentralise the entire trading experience, it also incorporated lending and borrowing services.
Key Features:
Signup is quick and anonymous, and it takes less than five minutes to create an account.
Tutorials are available to help you study the system and improve your trading skills.
Trades are instantly executed and approved on the blockchain in hours.
Users have access to leverage through all positions in multiple markets from a single account.
The app, website and desktop experience all deliver high-quality results.
dYdX Fees
For perpetual trading, dYdX does not charge any fees. However, depending on volume, charges for other trading activities range from 0.02% (maker) to 0.10 per cent (taker).
The addition of the dYdX token has also introduced a trading charge discount component to perpetuals trading, with users receiving anywhere from a 3% to a 50% rebate depending on their current dYdX balance.
dYdX Safety
Because dYdX is decentralised, users' resources are sealed into intelligent contracts rather than just being held by an exchange, making it highly safe to use. So the one and only risk you face when using dYdX are that you will make a bad trade.
dYdX Ease of Use
It receives high ratings for its user-friendly mobile web application and informative website. It is user-friendly and straightforward to operate, even for a novice. The platform's additional advantage of secrecy in trades improves your trading even more.
dYdX Customer Support
The dYdX website contains all of the necessary information and practical tutorials. Responses to frequently asked questions about registration, fees, and liquidity can be found on the Help Center and FAQs page. dYdX provides prompt email support. In addition, the safe live chat function is very effective.
Conclusion
We have chalked down five of the best Crypto Futures Trading platforms. These platforms will surely make your life easy by assisting in the necessary steps in trading crypto futures. BitYard can be your destination if you're looking for an all one futures trading exchange.
Also read,