10 Best Crypto Telegram Groups
There is never-ending information available around us about crypto signals, crypto telegram groups, and the crypto market. Hence, it is hard to filter out and know only the valuable information. Therefore, Telegram has become one of the significant sources of knowledge in today's time. This article will specifically focus on some of the "Best Crypto Telegram Groups" and will provide you with all the knowledge and direction you might need.
Summary
What are Crypto Telegram Groups?
Telegram is a well-known cloud-based desktop and mobile messaging application focusing on speed and security. Moreover, Telegram is a great tool for easily broadcasting messages to a large audience.
Further, crypto telegram groups are the groups that are made primarily for investors and traders who are always in search of profitable orders. Therefore, everything related to cryptocurrencies is generally discussed and shared in these groups. Although, these groups are not enough to get signals as one should be aware of all the events in the blockchain and cryptocurrency world. So, this is why it becomes essential to be a part of independent telegram channels, which are further capable of providing you with informative and valuable materials.
CoinCodeCap: 1st Best Crypto Telegram Groups
We at CoinCodeCap are a crypto media company that helps investors with product reviews, guides, and comparison articles in the field of cryptocurrency. Moreover, we also provide our users with daily crypto news and trading tutorials through our YouTube videos and channel. Coinmonks is a team of successful and professional traders proving signals based on technical and fundamental analysis. We aim at providing the path for you to reach the best crypto product according to your needs.
Telegram Channel: CoinCodeCap Classic
Coincodecap Classic Telegram Channel ensures that all the subscribers are updated regularly with the cryptocurrency market analysis, various articles, and crypto signals all related to the crypto world. We at Coincodecap telegram have a team of analysts who make use of mathematical and technical indicators to know about the market situation. In addition, we also have a premium crypto telegram channel that provides a video stream of Cornix Bot integration for automated Trading, Live analysis, Binance Spot and future signals, and many other benefits.
Verified Crypto Traders: 2nd Best Crypto Telegram Groups
VCT or Verified Crypto Traders is well known for its YouTube videos and Spot trading. The platform consists of highly experienced analysts and uses complex mathematics and patterns to predict crypto market movements. They aim to make their traders worry-free while investing and trading in the crypto market.
Telegram Channel: Verified Crypto Traders
The Verified Crypto Traders Telegram comes with three channels, and along with these, there is also a platinum member group. If you want to automate your trade on the platform, you can also make use of the Cornix bot. These crypto telegram channels are an excellent source of information for all the traders who are interested in the crypto world. 
Also Read: Best 4 Crypto Trading Signals Telegram Channels
Universal Crypto Signals: 3rd Best Crypto Telegram Groups
Universal Crypto Signals is among the best and most popular crypto trading platforms. Some of the popular exchanges such as Bittrex, Binance Futures, Kucoin, Bybit, etc. The platform first came into the picture in the year 2018. Moreover, the platform is considered one of the most trusted platforms for crypto signal services among all traders.
Telegram Channel: Universal Crypto Signals Pro
Universal Crypto Signals telegram channel provides regular trade signals to its traders with the help of its team of technical analysts from India. Also, they provide daily market updates and prices. Further, they also have a premium membership option where you can do spot and margin trading and access other features. There is a separate channel to provide customer service.
Fat Pig Signals: 4th Best Crypto Telegram Groups
Fat Pig Signals is a service provider for crypto signals that lets you trade crypto like a professional with information from professionals. They consist of a quality team of experienced and professional traders who will send you daily trading signals in order to streamline your approach towards Trading. Moreover, they also help you to determine what coins to sell and what to buy, but all this is done through their telegram channel. Furthermore, taking the help of their expert technical analysts and crypto trading strategies will surely help you boost your portfolio.
Also read, 5 Best FTX Trading Bots
Telegram Channel: Fat Pig Signals
This platform is popular for the trade signals to its traders through its Telegram channel. Experienced traders lead the channel, and market analysts analyze each signal before sending it. This makes it more personalized and detailed by considering several technical indicators. Moreover, there is a separate telegram channel for its VIP members. Furthermore, they also offer short-term, long-term, and long-term signals.
Also Read: 5 Best Free Crypto Signals | Top Crypto Trading Signals Telegram Channel
OnwardBTC: 5th Best Crypto Telegram Groups
OnwardBTC first came into the crypto world in the year 2019. They have a common goal for beginners and experts, i.e., trading crypto profitably. With the help of their expert knowledge and years of crypto experience in the crypto market, they can provide you with one of the best communities in crypto. Moreover, they give about a month to all their traders, and this is done with the help of their partner, Bybit.
Telegram Channel: OnwardBTC|simple trading
OnwardBTC mainly operates through their telegram channels, and every telegram channel supports the cornix bot to automate your trades. Furthermore, the team at OnwardBTC is partnered with Arya Signals and is also specialized in leverage trading. In addition to this, you get a chance to interact with the professionals with their premium telegram group. You can also join their public telegram channel to start with one month free.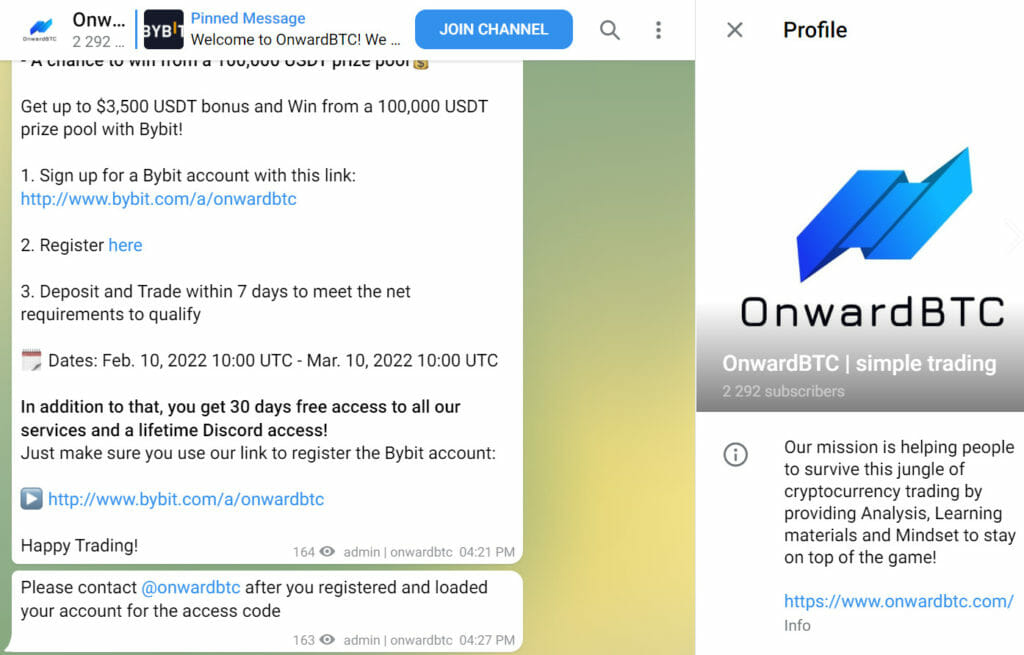 CoinSignals: 6th Best Crypto Telegram Groups
CoinSignals was set up by a team of trading analysts and first came in early January 2021. The main aim of CoinSignals was to provide Fundamental and Technical analysis. The platform lets you trade and gets a monthly profit of over 100%. Moreover, they have a large community of traders that follow their signals every day. Furthermore, they are known for their consistency as they post 100+ signals monthly for different types of cryptocurrencies on their telegram channel.
Telegram Channel: Coin Signals
Coin Signals is led by a group of market analysts and expert traders; also, it has over 76000 active members in its Telegram channel. The trade signals they provide are based on technical analysis, Auto trading, and Artificial Intelligence. They majorly cover BitMEX signals, Bittrex signals, and Binance signals. Moreover, it provides daily crypto market updates and cryptocurrency news for its members. In addition to this, users on Coin Signals get three significant types of signals such as USD-based pairs, USDT-based pairs, and BTC-based pairs. They also provide short-term and long-term signals. Furthermore, traders can also upgrade to the pro version of the channel and get their hands on altcoin signals.
Also Read: 10 Best Cryptocurrency Bots on Telegram [Get Now]
4C Trading: 7th Best Crypto Telegram Groups
4C Trading comes with a vision of becoming a world leader in crypto trading bots. Their office is located in the financial centre of Belgium-Europe and has a team of cryptocurrency pioneers. 4C Trading automated crypto trading bots allow traders to trade 24 hours a day and seven days a week. Moreover, their team is fully dedicated to making your crypto portfolio grow in leaps and bounds without even having you spend all your time in front of computers or mobile devices.
Also read, Guide to Invest in Cryptocurrency from India
Telegram Channel: 4C Trading
4C Trading telegram channel offers their traders signals from Bittrex to Binance, thus providing traders with time-sensitive and reliable signals. Even though they provide only 2-3 signals per day, all the signals offered are on more recent developments in the crypto space. The platform helps you find extensive tools to create and monitor all your performances on trades.
Signals Blue: 8th Best Crypto Telegram Groups
Signals Blue is a provider of high-quality crypto signals. The platform was first established in the year 2018. The services that they provide are based on experience and knowledge. They have a team of experienced people who have experience in many trading areas. Moreover, they provide professional service that will further provide high efficiency in no time. To date, they have provided 26 crypto signals, and their signals are ready to use on exchanges such as Binance, Coinbase Pro, Kucoin, Kraken, Huobi Global, and many more.
Telegram Channel: Signals Blue
The platform only relies on the most popular solution for sharing crypto signals, the Telegram messenger. They provide altcoins and bitcoins signals and include notifications on achieved targets. Moreover, the signals that they give on their telegram channel are always consulted and analyzed before with specialists and professionals from all around the world. Further, they believe that their group gives access that will forever change your definition of crypto signals service. 
Also Read: 40 Best Telegram Channels For Crypto, Movies, Shows, & Lectures
Rocket Wallet Signals: 9th Best Crypto Telegram Groups
Rocket Wallet Signals is all about responsible Trading and also about giving their VIP members insights into the current crypto market situation. They have a free crypto signals group with about 37000 active users and are still growing.
Telegram Channel: Rocket Wallet Signals
Through their telegram channel, Rocket wallet Signals provides market updates and trading signals. They also include monthly signal reports, which are done to verify past performances of the service. Moreover, it is different from most of the signal groups because they provide a moderated VIP Chat group for discussions. These discussions are mainly about trends, ongoing signals, general questions related to cryptocurrencies and they try not to leave any questions unanswered. Furthermore, they post over 1-3 signals daily on the telegram channel.
MYC Signals: 10th Best Crypto Telegram Groups
With over 4+ years of experience, the team behind Mycryptopedia or MYC Signals has been a trusted industry leader. They have a community of over 71k users, and everyone relies on them to provide them with accurate and profitable trading calls. The platform was founded by a team of cryptocurrency and forex trading professionals. Some of the supported exchanges are Deribit, Bybit, Binance Futures, Binance, BitMEX, KuCoin, Bittrex, and Huobi.
Telegram Channel: MYC Signals
MYC Signals is a trading channel that they offer and which is dedicated to traders. The service has two Premium signals subchannels: MYC Binance Signals VIP and MYC BitMEX Signals VIP. In addition, in their telegram channel, they post about 50-70 trading signals per month and also provide 24*7 customer support service. Moreover, they offer their traders automated Trading.
Conclusion
Telegram cryptocurrency groups have become very popular among cryptocurrency traders to interact and keep up with other crypto enthusiasts and traders. So, at last, we hope that this article might have given you a brief description of some of the "Best Crypto Telegram Groups" and would have solved your dilemma about which is the best platform to make use of.
Frequently Asked Question
How to get Free Crypto Signals?
If you seek free crypto signals, you can directly search for them on Telegram. In addition, CoinCodeCap also provides free crypto signals through our CoinCodeCap Classic telegram channel.
Which should be considered the Best crypto signal telegram chat?
There are many telegram groups out there, but you can find the best crypto telegram chat in the Verified Crypto Traders telegram group as it is one heck of a place for beginners and experts. As a beginner, you can interact with many professional traders. Moreover, you can also join the Fat Pig Signals telegram channel as they serve a greater audience. 
How do you identify crypto signals?
There are mainly two aspects by which you can identify crypto signals, and those are purely news-based and Paid crypto signals. In Purely news-based signals, if an incident is in favor of the crypto market, then the prices will rise, and if it is against the crypto market, it falls. If the second aspect is paid crypto signals provider, then they predict coin prices using technical and fundamental analysis. 
Also read,