There are various Telegram/Discord channels that offer paid crypto signals. However, today, we will be talking about all the ways you can receive crypto signals for free.
Summary (TL;DR)
Crypto trading signals provide you an opportunity to earn significant returns from trading while learning about the crypto market.
An experienced trader or a group of traders provides entry and exit points of a market opportunity in return for a paid subscription to their platform.
Some platforms provide free crypto trading signals. Others offer you information using which you can determine the signals yourself.
We also created a channel named CoinCodeCap Classic, where we provide free crypto trading signals on Telegram.
TradingView can be a great place to search for trading market ideas. You can look up editors' choices in the ideas section for the best market opportunities.
Cryptosignals is a free crypto signals provider that provides three crypto signals every week.
Coin signals is another automated crypto trading signals provider. The platform offers a trading bot and provides the signals using AI and ML.
Try FREE CRYPTO TRADING BOTS and make profits
What are Crypto Trading Signals?
Crypto signals provide you entry and exit information based on trading fundamentals and technical analysis. Professional traders use complex mathematics and technical indicators to predict price movements. These traders charge you a decent amount to provide the signals and an opportunity to gain returns while learning about the market.
To learn more read our guide on What is a crypto trading signal? If you're a beginner in the crypto trading environment, you can go through our Guide to invest in cryptocurrency.
How do Crypto Signals Work?
Most of the crypto trading signal providers operate through telegram or discord channels. It is so because these platforms make it easier for traders to interact, trade, use crypto trading bots, and receive signals about price movement. The admins of the respective telegram channels post crypto signals with all the details of a specific trading opportunity. For the complete guide, watch the video below:
What are Free Crypto Signals?
The free crypto trading signals channels are rare, and at times might even be inaccurate. There are also chances that you'll have to figure out the trading details based on the information you receive. Hence, in this article, we will discuss the 4 best free crypto trading signals.
Best Free Crypto Trading Signals
We have curated a list of the 4 best free crypto signals for you. However, suppose you wish to compare the services of a free version to a paid version. In that case, you can read our article on the paid crypto trading signals.
1. CoinCodeCap Crypto Signals [Our Own Channel]
CoinCodeCap is comparatively newer to other signal providers in the market. However, our team of professional traders has been trading in the crypto market for more than ten years. Being a proficient crypto educational platform, we also keep you updated with all the news related to cryptocurrency.
We are backed by Coinmonks publication, a crypto educational portal. Our team of experienced crypto traders analyzes the market to provide you with the best crypto trading signals.
What does the CoinCodeCap Signals Channel offer?
We offer trading opportunities based on technical analysis. Since we are just starting in this field hence, all of our signals are entirely free for a limited period. You can join our telegram channel and enjoy all the perks of a paid crypto trading signal.
We also publish blogs on Coinmonks and CoinCodeCap, aiming to increase your knowledge about the crypto environment. You can also join our Coinmonks and CoinCodeCap telegram group for frequent news updates in the crypto environment.
CoinCodeCap Signals – Features
We provide you with charts and explanations of various market trends.
Our trading experts provide you details of the current market scenario, with a probability of outcomes.
We also provide crypto trading signals with all the options, such as entry and exit points in a trade.
We allow you to track which projects NFT collectors and influencers are aping into the real time.
Since we are a crypto education platform, we provide you with guides and various crypto educational content through our telegram channel.
Coincodecap NFT Signals
Our NFT signals are capable of identifying the most profitable flips, tracking the hottest trending NFTs, and alike, and then acting upon those findings. We want to help our members to become very profitable traders by providing them with NFT trading signals by allowing you to track which projects NFT collectors and influencers are aping into the real time. Further, we select the right NFT sets for you. The only thing you have to do is follow our trade signals.
CoinCodeCap Signals – Pros and Cons
| Pros | Cons |
| --- | --- |
| Our experts analyze the market using various parameters and provide you with detailed analysis. | We are new compared to other signal providers; however, our team of veteran traders is highly proficient in delivering results. |
| We provide you with articles on the crypto environment to keep you updated with every potential news that can impact the market. | |
| Our signals are determined using complex market analysis and mathematics. | |
| All of our crypto trading signals are free for a limited duration, and you can join our CoinCodeCap telegram channel to proceed further. | |
| With us, you can discover trending NFT projects and identify the most profitable flips. | |
2. ProfitFarmers
They're a subscription-based service that offers a wide range of crypto tools, education, and features (including copy-tradable signals with a 78 per cent historic victory rate!) through their online dashboard. You can also use any mobile, tablet, or desktop browser to access the ProfitFarmers dashboard.
Binance is connected to the ProfitFarmers platform via an API. All of your trades are made through your Binance account, and 100% of your trading capital and profits are kept separate from ProfitFarmers in your Binance wallet(s). To learn more, read ProfitFarmers Review.
What does ProfitFarmers offer?
ProfitFarmers scans several data points across every currency pair on Binance, combining the effectiveness of computer algorithms with the experience of their in-house trading analysts. Furthermore, they're on the lookout for your next high-probability trading signal 24 hours a day, 7 days a week!
A copy-trade function that executes your complete trade plan through Binance, from entry to exit! This simplifies replicating ProfitFarmers trading signals because you only have to deal with one easy form inside the dashboard to set up and alter the signal to suit your trading style.
ProfitFarmers is described as your "Crypto-trading Co-Pilot" since they handle the difficult parts, allowing you to focus on piloting your ship into profitable crypto area.
ProfitFarmers Features
ProfitFarmers offers the same level of security as the world's most popular bitcoin exchange. ProfitFarmers' API integration with Binance is the reason for this.
ProfitFarmers appears to be aware of the general distrust in the crypto world as a result of the depressing number of frauds, false claims, and lies. ProfitFarmers offers a 100% money-back guarantee to new consumers as a method to establish confidence.
ProfitFarmers produces thorough analyses of their signal performance for its subscribers to monitor on a monthly, quarterly, and yearly basis. These results are also available to the general public via their results breakdown section.
ProfitFarmers Pros & Cons
| Pros | Cons |
| --- | --- |
| You don't have to waste time looking for deals if you use ProfitFarmers' trading signals. | This isn't a one-button solution. You should still check in on the status of your deals on a regular basis. It's your money, thus it's also your duty. |
| Stop wasting your time with manual trading! – Because of ProfitFarmers' API interaction with Binance, you can't put up trade and leave it to the system to execute. | When ProfitFarmers professional traders are uncertain about a trading signal, you may need to cancel some trade orders early. |
| There are no fees or commissions. – Profits are deposited immediately into your Binance wallet. | Not advised for traders with less than $3000 – While you can still join with less, following many trades at once will be challenging. There may be ten or more trades open at any given time, and trading with less than $300 on each one may limit your profits. |
| Guaranteed money back! There's no risk of being conned into buying crypto trading signals that don't work. | There is no way to track your own profit and loss. |
The Bitget exchange app has a feature called copy trade that we can utilize as trading signals. For example, you may choose from a number of expert traders and then copy/ follow their trading to generate returns. Furthermore, copy trading eliminates the need to establish and terminate positions or monitor the market. Alternatively, you may follow expert traders and have them trade for you.
3. Verified Crypto Traders
Verified Crypto Traders is among the oldest providers of crypto trading signals. It was started in 2017 and consists of a team of experienced traders from different countries like The USA, India, Netherlands and Poland. Moreover, you can join their telegram channel for the latest news and updates.
What does the platform offer?
Verified crypto traders is an interesting channel that discloses the latest news about the developments taking place in the world of cryptocurrencies. Moreover, the news provided by the platform is well-informed. Further, the platform also publishes its prognoses and unfolding the market. Instead of providing and publishing several signals daily, the platform provides only limited best signals with sufficient explanation.
Verified Crypto Traders: Features
Some of the most significant features of the Verified Crypto Network are mentioned below:
The platform offers selective trading signals that are team-picked.
It also offers the latest updates and breaking news about the market.
You can also find well explained recommendations of several coins that depends on market research and technical analysis of experts.
The best feature is that the paid members get the opportunity to receive short, medium and long term signals that too hours before the free members do.
The most unique feature of this platform is its Automatic Trading Bot (Cornix). The bot is capable of buying and selling coins without having to interact with the users.
Verified Crypto Traders: Pros and Cons
| | |
| --- | --- |
| Pros | Cons |
| Provides comprehensive information regarding the active ICOs. | The platform's Automatic Trading Bot- Cornix comes with slow support from the technical team. |
| Verified Crypto Traders offers online training, courses and webinars. | There is less of a healthy and open discussion. |
| Explanatory chart calls allow the members to analyse charts. | |
| The platform offers ICOs reviews. | |
| Their pricing structure is quite reasonable for everyone. | |
Verified Crypto Traders: Pros and Cons
4. Coin Signals
Coin Signals is a fully automated crypto signals service provider. The platform operates through telegram, and the automation is based on Artificial Intelligence (AI) and Machine Learning (ML). Coin Signals also offer crypto signal bots to automate trading opportunities provided by the crypto trading signals completely.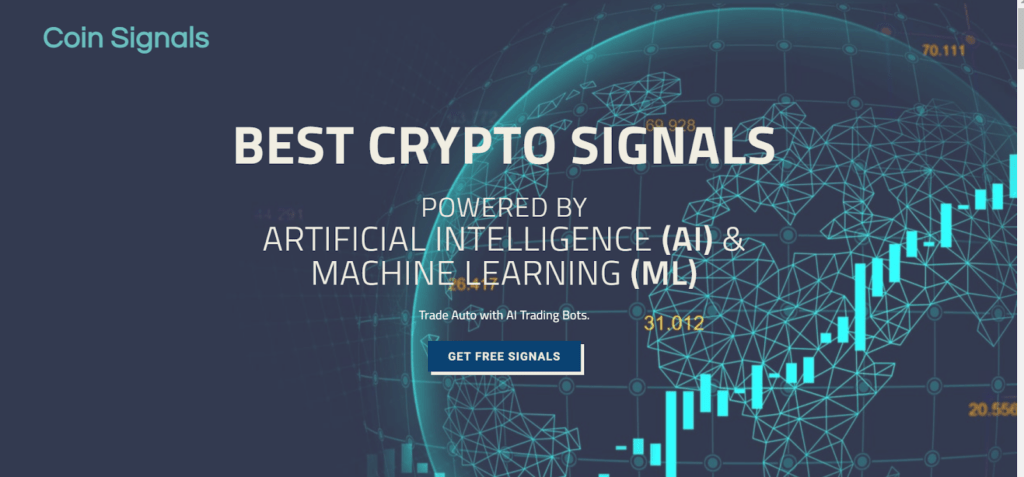 What does the CoinSignals offer?
Coin Signals is an intelligent system that builds on the experience of many professional traders. The AI scans multiple exchanges, seeking all the available market opportunities, and provides you best entry and exit points of a trade.
CoinSignals – Features
The platform provides free news and event updates on the crypto market.
Coin Signals provides its users with essential crypto trading signals.
The telegram channel also provides you with crypto market analysis and charts that can help you understand the market conditions.
Coin Signals also offers personalized paid crypto trading signals services with payments in BTC.
CoinSignals – Pros and Cons
| Pros | Cons |
| --- | --- |
| The telegram channel provides news and various market analysis of different crypto assets. | The paid membership plans are too expensive, and you have to pay for the subscription in BTC. |
| The free version also provides regular crypto trading signals with entry and exit points. | Coin Signals offers you a crypto signal bot only if you're a premium member. |
| All the generated trading signals are automated and hence lack human emotions. | You do not get any support or contact system if you are not a paid subscriber. |
| The platform also offers a crypto signal bot that can automate your crypto trading. | |
5. TradingView
TradingView is particularly famous for its trading charts and tools, where many traders publish their market analyses for free. You can observe all of the trading ideas in the ideas section of the platform. You can use a list of things to classify the ideas, and the best option would be Editors' Picks.
Hence, TradingView can be considered a source of signals, as you can analyze the strategy of various traders and go with the one you believe to be the best.
What does TradingView platform offer?
Traders primarily use the platform for charting and analysis of the market. It provides comprehensive tools to its users to study the patterns of market movements. You can draw lines, triangles, rectangles, use various technical indicators such as RSI, MA, Bollinger Bands, etc., and analyze the market.
Traders use these tools and publish their analysis on TradingView which can be used by other traders to understand the market.
TradingView – Features
TradingView comes with many features, and we might not be able to cover them all here; however, some of those features are as follows:
There are editors' picks that are the best trading ideas available on the platform.
You can also analyze all the ideas based on their trend analysis, technical indicators, patterns, etc.
All the ideas available on the platform come with explanations, charts, analysis, and even entry and exit prices at times.
TradingView allows you to test your ideas using the chart and all the tools available in the market.
TradingView – Pros and Cons
| Pros | Cons |
| --- | --- |
| There are many free ideas on the platform, and these are not limited to crypto assets. | There are a lot of traders experimenting with their ideas. Hence, it is hard to determine which can convert into a market opportunity. |
| You can select an idea based on various categories, and out of those, the best might be the editor's choice. | TradingView can be highly overwhelming for you as a beginner. |
| TradingView is a charting software and analyzing platform; hence you can quickly test all the ideas that come into your head. | |
| The people predicting the market movements also explain their predictions; hence you can even sort out ones' you find essential. | |
6. Copy Trading as Crypto Signal's Alternative
Crypto signals provide us with market entry and exit points to take profits. However, we can also copy professional traders and their strategies and coin them as Crypto trading signals. Hence below are the three best platforms for copy trading:
BYDFI
BYDFI is one of the most diversified copy-trading platforms with a simple-to-use interface for beginners. The traders' details may readily be seen on the screen when entering the copy-trading tab. You may also pick a trader by looking at their profit rate, P/L ratio, Win rate (30 days), and other factors. To learn more, read BYDFI Copy Trading – An Ultimate Guide.
Bitget
Copy trading is a feature available in the Bitget exchange app. To profit, you can choose from a variety of expert traders, follow them, and synchronise their trading activity with your account. Furthermore, with copy trading, you don't have to open and cancel positions yourself, nor do you have to monitor market activity 24 hours a day, seven days a week. Alternatively, you can follow professional traders and have them trade for you. To learn more, read Bitget review.
Shrimpy
Shrimpy is defining the notion of social portfolio management. Unlike other trading platforms, Shrimpy allows crypto investors to use social portfolios to mimic prominent traders, discuss various methods, and automate their portfolios. In addition, Shrimpy's social trading platform will enable you to totally automate your trades without having to pay for crypto trading signals on a monthly basis. To learn more, read Shrimpy Review.
Also, read My Experience with Copy Trading.
Free Crypto Signals: Conclusion
Crypto trading signals provide a beginner with an opportunity to win trades while learning about the crypto market. There are many paid signal providers in the market and some of them charge you a very high fee. Furthermore, you can also follow a professional trader and copy their trading strategy using copy trading.
Additionally, many signal providers don't provide you with an opportunity to learn about the market. Hence we came up with the best free crypto trading signals for you. So join our CoinCodeCap Telegram channel now.
Frequently Asked Questions
What are the best crypto trading signals?
There are many things, such as the success ratio, the amount you pay, experience of the signals providers, etc., that determine the quality of signals. It is a tedious task to choose a trading signal provider with these features; hence here is a list of the best crypto trading signals:
– CoinCodeCap
– Verified Crypto Traders (VCT)
– The Bull
What are the best crypto signal bots?
Several crypto signal bots help you automate your trading journey. However, most crypto signal providers use the Cornix crypto signal bot to work efficiently through telegram. You can also choose other trading bots and customize them according to your needs.
How to get quality crypto signals?
Quality crypto signals depend on many factors such as frequency, market analysis, take profits, stop losses, trading bots, success ratio, etc. It is a tedious task to search for a crypto signals provider who offers all of these features. Hence you can read our article on the best crypto trading signals to choose the provider that suits your needs.
What is a crypto signals app?
Many crypto signals apps are available on the play store, and most of them are usually scams. The best crypto trading signals providers use apps such as Telegram or Discord for ease of communication with their subscribers.