In this article, we will look into Cryptohopper and its Telegram bot. This bot can automate the trading strategies of traders who refer to crypto signals telegram channels.
Summary (TL;DR)
Cryptohopper is one of the best crypto trading bots providers in the market.
It extends its services to third-party trading signals through Cryptohopper Marketplace.
Telegram Bots are an extension for crypto traders that allow real-time transactions for crypto trading using Telegram.
Cryptohopper Telegram Bot is a cloud-based bot that ensures constant market interaction for maximum return generation.
It is beneficial for traders with brokerage accounts involved in continuous and copy trading. It is not suitable for seasonal traders.
However, Trading bots are risky. It is advisable to invest a limited amount of money as they cannot make rational decisions.
What is Cryptohopper?
Cryptohopper offers trading bots and is acknowledged for automated trading amongst traders. The platform makes the trading procedure simple while extending trading opportunities to maximize returns and reduce losses.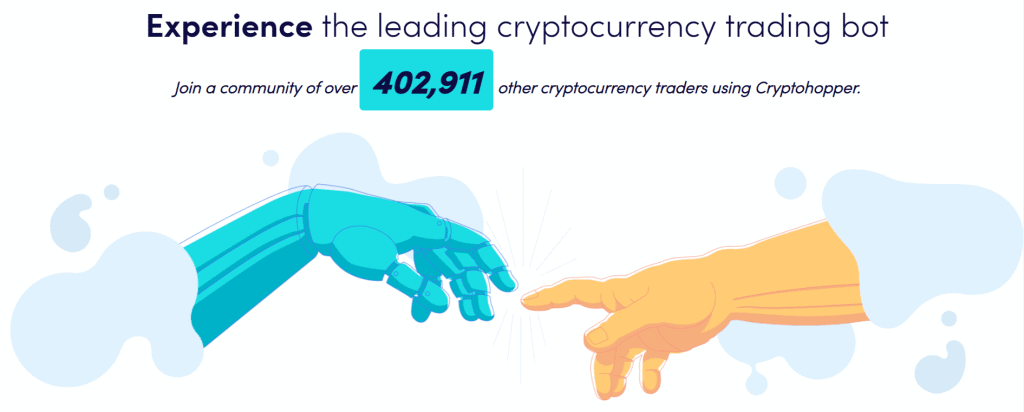 Cryptohopper trading bot supports up to 75 currencies and nine exchanges –
The platform provides fully automated and semi-automated crypto trading. Fully automated trading offers all the investment research and execution of the trade by the bot. Contrarily, semi-automated trading extends a bot that researches and provides insights for trading.
To know more, read our Cryptohopper Review.
What is Cryptohopper Marketplace?
The platform also offers a Marketplace for third-party service providers in categories, signals, templates, apps, and trading strategies.
The crypto signals providers at the Marketplace often operate through telegram channels. Crypto Signals are provided by a group of professional traders. They provide you with market entry and exit prices using their technical analysis. Therefore it is difficult to manually follow these signals.
However, Cryptohopper also has its own Telegram bot. Which, once activated, can follow all your signals without having you come back to the Cryptohopper interface.
Before diving into setting up the Cryptohopper telegram bot, let's first understand crypto telegram bots.
What is a Crypto Signals Telegram bot?
Crypto markets operate round-the-clock, making it difficult for people to track every second of their trading charts. The lack of experience, time, and knowledge adds up to the existing problems of crypto markets. This dilemma among traders and investors traced the origin of trading bots.
Crypto trading bots automate your trades, and an expansion to these bots is Telegram bots, which allow you to create and automate your trades from Telegram. Apart from the fact that they are precise and designed to assist traders in following crypto signals, they generate massive returns. Nowadays, many exchanges and platforms extend trading bots to traders through telegram channels; Cryptohopper is one.
What is a Cryptohopper Telegram Bot?
Cryptohopper Telegram Bots are similar to chatbots. They help you automate your trading and provide you an option to follow crypto trading signals with a single click. These bots run on Telegram and do not require a third-party app installation, except the API keys of your trading platform. Below are some of the features of this bot:
The trading bot runs on the cloud and requires no installation, and needs a basic 5-minute setup for trading to start.
Cryptohopper bot allows subscribing to the ever-growing list of professional analysts and provides crypto signals providers through its Marketplace.
Cryptohopper trading bot enables maximum returns during bull markets with trailing stop-loss and complete technical analysis.
Bots ensure constant interaction with the market due to automation. They not only provide trade news and insights but also execute the trade.
Buy and sell crypto and get notified whenever something happens with your hoppers!
How to Use the bot?
The prerequisites for setting up a telegram bot are:
An active Cryptohopper Account
A Telegram Account
Setting up the Bot
On Cryptohopper, Go to the telegram bot in the app section of the website.
It directs you to Telegram Bot's page where you can directly connect. Start using the hopper!
OR
In Telegram, search @CryptohopperBot and either type /start or click start on the bottom of the screen.
After all this, this message displays on the screen, sent by the hopper.
Here, log in to Cryptohopper and walk through the OAuth Screen. OAuth enables order placement and other details such as name and balance.
After Login, You receive a success message.
After successful login and authentication, Choose and select a command for the bot from the following list.
We advise Cryptohopper telegram hopper to:
Traders involved in copy trading
Traders with existing brokerage accounts
Is Cryptohopper Telegram Bot a Scam?
Cryptohopper Telegram bot is legit and beneficial. It has a reputation among traders and is widely trusted and used. Users can sign up and begin trading. It is profitable for people who invest daily, have knowledge and understanding of markets.
Why choose Cryptohopper Telegram Bots?
Automates crypto trading signals
Safe Environment
Real-time Transactions
Set Parameters
Responds similar to Humans
Risk Minimization
Provides Price Analytics
Notifications regarding any crypto alert
Simpler than traditional trading bots
These bots interact with your trading account and execute trades on your behalf. These bots, when combined with Telegram Crypto Signals, are beneficial.
Continuous Trading Opportunities- Automation enables trade at any time of the day. This offers maximum profit prospects. In simple words, they allow constant interaction with the market.
Easy Trade Execution- Trade execution via automation avoid chances of error. It also enhances precision, saves time, and gives better returns.
Cryptohopper Telegram Bot: Conclusion
The Cryptohopper bot is efficient in managing crypto trades on the go and 24*7. With quick buy and sell, you can earn significant returns and make profits passively.
You no longer need to sit and trade for hours when your hoppers can work for you. Cryptohopper can easily manage your trade and earn profits with a telegram bot. Why restrict the use of a communication app for communicating with friends. Why not gain profits with these apps? All you need is a Cryptohopper account, a Telegram account, and a minimum of $250 to start trade on Cryptohopper.
However, It is vital to understand that there is a significant risk in trading with bots of any kind. Therefore, We advise trading a limited amount of money when trading through bots to avoid huge losses.
To know about other Cryptohopper apps, read about the Top 5 Free Cryptohopper Apps for Every User.
Frequently Asked Questions
Is Cryptohopper Valuable?
This Trading bot is highly profitable, with an estimated daily profit of up to 20%. Besides, it is entirely automated, making it apt for absolute beginners.
How much can one earn on Cryptohopper?
Cryptohopper claims that your profits with this bot vary majorly on your invested capital. This bot claims to provide a daily profit of up to 10%.
How much can one make with a Cryptohopper Telegram Trading Bot?
The earning capacity of Cryptohopper Telegram Bot is endless. It ranges from 1-20%, depending upon your invested capital and configurations.
Can one withdraw their profits from Cryptohopper?
Yes! Cryptohopper enables you to withdraw your money as and when you want. Your profits will reflect in your bank account after Filling a withdrawal request form within 48 hours.