6 Best Crypto Trading Bots for HitBTC
Multiple trading bots are compatible with HitBTC. They are not the same in terms of costs and features. As traders use different strategies, target different markets, and take different levels of risk, none of the bots is universal. Nevertheless, we have reviewed several popular trading bots that support trading on HitBTC and picked the best five bots among them.
Our goal was to find affordable smoothly-working bots with strong functionality that can satisfy the demands of different kinds of traders. OK, folks, meet our top 5 trading bots compatible with HitBTC: our picks are 3Commas, TradeSanta, CryptoHopper, Coinrule, HaasOnline, and Bitsgap. Below you can read about the benefits of automated trading. If you already know why using trading bots is fire, then, skip to the detailed reviews of each of these bots.
What Is the Use of Trading Bots?
In the second half of the 2010s, the use of trading bots in crypto began to gather momentum, and now, this trend continues. So what is automated trading (or using bots) and how traders can benefit from it?
Automated trading is trading executed by special trading software (bots). Bots are compatible with certain exchanges. In most cases, you can get access to the bot via paid subscription. You pay a fixed amount of money per month or year. It allows you to use a specified number of bots that will do trades for you on the exchange that you choose.
What do these bots do? Well, generally speaking, they place and take orders on the market on your behalf. You set which markets they should trade on, how often they should do the trades, at what price they should sell or buy, what types of orders they should use when they should stop buying and start selling or vice versa, and so on. You should understand what is going on on the market and configure your bot the way to make profitable trades. Then, the bot gets started and you can enjoy your spare time while it does the trading for you.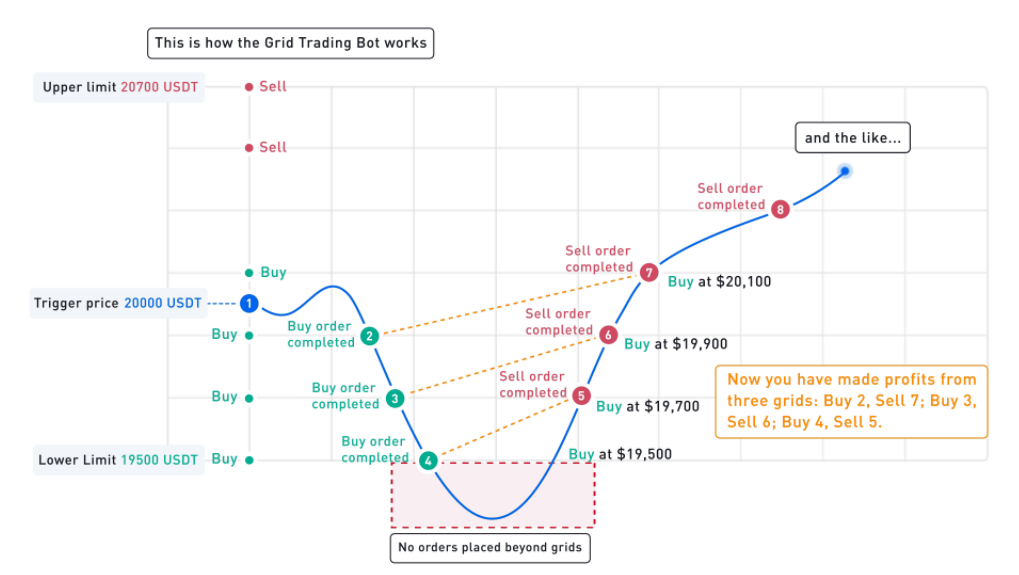 Bots don't make human errors. Unlike us, they read the info accurately and don't miss or confuse anything. Bots can place several orders on several markets simultaneously. Bots can trade 24/7 and they won't fall victims to fear and greed. They strictly follow the plan that you set and don't do spontaneous trades that can ruin everything you strive for.
There are several things you should be aware of, though. First off, don't think that automated trading is somewhat a passive income. The crypto market is changeable. If you won't be adjusting the strategies of your bots every time the market trends are changing you will face serious losses. Yes, you won't have to stare at the charts for hours and hours long anymore but still, you should keep a presence to some extent and follow the market news. The strategy that was profitable yesterday can turn out a catastrophe tomorrow so you should control what your bots do and adjust the plan timely.
Another benefit of trading bots is that they contribute to overall cryptocurrency adoption by making crypto trading an easier process. That's something that isn't hard to grasp. The easier it is to trade crypto; the more people get involved.
3Commas: 1st Best Bots for HitBTC
3Commas is a Miami-based trading platform developed in 2017. As of now, they have around $22.5 billion in average monthly trading volume, and the platform is available worldwide.
Further, the platforms have a wide range of features, including DCA Bots, Smart Trade, TradingView, Options Bots, Crypto-Signals, Trading Terminal, etc.
One should note that the 3Commas Dollar Cost Averaging is one of the most preferred trading bots on this platform. Beginners can also practice trading at 3Commas using the paper-trading option.
Moving ahead to security, 3Commas operates with minimum user data and avoids hackers who are primarily after personal data. The platform also allows users to set 2FA and has security tools Cloudflare.
You can further read our 3Commas review to know more about it.
1. Ease of Use
Even beginners can easily navigate 3Commas' desktop and mobile app. During the onboarding process, you'll connect to your preferred exchange and choose a trading bot based on the type of trades you're interested in. If you have a paid plan, you'll be able to use multiple trading bots at once.
You can customize bots to your preferences so you don't have to glue yourself to your computer screen all day. Bots can do everything from selecting the currency and the amount to invest in certain assets. This way, you don't need to place buy and sell orders manually.
You'll also choose your trading pair, investment amount, target profits and other details during the onboarding process. You can adjust these later, but this detailed onboarding process makes it possible to streamline the trading process later. You can also use the preferences and settings you establish to optimize your trades based on your target profit and risk tolerance.
2. Features & Indicators
3commas has SmartTrade combined with TradingView indicators to trade efficiently just by connecting API.
It accepts Credit cards, PayPal, and bitcoin as payment methods.
It deploys 2FA for security and does not hold your funds on its platform. Therefore it doesn't have the right to withdraw or manipulate your funds.
You can customize your 3commas bot which is susceptible to TradingView signals to receive notifications.
You can go through the academy and learn about setting up a 3commas bot. 
For trial purposes, it provides a 3-day full access trial period.
It has a dynamic trading terminal, an interface that allows the management of multiple exchanges. 
The bot services differ by platform. Check the limitations here.
3. Pricing
4. Security & Support
Your funds are secure because they can't leave your exchange. 3Commas connects to your exchanges via encrypted API. Our system tells your exchange to start and close deals, but has zero access to withdraw or transfer fiat or crypto currencies.
Even better, since 3Commas connects via API, your log-in information for your exchange is never revealed to our system. It's not like a password manager that saves your username and password for each exchange. There's no backdoor or cache that can be exploited because the API deliberately does not have the functionality to request any of your personal information from the exchange.
TradeSanta: 2nd Best Bots for HitBTC
TradeSanta is one of the most popular software brands supplying crypto trading bots. TradeSanta is good at providing a wide array of features so traders of different levels and preferring different strategies and instruments will be able to take advantage of using the TradeSanta bots. Not only TradeSanta have a strong functionality but its features nicely match the features of HitBTC making the two brands a rich auto trading machine that can be used in many ways. TradeSanta software was compatible with HitBTC from its very launch in 2018.
1. Ease of use
Now, let's review the main characteristics and features of TradeSanta crypto trading bot. First off, TradeSanta has an extremely user-friendly interface and design. In no sense, such accessibility compromises the functionality side. It just makes TradeSanta easy to use for a bigger number of people. Setting the bot takes a few minutes. However, if you want to make everything the best way, it will take more time.
You shouldn't underestimate the importance of the accurate setting of the trading strategy of your bot and the research of the current market state. You need no coding skills to operate TradeSanta software. Everything is controlled via an intuitive and nice GUI. The TradeSanta website contains a handful of accessible educational materials on trading and using the bots so any user can improve their understanding of trading, etc.
You don't have to download any client to use TradeSanta bots. All the activity takes place in the cloud. It also means that you are free to use any Internet-connected device you like. You can get info from the TradeSanta website or turn up the Telegram notifications to keep track of what your bots are doing. So you will be able to stay informed without the need to constantly open TradeSanta and react to market changes. However, if you don't want to trade via web browser, you can opt to use the TradeSanta mobile app.
TradeSanta is designed to be capable of trading both in bearish and bullish markets. As well as it supports short and long positions effectively. Traders who don't feel confident about using this bot can start with a demo mode which gives an opportunity to exercise the full functionality without using the real money. So after getting an experience with TradeSanta bots you can finally invest.
2. Features & Indicators
As TradeSanta is not aiming at a narrow group of traders but welcomes them all, it doesn't set minimum or maximum limits on trade volumes. In this sense, TradeSanta resembles HitBTC. Both products allow you to trade as little or as much as you want.
Pre-configured bots: One of the crucial characteristics of TradeSanta is that on top of the pre-configured bots it provides users with an opportunity to accurately adjust the parameters of each bot. Experienced traders can fully control and swiftly update the strategies applied by their bots to maximize profits while newbies can use presets which is not bad at all. After using presets some of the newbies will be able to understand trading better and start effectively customizing their strategies, too.
Indicators: Three available types of tech indicators are available for TradeSanta users which provides them with strong opportunities for market analysis. The indicators on TradeSanta are MACD, Bollinger signals, and RSI. MACD (moving average convergence divergence) indicator is busy looking for the best entry point that took place in the last 100 minutes and builds the forecast based on this data. Bollinger signal uses the data from the last 90 minutes split into 5-minute fragments to find the best entry point.
Unlike MACD, it analyzes trading pairs. RSI indicator monitors the stock overselling and overbuying data from the last 100 minutes. All these indicators are free to use on TradeSanta and allow you to predict the future market behavior to some extent. TradingView and other signals are also in place.
Useful tools: Apart from indicators, TradeSanta allows you to use tools that help to make applied strategies more flexible and auto-adjustable. It allows you to keep calm even if the market behaves a bit differently than you expected. More than that, these tools help you to maximize profits and minimize losses as they change the prices at which your bot sells or buys if the market situation allows the bot to make more money at a different price. One of such tools, for example, is Martingale. Martingale increases every order posted by the bot by a 1.05 to 2 factor. If used carefully, this tool can help to recover the funds lost in the bad market.
Multiple trading orders: What makes trading with TradeSanta especially flexible and accurate is that it supports multiple types of trading orders (including take profit, etc). This feature is crucial for setting the automated trading strategy as it allows to minimize risks and boost profits. We can't predict how the market will behave in the next few hours. However, posting orders that can be triggered or canceled automatically depending on the market trends will help to avoid losses and let bots trade at better prices than you thought.
Another feature is that TradeSanta allows posting orders manually. You can keep your bots working but if you feel that right now you can post a proper order, you can do that via a special terminal without hassle.
3. Pricing
TradeSanta offers three plans: Basic ($25 per month), Advanced ($45 per month), and Maximum ($70 per month). The basic plan allows you a full-fledged TradeSanta experience with small limitations. With Basic, you can use Telegram notifications, trade any supported trading pairs, and use any strategies you like, but you won't be able to use over 49 bots. The advanced plan allows you to have up to 99 bots and use TradingView signals and trailing take profit orders. The maximum plan allows using as many bots as you wish and customizing TradingView signals. Each plan has a free trial for trying it out.
4. Security & Support
Speaking of security, we should start with the fact that as TradeSanta is operated via API, it doesn't add risks on top of those that exist on the exchange you use. If your account on HitBTC is protected with all available security measures, you are not likely to put your account at risk while using TradeSanta. Moreover, TradeSanta provides an extra layer of protection as it requires turning on 2-factor authentication.
As for customer support, you can reach out to the TradeSanta support team via email and in the Telegram chat. Plus don't forget that the TradeSanta website provides tons of educational materials that can help in tackling some of the problems.
Cryptohopper: 3rd Best Bot for HitBTC
Cryptohopper is another worthy option for those who look for intuitive trading automation software. The company was created in the Netherlands in 2017 by the Feltkamp brothers, an actor Ruud and IT professional Pim. Cryptohopper supports numerous exchanges, and several payment methods, it has free and paid indicators and signals, and other benefits. The bots are not targeting any specific group of traders. Rather, these bots are for all kinds of traders including those who prefer manipulative trading.
Also read, Top 5 CryptoHopper Alternatives
1. Ease of Use
A user-friendly interface and wide range of supported features make Cryptohopper one of the most obvious choices for people seeking to enhance trading via automation. Apart from automation, Cryptohopper supports social trading (aka copy trading), a feature allowing you to set your bot to repeat all the trades made by another trader whose expertise in trading you trust.
Cryptohopper bots are cloud-based meaning that you can access them without using specialized clients. You can use any device with an Internet connection whether it is a mobile phone, tablet, laptop, or computer. Mobile apps for iOS and Android are also in place.
If you have doubts about the profitability of the bots or strategies you want to try out, you can run a test first. In trading and investing, forecasts are usually based on experience, backtests for bots help to understand what you can expect from using the bot. Cryptohopper provides you with a free tool to check how much you would have earned via this or that bot in a chosen time frame in the past. Probably, such a test can help you in making a decision on which bot to choose.
2. Features & Indicators
With Cryptohopper bots you can use multiple indicators. For instance, Bollinger Bands, MACD, RSI, and Stochastic. A stochastic oscillator compares the closing price of the given asset to its price range in the specified time frame. Just like RSI, a stochastic indicator is looking for overbought and oversold assets but is more sensitive than RSI. Therefore, stoch gives you more signals and more exit and entry points.
The Cryptohopper interface supports such tools of minimization of losses and boosting the profits as stop limit orders and trailing stop orders. These types of orders help to not trade in a loss if the market climate worsens and not to miss out on additional volumes of profit if the market performs better than you expected. It is especially important as the trading is performed by the bots and you might end up not being immediately available to interfere when the market trend starts to flip.
Stop limits and trailing stops will stabilize your trading strategy in times of volatility. Apart from automated trading, Cryptohopper allows trading manually. The feature is quite useful for those who want to trade on the markets that are not covered by trading strategies carried out by bots.
Cryptohopper users can subscribe to external signals to get info about the market news from trusted sources and react to changes timely. It makes the use of Cryptohopper bots easier and safer as signals help you to navigate your bots in the ever-changing trading environment. The signallers are the experts handpicked by the Cryptohopper team. You can trust them as much as you trust Cryptohopper. To avoid subscribing to an expert whose signals don't fit your needs, you can easily find the profitability reports of all the signallers on Cryptohopper.
3. Pricing
There are four pricing plans on Cryptohopper. One of the plans is free and the rest of them are paid. The free plan is called Pioneer. It allows you to open up to 20 positions, manage your portfolio, use all the supported exchanges, and trade manually. The second plan is paid. It is called Explorer. It can be tried out for free. The free trial lasts 7 days. The price of the Explorer plan is $19 per month.
The main difference from Pioneer is that Explorer allows up to 50 positions. The second paid plan is called Adventurer. It costs $49 per month. Like Explorer, it differs from the free plan with the number of positions you can place. Adventurer allows you to open up to 200 positions which is a big difference compared to 20 positions (Pioneer plan) and 50 positions (Explorer plan). And, finally, the plan that opens the full functionality of Cryptohopper to you is called Hero. Its cost is $99 per month. It allows the opening of a whopping 500 positions. With Hero, you can use signals for all coins, market arbitrage, and AI.
4. Security & Support
To ensure the safety of use Cryptohopper provides traders with several protection measures. Let's begin with the simple fact that mostly the burden of safeguarding your funds is lying on the exchange you use. Technically Cryptohopper cannot even withdraw your funds.
However, Cryptohopper is not staying aside and gives you additional layers. For instance, you can turn on 2-factor authentication so no one but you will be able to access your Cryptohopper dashboard. The platform's website is protected by Cloudflare. All the stored user data is encrypted.
As for customer support, Cryptohopper takes queries through several channels: first off, users can submit tickets via the support section of the website. This section contains a FAQ page that can answer some of the questions. Also, it is possible to reach out for help using the official Twitter and Facebook pages of the platform, or an official Telegram group.
Coinrule: 4th Best Bot for HitBTC
Another noteworthy trading bot brand is Coinrule. Its bots are beginner-friendly and don't require coding skills to trade. The company was founded in 2017. The head office is located in London. The team consists of crypto enthusiasts who believe that crypto trading should become an easier process. Automated trading became the main focus of the Coinrule team as a way of allowing many people to earn money via cryptocurrency trading without much hassle. 
1. Ease of Use
Coinrule bots are capable of using over 150 rules (conditions that can be combined into a strategy using the "If-This-Then-That" principle). That's a great choice that can satisfy many traders. All these rules can be used to build strategies of different types: strategies aimed at protecting your funds, strategies aimed at maximizing profits, strategies aimed at posting long positions, etc.
The strategies can be backtested using historical data. So you will be able to see how profitable this or that strategy would have been if applied at this or that time frame of the market data. When backtesting the strategies on Coinrule, you can use the TradingView interface and its features. As of May 2022, Coinrule doesn't have mobile versions and is available only via Internet browsers.
Coinrule provides users with many indicators. New indicators and signals are added regularly. It is made to ensure that traders will be able to stay in touch with the most important (for them) market data updates. It is important to stay tuned as some news might be signalling the need to adjust the strategy on time. If the moment is missed, the bot will continue to trade based on the dated strategy that is not profitable anymore.
2. Features & Indicators
Numerous strategies can be built via the "rules" that are switched by the on/off button. That's easy like this. On the dashboard, you can see what rules are on and change the status immediately if you wish. One of the serious drawbacks is that as of May 2022, Coinrule bots can't place limit orders. It significantly decreases your opportunities in risk management. This can be partly compensated by additional applied rules.
As for indicators, some rules on Coinrule support RSI and Moving Averages. Unfortunately, as of yet, these indicators cannot be used with HitBTC. Coinrule bots can apply these indicators only on two exchanges out of ten supported by the platform. In the future, the Coinrule team is going to add more options and halt these limitations.
Although backtesting is notably mentioned on the website, in the FAQ section you can learn that actually, this feature is yet to be launched. As of May 2022, the feature is only planned to be added "soon".
3. Pricing
Coinrule offers four plans: the free plan called Starter, and three paid plans called Hobbyist, Trader, and Pro. Paid plans are much cheaper if you pay once a year, not monthly. Starter plan allows using 2 live rules and 2 demo rules, 7 template strategies, and only one exchange. The trading volume is limited to $3,000 per month. Hobbyist plan costs $39.99 per month. It allows 7 live rules, 7 demo rules, 40 template strategies, two connected exchanges, live telegram notifications, leverage strategies, access to Trader Community, and advanced indicators. The maximum trading volume is set at $300,000 per month.
The Trader plan costs $79.99 per month. With the Trader plan, you can use up to 15 live rules, 15 demo rules, an unlimited number of template strategies, three exchanges, P2P trading sessions, TradingView integrations, and all the benefits of the previous plans. Trading volume can reach up to $3 million per month. Pro plan is much costlier than the rest. The monthly payment is $499.99.
This money gives you up to 50 live rules (interestingly, even paying $500/month you are not allowed to use the unlimited number of rules!), up to 50 demo rules, all the supported exchanges, and no limitations on trading volume and template strategies, text notifications, faster execution, dedicated server, and all the benefits from the cheaper plans.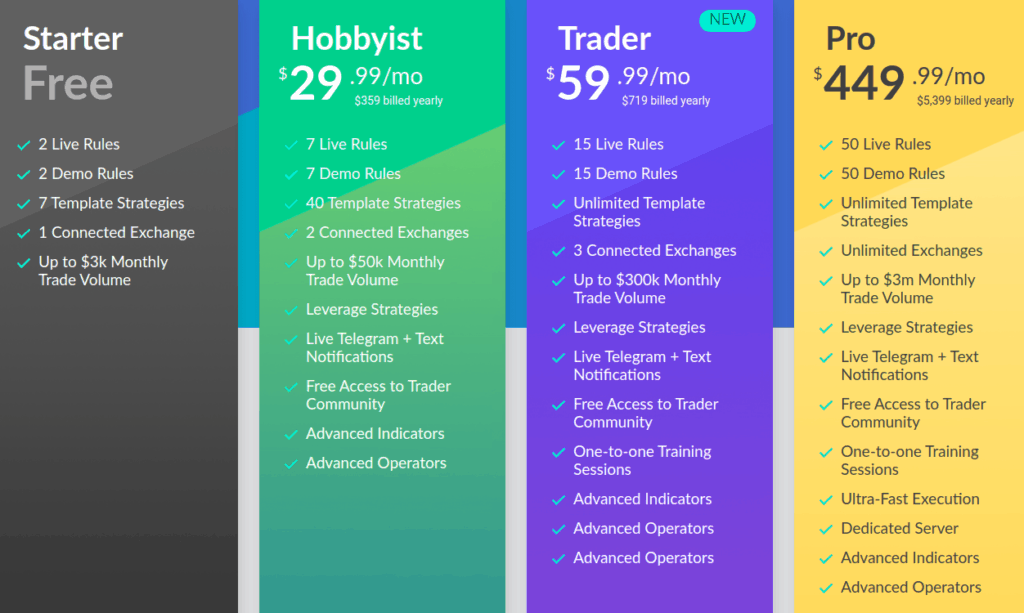 4. Security & Support
Just like any ambitious fintech startup, Coinrule takes care of the safety of the users' funds and data. To provide security, Coinrule uses 256bit AES encryption while storing sensitive information including the API keys. Each user's data is safeguarded with individual private keys held in special encrypted storage.
All the communication between the web app and the backend of the Coinrule platform is encrypted, as well. The platform uses TLS 1.2 encryption. To prevent the harm from DDoS attacks Coinrule uses Cloudflare CDN. Like other trading bots platforms, Coinrule cannot access the funds of its clientele. Users can protect their accounts via 2-factor authentication.
The support team can be reached via email or through the website. Also, there is a telephone number for those who prefer talking over texting. Apart from straightforward communication channels users can get help from the educational materials in the blog, FAQ section, etc.
HaasOnline: 5th Best Bots for HitBTC
Another popular trading bot compatible with HitBTC is HaasOnline. The platform has been involved in providing API-based trading solutions since 2014. It makes the brand one of the oldest active automated trading projects to date.
The platform targets a wide range of potential users including professional traders and hobbyist traders, as well. More than that, the platform has something to offer to institutional traders. Such a wide audience is only possible thanks to a combination of an intuitive interface, a strong set of features, and the high professionalism of the project team. Nevertheless, some critics believe that HaasOnline could be more beginner-friendly.
The HaasOnline Trading Server supports 55 indicators, it allows you to make up your own indicators through coding (people without coding skills won't have this opportunity), backtesting and paper testing is on, and multiple stop-loss order types. Manual and social trading options are absent. These features may be added in the future, though.
1. Ease of Use
HaasOnline bots can be called easy to use but they require learning and have a high entrance point (if you want to take the best from HaasOnline). Yes, beginners can earn using HaasOnline but the use of the full set of features will demand coding skills and a better understanding of trading. Compared to the rest of the trading bots from our list, we can state that HaasOnline is less easy to use. However, the complexity pays off to an extent as HaasOnline bots are highly flexible.
The use of bots is not cloud-based. It requires downloading special software called HTS (HaasOnline Trading Server). The installation process can be a bit harder than in usual modern apps. Happily, HaasOnline provides a detailed video guide.
Although HaasOnline provides users with functionality that allows building and customizing bots, you can choose one of the 15 standard bots. The bots are named by their main strategies — you will find Accumulation Bot, Scalper Bot, Inter-Exchange Arbitrage Bot, and others.
2. Features & Indicators
HaasOnline is notable for its wide range of features. For instance, on top of spot trading, it supports leveraged trading meaning that your bots can multiply the profits from the applied strategies. Please note that margin/leveraged trading is not coming without risks so this type of trading is not recommended for beginners in trading.
It was mentioned that with HaasOnline you can use 55 preset indicators and plenty more of the custom ones. It means that you can shape your own trading and market monitoring automated system that will allow you to do exactly what you need. Such popular indicators as RSI, Bollinger Bands, and MACD are among those 55 available indicators.
To make sure that your bot is doing what you want it to do, HaasOnline allows you paper trading and backtesting features. These features will help you to theoretically (without the involvement of real money) implement your strategies and indicators using the data from the past and see how your settings would have played out. You can run bot performance tests to see if your bot is good enough or if there's room to grow.
Risk management is one of the strong sides of HaasOnline as the platform allows you to use diverse types of orders. More than that, high opportunities for customization of bots improve your abilities in risk management. Each bot has four changeable elements to it: general settings, a trading strategy, safeties, and insurances. Adjusting these characteristics you can get bots that react to market changes timely, saving your funds or increasing the profit levels in accordance with the news. Insurance settings refine the conditions of buying or selling certain tokens. It adds one more layer of safe trading.
3. Pricing
HaasOnline offers three plans that can be paid once in three months, once in the half of the year, or annually. The prices are set in BTC. We will use the prices related to the annually paid plans. The plans are called Beginner (0.009 BTC/year), Simple (0.016 BTC/year), and Advanced (0.026 BTC/year).
Beginner plan allows you to use up to 10 active trading bots, over 20 indicators, do the backtesting and paper trading, access 10 safeties and 11 insurances, unlimited trades, and no fees.
Simple plan allows you to use more bots, indicators, and so on. On top of that, with this plan, you can use Visual Editor which is not available for the Beginner plan subscribers.
Advanced plan frees you from the core feature limitations applied to Beginner and Simple plan subscribers. It gives you a free developer license, allows you to trade on all the supported exchanges, and allows you to use an unlimited number of active bots, insurances, safeties, indicators, etc.
4. Security & Support
To protect your trading journey HaasOnline offers several security features. For instance, you can protect your account with 2-factor authentication. HaasOnline can't withdraw your funds so you can rest assured that you won't face troubles from that side of things. If you have queries you can look for the answer in the support section or contact the support agent in the online chat on the same page.
Bitsgap: 6th Best Bots for HitBTC
Bitsgap is another decent trading bot brand. Bitsgap bots can execute sophisticated strategies, trade on several markets at once, and place different types of orders. The project headquarters is in Estonia.
One of the selling points of Bitsgap is that it supports cross-platform trading with auto searching of the best rates and immediate switching between them. The arbitrage feature helps to trade at the best price. Just like HitBTC, Bitsgap supports many order types so your bots will be as good at risk management as usual HitBTC traders. Trailing, stop-loss, stop-limit, scaled, TWAP, take-profit, and other orders enhance the trading stability. A demo account is also in place, so you can learn how to use Bitsgap before investing real money.
Also read, Top 5 Bitsgap Alternatives
1. Ease of Use
Bitsgap is one of the automated trading projects that focus on user-friendliness. Along with wide functionality, this intuitiveness makes Bitsgap an easy choice for beginners although seasoned traders will find enough attractive features, too. Bitsgap interface allows using TradingView charts and its market analysis tools.
2. Features & Indicators
With the Bitsgap bots, you can choose from over 100 indicators which give you powerful opportunities for market analysis and setting the convenient signals. Bitsgap bots support grid and DCA strategies. On top of the preset strategies, you can create custom ones. The Crypto arbitrage feature allows you to search for the best rates on different exchanges simultaneously and execute trades at better prices. Bitsgap allows automated futures trading which can be incredibly profitable although risky, as well.
To avoid trading in loss or to squeeze the maximum from the market, Bitsgap offers using a lot of order types. Happily, these orders are supported by HitBTC, too. In a bad market, stop-loss and take profit orders protect you from losing your money. Market orders are good when you wish to trade as soon as possible. Shadow orders are not posted in the order book until the attractive (certain) is reached so you can get the desired rates. There are more orders, allowing you to ensure your funds in the changing market or get more profit if the new opportunities emerge. Such diversity of order types makes trading more flexible and profits stable.
3. Pricing
There are three plans on Bitsgap. All of them are paid. Their names are Basic ($29/month), Advanced ($69/month), and Pro ($149/month). Every plan has a one-week free trial. Basic plan allows you to use up to 2 GRID bots, 10 DCA bots, and an unlimited number of smart orders. With Advanced plan, you can use up to 5 GRID bots, post trailing orders, and use futures bots. The Pro plan allows you to use up to 20 GRID bots and post Take Profit orders. Any plan allows you to use around 175 indicators, use preset strategies, trade via a multi-exchange terminal, etc.
4. Security & Support
Bitsgap doesn't have access to users' funds. All the user data is stored encrypted with 2048-bit standard protocols and RSA 2048. The servers are protected by a firewall. The account access can be protected with 2-factor authentication. The company network doesn't allow accessing the user info from the employees' side.
Speaking of support we should note that one of the weak sides of Bitsgap is the lack of a convenient knowledge base. You can contact the support team via email.
Comparison: Conclusion
We can conclude that TradeSanta is probably the most balanced bots project as of now. The combination of moderate pricing with rich functionality, and a simple user interface makes this platform suitable for different kinds of traders with different demands. Probably, HaasOnline can offer more flexible bots but to enjoy this flexibility you will have to learn the Haas coding language. More than that, considering the current BTC/USD price (as of May 2022), HaasOnline is a less affordable platform than TradeSanta.
Features-wise the main competitor of TradeSanta is probably Bitsgap. Its functionality is as diverse as the features set on TradeSanta. However, Bitsgap is way more expensive than TradeSanta. Considering the fact that you pay this money regularly, Bitsgap can turn out to be less profitable than other auto trading platforms. Coinrule is probably the most expensive bot brand here. Its intuitive lego-like rules solution can be considered to be intuitive but the price you will pay for ease of use is quite high. Another disadvantage is the limited set of features compared to the rest of the projects mentioned here.
Cryptohoppper is another popular trading bots brand. Probably we can call it next to the TradeSanta platform. The pricing is bearable, and the features set is bright. Probably it lacks some of the TradeSanta features but it has an elaborate copy trading platform and other nice features.
Now, it's your turn to do the research on these trading bots brands supporting HitBTC. Read about them, try some of them out, and see which one is the best for you.
Also read,