Bitsgap is one of the best crypto trading bots providers. However, while choosing a service, you must know about the alternate options you have. Hence, this article will cover the five best Bitsgap alternatives.
Summary (TL;DR)
The Bitsgap platform allows you to automate your trading strategies and automatically find signals for potential opportunities.
Napbots uses techniques were developed by professional traders with over 15 years of quantitative trading expertise at major financial institutions.
The Cryptohopper bot will trade on exchanges for you automatically. Additionally, the site may provide trading indications to assist you in deciding whether to go long or short on a transaction.
Zignaly is a next-generation cloud-based crypto trading bot platform with a slew of useful features, including the ability to trade several currencies.
3Commas, a cryptocurrency bot trading platform, was founded in 2017 in Vancouver, Canada.
TradeSanta is a bitcoin trading bot that handles trading tactics through automation.
What is Bitsgap?
Bitsgap trading bot began running in Estonia in the year 2018. You can link to prominent crypto exchanges and trade them all from one place using the program.
The Bitsgap platform allows you to trade and analyze signals in over 10,000 crypto pairings, arbitrage from price discrepancies across exchanges, automate your trading tactics, and automatically discover signals of currencies with the highest potential.
Apart from all of these capabilities, Bitsgap also allows you to keep track of your portfolio's performance in real-time. To learn more, read the Bitsgap review. The platform also offers a Bitsgap Futures bot.
However, we'll look at Bitsgap bot competitors that are just as simple to use and provide a full experience in the bot-trading space.
First Bitsgap Alternative: NapBots
What is Napbots?
NapBots is a platform launched in 2019 by Napoleon Group, a wholly-owned subsidiary of CoinShares International Ltd.
The user interface of the platform is simple and clean. Napbots is compatible with most of the industry's leading exchanges, including Binance, FTX, Kraken, etc., and is actively expanding its list. It supports three languages — English. French and German.
Napbots Features
Additionally, over the course of a year, the flagship strategy BTC/ ETH/ USD AR outperforms the underlying by 233 percent. Because it permits shorting, this technique is more aggressive. Prior achievement, however, does not guarantee future success.
In fact, pricing is the key database for Napbots' strategies, and the team offers both trend-following and mean-reversion methods (weekly, daily, and hourly).
Apart from that, NapBots is a trading bot for a wide range of investors. Not just for novices or casual traders who can simply let the bot handle everything, but also for skilled traders who can disable "Bot Only mode" and place trades without utilizing the bot's automated systems. It's the only bitcoin bot available that allows you to combine strategies.
Napbots will handle tasks in the user's place depending on information such as market price changes.
How to use NapBots?
By trading crypto-currencies in autopilot mode, you experience financial freedom with Napbots and automatically make money. First, however, you must perform the following to make it operate on your behalf:
Firstly, link to one of the trust exchangers offered.
Secondly, select the NapBots Bots from the unique list.
Finally, choose your investment plan in the right way.
NapBots will be ready to trade cryptocurrencies and make money for you when you have finished these three actions. Happy trade!
Napbots Supported exchanges
NapBots' starting point takes the form of giving people eight bitcoin exchanges to choose from. The abovementioned exchanges include Binance, Bitmex, Bitfinex, Okex, Phemex, Kraken, and Bitstamp. Moreover, shortly, you may expect the following: CoinBase, Revolut, Kucoin, HitBTC, and many more. A diversity of exchanges provides significant liquidity to implement its algorithmic methods.
It is a piece of cake to integrate your exchange with Napbots. As you have a valid exchange account, all you need to do is click the Generate API Key button from your account and then use it to input the data on your Napbots account.
Napbots Pricing
Napbots is relatively straightforward when it comes to the pricing model. It has a fair, transparent, and flexible pricing system with no hidden charges.
For trading budgets under $200, Napbots is entirely free.
However, trading budgets exceeding $200 are charged with a monthly fee of €2 for every $100 invested (up to a maximum of €500/month)
For $25,000 and above, the price is capped at €500 a month.
The user can cancel their subscription anytime without paying any cancellation charges.
Why Choose NapBots?
Napbots aims to enable public access to complex trading techniques previously employed by hedge funds.
Setup and installation are easy. Non-experts are also able to use it. The new strategy employed by NapBots promises extraordinary value for its customers.
Financial industry professionals are on Napbots' panel of experts. On their résumé, they have extensive expertise with money, which eliminates the need for technological talents. So using this service even while you're asleep, you'll still passively earn money.
There are no initial fees, making their pricing very clear.
Second Bitsgap Alternative: CryptoHopper
What is CryptoHopper?
Customers may easily handle the management of various crypto assets across eight major (accepted) exchanges using the cloud-based interface that Cryptohopper provides. The platform also provides a Telegram crypto signals bot.
Due to the range of semi-automated trading tools that Cryptohopper's clients will have access to on these exchanges, these clients will be able to engage in various trading strategies.
Once a user has provided an account, the Cryptohopper bot will trade automatically on exchanges with it. In addition, you may find trading signals on the site to help you decide whether to go long or short on a trade. Automated trading is only one of the ways that Cryptohopper allows traders to work together and earn money.
To learn more, read the CryptoHopper review. Furthermore, read our review of the five best free apps on CryptoHopper to get some free stuff.
CryptoHopper supported exchanges
The platform supports the following cryptocurrency exchanges:
The leading cryptocurrency exchanges include KuCoin, Binance, Coinbase Pro, Bittrex, Poloniex, Kraken, and Huobi.
CryptoHopper Pricing
There are three tiers to the Cryptohopper price plan, and the lowest is free for seven days.
Pioneer plan: 7-day free trial
Explorer: It has a single-month plan available that costs $19 per month.
The Adventure Hopper is $49 USD per month, and Hero Hopper is $99 USD each month.
What are the benefits of using Cryptohopper?
Charges a flat price plus a commission without charging a monthly fee.
It is possible for investors to have access to top-level analytical tools.
Their cryptohopper app comes with advanced security safeguards.
Third Bitsgap Alternative: Zignaly
What is Zignaly?
Zignaly is a next-generation cloud-based crypto trading bot platform with numerous helpful features, such as allowing traders to deal with several coins. The following exchanges will soon be linked to the trading platform: Binance and KuCoin. However, additional crypto exchanges will be added in the future.
The platform's primary purpose is to provide copy trading, crypto trading bots, and trading interfaces. It has a particular set of distinguishing properties, including using third-party signal sources in automatic trading. Crypto signal sources that meet this definition are currently supported, and the quality of the signals is quite high.
Zignaly Pricing
In fact, Zignaly trading bot is now available for free, with no limits on an exchange or currency pairings, which is impressive because many services charge a monthly fee to give restricted assistance.
What are the benefits of using Zignaly exchange?
A third-party signal provider interface that provides many advantages.
An easy-to-use platform.
Register as a free user.
Hosted on the cloud platform.
Fourth Bitsgap Alternative: 3Commas
What is 3Commas?
Crypto bot trading platform 3Commas was launched in 2017 in Vancouver, Canada. To manage all of your cryptocurrency accounts in one location, the program links to up to 23 major cryptocurrency exchanges. This trading terminal includes tools that allow you to create your own trading strategies and copy the trading strategies of great traders.
3Commas offers four kinds of bots: short bots, simple bots, composite bots, and composite short bots. An example of an automated options trading strategy would be the Options Bot. To learn more, head over to our 3Commas review.
What are the benefits of using 3Commas?
Firstly, a service that enables you to have access to the most popular bitcoin exchanges.
Moreover, advanced trading bots which are able to interact with clients are a good alternative.
Above all, there is a basic and direct user interface.
3Commas Pricing
The starter plan at 3Commas is $14.50 per month; however, there is no free account with 3Commas. Furthermore, there is a $49.50 monthly fee and a $24.50 charge monthly with the advanced and pro plans. Only pro and advanced account users have access to the trading bot.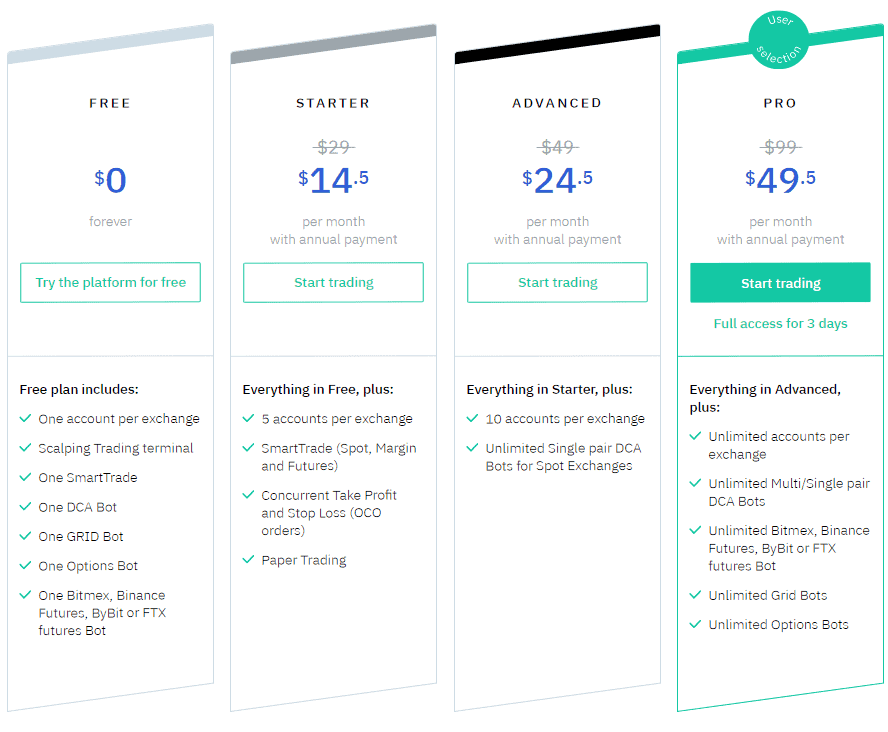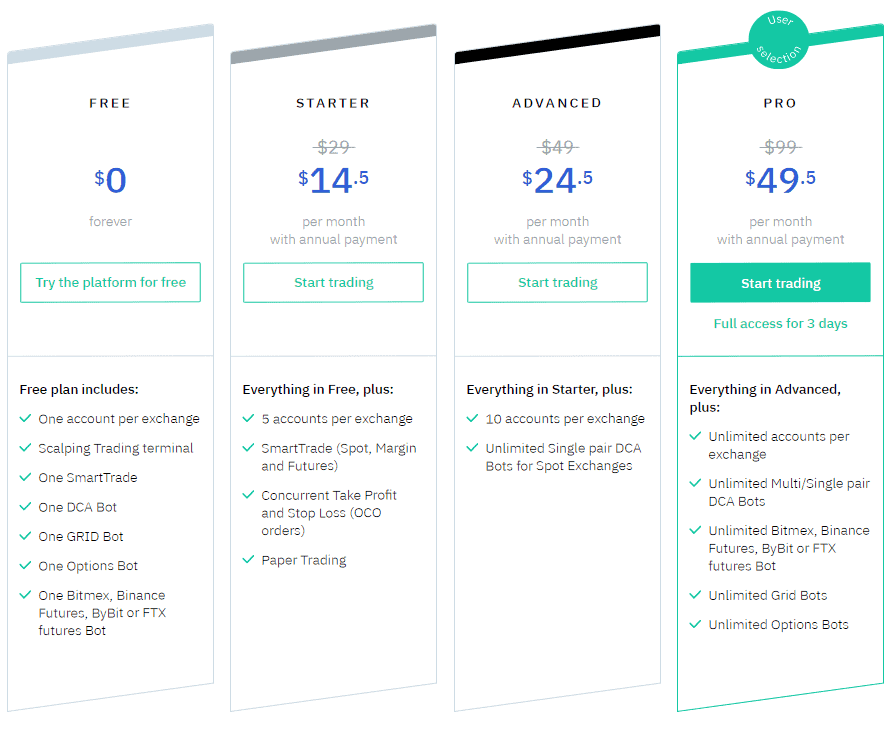 Fifth Bitsgap Alternative: TradeSanta
What is TradeSanta?
TradeSanta is a bitcoin trading bot that employs automation to handle trading strategies. It was originally launched in 2018, but it began to rise in popularity in the latter part of 2019. Today, this company currently has 25,000 members in the community who have done more than a million transactions.
TradeSanta has simplified the world of crypto trading bots and offers fantastic trading tools to its members. Additionally, the total number of active trading bots on the platform is currently 6,400, more than any of its competitors. There are three bots; a long bot template, a short bot template, and a bespoke bot template.
TradeSanta also offers extra orders, martingale, purchases of coins for commissions, and other TradeSanta features. Moreover, to learn more, read the TradeSanta review.
TradeSanta supported exchanges
Bitfinex, Bittrex, HitBTC, Binance, Huobi, Upbit, and OKEx are now all part of Cryptopia, and the plan is to include BitMEX shortly.
TradeSanta Pricing
TradeSanta trading bot is moderately priced when compared to other crypto bot trading services. Furthermore, the following four packages are available: MINIMUM (free plan), BASIC ($14/month), ADVANCED ($28/month), and MAXIMUM ($42/month). Two trading bots and a $3000 monthly trading cap are part of the MINIMUM plan.
What are the benefits of using TradeSanta?
A simplistic and basic platform.
It also offers many trading bots and other trading tools.
Market-driven pricing.
Hosted on the cloud.
Sixth Bitsgap Alternative : Altrady
What is Altrady?
Altrady's unique automated crypto trading tools have thousands of traders using it every day to maximize returns by automating their trades. The company offers several types of bots, including GRID and SIGNAL Bots that provide experienced traders with an easy way for them to take advantage in fast-paced markets without having any knowledge or skill set on hand.
Altrady Features
Altrady offers the complete toolset for every style of crypto trading:
Trade on multiple exchanges and exchange accounts
More than one account on a single exchange
Real time break-even calculation
Offline price and order alerts
Visual trade feedback on the chart
Unique integrated market scanners
Trade automation with take profit and stop loss
Signal bots with tradingview webhook or Crypto Base Scanner signals
Grid bots with trailing up and down
Portfolio management with subaccounts
Trading analytics
Worth mentioning that they are continuously improving their set of features, and on their short roadmap Q3-Q4 of 2022, they will add:
New mobile app
Portfolio with external wallet support
Dex integration
Paper trading
Leverage your knowledge and skills with the most advanced trading platform there is: Altrady 14 DAYS FOR FREE.
Altrady Pricing
Bitsgap Alternatives: Conclusion
The number of alternatives to choose from is considerable, and each of the platforms offers a set of unique characteristics.
All of the trading bots described here are very trustworthy and trusted platforms for buying and selling cryptocurrencies. While Napbots still has much to go in terms of functionality and capabilities, it is somewhat ahead of the competition in terms of overall capabilities.
The bitcoin trading bots of the future will be able to give you an edge on any market opportunity that you would miss out on. Following this, be strategic about the platform, and you will be highly known.
Frequently Asked Questions
What exchanges are available on Napbots?
Napbots offers a wide variety of local and international exchanges for investors, including Binance, Kraken, FTX, and Bitfinex (more exchanges to come).
Is NapBots safe?
Yes, NapBots is safe and secure. The team does everything possible to protect your account and your personal information. They conduct regular security audits of the NapBots website and make every effort to provide you with the most secure crypto trading experience.
Is Cryptohopper legit?
Yes, Cryptohopper is legit and appears to be a trustworthy trading bot. Our investigation reveals that this robot is genuine (it trades on your behalf), straightforward, and user-friendly. In addition, we can confirm that all of their partner brokers are well controlled.
Is 3Commas safe?
Yes, 3Commas is safe and the exchange platform is sufficiently encrypted. Also, it has a well defined data protection policy as well.