Choosing the best platform that meets all of your needs is can be a bit hard. Since some of these might lack a few features, while others might not be legal in your country. Here's a comparison between Gemini vs Binance vs BYDFI, three of the best crypto trading exchanges in the industry:
| Crypto Exchange | Gemini | Binance | BYDFI |
| --- | --- | --- | --- |
| Headquarters | New York | Seychelles | Singapore |
| Transaction Fees | 1.49% | 0.015 to 0.1% | 0.05% |
| Fiat Deposit | Yes | Yes | Yes |
| Leverage | N/A | Upto 25x | Upto 100x |
| Supported Currency | USD, AUD, EUR, GBP, SGD | USD, CNY, INR, RUB | USD, AUD, EUR, JPY, CHF |
| Maximum Withdrawl | $ 100,000 | 0.06 BTC | 100,000 USDT |
| Demo Mode | No | Yes | Yes |
| Mobile App | Yes | Yes | Yes |
| Customer Support | Yes | Yes | Yes |
What is Gemini?
Gemini was founded in 2015 as a crypto trading exchange in the USA that appealed to both novice and experienced investors, offering various buying and selling possibilities. Gemini is a good pick for new crypto traders learning the ropes because it has a user-friendly platform and extensive educational resources.
To get a better understanding of the platform, read the Gemini review.
What is Binance?
Binance is one of the most popular cryptocurrency exchanges based in the Cayman Islands. It focuses heavily on cryptocurrency trading and offers its users a series of products. Users can trade over 500 different cryptocurrencies and virtual tokens, while also earning interest on their HODLings by staking. Moreover, you can also trade NFTs.
Read the Binance review to get a better insight.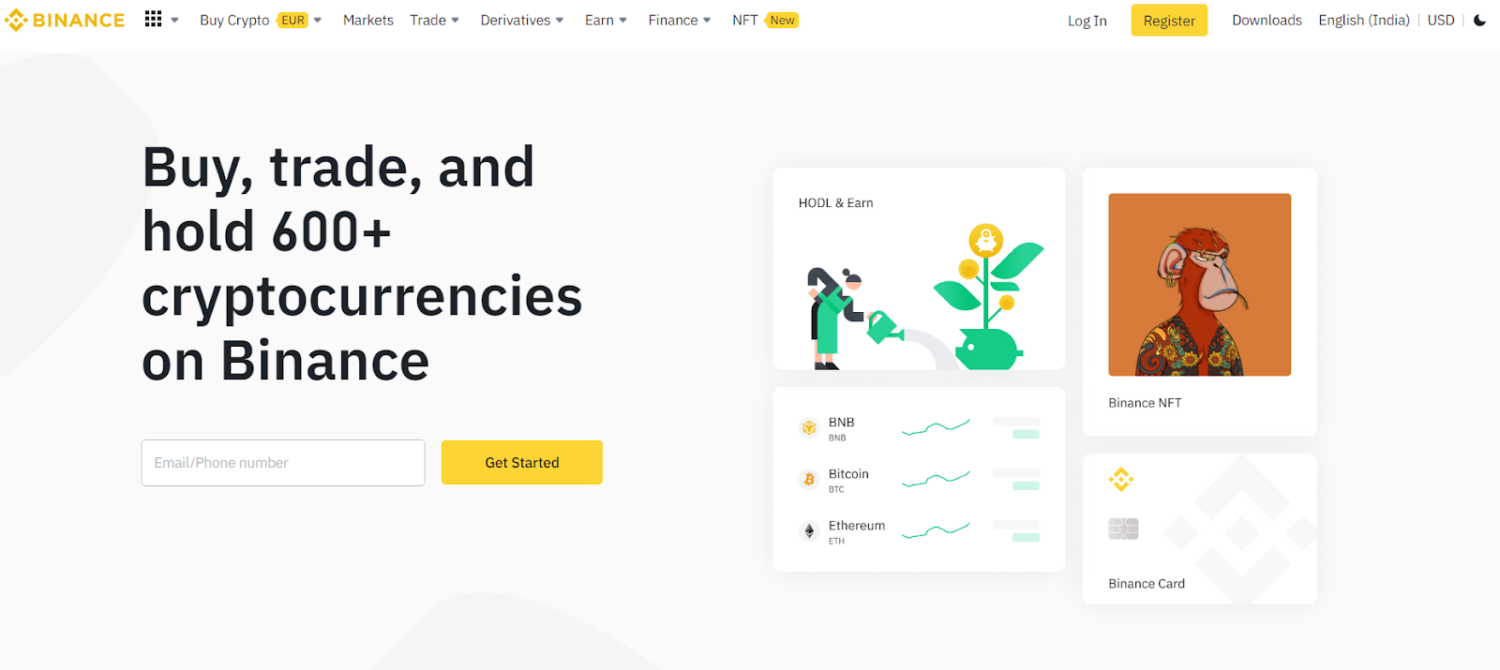 What is BYDFI?
BYDFI is a cryptocurrency exchange that allows users to trade cryptocurrency online. The BYDFI platform provides traders with access to the cryptocurrency market via spot, CFDs, and futures contracts (CFD). One of BYDFI's most appealing advantages is that it is one of the few leveraged cryptocurrency exchanges supervised by multiple regulatory authorities.
Check out this BYDFI review to know more.
Gemini vs Binance vs BYDFI: Features
Gemini
Account-holders can buy and sell crypto assets immediately from their phone using Gemini's user-friendly mobile app. But Gemini ActiveTrader app isn't available within the app.
Gemini Pay has paired up with Flexa to offer quick payments to suppliers. In addition, users can utilise this function to spend their cryptocurrency on goods and services.
Gemini Earn gives customers the chance to gain interest in their crypto shares.
Gemini has a specialised support team for its customers. Most questions can be answered in the Gemini knowledge base, but if you have a problem with your profile, there will be a service number to call throughout business hours and an email address to reach during non-business hours.
For more experienced traders, Gemini's ActiveTrader features advanced charting capabilities, extra trading combinations, and more metrics. ‍
The Gemini Dollar (GUSD) is a managed stablecoin that is tied to US dollars in Gemini's reserves.
Gemini asks for 2FA for all users.
Users can trade significant sums of cryptos outside of Gemini's order books using block trading.
Customers who use the Gemini Credit Card will be capable of earning approximately 3% in incentives on every purchase.
Gemini clearing: This function enables two parties to complete a transaction outside of Gemini's exchange. After two parties have agreed on a deal, the initiator may place an order.
All client assets are stored in a safe cold storage facility by Gemini's custodial services. The FDIC insures all cold storage funds.
Also read, Gemini vs Coinbase | Which is the Best USA Crypto Exchange?
Binance
For consumers in the United States, Binance serves more than 65 tradable coins. This provides crypto traders with a wide range of possibilities.
Binance provides a variety of trading alternatives, including peer-to-peer, spot, and margin trading.
Limit, market, stop-limit, stop market order, trailing stop, post only, and one-cancels-the-other order are only a few of the order types available.
Binance offers a support Twitter account (@BinanceHelpDesk) where users may tweet their problems to the exchange.
They also have a chatbox on the support screen of the website.
All U.S. dollar balances on the Binance.us platform are insured by the Federal Deposit Insurance Corporation (FDIC).
Binance has some of the lowest fees in the industry. Users in the United States will probably pay more on Binance.us, although the costs are cheaper than those on other major platforms.
You can monitor analytics, current market trends, personal portfolio, and current and previous trades on Binance's dashboard.
Withdrawals and deposits are simple. It can be done by locating the 'Spot Wallet', selecting assets you'd like to buy or sell and following the given instructions.
Also, read Staking at Binance: Is it safe to Stake on Binance?
💰 How to Get Free CoinCodeCap Signals Premium?
Register via this link – 10% off on your Trading Fees for 30 Days
Monthly Trading Volume > 200,000 (Trading volume = Margin * Leverage)
Contact @nissa9568 to claim your rewards 🎁

💳 Deposit Bonus:

deposit 100 USDT get 10 USDT trail funds
deposit 200 USDT get 20 USDT trail funds
deposit 500 USDT get 50 USDT trail funds
Why Choose BYDFI?
✅ 400+ Trending Crypto
✅ Up to 125x Leverage Futures
✅ Copy Trading – Tarde like a pro
✅ Easy to Buy Crypto with Your Cards
✅ 24/7 Online Support
✅ 100,000 USD balance in your BYDFI Demo Account
✅ Chance to Earn UP TO 50% Futures Commission
BYDFI
A primary objective of BYDFI is to bring forth a simplified trading experience.
BYDFI has more easy tools than other brokers, and their distinct contract capabilities allow traders to place trades with less worry.
The trader merely needs to register using an email address or a mobile phone number to open an account with BYDFI. After that, they can indeed be enrolled as a client in about 30 seconds.
This broker now supports major digital currencies, allowing users to use them as an asset.
BYDFI also plans on introducing fiat currencies.
BYDFI's UI and mobile apps are designed to be user-friendly for its traders.
It's simple to deposit money into a trader's account, and this firm accepts 16 different currencies for trading.
Even though BYDFI only debuted in 2019, it has a global presence in over 150 countries.
To assist their clients worldwide, their website has even been translated into eight different languages.
It includes a method for transferring funds between superiors and subordinates, which the agents facilitate.
Also, read BYDFI Copy Trading – An Ultimate Guide
Gemini vs Binance vs BYDFI: Getting started
Gemini
Gemini comes with features that could benefit any user, from an accessible and intuitive online interface to its Advanced ActiveTrader platform. In addition, it offers consumers well over 30 cryptocurrencies with solid security. However, compared to other exchanges, the fees is a little hefty. However, the company's products and safety measures compensate for this.
Binance
Binance is a one-stop destination for practically all of your bitcoin trading needs. On one platform, you may acquire crypto loans, collect interest, liquid swap, sell and buy cryptocurrencies directly with peers, make payments with the Binance card, advertise your coins, and much more.
Also read, Binance Card Review: Is This the Best Crypto Card?
BYDFI
BYDFI allows you to deposit money in a variety of ways. You can buy crypto with Fiat. Beginners are drawn to a trading terminal that is simple to use.
A large customer base helps solve their problems quickly. BYDFI can provide top-notch crypto exchange services to its consumers in general.
Gemini vs Binance vs BYDFI: Mobile App
Gemini Mobile App
Users may purchase, spend, and convert digital money from their phones or tablets using Gemini's superb mobile app. Users can set price notifications for the cryptocurrencies they're interested in. On the Apple App Store, the Gemini app has a 4.8-star rating, while on the Google Play Store, it has a 4.5-star rating.
Binance Mobile App
Binance iOS app has been highly rated but the Android app has done poorly in this case. The customer support has been admired. It also has the widest collection of over 150 supported cryptos. The accounts are also secured by their Secret Asset Funds. It might also be a little difficult to get along with, for beginners.
BYDFI Mobile App
The BYDFI platform's app has the same capabilities as the desktop platform and provides excellent functionality, including technical charts. The trader can keep track of their positions, and one-touch order options are available to them. BYDFI's app is available for both Android and iOS. 
Gemini vs Binance vs BYDFI: Deposit and Withdrawal Options
Gemini Deposit and Withdrawal Options:
For verified individual accounts, there is a daily withdrawal limit of $100,000. To trade on Gemini, you can either deposit crypto into your Gemini account from another exchange or deposit US dollars into your account.
Unless you use a debit card, there is no charge for making deposits into your Gemini account.
Also read, Gemini vs BlockFi – How to Earn more Interest Rates?
Binance Deposit and Withdrawal Options:
Binance doesn't charge any fees for deposits. Users pay a fixed fee for crypto withdrawals depending on the blockchain network they choose.
The blockchain network determines withdrawal rates, which might fluctuate without warning owing to circumstances, example network congestion.
BYDFI Deposit and Withdrawal Options:
BYDFI allows traders to withdraw a maximum amount of USDT 100,000, far more than its competitors allow.
Unlike any other crypto exchange, it offers seven deposit alternatives. In addition, it provides traders with over-the-counter (OTC) facilities for purchasing USDT at low trading fees. 
Also read, BYDFI Margin Trading | An Ultimate Guide
Gemini vs Binance vs BYDFI: Fees
Gemini Fees
Gemini charges a high trading fee of over 0.50%. There is also a fixed transaction cost for orders conducted through their online or mobile apps. The cost varies from $0.99 and 1.49 per cent of the total order amount.
Binance Fees
Binance charges a 0.1% spot trading fee, which is cheaper than many US exchanges. Therefore, Binance is a good option for traders in a hurry. A 0.5 per cent Instant Buy/Sell charge is also available in the United States.
Also read, How to Deposit INR to Binance?
BYDFI Fees
When a trading position is opened, BYDFI charges one-time transaction fees ranging from 0.075 per cent to 0.05 per cent. If their specified requirements are met, the award will be reduced by an additional 10%.
If traders are used to traditional cryptocurrency exchanges charging maker and taker costs, they will be relieved to learn that the platform does not impose these fees.
Gemini vs Binance vs BYDFI: Security
Is Gemini Safe?
Gemini offers a two-factor authentication programme through SMS. The majority of crypto is kept in an air-gapped cold storage.
Institutional traders can leverage Gemini's security features, such as individual user login role permissions for dealing with cryptocurrencies or accessing their accounts. Gemini also protects its Gemini Wallet against security breaches and fraud.
Is Binance Safe?
Binance supports a two-factor authentication mechanism, app-based, SMS, and email. In addition, users can opt-in to security features including IP, wallet addresses whitelisting, API access restriction, and device management with advanced access control.
Also read, Pionex vs Binance | Trading, Fee, and Bots
Is BYDFI Safe?
BYDFI protects client funds as well as the trading platform with SSL technology and a highly secure environment. SMS authentication is another crucial function. In addition, users can examine login logs, which improve security settings and alert them to any unauthorised hacking or logins.
Gemini vs Binance vs BYDFI: Customer Support
Gemini Customer Support
Gemini offers an online helpdesk for clients to inquire or report questionable activities. They also deliver customer service through Live Chat, e-mail, Facebook and Twitter.
Binance Customer Support
For customer assistance, Binance provides three basic options: sending a complaint, asking fundamental concerns via chatroom, and contacting out via Twitter.
BYDFI Customer Support
When traders have an issue or a problem, they can contact BYDFI's specialised customer support team. Traders can communicate with the BYDFI team via email and online assistance. In addition, traders can interact with the robot or ask to speak with a representative while using the online service link.
Gemini vs Binance vs BYDFI: Pros and Cons
Crypto Exchange
Pros
Cons
Gemini
1. Over 50 supported currencies are available.
2. They offer site insurance against exchange frauds.
3. Gemini has a strong user security
1. Gemini's trading fee is relatively higher than other exchanges.
Binance
1. More than 65 supported cryptocurrencies in the US.
2. Binance offers relatively low fees.
3. Various trading choices and order preferences give the client an array of options to opt from.
1. Beginners may find the platform confusing and require research.
2. Binance doesn't offer built-in wallets.
3. There have been regulatory issues in many countries.
BYDFI 
1. Trade occurs in 16 different cryptocurrencies. 
2. Trading fees are lessened utilising BYDFI coins.
3. They have demo mode to simplify usage.
1. No Fiat withdrawal.
2. Sudden movements in the market slow down this platform.
Conclusion
Gemini and Binance are relatively older than BYDFI, which was introduced in 2019 but has gained much popularity because of their simplistic features and security.
To protect your assets, each platform has developed good security features. In addition, they all feature a user-friendly layout and attempt to provide a positive trading experience for their customers.
Frequently Asked Questions
u003cstrongu003eIs Gemini reliable?u003c/strongu003e
Yes, it is a legitimate US-based exchange established in 2014.
u003cstrongu003eDoes BYDFI have a platform spread?u003c/strongu003e
BYDFI does not have a platform spread of its own. Its pricing is the most accurate spot price available, with no additional spreads or slippages. BYDFI also offers a 24-hour liquidity pool. It's also more equitable and secure.
u003cstrongu003eHow easy is Binance for beginners?u003c/strongu003e
Binance is meant to cater to a broad range of users. The exchange is easy for beginners, but it also has sufficient coins and functionality to keep experienced traders satisfied.
Also read,