What if you come across a way that allows you to earn interest on the crypto while you HODL? Staking enables you to acquire interests in your assets at an exchange, and this article will discuss crypto staking at Binance, the most prominent crypto exchange in the market.
Summary (TL;DR)
Binance is the most diverse and secure trading platform in the market.
Crypto staking allows you to earn interest in the assets you hold.
Usually Proof of stake blockchains pays you rewards in terms of the asset to verify the block transactions and provide security.
Many investors combine their assets and form staking pools for a higher probability of being selected to verify the transactions.
Cold staking allows investors with more considerable capital to use their assets while storing them in offline vaults.
What is Binance?
Binance is a well-known cryptocurrency trading platform. The exchange started providing its services on 14 July 2017. By the mid of 2018, it was already the biggest platform in terms of volume. Binance offers a vast range of products to its users, such as margin trading, lending, stock market, etc. One of these products is staking, which became available at Binance in 2019.
To learn more, read our Binance review and Binance fee structure article.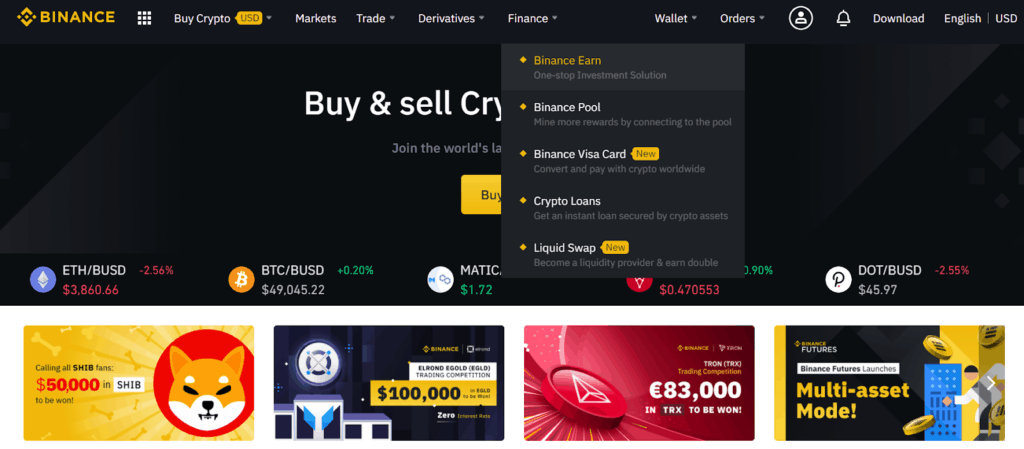 What is Crypto Staking?
Before going into how staking at Binance works, we must understand what crypto staking is? Briefly, staking allows you to lock your funds and gain interest in the funds you own at a platform or in a wallet.
In PoS (Proof of Stake) blockchains, stakers provide security to the blockchain network by either validating or mining the block transactions. The point to be noted is that the more assets you stake, the higher are your chances to validate transactions. Also, the length of time plays a crucial role in deciding your returns, as the longer you keep your coins in your wallet, the higher your returns will be.
What is Binance staking?
Binance staking allows you to gain interest in the assets you own in your crypto wallet. You simply have to choose one of the available staking options and compare the estimated interest rate and staking period depending on your research. There are mainly three types of staking at Binance that are available, which are as follows:
1. Locked Staking
Binance Locked staking allows you to lock your crypto assets for a pre-fixed duration of time. The period for locking up varies from a week to three months. You hold these funds in your crypto wallet, which adds to the functioning of the blockchain network. You can withdraw the funds from a staking program at the time of your choice; however, you might not receive the interest earned in case of early redemption.
2. DeFi Staking
Binance DeFi staking allows you to stake in DeFi projects to deliver services to users through smart contracts. However, it is essential to keep in mind that these projects also come with high risks. So before staking, you must acquire complete knowledge or do not stake it at all.
3. ETH 2.0 Staking
The primary goal of Ethereum 2.0 is to make ethereum more scalable, sustainable, and secure. The upgrades are primarily distributed into three parts, and an essential part of it is staking, which allows users to earn a reward by supporting the network. You can learn more about staking ETH 2.0 by clicking here.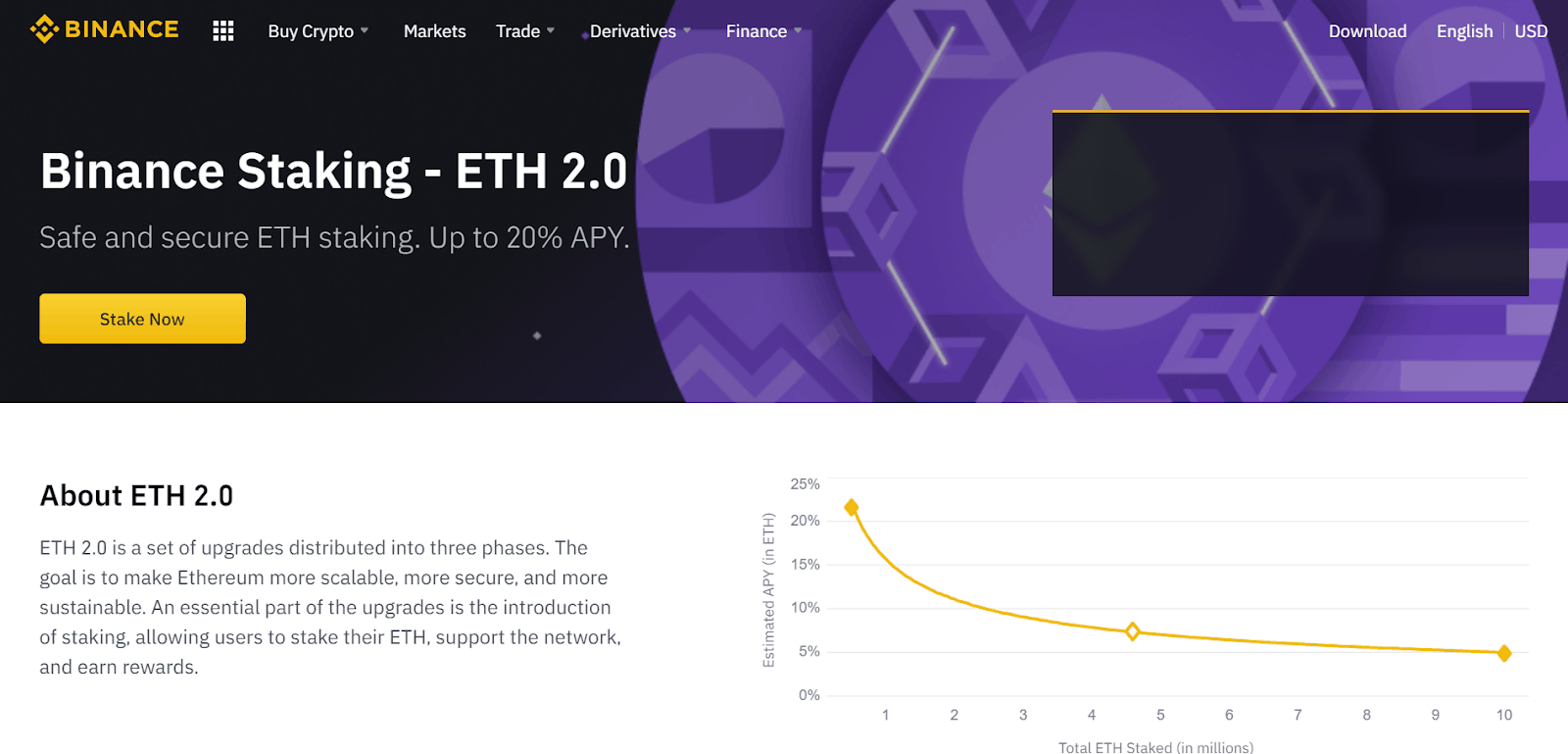 How does Staking work?
While staking at Binance, you do not need the complex equipment which is mandatory in crypto mining. Instead, staking allows you to use the funds you already own in your wallet.
You might be wondering how do you get an interest from staking? When you stake your assets, the algorithm rewards you for approving the valid transactions. You receive the interest at the end of every month or the reward period specified at the beginning of staking the asset.
The PoS protocol randomly selects the validators at a definite time to create a block in the chain. Although staking just means holding funds in a crypto wallet; however, you can also be a part of staking pools.
What is a staking pool?
In simple words staking pools is a squad of validators who shake hands and merge their assets. They do this to multiply their chances to get selected by the protocol to validate the blocks. Thus the resources are combined and staked together. The squad then distributed the rewards as per their share of assets.
Most of the time, maintaining a staking pool turns out to be a tedious task. Also, the pool providers sometimes cut a fee from the rewards of the users. Furthermore, pools provide extra flexibility and functionality to individual users. Lastly, it is reasonable that you do staking on a staking pool rather than individually when you are new to staking.
How to start staking at Binance?
So now, let us understand the step-by-step process to start staking at Binance.
Create an account on Binance or log into the already existing one.
Now click on the Binance Earn tab from the Finance dropdown in the header.
You have to scroll down and click on the Locked staking tab.
Now here you have to choose from De-Fi or locked staking. The tabs of both the staking options exist side-by-side.
Now decide the crypto asset you wish to stake on and select the duration in days. Then click on the "stake now" option located in the forefront of every crypto asset.
Enter the amount of that asset you need to stake. Ensure that the amount you enter is more significant than the minimum required and smaller than the maximum required.
Click on the Staking services agreement checkbox once you agree with the terms and conditions and hit the confirm button.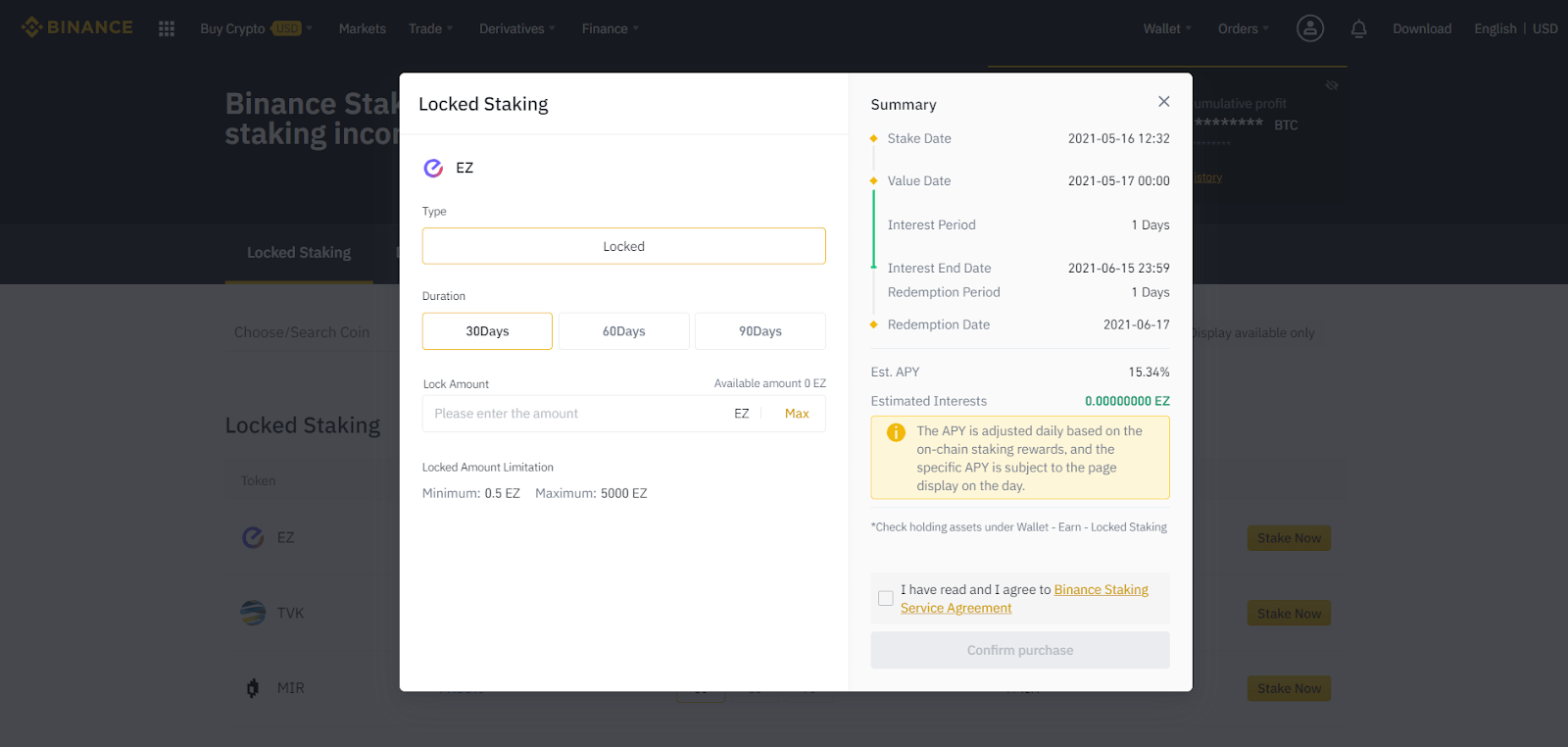 Binance Staking: Other important features
To avail of the staking rewards, you need to click on "my rewards option." Traders can anytime look for their available awards with necessary basic information.
Deposit and Buy Option
When you click on the "Deposit" button, you have redirected to the deposit page of Binance. Here you can add your rewards to the principal balance available in the account.
On the other hand, by clicking on the "buy" button, you are redirected to the coin's market, and you can buy the various listed pairs from there using your reward money.
Binance Staking Fees
Currently, Binance does not charge any fees for holding or locking funds on the Binance Staking. Binance's imperative goal is to assist users in gaining the most valuable returns.
Binance Lending
With Binance lending, you can lend your crypto assets. At present, two types of lending options are available fixed and flexible. You can earn guaranteed returns by Binance lending and for more information, click here.

Crypto Staking Risks at Binance
Although Binance takes care of its funds through a decentralized exchange, however, in trading and staking, you can never be fully assured of the contingencies. The locking period can be months, and in that period, the asset's value can diminish significantly.
High rates of interest along with increased risks are observable in Defi staking. There is no doubt that Binance has handpicked some of the best projects for its users. After all, Binance just remains a bridge to connect the potential Defi project and its users.
What are Binance Staking Rewards?
This question branches out to many paths as every blockchain network can calculate the rewards for the users. However, generally, they are computed on block-by-block terms. Apart from that, various factors affect the rewards calculation, which is as follows:
The number of coins the user/ validator puts at stake.
It depends on the period for which the validator is actively taking part in staking.
It also depends on the total number of coins that are staked on the network until the date.
Rates of inflation.
Other remaining factors.
On many other platforms, the staking reward calculator is based on a fixed percentage.
The rewards are then distributed among the validators as an account for compensating for the inflation. So inflation becomes the reason for the validators to spend their coins instead of saving them. Also, it is spot-on for the validators to calculate their rewards in this pattern.
Most of the validators are likely to indulge in the predictive pattern of staking. That is the reason why more and more users culminate to stake crypto assets.
How to withdraw the Binance staking rewards?
Binance Locked staking: In this case, you automatically receive your rewards in your Fiat and Spot wallet daily. At the end of the locked period, you'll receive your staked amount back in your wallet. If you go for early redemption, you might lose the earned interests and it will be automatically deducted from your account balance.
Binance DeFi Staking: DeFi staking allows a flexible lock period and transfers the interest amount in your wallet every day. You can redeem your assets in one day. However, if you try to withdraw them before that period, you might not receive the earned interests.
Binance ETH 2.0 Staking: While you stake in ETH 2.0, you'll receive the rewards once the first phase is complete. You can, however, convert BETH to ETH in a 1:1 ratio and transfer it into your account.
Cold Staking
Now when you know what staking is, it is good to get an idea around cold staking. So cold staking means staking via a crypto wallet that stores your assets in offline vaults.
Cold staking is ideal for giant stakeholders who wish to ensure the complete security of their funds as their funds are kept offline in cold storage.
Binance ADA Staking
Binance staking has recently launched a brand new high yielding activity of staking ADA and ATOM and earn up to 24.7% APY.
It comes with locked staking format.
The interest calculation period is from 0:00 AM on the day after locked staking is confirmed and to the end of the corresponding product period.
The interest payout time is on a daily basis.
Staking at Binance : Pros and Cons
| Pros | Cons |
| --- | --- |
| Binance is the most secure trading platform in the market and offers risk-free token staking. | Binance has poor customer support. Many times the queries of the users remain unanswered for days. |
| The platform provides an opportunity to earn high returns. | There are limited opportunities in staking assets, and most of them are usually sold out. |
| Binance offers Locked and DeFi staking, with fixed durations. | |
| The exchange also offers ETH 2.0 staking. | |
Binance staking Pros and Cons
Staking at Binance: Conclusion
Staking is one of the easiest and decent ways to earn interest on the assets you HODL. Binance can prove to be the best place to stake the assets you already hold in your wallet. Binance also offers various types, such as Locked staking and DeFI staking. The platform provides handpicked coins for staking to its users and protects them from losing money in coins with no future. Moreover, it offers the best crypto staking rewards.
Frequently Asked Questions
Is staking safe on Binance?
Binance is the biggest trading platform in terms of volume and hence also comes with the best security in the crypto market. Binance staking is token level risk-free, i.e., you won't lose your tokens and look up to it to add more tokens of the same kind. You can learn more about investing at Binance from our article on all risk-free investments on Binance.
Can you lose crypto by staking?
Binance staking is entirely risk-free, and you are never going to lose the tokens you stake. However, the value of the token might diminish over time depending on the market movements. So you should only stake if you're going to hodl the token for a longer time.
Is staking profitable?
Almost all blockchain networks reward users for staking their assets. All you have to do is hold the assets and stake them and gain a return based on the number of coins you stake.
Is staking vet on Binance possible?
Yes, staking vet on Binance is possible. The platform recently launched this activity and gave the users a chance to earn up to 8.79% APY.