There are different ways to earn passive income in today's world. However, some new methods and options are available for users, especially in the cryptocurrency market. The cryptocurrency market, along with a decentralized finance industry, helps people generate better passive income. Two of the most known ways to do so include crypto lending and staking. This article will let you know how these methods are different from each other.
Summary(TL;DR)
Crypto lending refers to lending your crypto assets for which you receive interest.
Crypto staking refers to locking up your crypto holdings with the motive of earning rewards for the same.
The process of crypto lending involves three things- Lenders, Borrowers and a crypto lending platform.
For staking your crypto, you are required to use a crypto staking platform and participate in the staking program of that platform.
Crypto lending is available at low-interest rates and requires no credit checks.
Crypto staking is an efficient way to generate passive income and adds to the security of the blockchain.
Some of the crypto lending platforms include BlockFi, Binance, Hodlnaut, Kucoin and Crypto.com.
One of the significant drawbacks of crypto lending and staking is market volatility. Nothing is 100% secured in the cryptocurrency market regarding safety, and every decision requires deep research.
What is Cryptocurrency Lending?
Crypto lending is almost similar to crypto staking when generating passive income, but crypto lending works differently. In crypto lending, the users can lend their digital assets to the borrowers, in return for which the borrowers pay interest to their lenders. The platforms offering crypto lending generally accept cryptos and stable coins.
Further, for lending your crypto, you can use centralized finance platforms or decentralized finance platforms.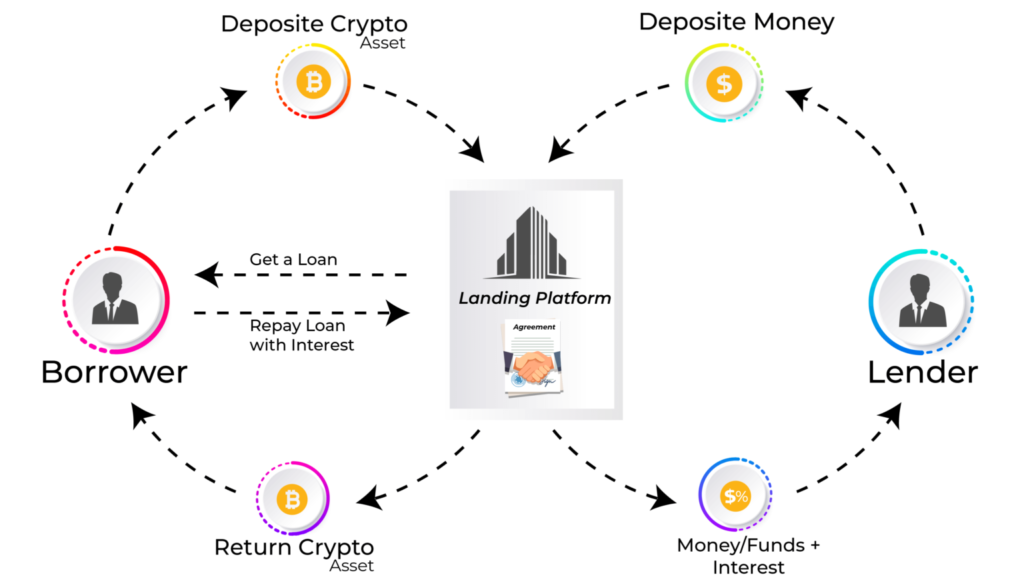 What is Cryptocurrency Staking?
Staking cryptocurrencies refers to the process of locking up your crypto assets to earn rewards and contribute towards a blockchain network. This is a valuable concept for the network as well as the crypto holders. It allows the crypto holders to generate some value from their cryptos in their possession but simply lie idle.
Moreover, staking cryptocurrencies can efficiently generate passive income because some cryptos offer high-interest rates.
Crypto Lending vs Crypto Staking: Working
How does Crypto Lending work?
The lenders and borrowers involved in crypto lending are connected through a third-party online crypto lending platform. Therefore, three parties are involved in this process – The lender, the borrower, and the lending platform.
The lenders are the people who wish to lend their cryptos and stable coins to earn passive income from them.
Cryptocurrency lending platforms are third party online platforms that connect the lenders and automate their transactions.
The borrowers are the people who wish to borrow funds for various purposes and use crypto or fiat assets as collateral to receive funding.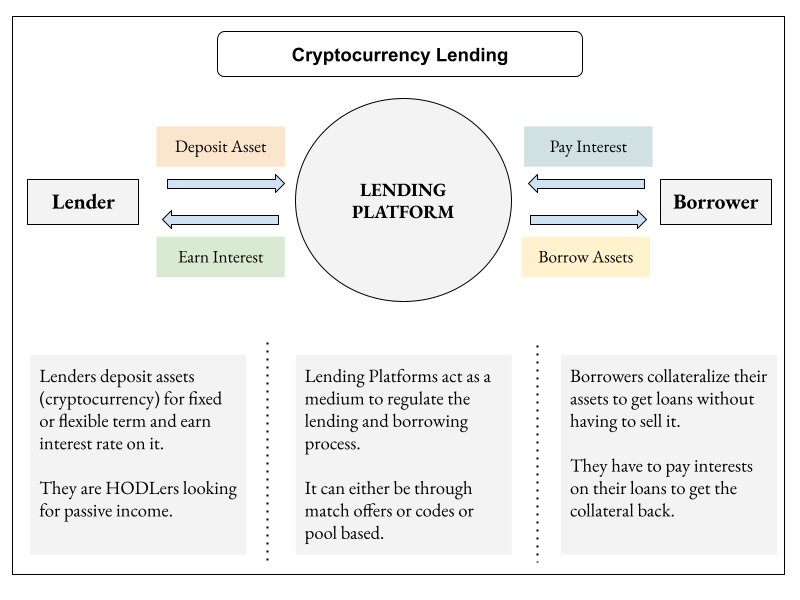 How does Crypto Staking work?
In cryptocurrency staking, the users lock up their coins to the cryptocurrency protocol. Then, from those users, the protocol chooses validators to confirm blocks of transactions. The more coins the user locks up, the more passive income they can generate. Before staking the crypto assets, it is necessary to know how crypto staking works.
To stake a cryptocurrency, the user must hold a cryptocurrency that makes use of the proof-of-stake model.
Then, the user can choose the amount that he wishes to stake. Staking can be done through any crypto staking platform.
While staking, the coins remain in possession of the user. It's just that the coins are being put to work and can be withdrawn anytime if the user wishes to trade them.
Crypto Lending vs Crypto Staking: Benefits
Crypto Lending
Crypto loans are not much cheaper when compared to mortgage loans, but they act as an inexpensive alternative to personal and credit cards. In addition, crypto loans are available at low-interest rates that are below 10 per cent.
The entire loan amount is based on the user's asset value. The user can borrow up to 50% of their portfolio value, but some exchanges go as high as 90 per cent.
The users can also choose the loan currency depending upon the platform they are using.
The user's poor credit or no credit history makes no difference while applying for credit in any crypto lending platform.
The crypto lending process is quite fast, and you can get your loans within a few hours.
Crypto Staking
It does not demand any type of equipment, as in the case of crypto mining.
Users contribute to the security and efficiency of the blockchain.
As compared to crypto mining, it is more environmentally friendly.
Crypto Lending vs Crypto Staking: Available Platforms
Crypto Lending
There are several crypto lending platforms, but some of them are mentioned in the below table.
Platform
Description
BlockFi
– BlockFi was established in 2017 as a credit-service-based platform.
– The accepted collateral is BTC, ETH, LTC, and PAXG.
– The minimum loan amount is $10,000
Binance
– The platform supports all popular tokens, and the hourly calculation of the interest rate on crypto loans depends on the time the loan is made.
Hodlnaut
– The company was launched in 2019 and supports crypto lending and borrowing.
– The Hodlnaut loan starts from $50,000.
Kucoin
– The platform was established in 2017 and supported all the popular tokens. Also, the interest rate varies from 0-2%.
Crypto.com
– The platform offers the users an opportunity to lend and borrow cryptos, but the eligibility to earn is for everyone except Hong Kong SAR, Switzerland, or Malta.
– Additionally, the maximum loan is 100 USD equivalent stablecoin.
Crypto Staking
With the help of some best crypto staking platforms, you can simply put your assets to work and generate an excellent passive income. A few of the best crypto staking platforms available are:
Platform
Description
eToro
– The platform offers the users world-class staking crypto services.
– A user-friendly platform pays off high rewards for staking crypto provides support for multiple asset classes, i.e., it supports the investments made up of a combination of assets like cash, equity, and bonds.
Binance
– The users can stake up to 100 different digital assets on the Binance platform.
– Offers a large pool for staking crypto.
– It is a secure crypto staking site.
– The platform also offers insurance coverage for user funds.
Coinbase
– The platform enables the users to earn extra income by just holding their cryptocurrency via staking.
– However, only a few cryptocurrencies are eligible for staking for now.
– The platform offers custodial services for large institutions.
– It is a public company that reflects it is well regulated.
Kucoin
– Kucoin introduced a new concept of soft staking that allows users to earn rewards without even locking up their crypto assets.
– It pays rewards regularly.
– Thus, eliminating the long waiting periods for receiving rewards.
– Provides multiple staking offerings.
– The users can earn up to double daily rewards.
– The platform has a large staking pool
Poloniex
– The platform offers feeless staking, and the user can get up to 100% of the staking rewards without paying any fees.
– Provides an easy way to earn rewards by holding and depositing crypto assets.
– No lock-up period.
– The user is free to trade, deposit and withdraw anytime.
Crypto Lending vs Crypto Staking: Drawbacks
Crypto Lending
Due to the rising cases of crypto theft, the platform's security is a severe concern for crypto lending.
The borrowers can borrow a limited amount depending on the platform they are using.
Some crypto lending platforms require the users to stake their cryptocurrencies for a specific time to receive interest.
To participate in crypto lending, the users have to add their crypto to an online digital wallet that is less secure than storing your crypto on a physical wallet.
Crypto Staking
The concept of receiving rewards for staking cryptocurrencies is quite attractive, but the user should not expect much higher returns. In most cases, staking crypto gives lower rewards than regular block rewards issued by the network.
Most platforms require the users to lock up a minimum holding of their crypto assets to receive rewards. However, despite minimum holding, there is always a risk of losing all of it.
Some of the staking assets do not provide rewards daily, due to which there's a long waiting period for receiving the staking rewards.
Some of the staking assets come along with lock-up periods, which means the user cannot access his assets even if the prices of his staked assets fall considerably.
Crypto Lending vs Crypto Staking: Which one is Safer?
While talking about crypto lending and crypto staking, it is essential to understand all the necessary things about their safety. The users always have a question about whether crypto staking is safe or not? Crypto staking can come up as a safe choice because the users participate in making the network secure, but it also involves some risks. For instance, staking cryptocurrencies requires the user to lock up their assets for a certain period which means they cannot use their funds for investments in other opportunities if some arise.
On the other hand, Crypto lending can be considered safe, but it also comes up with some risks. For instance, there is no surety that the borrower will repay the loan. This is the only reason crypto platforms secure 80% of the collateral in case of a loss.
Conclusion: Crypto Lending vs Crypto Staking
The market for crypto lending can be seen on the rise with the increase in platforms serving its users to earn interests in their crypto assets. Moreover, since all the major blockchains are migrating to proof-of-stake rather than it is evident that sooner or later staking is going to replace mining. Whether it's crypto staking or lending, the cryptocurrency market can be seen offering great financial solutions to its users.
To conclude, if you are a crypto HODLer and don't have much interest in trading, then cryptocurrency staking and lending can serve as your good alternatives. The safety of these two features depends on whether you choose the right platform or not.
Frequently Asked Questions
Which one is a better strategy among crypto staking and crypto lending?
Staking helps in securing the network and, in turn, pays users with rewards. On the other hand, lending allows users to lock up their coins and receive an interest payment. Therefore, If you like to participate in a protocol directly, staking is more of your thing. While, if you're looking to receive an interest payment, lending could be a better choice for you.
Do all staking coins work in the same manner?
No, all the staking coins may vary depending on how long they require the users to stake their coins and some specific rewards conditions.
What is meant by crypto lending price?
Crypto lending price is associated with several fees such as origination, network, transaction, etc. It should be kept in mind whether the platform may not charge any service fees, but the withdrawal/deposit fees are still applicable.
Which cryptocurrencies allow staking?
All the coins do not allow staking. Only the coins built on top of the blockchain following proof-of-stake protocol allow staking. A few of the coins allowing staking are Tezos, Cardano, Vechain, Cosmos, and Ethereum.
Also read,