High inflation raises your bills despite having the same income. With skyrocketing prices, it becomes desirable for anyone to earn a few extra dollars that could support you. We have brought you a few strategies that will help you earn a bit of extra passive income without much work.
The increasing usage of blockchain and resurgence in crypto despite many correction has led to an increased interest in the field. This interest also attracts many crypto entrepreneurs who need funds to start new innovative projects. Crypto lending platforms pool resources from many big and small lenders and lend it to those who need these funds. In return lenders earn a interest income from their loaned cryptocurrencies.
Further, users hold crypto coins and wait for their prices to appreciate in order to gain profits from them. However, they can lend crypto (just like traditional banks) and earn interest on them. With the evolving crypto space, automated payments and escrow smart contracts, the field has become a lot safer for new users.
How Does Crypto Lending Work?
Crypto lending has a pretty straightforward mechanism. In fact, it is similar to how traditional banks work. You deposit your coins with a crypto lending platform and start earning interest on your cryptocurrencies. These platforms usually lend the coins that you deposit to institutional borrowers. Platforms like Hodlnaut lend cryptocurrencies to rigorously vetted financial institutes that may need loans as per their business requirements.
For such crypto lending platforms, you are generally needed to open an account and deposit your coins with them in order to begin your interest-earning journey. However, you need to complete a mandatory KYC procedure for most of these crypto lending platforms. When you hold your coins with the crypto interest-earning platforms, you create a passive source of income that will help you make the most of your crypto assets. And there it is! A simple way to earn more with your crypto.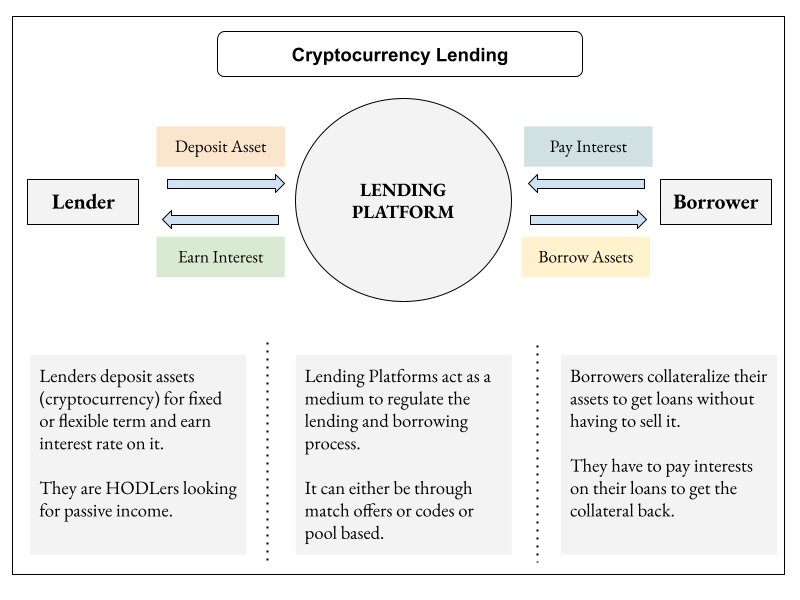 Here, we bring you the top 5 crypto lending platforms that will help you earn passive income.
Earn Passive Income with Crypto Lending
Here are the top 5 platforms with which you can hold your coins to start earning passively today!
Hodlnaut
Started by two Bitcoin maximalists in Singapore, Hodlnaut is a platform that provides crypto lending and borrowing services. Users can earn up to 4.08% APY on Bitcoin and up to 7.25% APY on stablecoins with Hodlnaut. The platform is quite easy to use, and users can sign up for their Hodlnaut Interest Account from the web app or the iOS mobile app.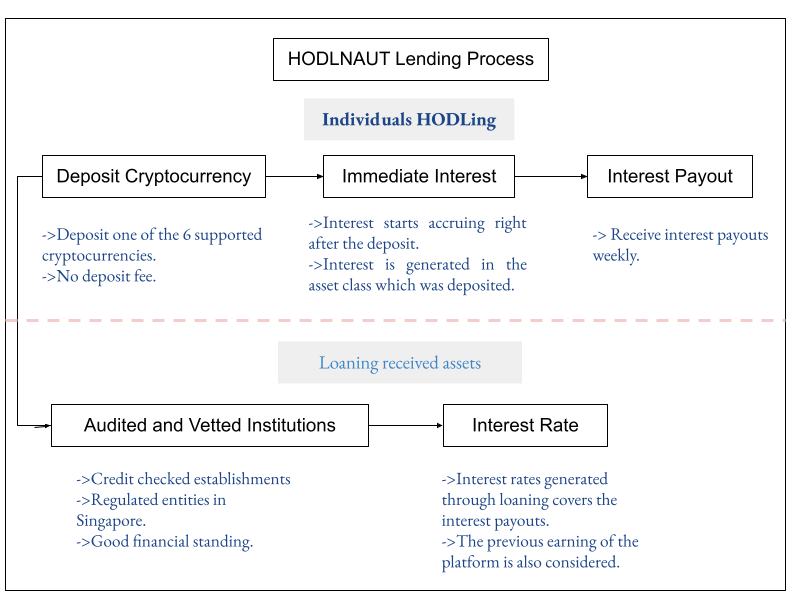 Hodlnaut supports six crypto assets: BTC, WBTC , ETH, DAI, WBTC, USDC, and USDT. The interest payouts are on every Monday. There are no minimum deposits or lock-ins needed, and users can withdraw their funds anytime! There is also a fixed deposit feature that pays interest upon maturity. The holding period are from 28 to 180 days.
Hodlnaut currently has an AUM of US$500 million and is an emerging platform in the crypto lending space. The platform has grown to more than 10,000+ active users to date and with over $350M in assets. Trust pilot rating of 4.8(676 reviews) is proof of Hodlnaut's exceptional customer service. To learn more, read our Hodlnaut review.
Compare and choose the best between Celsius Network vs BlockFi vs Hodlnaut | Interest Rates, Fee and Risks.
BlockFi
BlockFi has an easy-to-use interface and allows users to deposit their funds in their web wallet to earn interest on them. Founded in August 2017, the company is based in New Jersey. It supports cryptocurrencies such as BTC, DOT, USDT, LTC , ETH, BAT and many more. The platform has a tiered structure and the rates vary based on the amount deposited for the chosen crypto.
BlockfFi app is available on Android and iOS mobile phones.
Highest interest rate is available for Dot(Polkadot) at 15%. For Bitcoin, the interest rates are upto 3.5%. You can earn interest in Stablecoins at 8.5%(BUSD and USDT) and 8.75% for USDC.
Coins can be sent to and withdrawn from BlockFi at any time. However, the interest payments are made only once a month. Moreover, the withdrawal fees are waived for one withdrawal a month. BlockFi's funds are ensured by the Gemini Trust Company that issues GUSD. To learn more, read the BlockFi review.
YouHodler
YouHodler is an EU-based company that focuses on crypto-backed lending as well as fiat loans. You can earn interest in crypto like Bitcoin and also on stablecoins such as USDC.
YouHodler offers interest rates upto 11.28% weekly interest payments, and the payouts are in stablecoins and crypto. By lending your crypto with YouHodler, you can earn up to 4.8% APY on BTC and 12% APY on stablecoins(compounding). Further there are 56 assets to earn interest.
Moreover, YouHodler also allows using savings funds as collateral for lending. With YouHodler exchange, you can borrow fiat anytime, depending on the value of crypto assets. The platform has grown exponentially since its inception and supports a wide range of crypto as well as stablecoins. To learn more, read YouHodler's review.
Celsius Network
Celsius is yet another crypto lending platform that you should consider if you wish to earn interest on your crypto assets. It has an iOS and Android application and supports several cryptocurrencies along with Bitcoin Gold, Bitcoin Cash, and the like. With Celsius, you can earn up to 6.2% APY and 8.8% APY on stablecoins. The interest is paid out weekly, and you can add or withdraw the coins at any time. 
The interest rates are subject to change and vary based on the market conditions. To know about the latest rates, you can always check their website. Additionally, the platform also has a native token called CEL token in which users can earn a higher interest rate.
Crypto.com
Crypto.com is a popular crypto credit card and wallet provider that also offers crypto lending as a service. Its interest rates are the highest in our list at 14.5%.
With their Earn program, users can earn up to 6% APY on BTC and up to 10% APY on stablecoins. However, the lending rates vary based on how long you hold the coins with them and the amount your lock in. If you wish, you can choose not to lock the coins on the platform, but the interest rates will be reduced.
For the latest interest rates, it's best to always refer to their official website. Please note that Crypto.com coins are not available universally, and the residents of Hong Kong SAR, Malta, or Switzerland cannot avail of the Earn program. To learn more, read Crypto.com review.
Conclusion
Many users have their cryptocurrencies and tokens lying idle in different wallets. Instead of storing them in wallets and waiting for their value to appreciate, you can make them work for you by lending them to the platforms mentioned above. Opt for a platform that offers sizable interest rates and follows all the security best practices to secure your crypto assets.
Nevertheless, you should always do your due diligence before depositing your coins with a crypto lending platform. Make sure that the platform you choose is available in your country, and read the terms and conditions carefully while investing to grow your crypto assets by lending them. 
Also, read
Also, read YouHodler vs CoinLoan vs Hodlnaut [Read Before You Invest]
Also, read Top 5 Celsius Alternatives
Also, read A Review of Crypto.com NFT Platform
Do you know about Crypto Credit Cards? Read BlockFi Credit Card Review 2021 | Are you Getting the Best Card?