It is important to choose the best crypto lending platform, which suits your requirements. So today, we will look into the similarities & differences to draw a comparision between BlockFi, CoinLoan and Nexo, the best crypto lending platforms in the market.
| Category | BlockFi | CoinLoan | Nexo |
| --- | --- | --- | --- |
| Interest Rates (APY) | 6% APY on BTC and 5-9.3% APY on stablecoins | 7.2% APY on BTC & up to 12.3% APY on stablecoins | 8% APY on BTC & 10% APY on stablecoins |
| Assets Supported | BTC, LINK, ETH, LTC, USDC, GUSD, PAX, PAXG, USDT, BUSD | USDT, USDC, BTC, BUSD, ETH, LTC, XRP, XLM, LINK, WBTC, | USDT, USDC, PAX, HUSD, BTC, ETH, XRP, BCH, LTC, BNB, EOS, LINK, XLM, |
| Min. Amount | No Minimum | 100 USD | No Minimum |
| LTV ratio | 50% | 20%-70 | 25%-60% |
| Mobile app | iOS, Android | iOS, Android | iOS, Android |
| Lock-in Period | No | No | No |
BlockFi vs CoinLoan vs Nexo
What is Crypto Lending?
In crypto lending, the users can lend their digital assets to the borrowers, in return for which the borrowers pay interest to their lenders. The platforms offering crypto lending generally accept cryptos and stable coins. Further, for lending your crypto, you can use centralized finance platforms or decentralized finance platforms.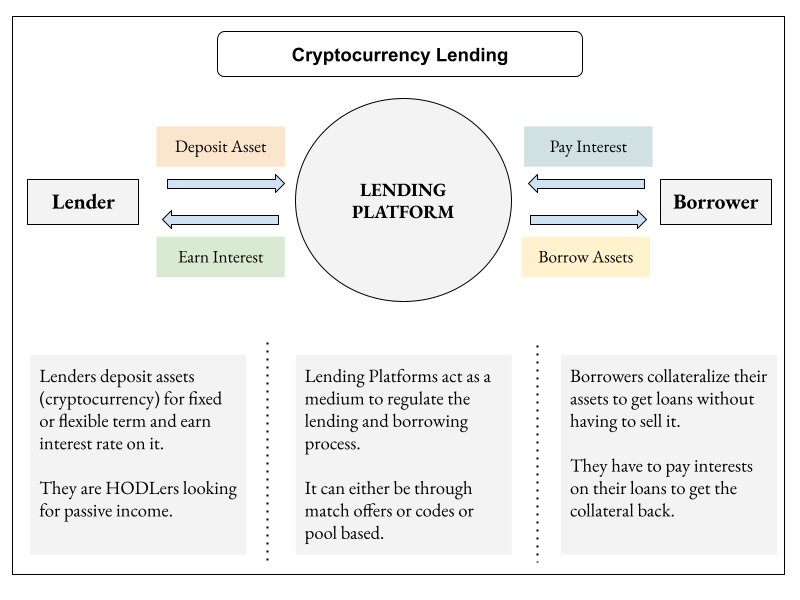 How does Crypto Lending Work?
The lenders and borrowers involved in crypto lending are connected through a third-party online crypto lending platform. Therefore, three parties are involved in this process – The lender, the borrower, and the lending platform.
The lenders are the people who wish to lend their crypto and stablecoins to earn passive income from them.
Cryptocurrency lending platforms are third party online platforms that connect the lenders and automate their transactions.
The borrowers are the people who wish to borrow funds for various purposes and use crypto or fiat assets as collateral to receive funding.
Now we know about crypto lending platforms, therefore, let's compare them on by one.
BlockFi vs CoinLoan vs Nexo: BlockFi
What is BlockFi?
BlockFi is a famous crypto lending platform and provides the best financial tools in the market. Consequently, the crypto-investors can make interest on their crypto and receive USD funding via crypto-backed loans.
BlockFi was founded in 2017 and intends to be a leading financial service provider. BlockFi's interest account offers the top rates with institutional benefits. Its interest account supports cryptocurrencies like BTC, ETH, LTC, USDC, GUSD, and PAX.
To learn more you can read our BlockFi review article. You can also get the BlockFi credit card, to learn more, head over to our BlockFi credit card review.
BlockFi Products
BlockFi Interest Account: BlockFi Interest Account allows users to earn up to 8.3% while depositing cryptocurrencies. This platform pays interest at the beginning of the month. Hence, the interest keeps getting compounded, and the annual yield gets increased. BlockFi works like a traditional bank account.Further, users can receive interest on their crypto holdings or get a loan against their crypto-based collateral.
Trading Account: The Trading account enables users to trade between numerous cryptocurrencies and receive interest when the trade completes. For example, at the beginning of a month, users can deposit 1 BTC and convert it to ETH in the middle of the month. Consequently, one-half of the interest gets generated from BTC, and the other half is from ETH.
Crypto-Backed Loans: BlockFi provides Crypto-Backed Loans. Instead of selling crypto, users can borrow funds against crypto assets as collateral. In this way, users can continue to hold and get a loan at the same time. Moreover, the Interest Payment Flex lets users choose the interest payments currency and diversify their portfolios.
BlockFi Interest Rates
When users deposit their assets into the BlockFi Interest account, they earn interest. The interest which gets compounded is paid at the beginning of the month. Hence, this increases the users' annual yield. Below is the list of interest rate of various crypto assets:
BlockFi Withdrawal Fees
BlockFi lets users withdraw their funds at any given time. This platform also offers one free withdrawal for crypto and stablecoin each. The fees charged for all the other withdrawals are listed below:
BlockFi Crypto-Backed Loan Rates
The amount of collateral you post against the loan decides the amount of USD you can borrow. Additionally, this amount of collateral also determines the loan-to-value ratio you secure.
Is BlockFi safe?
Yes, BlockFi is safe and is secure for depositing and earning crypto interest. A decent amount of digital assets are available for withdrawal with Gemini, BitGo, and Coinbase. 95% of BlockFi's assets are stored away in cold storage, and the remaining assets are in insured hot wallets.
BlockFi lends assets to institutional counterparties to provide interest in crypto. The risk of loss is low because of stringent checks and reviews. However, digital currencies aren't risk-free and their value can change depending on the market.
Notably, BlockFi has gone through a data breach in the past. Nevertheless, the hacker in question was unsuccessful in their attempt to make an unauthorized withdrawal.
BlockFi: Ease of Use
BlockFi recently underwent a redesign process which has given it a new classy look. This platform is straightforward to use as well as efficient. It doesn't consist of many complicated features. Hence, users can find their way easily on the platform. Most importantly, users can deposit their funds and request a loan. You can also get your assets converted on the platform. For example, you can swap BTC to ETH.
The withdrawal process at BlockFi can take up to three days. BlockFi may also ask users for another verification if they are withdrawing a large number of crypto assets.
The BlockFi app is available for iOS and Android to access the platform on the go.
BlockFi: Pros and Cons
Pros
BlockFi offers great flexibility on the duration of crypto loans.
It also provides high rates of interest on users' crypto holdings.
It is a well-known platform, which has its base in the United States.
High-interest rates are available for bitcoin and ether.
Cons
After the first withdrawal, there's a fee on every withdrawal.
Only a few crypto assets are available on the platform.
The withdrawal period is long.
BlockFi vs CoinLoan vs Nexo: CoinLoan
What is CoinLoan?
CoinLoan was started in 2016. It is a crypto lending platform based in Estonia. The platform states that it is the first peer-to-peer lending platform to be backed by crypto assets. CoinLoan offers financial services to investors and borrowers and lets users lend their money to receive returns. To learn more, read our CoinLoan review.
How does CoinLoan work?
The lender deposits stablecoins or fiat, and the borrower deposits their crypto assets that serve as collateral. A smart contract is created when the lender and the borrower are matched. Further, this contract makes sure that the borrower makes a timely payment. The lender will receive the principal with the interest when the loan gets paid.
CoinLoan's loan-to-value is subject to changes in market conditions. Notably, the platform's maximum LTV is 70% as of now. The borrowers will get notified if the LTV changes. This is the whole process where Coinloan is like a custodian of the funds.
CoinLoan Features
Coinloan consists of three key features, borrow, earn and trade. Borrowing is an easy process with CoinLoan. Users have to collateralize their coins for borrowing, and they cannot borrow more than 70% of their collateral's value.
CoinLoan offers three different kinds of loans; crypto-to-fiat, crypto-to-crypto, and fiat-to-crypto loans. The minimum amount of loan is $100, and there's a loan period of 30 days for borrowing with CoinLoan. Apart from lending to the borrower, investors can also receive more yield through their crypto assets with CoinLoan Interest Account.
Currently, Coinloan supports 18 crypto and fiat assets with interest rates as high as 12.3% APY. Please note that a 2% CLT (CoinLoan native token) staking reward is included in these rates. On CoinLoan, users can do a token swap within the supported assets.
CoinLoan Fees
There are no fees for fiat and cryptocurrency deposits. Additionally, fiat and crypto withdrawals are also free. CoinLoan provides 7.2% (APY) for BTC, 7.2% (APY) for ETH, and up to 12.3% (APY) for stablecoins.
These rates include a 2% staking reward. Daily, the interest is accrued and deposited right into the users' Interest Account on the first day of every month.
Is Coinloan Safe?
Yes, CoinLoan is safe to use as it stores crypto assets in cold, offline, multi-signature wallets. Moreover, CoinLoan utilizes a market-leading cloud services provider certified by the world's stringent security standards and trusted by major financial institutions. However, CoinLoan does not mention the cloud services provider's name.
The website has a mention of $100 million coverage from BitGo for digital assets. This coverage is available for insurance, which covers customers' assets.
Finally, CoinLoan does have three Estonian financial licenses (FVR000111, FRK000091, and FFA000241). They can operate crypto, fiat, and alternative means of payment worldwide because of these licenses.
CoinLoan: Ease of Use
CoinLoan has a comparatively more straightforward sign-up process. The KYC (know your customer) process is a compulsory requirement to use CoinLoan's services.
Moreover, the CoinLoan app is available for iOS and Android to make it simpler to access the platform on the go.
CoinLoan: Pros and Cons
Pros
The UI design appears neat, which makes for a simple setup and registration process.
CoinLoan has a European financial License and is regulated in Estonia.
This platform supports different types of assets.
The platform has both Fiat/ crypto earning and lending.
Cons
The information on the storage of assets, financial reports, and total loan value is not available.
Only a small amount of information is available about the owners and shareholders.
Staking CLT is essential for getting better interest rewards.
BlockFi vs CoinLoan vs Nexo: Nexo
What Is Nexo?
Nexo was launched in 2017 and is an excellent platform for instant crypto loans. Additionally, Nexo is the single blockchain company that offers 40+ fiat currencies and in as many as 200 jurisdictions. Nexo provides users with instant access to cash and lets users keep ownership of their assets.
Users can enjoy a combination of smooth user experience with military-grade security with 256-bit encryption. The funds of users are kept in individually assigned multi-signature wallets in cold storage, stored with Goldman Sachs-backed custodian BitGo.
Nexo: Products & Features
Receive instant cash loan – Users can take an instant cash loan by lending crypto assets. Users can lend as little as $10 and as much as $2 million. Additionally, Nexo has zero fees for borrowing stablecoins or cash. Moreover, it has flexible repayments and no credit checks. This makes Nexo very accessible to a whole host of crypto holders.
Makeup to 12% Annual interest – A high-interest savings account is available on Nexo for cryptocurrencies and fiat money like the EUR, USD, and GBP. There is an insurance policy in place that protects customer funds. Hence, users can be at peace while earning up to 12% interest. Funds can be withdrawn from or added to the savings wallet at any time. Users don't need to wait for a month to get interested, as Nexo gives away interest every day. Lastly, users don't have to adhere to depositing any minimum amount of cryptocurrency to start earning interest.
Nexo Card – Users can utilize the Nexo card to spend crypto assets like a traditional debit card. 40+ million merchants throughout the world accept the Nexo card. Additionally, this card has a 2% cashback on certain purchases with supported vendors. Most importantly, the Nexo card lets the users spend digital currencies without selling them.
Nexo Exchange – Nexo does have an exchange, which lets the users swap instantly between 75+ digital assets and fiat pairs. Similar to a broker, the Nexo exchange simultaneously connects with 5+ exchanges to find the best prices.
Nexo Fees
The platform does not charge any account maintenance fee on Nexo. Furthermore, users are free to withdraw their cryptocurrency at any given time without confronting charges.
Nexo covers all transaction fees on the users' account end. Therefore, users only have to pay the brokerage fees. At the same time, they transfer directly from an exchange wallet to their Nexo account. Depending on the broker, the fees vary, and users don't have any minimum deposit limit.
Nexo charges interest of 5.9% APR on the amount that a user borrows. The amount of cryptocurrency that a user needs to deposit as collateral will differ. So, this amount depends on the coin or token that a user is using to back their loan.
Is Nexo Safe?
Yes, Nexo is safe and serves as the custodian for every deposit. It stores the users' digital assets using the cryptocurrency custodial solution BitGo. The security infrastructure of Nexo is ISO/IEC 27001:2013 certified.
Nexo's wallet services are protected from tampering, hacks, or computer virus transmissions because of the company's liability limitations.
Since many of the cryptocurrency interest account platforms are custodian platforms, these liability limitations are standard. Additionally, the companies usually partner with a custodian solution for the safekeeping of user funds. For example, the cryptocurrency platform Gemini is BlockFi's custodian.
All of Nexo's assets are kept in cold wallets and the private keys are held offline. Nexo's partnership with Ledger Vault and BitGo has covered Nexo's deposits by $375 million in insurance protection. Although, it is not clear that what percentage is insured and stored in cold storage.
Nexo: Ease of use
Creating an account on Nexo is pretty simple and takes only a few minutes. Users can instantly check their available credit, holdings and pay back anything they borrowed with a few clicks.
Once a user's Nexo account is set up, they can relax as Nexo automatically calculates their interest every day directly deposits them into the user's account.
Lastly, the Nexo iOS and Android app make it simpler to access the platform on the go.
Nexo: Pros and Cons
Pros
Nexo provides complete flexibility. Withdrawal is possible at any time, and there are no lock-in periods.
Users can make 30% extra interest while earning with Nexo tokens.
Nexo provides 40+ currencies over 200 jurisdictions.
Cons
There are a few cases where the lender interest rates are significantly higher than borrower rates.
Nexo's $375 million insurance is collective for every client. It only gets applied to assets stored away in cold Ledger Vault wallets.
BlockFi vs CoinLoan vs Nexo: Conclusion
If you look for the highest interest rates on interest accounts or the lowest rates on loan accounts, then Blockfi is the right choice for you. However, if you want a debit card with cash back or earn interest in stablecoins, Nexo is for you. Additionally, Nexo provides numerous features like a faster application process and data verification.
CoinLoan owns a European financial license and hence can be deemed a trustworthy borrowing and interest-earning platform. It does offer a high level of security and is a regulated platform. This is a rare combination, and if you are going for safety, then choose CoinLoan.
Frequently Asked Questions
When does BlockFi pay interest?
At BlockFi, you will be eligible to receive your interests at the beginning of the month.
How do we take the Nexo crypto loan?
How is BlockFi interest calculated?
The interest at BlockFi depends on the number of days you lend your crypto assets. BlockFi offers an interest of up to 8.3% APY, and to learn more, you can read the BlockFi review article.
Is BlockFi good for crypto?
Yes, BlockFi is good for crypto and the users who seek a cryptocurrency exchange that offers unique features and products such as crypto-backed loans, a crypto rewards credit card, and an intuitive user experience.
Is BlockFi a crypto wallet?
BlockFi is a crypto wallet and lending app that enables investors to buy, sell, store, borrow, and earn interest on crypto assets.
Is CoinLoan legit?
Yes, CoinLoan is legit. It is a crypto lending platform that is regulated and licensed under Estonia financial authority. Moreover, it has insurance of $100 million from Lloyds, and its assets are stored in BitGo.
Is Nexo safe to use?
Yes, Nexo is safe to use. Nexo is driven by trust and designed for security. Further, It follows global AML and KYC standards and complies with strict regulations to avoid risk. Nexo has security measures in place and has become one of the most secured crypto lending companies.
Which Coins Are Supported by Nexo?
Crypto assets can be deposited on the Nexo platform and also used as collateral for obtaining a cash loan instantly with ETH, BTC, LTC, XRP, BCH, XLM, PAXG, EOS, BNB, and NEXO.