5 Best BlockFi Alternatives: Earn Extra with BlockFi Alternative
Crypto lending has become very popular over the past few years. Individual investors can earn money on their crypto assets and earn interest by investing in crypto-backed loans. BlockFi is one of the best lending platforms in the market. Hence, in this article, we'll try to cover all the major BlockFi alternatives.
Last year, we witnessed an all-time high of $41k for Bitcoin, and that number is topped by Bitcoin's new ATM at $64k earlier this month. It is quite evident that cryptocurrency is booming and will continue to attract more investors. However, a common concern amongst users is the volatility of cryptocurrencies. That's why holding cryptocurrencies with crypto lending is a smart move because it will help them report extra interests and make the most out of their crypto.
Summary (TL;DR)
What is BlockFi?
With crypto lending growing at a fast pace, there are many lender options in the market. BlockFi is one such established platform that is backed by some of the top cryptocurrency institutions like Valar Ventures, Kenetic Capital, Morgan Creek Capital, Avon Ventures, and Hashkey, to name a few.
Admittedly, BlockFi has one of the longest track records of crypto lending, but they also have some downsides to their service. To learn more, read BlockFi Review.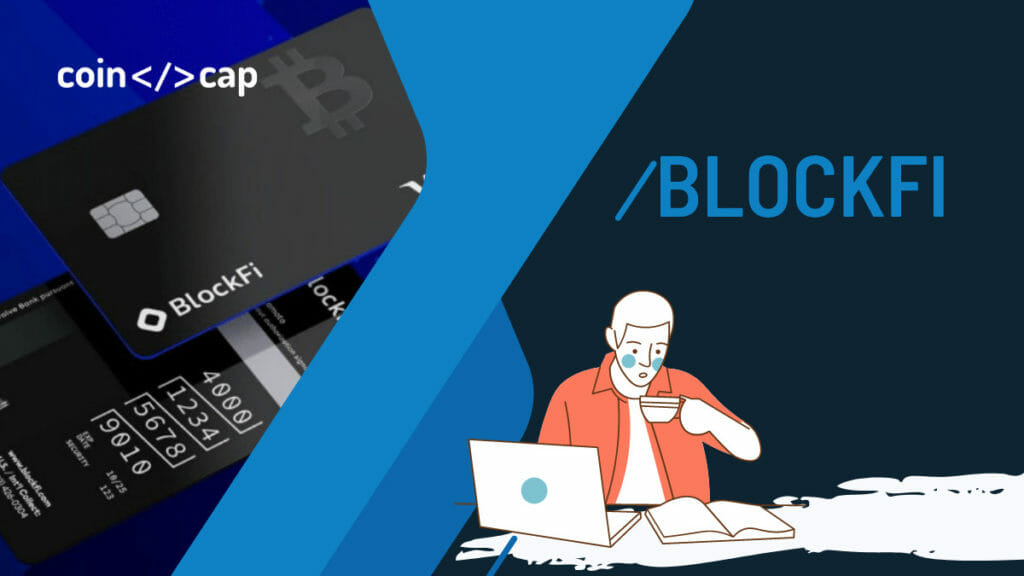 BlockFi Interest Rates
At BlockFi, borrowers can avail an Annual Percentage Rate (APR) of 4.5% only on a 20% LTV ratio. APR is essentially the cost you pay each year to borrow money. Users get two free withdrawals each month, and the interest rates drop significantly once you pass a certain threshold on the asset value.
Moreover, BlockFi has also recently lowered its Annual Percentage Yield (APY) from 3% APY to 2% APY for accounts that hold one to 20 BTC. It also introduced a new tier for accounts that hold 20 BTC and above, with 0.5% APY. Here APY refers to the total amount of interest you earn on a deposit account over one year.
Top 5 BlockFi Alternatives
However, BlockFi is not available everywhere. Its conditions can be better, so we have listed down the top 5 alternative to BlockFi for you: Nexo, Celsius Network, Hodlnaut, YouHodler, and CoinLoan.
First BlockFi Alternative: Nexo
Nexo was one of the first few companies to have ventured into P2P lending and is a reliable crypto borrowing and lending platform. Nexo certainly has some key features that make it an excellent alternative to BlockFi. Nevertheless, Nexo has several years of FinTech experience. Apart from cash, Nexo also enables you to borrow stablecoins and cryptocurrencies. To learn more, read Nexo Card Review.
Nexo Interest Rates
Nexo offers  5% APY on crypto investments and 10% APY on stablecoins and cash. However, it should be noted that the 10% APY rate is available only to investors who hold at least 10% of their account's value in NEXO tokens.
So if you choose to earn in Nexo tokens, you can avail yourself a higher rate of 8% APY on crypto and 12% APY on stablecoins. Although Nexo doesn't offer round-the-clock support on call, it provides you a sound customer support system with a messaging feature and a live chat option.
Nexo: Pros and Cons
| | |
| --- | --- |
| Pros | Cons |
| Complete flexibility — no lock-in periods, withdrawal available at any time. | Nexo mandates hodling NEXO tokens to get the best savings and loan rates |
| Earn 30% extra interest when earning with Nexo tokens. | In some instances, the lender interest rates are higher than borrower rates |
| Offers 40+ fiat currencies over 200 jurisdictions. | The $375 million insurance of Nexo is cumulative for all clients and only applies to assets that are kept in the cold Ledger Vault wallets. |
Nexo Pros and Cons
Second BlockFi Alternatives: Celsius Network
Celsius is somewhat similar to Nexo as an alternative to BlockFi. It has a similar business model with an interest account and crypto borrowing. Moreover, just like Nexo tokens, Celsius has its CEL token, thus offering better interest rates to hodlers of CEL tokens.
Celcius Network Interest Rates
Celsius goes big because they offer super-low interest rates for borrowers of nearly 1% on loans. However, the LTV rate for them is generally around 25% to 30% (the percentage of your collateral value you can borrow). Celsius Network offers 4.4% APY on BTC, 6.35% APY on ETH, and 10-14% APY on stablecoins. Similarly, you need to hodl CEL to access the best rates.
Just like Nexo, Celsius Network offers minimal flexibility to its investors. The APY for cryptocurrencies like BTC and ETH is not more than 5.5% unless you receive interest in CEL coins. In addition, Celsius pays compounding interest every week.
Celcius Network: Pros and Cons
| | |
| --- | --- |
| Pros | Cons |
| Rewards of up to 15% APY paid out weekly | Interest rates at Celcius Network can fluctuate a lot. |
| Easy-to-use mobile platform. | Need to deposit in CEL Tokens to avail higher interest rates |
| Instant, fee-free payments using CelPay. | Limited to cryptocurrencies and no web app. |
Celcius Network Pros and Cons
Third BlockFi Alternatives: Hodlnaut
Started by two entrepreneurs and self-proclaimed Bitcoin maximalists out of Singapore, Hodlnaut is a cryptocurrency interest-earning and lending platform. With Hodlnaut, users can earn good interest against their cryptocurrency by lending them to institutions that would otherwise struggle to get crypto loans.
You can also trade within the Hodlnaut platform with their newly-launched Token Swap feature. It allows users to swap between asset pairs on the platform seamlessly. This means users can execute trades instantly between any of the five assets offered on the Hodlnaut platform – BTC, ETH, DAI, USDC, and USDT.
Hodlnaut Interest Rates
Hodlnaut is an excellent alternative for BlockFi since it offers higher rates of interest. Furthermore, the platform offers 6.2% APY for BTC, 6.7% APY for ETH, and 8.3% APY for DAI, USDC, and USDT. Moreover, users can withdraw their money anytime, and there are no minimum deposits or lock-in periods. Hodlnaut is one of the emerging players in the crypto lending space, and you can certainly consider it for hodling your crypto.
The loans offered start from $50,000 with a flexible LTV of 25%-100%, and the users can choose from available terms or 3+ month fixed terms. Hodlnaut has some noteworthy investors such as Antler, Three Arrows Capital, Singapore Management University, Sparrow, and BitGo.
Hodlnaut: Pros and Cons
| | |
| --- | --- |
| Pros | Cons |
| Offers high interest rates | Withdrawals are manually processed. |
| No minimum deposits or lock-in periods. | Supports only a few cryptocurrencies. |
| Higher interest rates on VIP fixed deposits. | There isn't an app version of Hodlnaut. |
Hodlnaut Pros and Cons
Fourth BlockFi Alternatives: YouHodler
YouHodler offers a host of crypto-fiat financial services without the need to trade the coins actively. Investors can consider the crypto-exclusive savings account as well as interest-bearing loans to expand their portfolio.
YouHodler Interest Rates
YouHodler offers 4.8% APY on BTC, 5.5% APY on ETH, and up to 12.7% APY on stablecoins. Customers can use the top 20 coins as collateral for crypto loans with an LTV of 90%. The minimum loan amount is $100. Furthermore, the platforms offers loans in EUR, USD, GBP, and CHF.
If you have made some profit on your Bitcoin and wish to take a break, you can also have a YouHodler savings account that pays 12% APY on stablecoins. Thus, you can do a Bitcoin to fiat exchange with a 2% fee on the YouHodler platform and then convert fiat to stablecoin to start earning interest.
YouHodler: Pros and Cons
| | |
| --- | --- |
| Pros | Cons |
| Offers LTV of 90% (one of the highest in the industry). | Lack of an insured custodian for user funds |
| Fiat currency options (USD, EUR, CHF, and GBP) | High-interest rates on loans that are long term |
| Instant loans without any credit checks. | YouHodler is not available in the United States or China. |
YouHodler Pros and Cons
Fifth BlockFi Alternatives: CoinLoan
CoinLoan is an Estonia-based crypto lending platform that offers crypto-backed loans to customers globally. You can think of it as a P2P marketplace for lenders and borrowers. Unlike BlockFi, Coinloan doesn't have a withdrawal fee. Instead, the borrower needs to deposit crypto assets used as collateral, and the lender needs to deposit stablecoins or fiat funds.
Once the lender and borrower are matched, a smart contract is drawn to ensure timely repayment of the loan so that the borrower does lose their crypto. After full repayment of the loan, the lender gets their principal and interest, whereas they receive their assets back. The APR is as low as 4.5%.
CoinLoan Interest Rates
CoinLoan allows investors to give loans to borrowers who have verified crypto collateral. The loan period is from seven days to three years without any penalty for early repayment. It offers 7.2% APY for both BTC and ETH, which is more than that of BlockFi, thus making it a good alternative.
Furthermore, it offers up to 12.3% APY on stablecoins. However, the APY rates are inclusive of CLT staking reward of 2%. So like Celsius Network and Nexo, CoinLoan gives the best rates to those who hold coin loan tokens.
CoinLoan: Pros and Cons
Pros
Cons
Has a European virtual currency provider license.
CoinLoan is not transparent
Successfully operating for the last four years
.
Loan volume tends to be less at times.
Provides High-interest rate with CoinLoan token.
Counterparty risk is high.
BlockFi Alternatives: Conclusion
Whether you are an investor or borrower, you must understand what a platform has to offer. For example, a platform could be giving better loans in the crypto of your choice but alarming interest rates on investment. Therefore, an exhaustive analysis goes a long way in making the most of your crypto assets. That being said, just because you have filled out KYC on one platform doesn't have to stop you from exploring all your options.
We hope that the BlockFi alternatives listed herein will help you make a good choice. Nexo has years of experience and sound financial backing, whereas CoinLoan has a European financial license. Celsius offers a super low APR of 1% for borrowers, and YouHodler makes it easy for users to borrow, swap, and earn from their crypto. Lastly, Hodlnaut helps hodlers make the most out of their BTC with a sizable 6.2% APY.
Frequently Asked Questions
Is Blockfi safe?
Yes, BlockFi is safe as it uses two-factor authentication for securing your account. Besides, you can also enable PII Verification. They are fed by various factors such as amount, the velocity of transactions, and geographic location. In addition, it has an automated risk management system that monitors 24/7.
Is CoinLoan legit?
Yes, CoinLoan is legit and a crypto lending platform licensed under Estonia Financial Authority. They have insurance of $100 million from Lloyds, and assets are stored in BitGo. It is a secure platform and is safe to use.
Does CoinLoan support fiat transfers?
Yes, CoinLoan supports FIAT transfers through SWIFT, SEPA, Visa, MasterCard, Wire Transfers, and AdvCash.
How much interest can I earn with YouHodler?
The annual interest that you can earn on YouHodler is up to 12%. These interest payments are delivered directly to your YouHodler account weekly. 
Is Hodlnaut safe?
Yes, Hodlnaut is safe and uses various methods such as KYC, SSL encryption, address-whitelisting, two-factor authentication, and more to secure its platform. Additionally, they are backed by big names in the crypto industry, such as Singapore Management University, Three Arrows Capital, Sparrow, and BitGo. 
Also, read