While India is emerging as one of the world's biggest countries to dive into crypto, many big exchanges, including Coinbase are eager to offer their services to Indians. Therefore, in this article, we'd be comparing Coinbase, which is still setting up its office in India and CoinDCX which is a Unicorn level crypto exchange. Here's a brief Coinbase vs CoinDCX comparison:
| Characteristics | Coinbase | CoinDCX |
| --- | --- | --- |
| Founded in | 2015 | 2018 |
| Founded by | Brian Armstrong and Fred Ehrsam | Sumit Gupta |
| Mobile application | Available for iOS and Android users | Available for iOS and Android users |
| Fees | 3.99% | 0.040% to 0.100% |
| Customer Support | Available | Available |
| Security | Secured by two-factor authentication | Secured by BitGo |
| Referral program | ₹750.53 in the form of Bitcoin | A bonus of Ethereum worth Rs. 100 |
Summary (TL;DR)
Coinbase was formed in 2012 by Brian Armstrong and Fred Ehrsam, whereas Sumit Gupta started CoinDCX in 2018.
Both Coinbase and CoinDCX are encrypted regarding the platform's security features.
Coinbase and CoinDCX offer referral and affiliate problem by which individual or website owners can have their share of the earnings by simply referring the application to others.
With 24 by seven customer support and real-time chat features, Coinbase and CoinDCX have query and flexible query solving mechanisms.
You can also download the mobile-based applications of both these platforms and use them on the go with its easy access to all the features and cryptocurrencies included.
What is Coinbase?
Coinbase is a digital currency exchange and online wallet service. Brian Armstrong and Fred Ehrsam founded Coinbase in 2012; its headquarters are located in California. Coinbase is one of the most popular and well-rounded platforms for trading cryptocurrencies, and it's beginner-friendly. Coinbase allows users to buy and sell cryptocurrencies and send and receive digital currency.
It also provides a simple and secure platform for users to buy or sell cryptocurrency with funds from their bank account. The website also offers a crypto wallet that lets users store coins like Bitcoin (BTC), Ethereum (ETH), Solana (SOL) and Litecoin (LTC), and many other cryptocurrencies safely. Moreover, users can purchase cryptocurrency on the Coinbase website with a credit card, debit card, and digital wallets.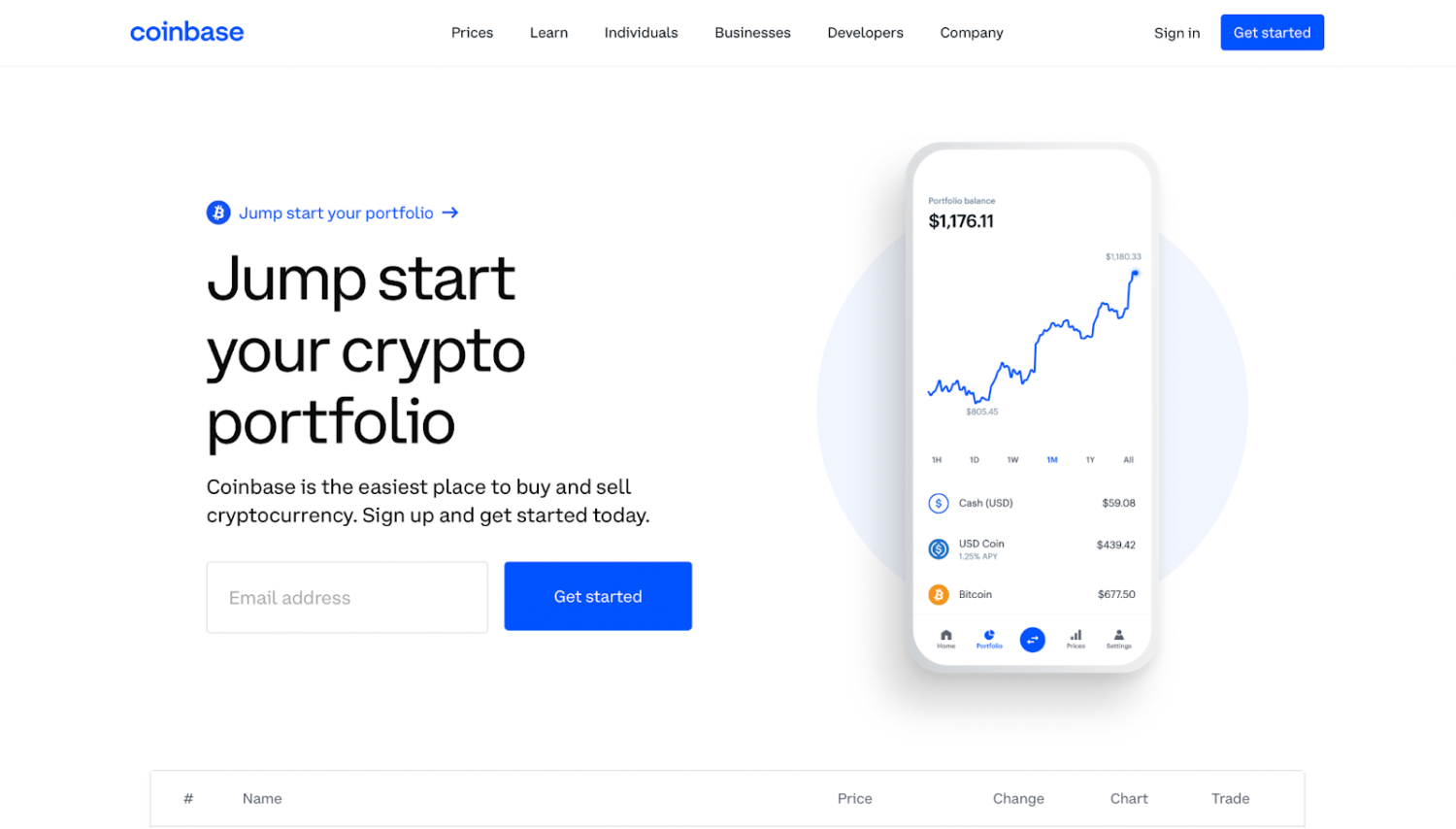 Read our Coinbase review to know more.
What is CoinDCX?
CoinDCX is the new generation of cryptocurrency exchange platforms; it is one of the fastest-growing cryptocurrency exchanges in India. Sumit Gupta founded CoinDCX in 2018 with its headquarters in Mumbai, India. CoinDCX is designed to provide reliable, fast, and simple access to the growing cryptocurrency market.
CoinDCX exchange uses a three-level security protocol that involves email verification, Google 2-step verification, and finally, an IP address checker. CoinDCX supports instant deposits through Bank transfer by NEFT/IMPS/RTGS, Mobikwik wallet, and withdrawals via IMPS/NEFT.
Read our CoinDCX review to know more.
Coinbase vs CoinDCX: Features
Coinbase Features
Coinbase has an intuitive interface that is easy to use for beginners and experts; It also has a variety of features that make the service stand out; some of these features are:
Coinbase has good customer support via email or live chat with professionals who are available 24/7, even on weekends and holidays, to solve all the users' problems.
The platform charges a high fees as compared to other cryptocurrency exchanges.
It provides a secure platform to buy or sell cryptocurrency quickly and easily. It also offers a $250K insurance covered by FDIC insurance policy to protect your account from theft or loss due to unauthorized activity.
The platform is supported in more than 100 countries with over 73 million verified users which further shows its popularity among the people.
CoinDCX Features
CoinDCX is one of the fastest-growing crypto exchanges in India; it provides many features to make trading straightforward; some of its features are:
CoinDCX aims to protect its users' funds by providing them with a track record, innovative design, and security features; It also provides a two-step authentication for users' data security.
The platform charges low trading fees; CoinDCX has an industry-leading transaction fee of just 0.2% per trade.
Furthermore, a user-friendly interface for the blockchain community to help the user better is provided by the platform. It also allows the users to understand and use cryptocurrencies so that users can manage their wallets, trade on an exchange, or convert bitcoin into other digital currencies quickly.
Over 95% of funds are stored by CoinDCX in multi-sig cold alleys to keep users' funds safe and secure.
CoinDCX is a safe and secure exchange as BitGo secures it; all the data is highly encrypted, so all the funds and data are secured.
It provides its users with a proprietary framework that provides real-time data through the PIP system.
Also Read: How to buy GRT on CoinDCX? [India]
Coinbase vs CoinDCX: Products
Coinbase
Coinbase offers a suite of products that make it easy to buy, sell or store cryptocurrency. These products include several wallets for different cryptocurrencies and fiat currencies.
Coinbase suite consists of three main categories:
Consumer Products for buying/selling cryptocurrencies.
Business Products for payments/merchant services.
Finally, Data Analytics services around.
CoinDCX
CoinDCX cryptocurrency exchange offers a wide array of products and services to its clients, which provides users with the best prices, fast trade execution, margin trading/shorting, and APIs to integrate with any software or web service. Its products are Insta, Lend, Spot Trade, Margin Trade, Futures, Staking, OTC, etc.
Coinbase vs CoinDCX: Fees
Coinbase Fees
While looking at the Coinbase fees structure, we know that Coinbase charges higher fees than CoinDCX; three fees apply to Coinbase. These include a conversion fee, a network fee, and an exchange fee. Coinbase charges a Taker fee and a Maker fee which ranges from 0% to 0.50%. In addition to the trading fee, Credit and debit card investors have to pay 3.99% on Coinbase while depositing. It also charges a fixed withdrawal fee depending on what cryptocurrency is withdrawn from your account.
CoinDCX Fees
CoinDCX charges two kinds of fees from its users which is the maker fee that ranges from 0.040% to 0.100%on all trades made on the exchange, whereas some other businesses charge traders higher percentages based directly on their trade volume or even charge them per trade. It also sets a 0.2% trading fee when you buy or sell any cryptocurrencies on the exchange.
Also Read: How to buy Shiba (SHIB) Coin on CoinDCX?
Coinbase vs CoinDCX : Mobile Application
Coinbase App
The Coinbase mobile application provides crypto-currency users with a secure and easy way to buy, sell and manage their digital assets. The Coinbase app has been downloaded about 15 million times from the Google Play store. It has over 4 out of 5-star reviews. You can download the app from both Android and iOS devices, and it allows you to instantly connect your bank account and buy, sell, send and receive bitcoin.
The app also provides all the information related to the digital currencies traded on the Coinbase exchange platform. The prices get updated in real-time so that users can get their current portfolio balance; the mobile app is beautifully designed with an easy sign-up process That allows you to purchase cryptocurrency in just a few minutes. The Coinbase app is a fast and easy way to buy and sell digital currency.
CoinDCX App
CoinDCX mobile application is available on both Android and iOS stores; the app has been built to provide users with a beneficial experience while trading on the CoinDCX platform. It also allows users to track their portfolio in real-time, monitor their orders and trade history, deposit & withdraw funds from the platform.
It also supports order execution through seamless connectivity to the CoinDCX exchange. CoinDCX is an advanced platform that lets users execute instant cryptocurrency transactions. It aims at making cryptocurrencies more accessible to the average user.
Also Read: WazirX vs CoinSwitch vs CoinDCX | Full Comparison
Coinbase vs CoinDCX: Customer Support
Coinbase Customer Support
Coinbase provides excellent customer support service; Coinbase is among the most trusted cryptocurrency exchanges in the world. The company provides the best customer support to its traders. They have a great FAQ section and offer email and chat support. 24/7 customer support is available to help you anytime, with great satisfaction rates among their customers.
CoinDCX Customer Support
CoinDCX has a highly responsive support team that takes care of all your customer service and queries. CoinDCX customer service is available 24/7 through different channels such as email, email ticketing system, live chat, and phone to answer any questions you may have. The customer service team offers users the best possible solutions to serve you. CoinDCX works with clients to develop an effective customer service strategy and provides state-of-the-art features to help users.
Also Read: WazirX vs CoinDCX vs Bitbns – Who has the Lowest Fees?
Coinbase vs CoinDCX: Security
Is Coinbase Safe?
Security has always been a concern cryptocurrency space. Coinbase has been continuously improving its security practices by introducing features such as multi-sig vaults to ensure the safety of its client's funds.
It offers two-factor authentication and password-protected keys that can be used for withdrawing or sending funds from a wallet. On top of that, Coinbase's vault sends you a notification when you're about to spend funds from your account, so there's no surprise later on when you realize you've spent all your money.
Is CoinDCX Safe?
CoinDCX provides traders with a secure trading environment. Furthermore, it is a safe and private blockchain-based cryptocurrency exchange that is built keeping security in mind and offers some of the highest levels of transparency in the industry as BitGo secures it.
Moreover, the application guarantees that all users' data is safe by using the best encryption standards, checking for bugs and vulnerabilities, and hiring experts to make sure that security is a top priority. It also asks for a 2-factor authentication when you sign in and also sends an email when you place a withdrawal so that users' funds are always secure.
Pros and Cons: Coinbase vs CoinDCX
Coinbase
| Pros | Cons |
| --- | --- |
| Supports the majority of the cryptocurrencies in the world. | High fees for transactions are charged on Coinbase. |
| The user and sharer of Coinbase can earn higher referral rewards. | Customer support is not quite good. |
| Highly secure platform. | The platform starts to lag in case of high traffic. |
CoinDCX
| Pros | Cons |
| --- | --- |
| Secured by BitGo. | No cash referral reward is available. Instead, you receive ETH worth Rs. 100 |
| Supported in the majority of the countries across the world | The application supports a lesser number of cryptocurrencies. |
Also Read: How to Withdraw from CoinDCX to Binance?
Coinbase vs CoinDCX: Conclusion
With a bit left to wonder about both Coinbase and CoinDCX, you must have gathered all the information about both of these two platforms. Both Coinbase and CoinDCX are well managed and regulated platforms with the superior interface, fees charges, and security to cover their users from all around. Moreover, the mobile-based application of both of these platforms further eases out the trading, buying and selling process, making them be the first choice of any user.
Frequently Asked Questions
How secure is CoinDCX as a platform?
CoinDCX is highly secured, with BitGo backing up its security. It is also encrypted, which further speaks for the platform's protection. 
How to withdraw from Coinbase?
For funds withdrawal, sign in to your Coinbase account and click on the Withdraw button in the Balances. A window will pop up to fill the amount of money you would like to withdraw.
How to delete a Coinbase account?
To delete your account, sign in to your Coinbase account and go to your profile and scroll down. You will see a close account option. 
Also read,