Binance and Coinbase are both leading crypto exchanges in the financial space. Hence, today we are going to understand how you can transfer funds from Binance to Coinbase.
Summary (TL;DR)
Binance offers many different trading services but does not provide its services to US customers. However, traders from the USA can use Binance.us.
Coinbase is a US-based regulated exchange with simple UI and various FIAT deposit options.
The steps to transfer funds from Binance to Coinbase and vise versa are secure and straightforward.
You must maintain proper precautions such as cross-checking the deposit address multiple times before hitting the send button.
Using a local exchange such as Coinbase, you can easily convert crypto into FIAT and transfer it into your bank account.
Coinbase also offers many deposit options, so you can even deposit FIAT and covert it into crypto. You can then transfer it to an exchange you prefer using for trading.
What is Binance?
Binance is the best crypto trading platform in terms of volume. Binance offers you services to buying and selling crypto, futures, and margin trading, and even staking to earn more coins. With Binance, you can buy stock tokens such as TSLA, AAPL, etc., with BNB in your account. To learn more read our comprehensive Binance review.
However, Binance does not offer its services in the United States, and to access the platform, you'll have to use a VPN. You can alternatively use its US version, known as Binance.us.
What is Coinbase?
Coinbase is a regulated exchange based out of the USA. It comes with a beginner-friendly user interface and is fully secured offering different products for trading like Coinbase Pro and Coinbase Prime. To learn more read our Coinbase review.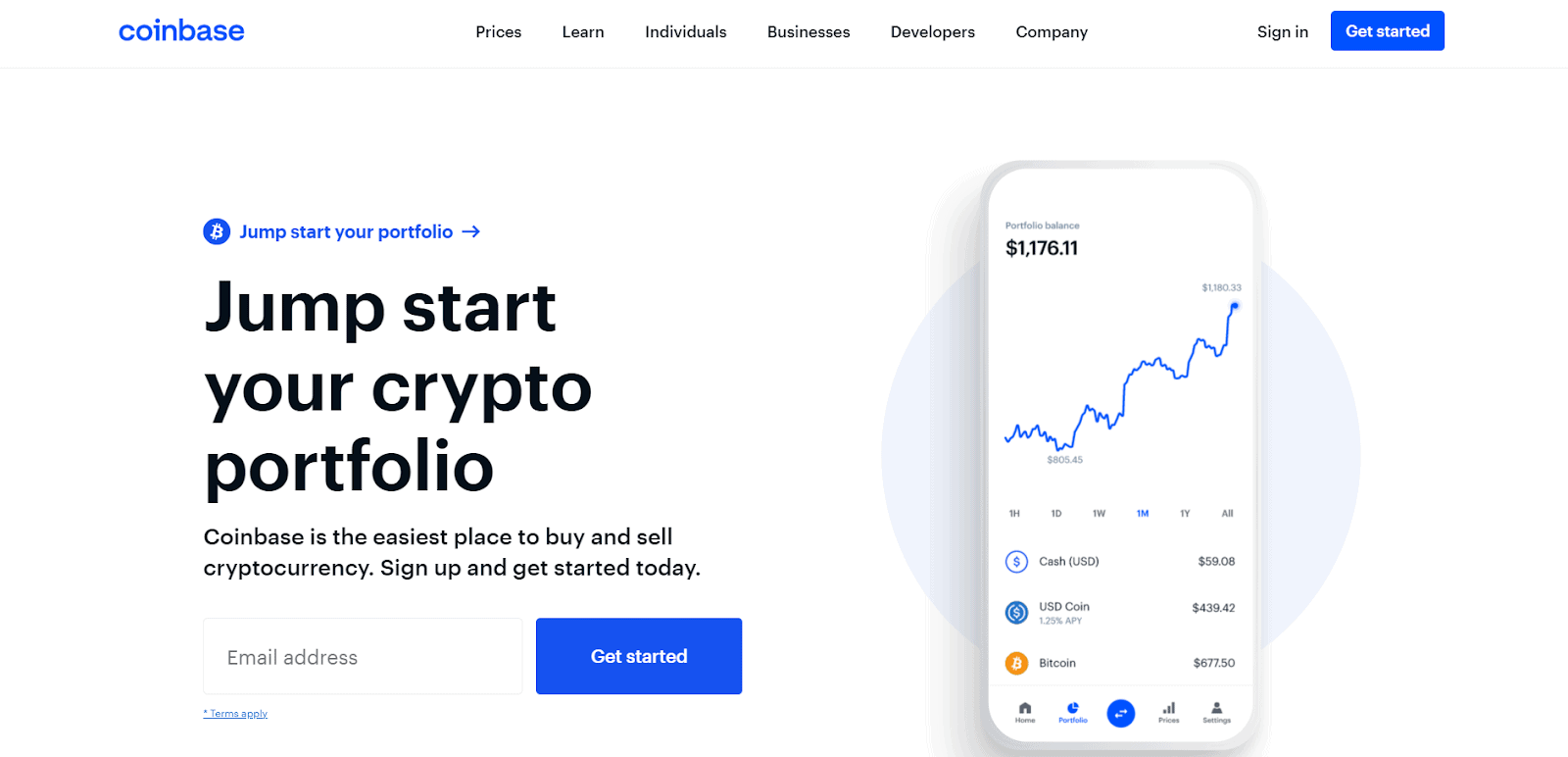 However, the platform lacks behind in terms of fee composition. And since it charges very high fees, most of the traders use the platform to convert tether or any other asset into FIAT to use the earned returns elsewhere. Therefore, also look into various Coinbase alternatives.

How to transfer funds from Binance to Coinbase?
Below are the steps to transfer funds from Binance to Coinbase:
First of all, you need to go on the Coinbase official website.
Create an account there or if you already have one, then log into your account. To dive deep into creating an account at Coinbase, you can read our Coinbase review article.
Now go to the prices tab and select any crypto asset that you wish to receive.
For instance, you click on bitcoin now hit the receive button located at the bottom of the wallet tab.
Once you click the receive button, a wallet address will appear. Now copy the wallet address and head over to Binance.
Once you have logged into your Binance account, hover on the wallet section and click on the overview button.
Now, you'll be able to see all the funds you own at Binance.
Then click on the Fiat and Spot button.
Once you do so, click on the "withdraw" option against the crypto assets you wish to transfer, and in this case, bitcoins.
Now paste the address you copied from Coinbase into 'BTC withdrawal address.' Remember only to paste the specific wallet address, i.e., for bitcoin, only use the corresponding bitcoin wallet address. Transferring any other crypto-assets will lead to permanent loss of that asset.
Now enter the number of bitcoins you wish to withdraw and hit the submit button.
After this, you have to complete the two-factor authentication process to complete the transaction.
Once the authentication is completed, Binance will transfer the funds to your Coinbase account.
Transferring funds: Precautions
It is essential to ensure that you do not lose your funds in any case. Hence, below we will discuss some general precautions to consider while transferring funds from Binance to Coinbase.
If you are transferring funds for the first time, it is advisable to transfer a small amount first as a test. It is so because you can observe all the nitty-gritty involved in the process and then move ahead with more significant amounts.
If you're transferring an asset other than bitcoin, it is necessary to check its availability on Coinbase. As it has a limited number of crypto assets when compared to Binance.
You can record the transaction history or reference number by taking a screenshot. As it will help in the case, there is an issue with your funds.
You'll be able to see the transfer as pending in your account until the exchange completes all the confirmations.
It is advisable to contact support if the transfer takes more than 24 hours to complete.
Why use Coinbase?
Binance is the most prominent cryptocurrency exchange in terms of volume and features. So you might wonder why you should use Coinbase? Below are some reasons that can specify reasons for you to use Coinbase:
You can transfer your funds to Coinbase and convert them into FIAT and then transfer these funds to your bank account.
Coinbase owns a beginner-friendly and intuitive interface with high security and liquidity.
You can quickly deposit FIAT using your credit cards, debit cards, or PayPal. Then you can use it to buy tether/ bitcoin and transfer it to a platform such as Bybit, Binance, or the platform you use for trading.
The platform gifts you some chunks of crypto for learning about them, and that too for zero cost. You can grab this opportunity by learning with Coinbase earn.
Transferring funds from Binance to Coinbase: Pros and Cons
| Pros | Cons |
| --- | --- |
| You can withdraw FIAT to your bank accounts. | The platform offers a lesser number of crypto assets to trade. |
| Coinbase supports various options to deposit FIAT, such as debit/ credit cards, bank transfer, PayPal, etc. | Coinbase lacks in providing trading features to its users. |
| The platform offers a built-in wallet app. | Binance offers many advanced trading options such as margin trading, staking, etc. |
| Binance can be overwhelming for beginners in trading, and Coinbase can be a great place to begin trading. | Coinbase charges a very high fee on deposits/ withdrawals/ trading. |
| Coinbase is a regulated exchange and adheres to all government regulations. | |
| Coinbase offers a beginner-friendly user interface and uses FDIC insurance. | |
| The exchange also offers free crypto assets through Coinbase earn and learn. | |
Conclusion
All of us know that Binance is the most popular trading platform out there. However, not all of us are eligible to use Binance from our respective countries. And even if you use a VPN to access the platform, you need a local exchange to convert FIAT into crypto. This is where Coinbase comes in; the exchange provides a series of options to convert FIAT into crypto and vise versa. Hence, it is essential to understand the basic procedure to transfer funds from Binance to Coinbase.
Frequently Asked Questions
How to use Binance in the USA?
You can use Binance.us if you are a resident of the USA. However, Binance.us comes with limited services from Binance. If you wish to enjoy all the features offered by Binance, you can simply use a VPN and move ahead with creating an account.
Is Coinbase better than Binance?
If we're talking about being regulated by the government and legal matters, Coinbase takes the trophy. However, suppose we're looking into trading options, fees, security, and almost everything in the crypto market. In that case, practically no exchange can stand a chance against Binance.
Is Binance good for beginners?
Suppose you jump into trading with proper research and understanding of the market and charts. In that case, there is a chance of you not getting overwhelmed by the platform. However, suppose you're a noob in crypto trading. In that case, it is recommended to use a local exchange and start by learning the trading basics as Binance will undoubtedly overwhelm you.