Universal crypto signals provide crypto signals services on popular exchanges like Bittrex, Bitmex, Bybit, Kucoin, Binance futures, etc. Although Universal crypto signals provide you the best services, more platforms might also cater to all your needs. Hence, this article will be going through the Best Universal Crypto Signals Alternatives available in the market for traders.
60 Seconds Summary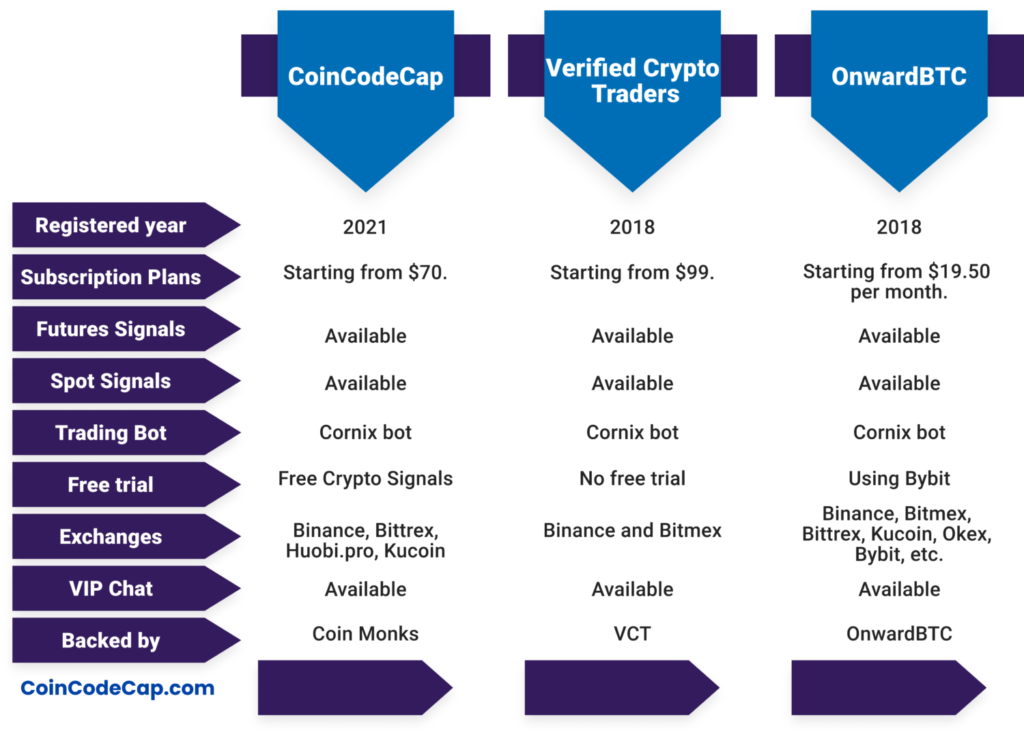 Detailed Summary
There are many crypto signal providers from which these three are the best alternative for Universal Crypto Signals.
CoinCodeCap, through its telegram group, provides some of the best crypto trading signals along with educational content.
Verified Crypto Traders has veteran traders with an experience of over 30 years. Furthermore, ICO reviews will make you learn about prospective projects.  
OnwardBTC comes with a 30-day free trial along with access to all content. 
In addition, OnwardBTC also provides traders with a Bybit partnership.
Before subscribing to a crypto signal provider, traders must research their services well. 
What is UCS?
 Various websites, such as smartoptions.io, have reviewed and rated Universal Crypto Signals as one of the best in the industry. The tool offers crypto trading signals and is often regarded as the most reliable and accurate among traders. To learn more about the platform, read Universal Crypto Signals Review.
Universal Crypto Signals Alternative: CoinCodeCap
We, CoinCodeCap, provide in-house crypto trading signals based on technical and fundamental analysis. We provide you with all the relevant information as to how to open and close a position. Moreover, you get all the details such as entry range, take profits, Apart from this, we also run Coinmonks, a non-profit organization that started in 2018. 
Features
Professional analysis: CoinCodeCap increases traders' chance of achieving the target as we use professional tools to predict the market prices.
One time payment: There is only a one-time payment based on the plan you choose and subscribe to the platform. Additionally, we do not charge you any commission on any of the profits that you make.
Automated trades: In addition to crypto signals, we also provide you with the cornix trading bot. This will help you automate your trade and make a profit even when you are asleep. Furthermore, these bots open and close positions around the clock.
Educational content: While trading, you can also stay updated about the current scenario of the crypto market through our crypto educational content. Furthermore, we provide you with guides, reviews, and other educational content through our blog.
Market opportunities: The group of experienced traders keeps an eye on all the market opportunities. Besides, Signals of various assets are also provided to you to keep all the safety measures.
Crypto New: We recently started out with out crypto news channel to keep you updated with all the major things that happen in a day within 5 minutes. Subscribe our YouTube channel for frequent updates. Below is a news video from 16th August 2021.
NFT Signals: We allow you to track which projects NFT collectors and influencers are aping into the real time.
CoinCodeCap: Fee Structure
There are four plans of different duration which you can subscribe to get forward with crypto signals. These plans come with a time duration of 01 months, 03 months, 06 months, and then skipping to a 1-year plan. In addition, the subscription costs for these plans are $70, $210, $420, and $840, respectively. Moreover, these plans give you the below benefits:
Access to Spot and Future premium channel.
Quality signals
24*7 customer support.
It supports the Cornix bot.
CoinCodeCap: Pros and Cons
| Pros | Cons |
| --- | --- |
| It provides crypto educational articles to keep its traders updated on the crypto market. | Compared to other crypto signal providers, we are new. |
| Besides, it also uses mathematics to determine market entry prices. | |
| There is a telegram channel named CoinCodeCap classic, which you can join to receive the signals. | |
| Automated trading via Cornix bot. | |
| With us, you can discover trending NFT projects and identify the most profitable flips. | |
Universal Crypto Signals Alternative: VCT
Verified Crypto Traders (VCT) provides detailed trading advice based on high-quality crypto market analysis. Because they want their traders to have worry-free investing and trading on the crypto market. For this reason, they provide them with the necessary tools and knowledge. All the crypto signals and news delivered by professional traders are posted on the Verified Crypto Traders telegram group. Furthermore, this telegram group is a good source of information for traders interested in the world of cryptocurrencies and the latest development going there.

Features
Chat with Members: Traders can discuss all the crypto news and get advice from their members and admins through chat.
Market Analysis: It gives their traders well-explained recommendations that rely on technical and fundamental market analysis.
VIP Channel: You can receive premium buy signals, analyses, and recommendations through VIP channels.
Recommendations: The platform provides explanatory chart calls, signal alerts, multiple targets, and also stop-losses.
ICO Reviews: Members can get information about ICOs to learn about prospective projects.
Automated Trading: The traders can always opt for a trading bot which will eventually make their work a bit easy. For example, the platform uses the Cornix bot to help its offers traders while trading in the crypto market.
Verified Crypto Traders: Fee Structure
When it comes to pricing, the Verified crypto traders accept 10 of the popular coins for payment. Also, here the upgrading is free. This platform also consists of four plans for its traders and whose prices and duration are:
1-month plan: $99
3-month plan: $270
6-month plan: $540
12-month plan: $999
Further, these plans also consist of the following benefits:
Weekly updates on videos.
It has an automated trading bot.
Bitmex+Binance future signals.
ALT/BTC Signals
Also, exclusive webinars for traders.
A unique style of trading.
Verified Crypto Traders: Pros and Cons
| Pros | Cons |
| --- | --- |
| Auto-trading through Cornix. | Tech support of Cornix is a bit slow. |
| A very reasonable pricing plan. | Further, it limits an open and helpful discussion. |
| Further, it offers both short-term and long-term trades. | |
| In spot trading, also offers the most accurate crypto analysis and predictions. | |
| It provides traders with ICO reviews. | |
Universal Crypto Signals Alternative: OnwardBTC
OnwardBTC entered the crypto market in February 2019 and is an all-in-one package that you need to trade in Bitcoin and Crypto. Even if you are a newcomer, it will turn you into a master of trading signals. All their trading signals are backed up by technical analysis. Further, the educational content and analysis of cryptocurrency markets in OnwardBTC is done through telegram service.
Features
Technical Analysis: OnwardBTC comes up with technical analysis for VIPs. There they discuss all vital information and current open trades.
Long and Short term signals: Both long and short-term signals are posted here. These are: entries, exit, take profits, and intraday signals which are open for some time.
VIP Chat: There is a community to get in touch with for all the VIPs through the VIP chat option. Here they can get all their answers related to the crypto market.
Bybit Bot: The bot has mainly three uses, i.e., regular, long-term, and short-term. The automated bot (regular) used by the platform for Bybit is via Cornix, the Bybit DCA bot (long-term) uses DCA strategy to make a profit, and the Bybit DCA bot (short-term) is mainly based on their algo for the 1 min timeframe.
VIP Videos: This platform also posts all the VIP videos for traders to get insights into the cryptocurrency market.
Cipher Alerts: In addition, it provides traders with cipher alerts for the long and short term.
OnwardBTC: Fee Structure
OnwardBTC gives its traders an edge over other available platforms by giving them a 30-day free trial. Moreover, it provides free access to every content that a premium member might get. Once you analyze every feature they provide, you can decide whether you want to continue with OnwardBTC. In addition to this, there is no need to open an account as you can join as a regular. The pricing of the platform is a bit convenient, as it is just $19.50 per month. All you need need to start is their telegram bot that helps you enter OnwardBTC.
OnwardBTC: Pros and Cons
| Pros | Cons |
| --- | --- |
| One month of free premium service. | No guarantee of assured profits even though crypto signals are thoroughly analyzed. |
| The platform comes with regular, long-term, and short-term bots. | Cornix trading bot sometimes delays the processing of many orders. |
| The platform provides VIP videos and Cipher alerts. | |
Universal Crypto Signals Alternatives: Conclusion
Crypto trading signals help you place orders based on the advice of experienced trade analysis. These Universal crypto signal alternatives might help you make a firm decision, which will eventually help you to go forward with a particular crypto signal. Further, these crypto signals will provide you quality signals with the right amount. However, CoinCodeCap delivers the most reliable crypto signal services in the market through their telegram channel.
Frequently Asked Questions
What do crypto signals offer?
Some of the crypto signal services provide free telegram groups, but those are not much promising. Later, they ask you to join their premium groups. However, by joining those premium signal groups, you will receive every notification of stop-losses, asset buying position, take profits, and a VIP chat group. Moreover, some crypto signal providers might also brig forth VIP videos and educational crypto content. 
How does the crypto channel work?
These telegram channels work after analyzing the market opportunities. After that, it is up to the trader whether they want to follow the signal or wait for another market opportunity. 
Where can you find a crypto signal?
Various platforms are available to find crypto signals, such as OnwardBTC, Verified Crypto Signal, CoinCodeCap, etc. You can subscribe to their plans and join their telegram groups for crypto signals and market updates.