KLIMA is an algorithmic carbon-backed currency created by the Klima DAO community, also known as Klimates, to generate a carbon black hole. At least 1 tonne of carbon is backed by each KLIMA token. The KLIMA token allows Web3 developers and users to engage in the carbon market through the Klima DAO.
Bonding BCT or LPs with the Treasury to acquire discounted KLIMA, then stake KLIMA to gain exposure to protocol growth, is the most common technique for getting exposure to KlimaDAO's growth.
A higher percentage of staked KLIMA means more consistent protocol growth and a larger distribution of KLIMA incentives to Klimates. Throughout November, the amount of KLIMA unstaked/not used for LP remained below 1%.
Klima DAO $KLIMA has a 50,066.87% annual percentage yield. However, it is compounding, so interest is paid every 8 hours.
The Carbon Bridge brings carbon assets on-chain as tokens since it is a carbon-backed digital currency and algorithmic climate protocol. Anyone can use DeFi to offset their carbon emissions with tokenized carbon. A carbon offset is a tonne of CO2 equivalent not in the Earth's atmosphere and is observable and verifiable removal, avoidance, or reduction of greenhouse gas (GHG) emissions.
Coinmarketcap has a self-reported circulation supply, but no maximum supply is specified either on the website or on Coinmarketcap. As a result, the profit distribution may vary in the future, implying that the DAO or its backers may increase their portion of the profits.
When the protocol generates a profit, it can use it in various ways. Currently, the protocol distributes 90% of revenues to the stakeholders and 10% to the DAO. However, it's possible that this will change in the future. All prizes are paid in KLIMA and are sponsored by BCT. Users are encouraged to maintain their KLIMA staked due to this incentive.
While the long-term goal for Klima is to have a market-determined value that is unaffected by the actual price of BCT, the immediate focus is on growth and treasury accumulation. It must have a vast and stable treasury to draw weight from a great currency. It also requires a substantial supply to permit huge volumes and the development of a unit of account. This cannot be accomplished on the first day. Furthermore, a significant currency is worthless if no one uses it; KLIMA isn't a sound currency if no one uses it.
Carbon credits back KLIMA, and carbon offsets face greater scrutiny than ever before. In the last few months, a slew of investigations by journalists, environmental groups, rating agencies, and even offset-brokering firms have unearthed questionable assertions, willful false representation, and systematic clerical errors in the offset market, which ultimately drive emissions up, not down—and allow offset buyers to greenwash their image without actually addressing the climate crisis, whether intentionally or not.
There is no official international standard for carbon offset accounting at the foundation of much of the difficulty.
Moreover, looking at the number of Hodlers on PolygonScan, it is evident that two major addresses holding KLIMA are Smart Contracts. The First one is Klima DAO itself, and the second is the SushiSwap LP token.
Moreover, the contract source code is open to the public, but there is no security audit. This means that if the code contains anything malicious, someone without coding knowledge cannot cross-verify it.
The second contract, i.e., SushiSwap LP tokens isn't edited as well.
KLIMA holders:
The following is taken from the Klima Dao whitepaper:
The BCT token's initial state is intrinsic value, determined by the cost of carbon in the pool.
The network's default state, as well as KLIMA's, is intrinsically valuable. Price will always return to the intrinsic level after an extended period of inaction. Short-term liquidity crises could theoretically be the only thing that causes contractions. Holders of KLIMA hold a guarantee that the price will eventually rise above intrinsic value. Hence the only selling below should be those who require a quick exit and are willing to take the additional losses.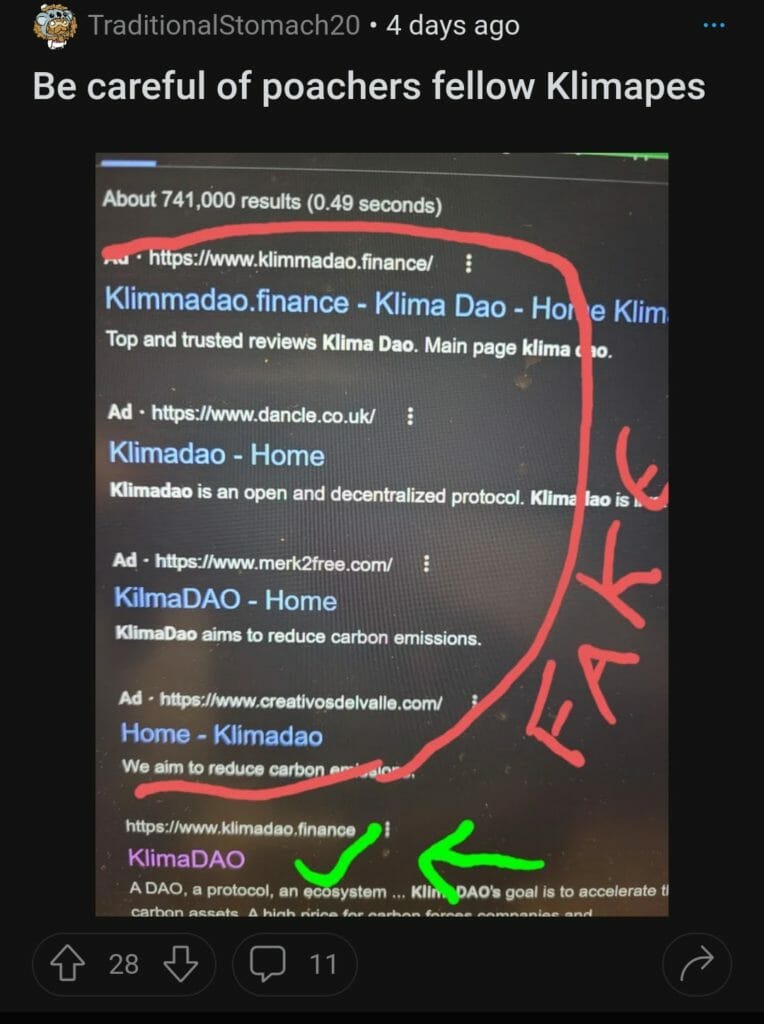 However, it is essential to consider providing another contract or addressing the ability to transfer your tokens when you permit them. You must understand who or what you're giving this approval to.
You usually offer contract allowances to spend an unlimited or a specific amount of that token. If this is not canceled, that address will be able to grab your tokens at any point. Aside from the fact that the contract controls your tokens while you're staking, if the contract's owner has a terrible function, they could grab your tokens, even if they're back in your wallet.
After you've finished staking, it's an excellent habit to revoke all the permissions and remove the token from your wallet.