CryptoHopper is one the best place to go if you're looking for trading bots. Furthermore, the platform is particularly known for its MarketPlace. However, in this article, we will look at the five best CryptoHopper alternatives. As you must not stick to a particular platform, rather try all the options available in the market.
Summary (TL;DR)
CryptoHopper is one of the best places to go for crypto trading bots.
3Commas is a well-known cryptocurrency trading bot platform headquartered in Vancouver, Canada, launched in 2017.
Bitsgap, a crypto trading bot, and you can connect it to over 25 of the most prominent cryptocurrency exchanges.
TradeSanta is a platform for crypto trading bots that concentrates on automating trading strategies.
Then Zignaly, the cloud-based crypto trading bot platform with various useful functions for a wide variety of investors.
What is CryptoHopper?
CryptoHopper is one of the most well-designed crypto trading bot platforms on the market. Furthermore, its MarketPlace offers various products such as crypto signals, trading strategies, Dapps, and templates. 
CryptoHopper is a cryptocurrency trading robot meant to assist traders of all levels, make the most of their trading skills, optimize their earnings, and minimize their risks.
The platform is appropriate for traders, including newbies, because of its intuitive design and simple functions. In a nutshell, CryptoHopper is the industry standard for crypto bot trading.
To learn more, read the CryptoHopper review. You can also refer to the Top 5 CryptoHopper apps for everyone.
However, in today's article, we'll look at the competitors of CryptoHopper that are just as simple to use.
5 Best Cryptohopper Alternatives
1. 3Commas
3Commas is a well-known crypto trading bot platform based in Vancouver, Canada, founded in 2017. The application links to up to 23 major cryptocurrency exchanges and allows you to manage all of your cryptocurrency accounts in one place. It has a sophisticated trading terminal that will enable you to design your trading methods and mimic successful traders' trading tactics. 
Short bots, simple bots, composite bots, and composite short bots are the four varieties of bots offered by 3Commas. Options Bot, for example, allows you to automate your options trading strategies. To learn more, read the 3Commas review.
3Commas Pricing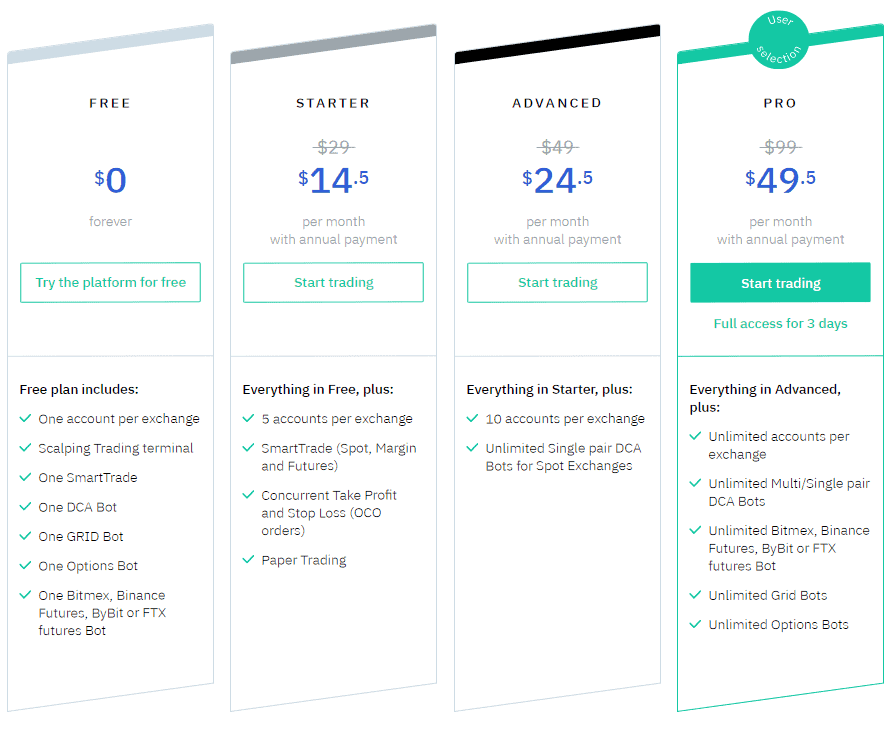 What are the benefits of using 3Commas?
3Commas provides access to the most popular cryptocurrency exchanges. 
Provides options for social trading. 
2. BitsGap
Bitsgap is an all-in-one crypto trading platform situated in Estonia that was created in 2018. The software allows you to connect to over 25 of the most popular cryptocurrency exchanges and trade them all in one spot. 
You can trade and analyze signals in over 10,000 crypto pairings using the Bitsgap platform, arbitrage from price differences between exchanges, automate your trading techniques, and automatically find signals of currencies with the most potential using the Bitsgap platform.
To learn more, read the Bitsgap review. If you're looking for a Futures trading bot, then you can go with one of a kind Bitsgap Binance futures trading bot.
Bitsgap Pricing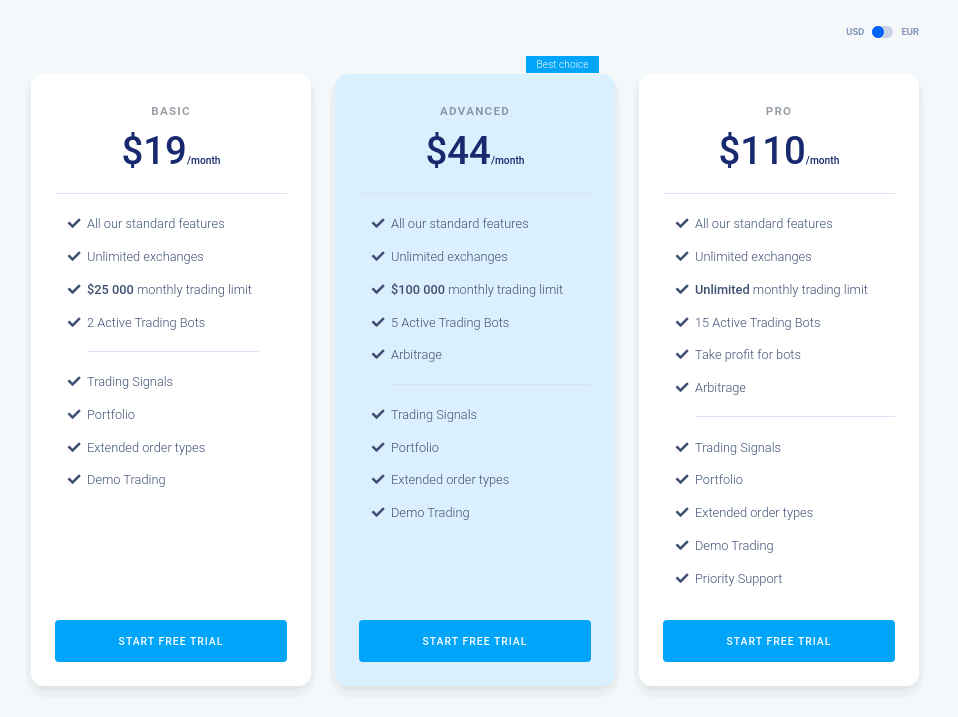 What are the benefits of Bitsgap?
Close to 30 cryptocurrency exchanges are included. 
A large number of trading options are available, and the ability to set up multiple monetary accounts. 
Bitsgap allows for fiat currency conversion.
There are many crypto trading bots providers in the market. Furthermore, very few of them provide as many services as CryptoHopper does. However, we'd still be listing the best 5 CryptoHopper alternatives below.
3. Cornix
Cornix is a Crypto auto trading platform that uses advanced technology to automate and optimize trades.
They've combined the industry's most cutting-edge software with a simplistic, user-friendly interface (create your bot in as little as three clicks).
They also have the largest copy trading signals marketplace, equaling millions of shared trades.
Cornix was established in 2018.
Cornix Supported Exchanges
Bybit, Binance, Binance future, FTX, Kucoin, Huobi, Bitmex, Bittrex.
Who Can Use Cornix?
Expert Traders — Cornix is an excellent platform for experienced traders. It delivers various tools and resources that help further optimize proven strategies and provide opportunities to turn their trades into a service.
This includes allowing them to automate their trades using bots and giving them access to advanced features such as Multiple Entries & Concurrent Orders, and Trailing Orders.
Traders also receive access to technology that makes sharing their trades or sending live signals to a community to copy more streamlined.
Novice traders — Greener traders, will feel more comfortable using Cornix's platform due to its many accommodating options.
From the ready-to-go, pre-built automated bots to the millions of trades shared by profiting professionals, Cornix supplies tools to meet all levels of trading experience.
With their customer-centric approach and easy-to-contact — human — support team, novice traders are given the building blocks to success.
Use code FREE to get 10% discount on your annual plan.
Cornix Subscription Plans & pricing
What are the benefits of using Cornix?
A large marketplace of experts signals providers to choose from.
Provides many advanced features such as Multiple Entries & Concurrent Orders, and much more.
Cornix prioritized safety as #1, trade crypto on a safe and secure platform.
4. TradeSanta
What is TradeSanta?
TradeSanta is a crypto trading bot platform that focuses on trading strategy automation. It was first released in 2018, but it gained popularity in the latter half of 2019. It now boasts a thriving community of 25,000+ members who have completed over a million transactions.
TradeSanta has simplified the crypto trading bot universe and provides its members with some excellent trading tools. It now boasts the most active trading bots among its competitors, with over 6,400.
A lengthy bot template, a short bot template, and a custom bot template are all available. Extra orders, martingale, purchasing coins for commissions, complex technical indicators, and other TradeSanta features are available.
To learn more, read the TradeSanta review.
TradeSanta Supported Exchanges
It now links to seven major cryptocurrency exchanges, including HitBTC, Binance, Bitfinex, Bittrex, Huobi, Upbit, and OKEx, which is to add BitMEX shortly.
TradeSanta Pricing
What are the benefits of using TradeSanta?
The platform that is simple and basic
TradeSanta supports several different trading bots and other trading tools.
The platform is hosted on the cloud.
5. Zignaly
Zignaly is a next-generation cloud-based crypto trading bot platform with several handy features that cater to a wide range of traders. Only Binance and KuCoin are now linked to the trading platform, but other crypto exchanges are expected to be added in the future.
It primarily offers copy trading, a crypto trading bot, and a trading terminal. One of the distinctive characteristics is that it allows you to trade automatically using third-party crypto trading signals. It now supports over 21 distinct crypto signal sources, all of which produce high-quality signals.
Users may presently utilize Zignaly for free, with unlimited exchange accounts, coin pairings, positions, and priority support.
Zignaly Pricing
The Zignaly trading bot platform is free and does not have a subscription charge.
What are the benefits of using Zignaly?
Integrating third-party signal providers has several advantages. 
You can set up a free account at Zignaly.
The platform is hosted on the cloud.
CryptoHopper Alternatives: Conclusion
As you can see, there are many Cryptohopper options to select from, and each platform has its own features. 
The trading Bots mentioned here are among the best and most reliable crypto trading bot platforms. However, 3Commas is much more advanced in terms of functionality and capabilities.
Crypto trading bots are the future of cryptocurrency trading, allowing you to benefit from every market opportunity that would otherwise be unavailable. As a result, select the platform intelligently, and you will be well recognized.
Frequently Asked Questions
Is Crtptohopper legit?
Yes, Cryptohopper is legit and appears to be a trustworthy trading bot. Our investigation reveals that this robot is genuine (it trades on your behalf), straightforward, and user-friendly. In addition, we can confirm that all of their partner brokers are well controlled.
Is Napbot safe?
Yes, napbots is safe to use as the team considers protecting the users' data as its top priority. Besides, to ensure a smooth-secure crypto trading experience, they conduct regular security audits of the Napbots website. Further, Napbots cannot access the users' assets; they remain on the investors' exchange accounts. In addition, Napbots only works with exchanges that maintain high-security standards.
Does Bitsgap has an mobile app?
No, Bitsgap has no mobile application. You can use the platform in the web version on their official website. 
Can you lose money with Bitsgap?
You can not lose your money with Bitsgap as they are stored on your exchange. However, note that you will lose your money if you go on the loss while using the Bitsgap bots.
Is 3Commas safe?
Yes, 3Commas is safe and the exchange platform is sufficiently encrypted. Also, it has a well defined data protection policy as well.