FTX has risen to fame lately, and within a year, it is one of the most popular trading platforms out there. Moreover, the platform offers a ton of features and products to both novice and advanced traders; hence proving as the best choice in terms of a centralized exchange. Here are the 5 best FTX trading bots that are compatible with the FTX crypto exchange.
1. 3COMMAS
3Commas is a web-based crypto trading terminal and bot provider that offers a variety of tools to help traders improve their overall efficiency and effectiveness.
The 3Commas platform can be accessed from every internet-enabled device in the world.
Further, the team behind the 3Commas project is primarily concerned with reducing investor risk and limiting one's vulnerability to losses while maximizing profit.
3Commas Features
The key features of 3Commas are listed below.
Smart Trading: 3Commas provides traders with a smart terminal that allows them to trade on cryptocurrency exchanges. It is a set of attributes and trading indicators that can be used by both advanced and novice traders.
Auto-trading bots: The 3Commas trading bot is at the heart of the service. The bot is a web-based system that integrates with other devices and platforms. 3Commas monitors the market 24 hours a day, waiting for the right moment to execute the trade.
Rebalancing: In the 'My Portfolio' section, you can use the Auto-reallocation feature. Users of 3Commas can record and re-balance their portfolio allocation while trading on the platform. They can also apply for a user to help them identify a portfolio for one's exchange.
Marketplace: The 3Commas marketplace provides detailed statistics on bot performance. Users, particularly new consumers, can use this information to identify and copy successful bots.
3Commas Pricing
Is 3Commas safe to use?
Yes, it is safe to use, as the funds of users are not held by 3Commas. The trading bot uses an API to connect to the user's exchange and then executes a computer-controlled trading system on the interconnected exchanges.
Is it easy to use?
3Commas has a user-friendly platform that is simple to maneuver even for inexperienced users. Various features can be accessed directly from the user's account. Simple steps are required to set up smart trades as well as bots. The dashboard's side panel also makes it simple for users to choose their favorite tabs and features.
2. CryptoHopper
One of the most well-known cryptocurrency trading bots CryptoHopper is a solid trading platform that operates entirely on autopilot. This platform is meant to assist traders of all levels of experience in making use of all their trading opportunities, increasing their profits while reducing their risk of losing money.
The algorithm was created by the engineers to match the technical indicators which traders and signalers choose.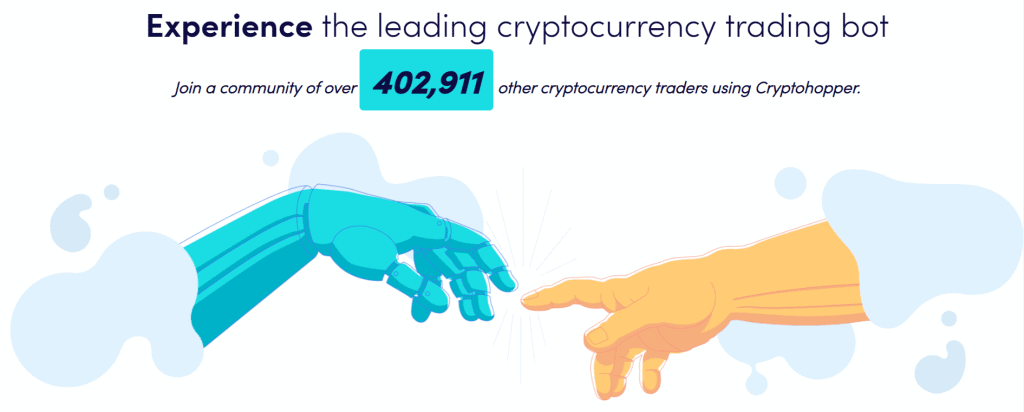 Also read, Top 5 CryptoHopper Alternatives
Features:
Automatic Trading: Cryptohopper was created with the goal of providing traders with a rich user experience situation.
Mirror Trading: The Cryptohopper marketplace is open to both new and experienced users who want to follow in the footsteps of professional traders.
Trailing stop tools: Such tools enable users to follow the market's prices as they rise and fall. Trailing Stop Loss, Trailing Stop Short, and Trailing Stop Buy are the three different types of trailing tools.
Backtesting: Cryptohopper allows users to run the tactics against data in the past to evaluate their success.
CryptoHopper Pricing
Is CryptoHopper safe to use?
Cryptohopper is a secure platform because the bot does not have the ability to withdraw users' cash. The bot uses API keys to gain access to the trader's exchange account, allowing it to make trades exclusively. To reduce security threats, the funds are kept safe on the user's exchange. The platform also employs two-factor authentication (2FA) and encrypted hosting, making it extremely secure.
Also read, Top 5 Free Cryptohopper Apps for Every User
Ease of use
Cryptohopper was developed with both experts and new users in mind. The platform offers a user interface that is simple to use. The keys for all of the important functions are prominently displayed on the home page, making it easy for new users to locate them.
The website's material is likewise written in a straightforward and easy-to-understand manner. There is an overview of features and a tutorial to using them where necessary.
3. Bitsgap
Bitsgap is a multi-coin trading platform that allows you to trade Bitcoin or any coin on the market. An effortless yet powerful portfolio, an automated online algorithm, arbitrage, precise signals, and demo/paper trading are among the tools available. To better user experience, all of these tools are combined into a single interface.
To learn more, read Bitsgap Review – Trading Bots Crypto Signals and Arbitrage
Bitsgap Features
The following are some of Bitsgap's most notable characteristics.
Trading terminal: Bitsgap helps in tracking and monitoring over 1800 different cryptocurrencies, including well-known ones like Bitcoin. Consumers need not log into different exchanges to trade with this platform.
Bitsgap Signals: Every second, Bitsgap's algorithm analyses well over 10,000 crypto pairs to determine the best time and opportunity with the best uptrend potential. This feature is available 24 hours a day, seven days a week, making sure that the trader doesn't really miss any opportunities.
Smart orders: The smart order, which is a Bitsgap-only order, is a combo of Stop-Loss as well as Take-Profit orders placed at the same time.
Arbitrage: Crypto arbitrage takes advantage of price differences between exchanges to make a profit for the trader. It enables you to keep track of the best market opportunities.
Backtesting: Bitsgap also has a strategy backtesting tool. Prior to actually making an investment decision, users can perform their strategy through the backtesting tool to see how effective it is.
Bitsgap Pricing
Is Bitsgap safe for you?
To access your exchange account and start trading, Bitsgap uses API keys. Because API doesn't quite reveal any information about your exchange account, it is safe. All personal information and the user's password are kept safe. Bitsgap has no way of withdrawing funds from your exchange account.
Is it easy to use?
Bitsgap has a beginner-friendly user interface that is simple, clean, and seamless. It combines all of the exchanges into a single platform, to make it easier for people to switch between them.
Also, read 5 Best Free Crypto Signals | Top Crypto Trading Signals Telegram Channel
4. Cornix
Cornix is an automated crypto trading bot for Telegram crypto signals groups with many useful functions. Furthermore, crypto signals are essentially from a group of skilled traders that tell you how to trade and generate profits.
Further, the main advantage of the Cornix crypto trading bot is that it saves time in notifying the results of trading to the users both on the positive as well as negative side.
Essentially, a crypto trading signal is what tells you how to buy pairs and from where to buy them. Like any other bot, Cornix sets the targets. In general, while doing crypto trading manually, you have to put some necessary information and if you are using signals. You can learn more about it from our Cornix review.
Is Cornix safe to use?
Yes, Cornix is a reliable and secure trading bot in the crypto trading industry. So far, the platform has not faced any security threats. Also, Cornix connects with your trading platform using API keys. Therefore, your funds are always kept in your exchange's wallet, and the bot does not have permission to make withdrawals.
Cornix Pricing
Ease of Use
Cornix is quite easy to use. It is quite easy to use because it rests on Telegram a messaging platform. You are able to source ideas and can automatically implement these ideas. What individuals appreciate about Cornix is that they do not have to conduct manual trading.
With its automated and one-click features, it presents various opportunities for simplicity. It also has a manual follow option too.
5. WunderTrading
WunderTrading allows you to sign up as a trader or an investor. Users of various levels of experience can invest in cryptocurrencies using this automated crypto trading tool. The automated trading terminal and the completely automated trading bot are the two primary products offered by WunderTrading. These goods are intertwined with features like social trading, trading signals, and over-the-counter trading to provide you with a fantastic trading experience.
Also, read WunderTrading Review – Social crypto trading to make serious money
WunderTrading Features:
Mirror Trading: WunderTrading enables you to follow in the footsteps of the finest crypto traders with proven track records.
Bot Customization: The TradingView pine editor is a useful tool for creating bots for major cryptocurrency pairs.
Several unique trading strategy portfolios: WunderTrading Trader established unique profiles of trading methods exclusively of trade bots.
Panic Exit: Panic Exit will be your last effort to get out of your postions. When you press the panic exit button, the deal will be promptly closed at the current market price.
Management of several accounts: You can manage numerous crypto exchange accounts' portfolios at the same time as a trader without having to execute the strategy on every account in the trading interface.
WunderTrading Pricing
Is WunderTrading safe to use?
WunderTrading uses an API key to manage your portfolio, without withdrawal access. It can automatically copy and make transactions on your account, but it won't let you move your money around. Other security precautions, including SSL, are also used by WunderTrading to protect users' sensitive information, including passwords. Users are also encouraged to use Two-factor Authentication (2FA) to improve account security.
Ease of use
WunderTrading features a user-friendly UI. On the web interface, the essential functionalities are visible. Manual Smart trading is simple to implement. Further, to construct the best-automated trading strategy, though, you'll need expert talents and resources. With the PineEditor from TradingView.
Frequently Asked Questions
Which is the best bot for automated FTX trading?
A bot is a piece of software that allows you to trade FTX automatically using the user-defined algorithm and methods. Because the cryptocurrency market is so unpredictable, humans are unable to monitor it 24 hours a day, seven days a week. As a result, we employ bots. So any bot that automates crypto trading is a crypto trading bot. WunderTrading is one of the most effective FTX trading bots.
What are the best trading bots?
A few of the FTX trading bots are: 
1. Holderlab
2. Kryll
3. Cornix
Do you need to download special software?
 For using trading bots with FTX, you may need to acquire special software. This isn't always the case, though. Some modern technologies are totally accessible through their own websites, thanks to improvements in web apps and cloud computing.
Are FTX trading bots safe?
Because automated bots process monetary operations, they are designed to be secure. As a result, FTX and other platforms never offer these bots access to their platforms, instead of allowing them to trade using APIs.