OKX is one of the largest crypto exchanges that accounts for over $1.5 billion only from its futures trading platform. This article will talk about the best OKX trading bots available, along with their pricing, features, and most important pros and cons.
Summary (TL;DR)
Crypto trading bots help in automating your trades and are a good choice for you if you don't have enough time to watch the market.
OKX is one of the biggest exchanges with their utility to tokens, which you can use to reduce your trading fees.
Some of the OKX trading bots are CryptoHopper, Bitsgap, 3Commas, Shrimpy, and Wunderbit.
Firstly, CryptoHopper is a widely used crypto trading bot and is prominent for its market-making bot and strategies.
The crypto trading bot provider TradeSanta, offers almost all the services at a lower cost than most of its competitors.
Bitsgap is another decent trading bot that goes well with OKX. One of the best features of the platform is its Bitsgap demo trade mode.
Furthermore, Shrimpy is a famous bot for automating, managing, and growing portfolios in the long term.
Finally, Wunderbit also has many impressive features in the queue. Some of them are free trading terminals, intelligent crypto trade automation, etc.
What are Crypto Trading Bots?
Crypto trading bots are mere computer programs for implementing a trading strategy. By using these bots, you can automate your trading process and skyrocket your returns.
What is OKX?
It is a cutting-edge exchange created by Star XU in 2014 and arose from OKCoin. Furthermore, it is aimed at more experienced bitcoin dealers.
OKX, like the other Chinese exchanges, introduced its utility token in early 2018. Users can use this token to pay for exclusive services on the exchange platform, such as improved API rate limitations and customer support. To learn more, read the OKX exchange review.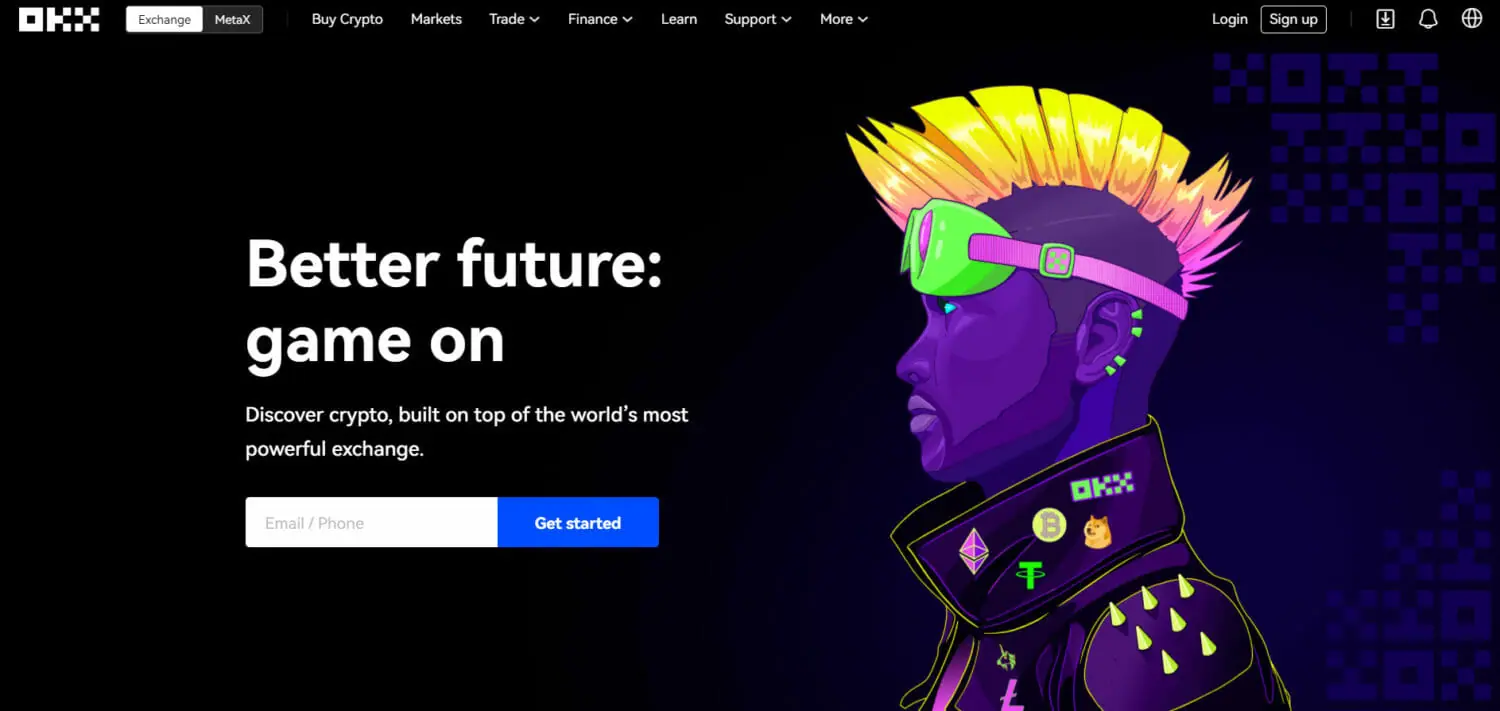 Five Best OKX Trading Bots
Trading bots help you maximize your profit and mitigate the risks. Moreover, they save tons of your time which you can invest in other occupations. So, let's look into five trading bots for OKX.
1. 3commas
3Commas is a trading bot based out in Miami and can implement various trading strategies. Moreover, it is a good choice for traders having no technical backgrounds or are beginners in the trading industry. Furthermore, the bot is capable of customizing unique trading positions and deploying the user interface.
To learn more, read the 3Commas review.
Features
The platform 3Commas offers exciting features, including DCA bots, grid bots, trading terminals, options bots, a third-party marketplace for crypto trading signals, etc. Furthermore, DCA bots are an excellent choice for traders at any level. Similarly, a GRID bot requires minimal efforts, and it buys an asset when its price falls and sells when it rises in a specified range.
3Commas Pricing
The monthly subscription plans at 3Commas are divided into four parts, and if you pay for an annual plan, you get a discount. For further details, refer below:
Is 3Commas legit?
The 3Commas trading bot uses API keys to connect to the exchange. Furthermore, the platform's Terms of Service are vague, and it seems that the bot collects specific trading data of users. However, the team uses the collected data to improve their trading bots.
3Commas: Pros and Cons
| Pros | Cons |
| --- | --- |
| User-friendly dashboard. | The process of onboarding is overwhelming for beginners. |
| Unique plans for traders at every stage. | Mobile applications lag speed. |
| It has a library of bots you can use or simply copy. | |
3commas Pros and Cons
2. CryptoHopper OKX trading bot
The CryptoHopper bot has a mobile app to help you automate your trades quickly. Moreover, the bot supports auto trading, copy trading, etc.; you can also change the trading strategy that fits well with your financial goals.
To learn more, read the CryptoHopper review.
Features of CryptoHopper
One of the best features of CryptoHopper is a crypto market-making bot. It automatically places buy and sell orders as per the liquidity; hence it earns little profits from the market spread gap. This bot also has its strategy planner, arbitrage tool, paper trading mode, social trading platform, Crypto signals telegram bot, etc.
CryptoHopper Pricing
To access the automated trading features, you have to purchase the paid version of CryptoHopper. It has three categories – Explorer kit, Adventure kit, and Hero kit. Below are the functionalities and pricing of each bot.
Is CryptoHopper legit?
The bot has been functioning in the market for more than three years. Therefore, it is a reliable, secure, and legit bot. Apart from this, it uses API keys to process trades and can not withdraw money from your account. So, the bot is entirely safe to use, but trading bots might not come in handy if there are sudden market fluctuations.
CryptoHopper: Pros and Cons
| Pros | Cons |
| --- | --- |
| Investors can access and use the high-level research software. | Customer service is not available on mobile apps or through the phone. |
| At CryptoHopper, you only have to pay a subscription fee. | To access the valuable and relevant functionality, you have to subscribe to the monthly plans. |
| The mobile app includes comprehensive security features. | |
| The CryptoHopper Marketplace offers exclusive services. | |
CryptoHopper Pros and Cons
3. TradeSanta OKX trading bot
TradeSanta is a trading robot software being both friendly to beginners and provides advanced tools for pro traders. TradeSanta has been operating since 2018. Furthermore, the service provides extensive documentation and video tutorials to facilitate the onboarding into automated trading.
Customer Support is always available to answer any questions and onboard into the automated trading world. In addition, TradeSanta operates on major platforms and supports the most popular exchanges. The list of supported exchanges includes Binance, Binance US, Huobi, OKX, Upbit, HitBTC, and Coinbase.
Features of TradeSanta
TradeSanta supports all major exchanges such as Binance, Coinbase Pro, Huobi, OKX, Upbit, and HitBTC.
TradeSanta bots trade based on Grid or DCA strategies – placing TakeProfit orders for all orders at once or one at a time. The platform also provides risk management tools such as Stop Loss, Trailing Stop Loss, and Trailing Take Profit. Traders can test their strategies against real market conditions with virtual trading.
Advanced traders can take advantage of leverage trading Binance Futures or of custom TradingView crypto signals.
TradeSanta Pricing
TradeSanta pricing starts from $14/month and provides access to all strategies for an unlimited number of pairs on supported exchanges.
Is TradeSanta legit?
TradeSanta has been offering its services for traders since 2018. The platform has built a huge community in Telegram where anyone can ask questions about the service and share their strategy.
TradeSanta places the trades via API keys that have withdrawal permissions off by default, so the service only allows to place orders and read balance.
TradeSanta Pros and Cons
| Pros | Cons |
| --- | --- |
| Beginner-friendly with extensive documentation | The bot doesn't support scripting |
| Has advanced features such as Trailing Take Profit. | The mobile app doesn't have the latest features yet |
| Screener and custom TradingView signals. | |
| Supports Futures trading. | |
| TradeSanta offers both iOS and Android apps. | |
| Reliable platform operating since 2018. | |
| Welcoming Telegram community | |
4. Bitsgap
Bitsgap is another famous bot provider, and it also goes well as an OKX API bot. Furthermore, it supports a multi-exchange environment, and through this bot, you can bring all your accounts to one place. The platform functions on 25 significant exchanges that include Binance, Kraken, etc. Also, you can check and try a few features of the bot in a 14-day free trial.
To learn more, read the Bitsgap review.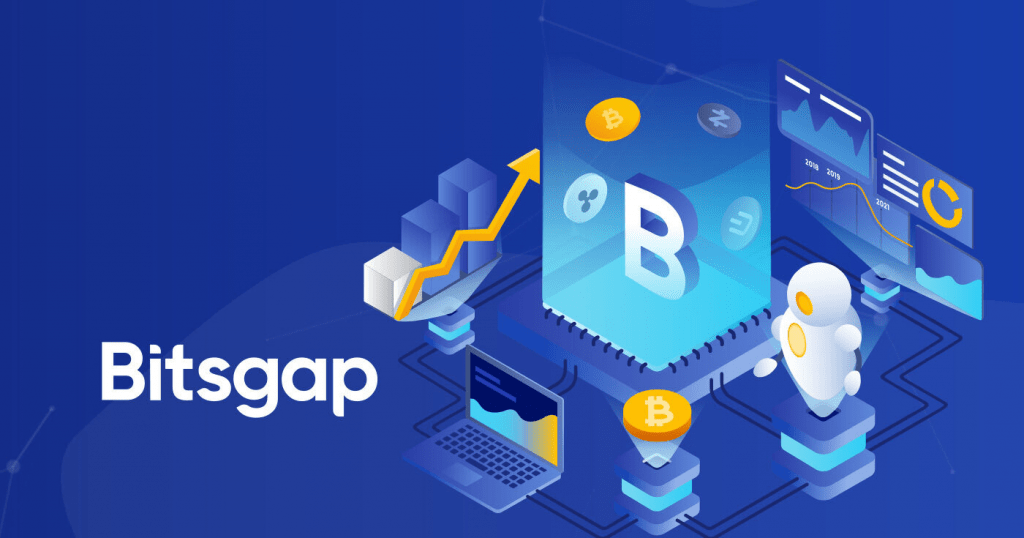 Bitsgap features
The trading bot provider Bitsgap has many features that include arbitrage, trading terminal, portfolio tracking, etc. For example, arbitrage helps maximize the price difference between various exchanges. Furthermore, the Bitsgap futures trading bot is one of a kind available in the market.
Trading terminals have advanced crypto charting tools for assisting traders in generating high profits. Finally, one of the best features is the Bitsgap Demo trade mode that lets you test run the bots.
Bitsgap Pricing
Bitsgap also has three subscription plans, and each program supports a 14-day free trial period. For further information, refer to the image below:
Is Bitsgap legit?
Bitsgap is a safe and legit trading bot. Furthermore, it uses high-end 2048 encryption methods for ensuring complete security to its customers. Apart from this, it uses API keys and can not access your funds for withdrawals. Additionally, no deposits are made directly on the Bitsgap platform.
Bitsgap: Pros and Cons
| Pros | Cons |
| --- | --- |
| Simple configuration and pre-configured trading bots. | The trading bot has limited functionalities. |
| It has market signal dashboards and arbitrage possibilities. | The bot does not have a mobile application. |
| Two weeks of free trial with no need of attaching any credit card. | |
| Offers free packages for small accounts with limited budgets. | |
Bitsgap Pros and Cons
5. Shrimpy
Shrimpy's trading bot helps automate your trading strategies in the long term. This is because it has a vast pool of historical databases demonstrating the performance of various trading strategies.
Apart from this, Shrimpy is a Social trading platform, i.e., it allows you to copy strategies of professional traders. However, the significant advantage of Shrimpy is you can collect past and present historical data from several exchanges. To learn more, read the Shrimpy review.
Features of Shrimpy
Shrimpy offers a Social Portfolio Management system that allows you to copy strategies from professional traders. Moreover, Shrimpy's bot is made explicitly for managing and building a handsome portfolio in the long term. Above all, the significant advantage of using Shrimpy is the pool of relevant and valuable APIs it supports.
Shrimpy Pricing
At present, the social trading platform of Shrimpy costs $19/month, and it gives you access to every feature of Shrimpy. Furthermore, you can look at the features you get for your chosen plan below:
Is Shrimpy legit?
Shrimpy is a secure and legit trading bot. Furthermore, it holds a decent reputation in the market and is free of any security threats to date. Moreover, the platform aims to develop traders' portfolios and does not access your exchange account directly. So far, the trading bot goes well with OKX and serves as an excellent alternative to kickstart your trading journey.
Shrimpy: Pros and Cons
| Pros | Cons |
| --- | --- |
| Primarily focuses on portfolio automation and growth in the long term. | No trading terminal. |
| It suits beginners best. | The bot does not have a mobile application. |
| Decent and intuitive user interface. | Does not support trading bot and scripting bot. |
| Build assets index. | |
Shrimpy Pros and Cons
6. Wunderbit
Wunderbit can be another option to automate your trades as an OKX API bot. The exchange has been in the market since 2018 and is quite prominent for its trading services. Moreover, The bot is just the right option for traders and investors at all levels. Furthermore, Wunderbit also offers trading and commerce services apart from automated trading bots. To learn more, read the Wunderbit review.
Wunderbit Features
Talking about intelligent trading automation, it holds some flexible and relevant tools. Some of these are Smart crypto trading automation, free trading terminal, multiple account management, etc. For example, through the Wunderbit trading terminal, you can begin trading with no commissions per trade. Apart from this, the platform also offers features like a social trading marketplace and pyramid bot automation.
Wunderbit Pricing
Wunderbit has four subscription plans to help you in automating your trading process. The free plan also provides some features for the automation of trades. For further details refer to the image below:
Is Wunderbit legit?
Wunderbit is a safe and legit crypto trading bot and helps in increasing your returns and mitigating the risks. Furthermore, it uses API keys to access your exchange account and can not make withdrawals on your behalf.
Wunderbit: Pros and Cons
| Pros | Cons |
| --- | --- |
| Pyramid bot automation helps create flexible trading strategies. | The platform is in its primitive stage and does not have a big user base. |
| Allows backtesting of the system to assure competent trading growth. | Does not have a mobile app. |
| Simple and intuitive user interface. | |
| | |
Wunderbit Pros and Cons
OKX Trading Bots: Conclusion
OKX is one of the most popular crypto exchanges and offers various trading options with very meager trading fees. Third-party trading bots are necessary for traders who don't find time to stare at the screen the entire day. For instance, Cryptohopper is prominent for its market-making bot and exclusive Marketplace. TradeSanta comes with one of the cheapest plans and maximum features among its alternatives. On the other hand, the Bitsgap demo trade mode allows you to test your strategies. Meanwhile, 3Commas has intelligent bots, for example, the options bot and the GRID bot, for implementing different trading strategies.
Furthermore, Shrimpy is perfect for traders who want to focus on their long-term portfolio management and growth. At last, Wunderbit provides a free trading terminal, social trading marketplace, and pyramid bot.
Frequently asked questions