If you are confused about which Bitcoin wallet to choose from, look no further. Here is a quick list of the 9 best bitcoin wallets in India, along with concepts in detail that will help you understand.
Summary (TL;DR)
Here is a summarized peek of the article.
What is a Bitcoin Wallet?
"A Bitcoin wallet is a digital wallet storing the encryption material giving access to a Bitcoin public address and enabling transactions,"

Alexandre Kech, CEO of Onchain Custodian
Bitcoin Wallets are used to store Bitcoins and as well as other crypto-assets. Furthermore, with crypto wallets you can store, send, receive, trade, earn, and do many other things with your digital assets. Some of the wallets even provide you with features to swap and stake your digital assets.
How does a Bitcoin Wallet work?
Simply put, Bitcoin Wallets operate on the concept of Public Key Encryption. All cryptocurrency wallets are based on the same principle.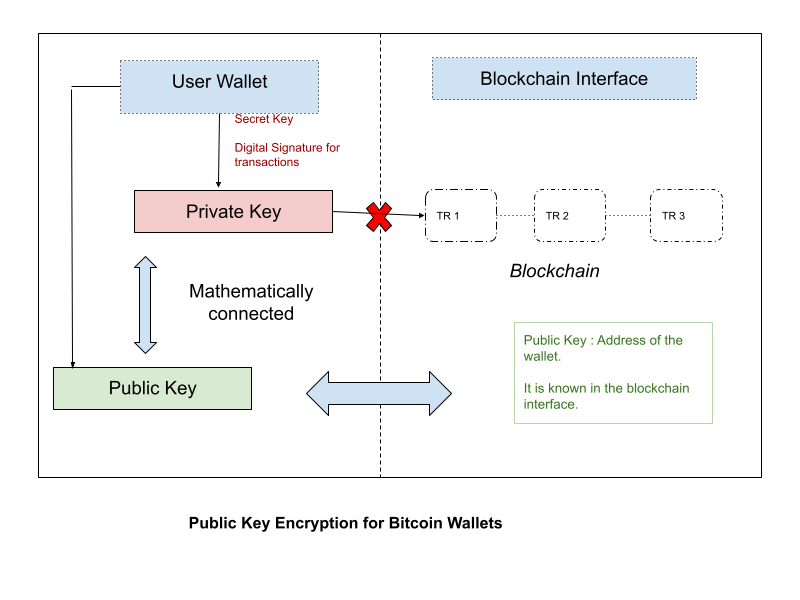 Private Key: The secret key is made of random numbers and letters. This is known only to the user and should never be shared with anyone. It is the same as a password.

Public Key: This is the key that is mathematically linked to a private key and is often known to others. It means that a respective private key can only verify a public key. Hence no one other than yourself can access your bitcoin information even after knowing your public key.
Types of Bitcoin Wallets in India
Typically there are five types of wallets in the market:
Desktop Wallets
Are downloadable applications for desktops.
Provide complete control of the wallet to the user.
Store the private keys on the application itself.
Mobile Wallets
They are re-applications for mobile interfaces.
Furthermore, they are both Android and iOS compatible.
Also, provide complete control to the user.
Hardware Wallets
Are physical USB-like gadgets for storing cryptocurrency information.
They are the most secure of all the wallets.
It can be connected via USB ports.
To learn more, read Best hardware wallet.
Web Wallets
They run on the web interface.
Stores keys online.
It can be accessed via any device which supports browser usage.
Paper Wallets
Information is recorded and downloaded on a piece of paper.
Used rarely nowadays and considered outdated.
Although secure, they are not a preferred type as they can only make entire balance transactions.
To learn more, read an ultimate guide to paper wallet.
Wallets are additionally categorized as Hot Wallets and Cold Wallets.
Hot Wallets: The ones that have constant connectivity to the internet. Web, Mobile, and Desktop wallets are examples.
Cold Wallets: Wallets that do not have continuous connectivity to the internet like Hardware and Paper wallets.
Let's discuss the best options available in India.
Best Bitcoin Wallets in India
Here is a list of 9 widely popular bitcoin wallets in India.
Ledger
Ledger is the most popular hardware wallet in the market. It securely stores the private keys and provides isolation between easily devices and private keys. Furthermore, using Ledger Live you can easily connect your devices and use one of the best bitcoin wallets in India.
Features
Description
Products
Ledger Nano S
Ledger Nano X
Software Application
Ledger Live
Ledger Live
Material
Brushed stainless steel and plastic
Visuals
Both versions have an edgy look. Easy to carry design. Nano X even comes with a keyring.
Compatible Devices
64-bits desktop computer (Windows 8+, Mac10.10+ ,Linux) Android 7+,iOS 9 smartphones
Hardware Specs
Small size (56.95mm × 17.4mm × 9.1mm).
No battery required
Pixels (128 x 32)
Relatively bigger (72mm × 18.6mm × 11.75mm).
8 hours standby mode
Pixels (128 x 64)
Capacity
~6 preinstalled.
~100 preinstalled
Five times more capacity
Security
Certified Secure Element (CC EAL 5+)
Pin code
24-word recovery
Bluetooth Connection
Not Supported.
Supported. (End-End encryption)
Connector
USB-B
USB-C
Weight
16.2g
34g
Colour
It comes with six color choices
Only black
Multiple Cryptocurrency
Supported.
Ledger Pricing
Rs. 5,265 (GST, duty not included )
Rs. 10,619 (GST, duty not included )
Recommended For: Users who have an intermediate budget for cold storage.Users who want a simple buy, swap, stake cryptocurrency. To learn more, Ledger Nano S vs X.
NGRAVE Zero
NGRAVE is a fully offline hardware wallet to back up all your private keys. It is believed to be the most secure wallet in the market.
Features
Description
Hardware Specs
Military-grade and tamper-proof material.Fully touchscreen.
Handy size (124,50mm x 72,70mm x 14,50mm)
Moderate weight (217g)
Advanced design.
Visuals
It has a classy and exclusive finish.
Application Accessibility
NGRAVE LIQUID mobile app can access accounts. It communicates with the hardware via QR Codes.
Security Certification
CE and FCC Certified. CC EAL5+ and EAL7 certifications (highest security level)
NGRAVE LIQUID MOBILE APP
Available since Apr'21.
Free of cost app and is promised by the company to remain free.
Support for both Android and iOS.
Key Generation
True Random Number Generation Process takes into account biometric data, light technology, and offline key generation.
Multiple Cryptocurrency
Support for all leading coins.
Ngrave Pricing
$334 (~Rs.35,212)
Recommended For: Professional traders holding significant or long-term cryptocurrencies are ready to invest a significant sum for a secure wallet.
Note: It is quite an expensive wallet as it uses all high-end encryptions, has advanced design, and has the highest security certification in the market.
To learn more read our Ngrave review.
Prokey
Prokey is offline cold storage to keep your key pairs offline and protected. It is one of the value-for-money cold storages present. It is affordable and one of the best bitcoin wallets in India.
Features
Description
Hardware Specs
ABS Plastic
Palm-sized (50mm x 41mm x 9.4mm).
Extremely lightweight (16.7g).
Windows 7+, Mac 10.8+, Linux, and Android compatible.
Application Accessibility
Web Wallet; Google Chrome Browser
Security
The seed is offline and encrypted.
Pin protection.
Manual firmware installation. Mutual authentication with servers. (Protected against Supply Chain Attacks)
Support
Prokey supports both Android and iOS
Payment
Payments can be made via the browser app, and transaction speed can be set in the form of a fee.
Multiple Accounts
If required, multiple accounts can be made and store information of different currencies for better management.
Colors Available
Black.
Multiple Cryptocurrency
Supported.
Prokey Pricing
$59
Recommended For: Users who want a cheaper cold wallet and are comfortable with a desktop application for sending/ receiving cryptocurrencies. To learn more, read Prokey Review.
Coinbase Wallet
Coinbase Wallet is a secure wallet that is an independent product of the Coinbase Exchange. Additionally, it was recently announced that Coinbase is starting its operations in India.
Features
Description

Accessible
It can be accessed across all platforms, that is, Web as a chrome extension, Android, and iOS.
Interface
Easy to use.
Needs good processing power for mobile applications.
Secure
Coinbase provides Privacy settings; you can either go public or private (anonymous) as per your preference.
Add biometrics/ passcodes/ face id, whichever is compatible with your environment.
Seed phrases for backup. Complete ownership of private keys
Username Service
This name can be used instead of long addresses to send/ receive cryptocurrency.
Network Fee
Applicable fee when transferring on the network (not using coinbase exchange).
KYC
Not required.
Backup Feature
Encrypted google drive and iCloud recovery phrase backup.
Recommended For: Users who want anonymity. Users who already have a coinbase account can link accounts for easy transfer. To learn more, read Coinbase Wallet Review.
WazirX Wallet
WazirX has an integrated wallet along with exchange services. It is also one of the few to give P2P transactions and the facility to transfer FIAT Currency to a linked bank and vice versa.
| Features | Description |
| --- | --- |
| Accessible | Across all platforms: Web, Windows, Mac, Android, and iOS. |
| Interface | Easy navigation. |
| Secure | 95% of fund storage is in cold storage at WazirX. |
| Multiple Cryptocurrency | Supported (Many coins supported apart from Bitcoin) |
| WazirX Fees (Bitcoin or INR) | 0.0006 BTC Instant Withdrawal: 10 INR/ Withdrawal/ NEFT Withdrawals: 5 INR/ Withdrawal |
| Easy transfer to Binance Wallet | Provides facility for internally transferring currency to Binance Wallet free of cost. |
| WazirX Minimum Deposit | 0 BTC or 100 INR, No maximum limit |
| WazirX Minimum Withdrawal | 0.001 BTC |
| WazirX Maximum Withdrawal | 3 BTC |
| WazirX KYC | Required |
| Time taken for Bitcoin Deposit | It depends on traffic, but it should be fast. Concerns can be raised after 12 hours if the deposit does not reflect. |
Recommended For: Active traders and perform large numbers of transactions daily. Binance account holders can easily transfer currencies to and fro. Users who cash out money rather than hold it in the wallet. To learn more, read WazirX Review.
Atomic Wallet
Atomic Wallet is a non-custodial decentralized wallet and one of the best bitcoin wallets in India.
Features
Description
Accessible
It can be accessed across all platforms: Web, Windows, Mac, Debian, Ubuntu, Fedora, Android, and iOS.
Secure
Private keys are stored with the user in an encrypted manner.
Seed phrases are given for backup. SHA 256 bits encrypted.
Network Fee
Custom Fees can be set.
Multiple Wallets
Multiple wallets through different accounts available for desktop but not on mobile.
SegWit Support
Nested SegWit (P2SH): address starting with 3Native SegWit (bech32): address starting with bc1
Deposit
Through Simplex (3rd party), Minimum amount of $50.
Membership (AWC is an internal currency for Atomic wallet users)
Based on their token.
Blue: 100 AWC, 0.25% cashbackSilver: 300 AWC, 0.5% cashbackGold: 600 AWC, 0.75% cashbackPlatinum: 1000+ AWC, 1% cashback
Making Exchange
Changelly and ChangeNOW
Staking Options
Staking options are available to help in earning passive income.
Multiple Cryptocurrency
A wide range of coins is supported.
KYC
Simplex may require identification.
When purchasing via card, its verification is done. This information does not get stored anywhere.
Recommended For: Since it provides more than one operating software for desktops, anyone who works with Ubuntu, Fedora, or Debian can give this a try. People who prefer decentralized environments. Easy to use, beginners can try and learn. Furthermore, it is a good option for users who wish to earn passive income through Staking.
Trust Wallet
Trust Wallet is a mobile wallet software application. It supports Decentralized Finance (DeFi) and is the official crypto wallet for Binance.
Features
Description
Accessible
It can be accessed across mobile platforms, Android and iOS.
Interface
Simple and easy to use.
Multiple Cryptocurrency
Supported (Many coins supported apart from Bitcoin)
Is Trust wallet safe?
Stores private keys on the user's device.
Provides Seed phrases to recover the funds.
No identity leak risk.
Can set additional phone passcode and biometric security.
Network Fee
It incurs a network fee. The fee is of fluctuating nature and varies from coin to coin.
No additional fee for using the wallet.
Non-Custodial Wallet
Decentralized wallets with full control over private keys and funds.
ENS
Can create an alias name/name for receiving crypto.
Decentralized
Has a Decentralized Finance environment
Trades directly from Binance DEX
Minimum Transaction: Credit Card
$50
Maximum Transaction: Credit Card
$2000
KYC
Not required.
SegWit
Segmentation Witness integrated.
Recommended For: Users who want anonymity and prefer a decentralized environment.People who have some knowledge in this field, since there aren't enough documents to help.
Zebpay Wallet
Zebpay is a cryptocurrency exchange headquartered in Singapore. The wallet is an integrated exchange wallet. Also, it supports the deposit of Fiat currencies (INR included).
Features
Description
Accessible
It can be accessed across all platforms, Web, Windows, Mac, Android, and iOS.
Interface
Easy to use.
Multiple Cryptocurrency
Zebpay supports many coins supported apart from Bitcoin
Is Zebpay safe?
~98% of fund storage is in cold storage.
They are signed using HSM on air-gapped machines (decentralized network).
Omnitrixx is their proprietary security protocol and platform to protect all transactions between hot and cold storage.
Membership Fee for inactive accounts
0.0001 BTC
Zebpay fees for withdrawing Bitcoin or INR
0.0006 BTC. Flat Rs.10 fees for all fiat withdrawals.
Zebpay Deposit Fee
Crypto Deposits are free fat deposits:
Netbanking: INR 10, Bank Transfer: INR 7
Minimum Deposit
0.000001 BTC or 100 INR
Maximum Deposit
100 BTC
Minimum Withdrawal
0.0005 BTC
Maximum Withdrawal
1.72 BTC (Whitelisted) 0.09 BTC (Non-whitelisted)
KYC
Required
Recommended For: Users who are active traders and perform large numbers of transactions daily as there is a membership fee involved for inactive accounts. Can trust the platform for holding private keys.
Unocoin Wallet
Unocoin is one of the best crypto exchanges in India. One can even use the wallets for recharging phone bills or DTH Services.
Features
Description
Accessible
It can be accessed across mobile platforms, Android and iOS.
Interface
Easy to use, could be more functional.
Is Unocoin Safe?
AES-256 Encryption is used to store the key pairs. Multiple storage points.
2FA or OTP-based authentication.
Unocoin Fees
With gold membership up-gradation it is 0.5% + 18%GST on transaction fees.
Send/ Receive BTC
SendingInternally on Unocoin, no fees.Externally 0.0005 – 0.0009 (dynamic calculation based on network congestion)
No fee for receiving Bitcoin.
Wallet Fee
No fee for storing bitcoin in the wallet.
Unocoin Deposit Fee
Free
Minimum Withdrawal
0.001 BTC
Network Fee (Crypto-Crypto Exchange)
0.0006
KYC
Required
Recommended For: Users wanting simplified transactions concerning INR. Since only a mobile wallet interface is available, users who want a desktop interface should avoid this. Note: Market prices may be a bit higher as compared to other exchanges due to low liquidity.
Best Bitcoin Wallets in India: Conclusion
Wallet type and storage preference vary from one user to another. Therefore, it is pretty essential to do proper research and understand the underlying technologies related to those solutions.
Once you have understood even the basics, narrow down your research keeping the following questions in mind.
How much weightage do you give to the user experience?
What kind of investment can you make?
How often do you trade?
Are there other cryptocurrencies that interest you besides Bitcoin? Does your wallet support those?
What are the basic functionalities that you are looking for? Does the wallet have them?
You must continue to prioritize features vital to you to select an option eventually. However, we suggest you going with a Hardware wallet, such as Ledger or Prokey to provide your funds with an extra layer of security.
Frequently Asked Questions
Do exchange integrated wallets only work in a Web environment?
Are hot wallets safe?
Hot wallets are secured under the security policies of the wallet brand. Many use encryptions, 2FA, and biometrics to avoid getting hacked. Additionally, when these services store your key-pair information, they store it in a decentralized manner so that no single location has all the information.
What is cold storage?
Cold storage is a crypto wallet type in which information (keypair) is stored on a hardware wallet. It does not have access to the internet and is super secure. 
What is a Seed phrase?
It is a recovery phrase that stores data to restore the wallet information if anything goes wrong. The 12-word phrase should be kept in a highly secure manner. If you lose the phrase, you will never recover your information (private keys) and lose access to your funds.