With the expansion of the Crypto Industry, the number of DeFi platforms are also increasing exponentially. Therefore, in this article, we will assist you by highlighting the benefits of Metamask and the CoinBase Wallet that'll help you choose which one suits you the best. Here's a brief Metamask vs Coinbase Wallet comparison:
| | | |
| --- | --- | --- |
| Features | Metamask | Coinbase Wallet |
| Launched in | 2016 | 2018 |
| Type of wallet | Browser wallet | Software wallet & browser extension |
| Available Cryptocurrencies | All ERC-20 Tokens [Can add other networks as well] | 500+ different assets |
| Cost | 0.03% to 0.875% | 0%- 0.04% |
| NFT Support | Yes | Yes |
| Built-in Exchange | No | Yes |
What is a Cryptocurrency Wallet?
A Cryptocurrency Wallet is a form of software program or a physical device that enables the users to store their Crypto-assets as well as allow transactions by sending and receiving cryptocurrency. It operates with the help of a pair of two keys – Private and Public keys. The user derives the public key with the private key, which serves as the address used to send crypto to the wallet.
The wallet's private key awards the user with control and access to the balance held there. Wallets have many public keys, implying that multiple public addresses can be generated to receive crypto to the same wallet.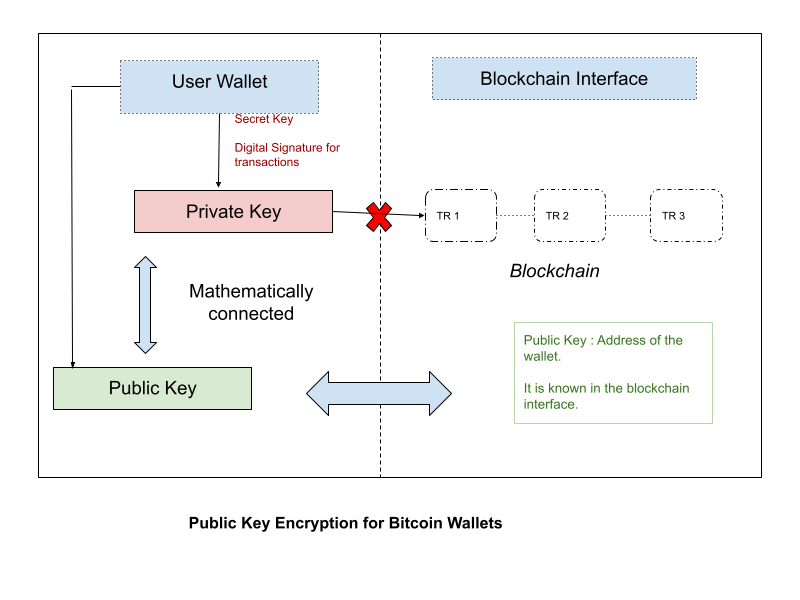 What is Metamask?
Metamask is a very popular open-source software cryptocurrency wallet designed to interact with the Ethereum Ecosystem. This particular platform has an interactive and easy-to-use interface. Founded in 2016 by ConsenSys, it operates as a desktop extension and has now grown to offer a self-custody experience. Apart from storing Cryptocurrency assets, it lets its users swap cryptocurrency tokens.
Metamask acts as a gateway to multiple Dapps as well as allow traders to exchange, buy, store, send and trade their tokens. Initially, Metamask primarily focused on Ethereum coins, but now, not only it has expanded to multiple coins but also gives simplified access to various Decentralized applications, including decentralized exchanges (DEXs), gaming platforms and decentralized finance (DeFi) spaces. Furthermore, it provides its users with the flexibility to switch between blockchain networks by adding networks such as Binance Smart Chain.
Also, read Metamask Prepares NFT Integration for its Browser Extension
What is the Coinbase Wallet?
The Coinbase Wallet is one of the leading Cryptocurrency wallets in the world. It is a decentralized application that can be accessed from a device's browser. The user can store, send and receive Ether and most of the ERC20 Tokens. The Coinbase wallet uses hot storage to store Cryptocurrency assets, which stores Cryptocurrency online. Since Coinbase can be easily integrated into the decentralized app's browsers and allows users to connect with their decentralized Apps on both the Ethereum and Bitcoin ecosystem.
Being a Defi Wallet by nature, it does not own any private keys, which gives the user more control over their stored assets but at the same time increases the possibility of a risk of losing funds. To learn more, read Coinbase Wallet Review [Everything You need to know]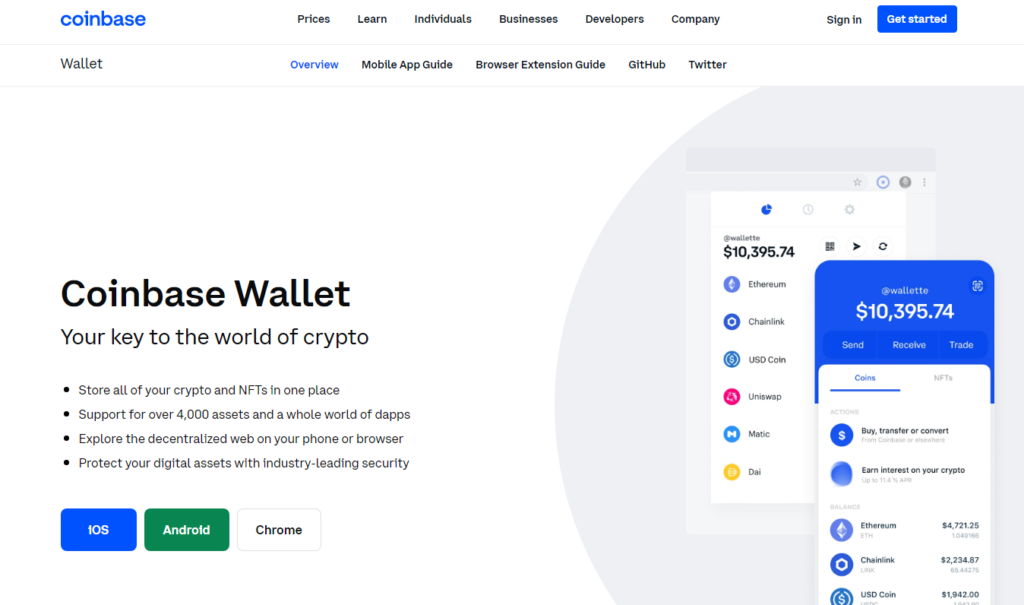 Also, read How to Mint NFT on Coinbase?
Metamask vs Coinbase Wallet: Features
Metamask Features
Metamask offers a set of exclusive features to its users, including the following:
Metamask claims to be a key vault, secure login, token wallet, and token exchange. It provides a user-friendly and straightforward interface and yet an effective environment for its users, making it suitable for beginners and advanced traders.
Moreover, it is an open-source code platform that eliminates the possibility of hacks, risks or scams and opens the door for improvement, feedback and an honest review.
In addition, this platform has partners like Wyre and Transak, with which the user can directly purchase ETH, making it beginner-friendly.
However, Metamask is not for Bitcoin Enthusiasts as it doesn't allow its users to store BTC in the same wallet. Nevertheless, it can provide some of the best NFT marketplaces as well.
Another exclusive feature is that it automatically generates a hierarchical tree of keys from one point (the seed) alternatively of the user doing it on his own, which makes this platform more intuitive.
Coinbase Wallet Features
The Coinbase wallet manages the generation of private keys. It keeps the assets of the users secure as being a hot wallet; it's compatible with hardware wallets like Ledger, KeepKey and Trezor.
The Coinbase Wallet operates with a decentralized app browser that lets the user interact with decentralized apps without authorizing every transaction.
The Crypto friendly bank accounts can connect to Coinbase Wallet as well as it's also non conflicting with main fiat currencies such as the US Dollars (USD).
Furthermore, with Coinbase, the user can also see the current price of assets in their wallet in your local currency. Use Coinbase Card to buy goods & services via a visa debit card.
In addition, Coinbase allows the user to sign messages cryptographically with their private key.
It helps the user build his knowledge and portfolio, including automatic buys and price alerts.
Also Read: What are Multi-Signature Wallet? 5 Best Multisig Wallets
Metamask vs Coinbase Wallet: Fees
Metamask Fees
The website quotes a maximum service fee of 0.875% that is automatically factored into each quote, which supports ongoing development.
The user must have a small amount of Ethereum to start transactions using MetaMask. These transaction fees are based on the network.
Besides, This platform does not charge its users any fee in case of withdrawal.
Looking up to the industry standards these fees are pretty high compared to depositing and withdrawing assets from centralised exchanges.
Also, read Trust Wallet vs MetaMask – Which is the Best Crypto Wallet?
Coinbase Wallet Fees
Coinbase charges a transaction fee which is applicable to the wallet and exchange services offered by Coinbase. However, in between Coinbase wallets, there are no transaction fees charged for Bitcoin Cash (BCH) transactions. Similarly, the users only have to pay network fees for transactions with other crypto wallets.
Further, The user may also get charged with a variable fee to trade on the Coinbase platform. This variable fee differs with whatever payment method the user chooses. It is also dependent on the geographical location of the user as well as the trade order mode, whether it is standard or instant. The range of the variable fee is 1.49 – 3.99% of the transaction amount.
For Coinbase Pro, this fee for sums between $10,000 and $50,000 is essentially reduced and continues to go down with every pricing tier until the maker-taker fees reach 0.00% and 0.04%, respectively.
Users can avail of the Coinbase crypto debit cards with an issuance fee of £4.95. These debit cards enable free domestic usage for monthly cash withdrawals of up to £200. Withdrawals above this threshold are charged at a 1% transaction fee.
To learn more, read Coinbase Fees: Cheapest Exchange in the USA?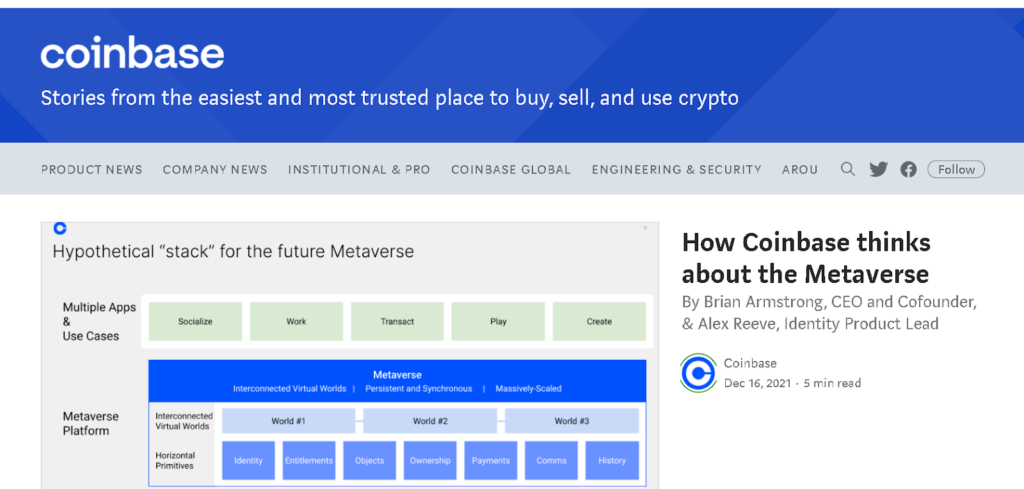 Metamask vs Coinbase Wallet: Mobile Apps
Metamask App
Metamask has a mobile application that is supported on both iPhone and Android, which users can download from google play and the apple store for free on the devices available to them.
The users can also use it as an extension to their browsers. It can be added to Firefox, Google Chrome, Microsoft Edge, and Brave.
Also, read 9 Best Bitcoin Wallets India
Coinbase Wallet App
The Coinbase wallet can be downloaded from the Google play store and Apple store for Android and iPhones users, respectively, as a free download and use without paying charges.
Metamask vs Coinbase Wallet: Security
Is Metamask Safe?
Metamask provides a safe environment for its users and takes a number of measures. It allows the user to generate passwords and keys on their device so that the user is the only one who can access the account.
Furthermore, the user can share the information he wants to share and keep the other private.
Metamask uses multiple authentication options, including 2-Factor Authentication, to control the access and the SMS authentication by verifying the phone number.
The private keys are kept encrypted for the user and are saved on user's system for export whenever necessary.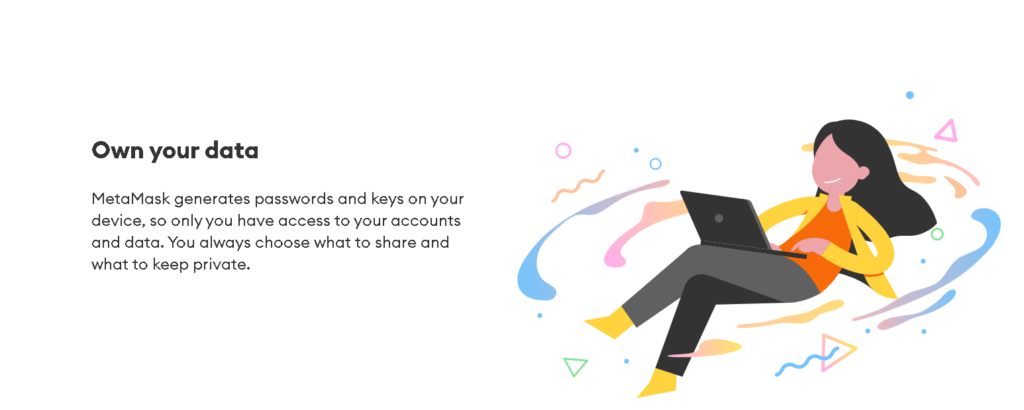 Also, read Uphold vs Coinbase: Lowest Fee Exchange in the USA
Is Coinbase Wallet Safe?
Coinbase Wallet secures its platform by taking a wide range of measures. This platform implies 'Secure Enclave Technology', which securely stores users' private keys.
This particular wallet implies a four-digit security PIN and biometric logins, which unlock the wallet on the mobile application and help in allowing transactions.
In addition, there are various authentication options, including 2-Factor Authentication, to control the access and the SMS authentication through verifying phone numbers.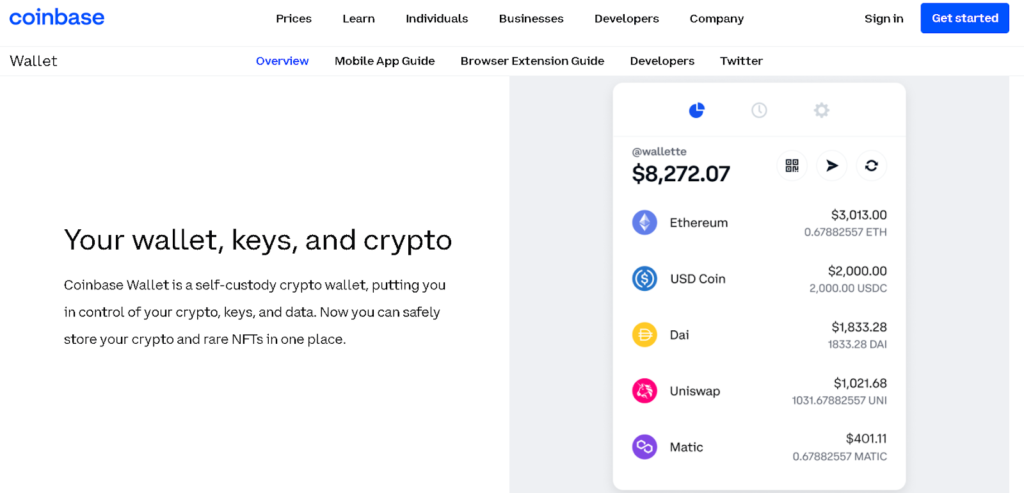 Metamask vs Coinbase Wallet: Supported Crypto
Metamask
The MetaMask cryptocurrency wallet allows users to send and receive Ethereum, Binance Smart Chain tokens, Eth-based tokens, and other coins from different chains.
The user may need to list some tokens to see them within Metamask manually.
Metamask allows users to customize the chain they like to receive from and agree to take smaller coins from relatively ambiguous chains most people don't utilize.
Also, read Bitstamp vs Coinbase: Best Crypto Exchange in Europe?
Coinbase Wallet
Coinbase wallet provides over 40 cryptocurrencies, including Bitcoin (BTC), Ethereum (ETH), Bitcoin Cash (BCH), Litecoin (LTC), Ethereum Classic (ETC), Ethereum 0x Protocol token (ZRX), US-dollar Ethereum (USDC), Basic Attention Token (BAT), Chainlink (LINK), Zcash (ZEC), Augur (REP), Ripple (XRP), Lumen (XLM), Electro-Optical System token (EOS), Dai (DAI)
The wallet also supports the fiat currencies of several countries. People from several parts of the world can add funds to their wallets by using more than 50 fiat currencies, such as US Dollar (USD), Canadian Dollar (CAD), Australian Dollar (AUD), and Euro (EUR), among others.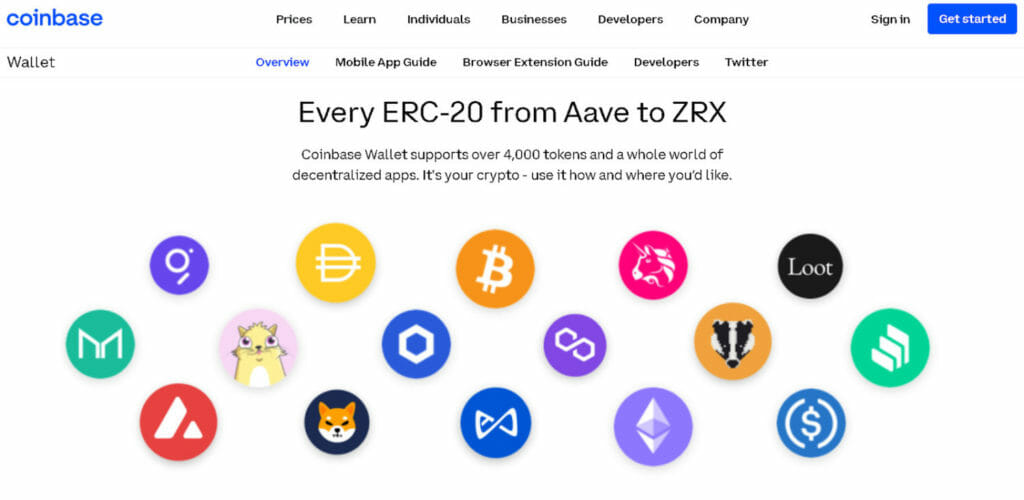 Metamask vs Coinbase Wallet: Customer Care
Metamask Customer Care
The user can directly reach out to the Metamask team for their query by emailing them at [email protected]. You can also submit their request or query on the site itself in the website's support section. There is a different section for frequently asked questions for users to find all the information they might want to know. The user can also connect to them on various other social media platforms like Twitter and Facebook. In addition, the user can also read and expand their knowledge with the help of detailed blogs present on the website.
Coinbase Wallet Customer Care
Once the user logs into the Coinbase website, they can leave their request or issue an email support form. Coinbase customers can chat with the customer service team through phone, email, and Twitter. The user may join the community and be a part of their Twitter and Facebook page to stay connected and informed about recent events. Further, the user can also submit an online form that can also prove to be helpful to get the best customer support for the wallet.
Metamask vs Coinbase Wallet: Conclusion
Both Metamask and Coinbase Wallets are the leading and most popular when it comes to storing Cryptocurrency. Both the apps have improvised with time and are gaining popularity. If privacy and secrecy are highly regarded, the user should opt for Metamask. On the other hand, if the user is looking for a proficient platform and doesn't mind much for anonymity, then they can definitely choose Coinbase wallet. Further, the Coinbase wallet is much cheaper compared to Metamask for sending and receiving crypto assets.
Frequently Asked Questions
Can a user have access to both Coinbase and Coinbase Pro?
Yes, a user can have access to both Coinbase and Coinbase Pro with the same login email address that the user used to log into the Coinbase account. 
How can the user withdraw money from the Coinbase wallet?
To withdraw money from a Coinbase wallet, the user must link his account to a Crypto-friendly bank account and select Bank Transfer as the withdrawal option.
Which is the type of trader that can benefit most from Metamask?
Metamask is beneficial especially for those who are new to the Cryptocurrency space, as well as for traders who are only interested in Ethereum. 
Also, read