There are multiple options when it comes to safeguarding and storing your crypto assets. Further, if we talk specifically, you can store ADA in one of the many Cardano Wallets (both online and offline). However, choosing the most suitable wallet often becomes very tricky. Therefore, we're here with an article on the best Cardano Wallets that will help you find the best wallet according to your needs.
What is Cardano?
Cardano is a proof-of-stake blockchain platform developed for innovators, developers, and entrepreneurs. Cardano is the first peer-reviewed-based blockchain network that entirely relies on community research and proof-of-stake consensus.
Cardano works on creating the possibility to bring out positive change at the global level along with an advanced team of engineers. Further, Cardano is the brainchild of Ethereum's Co-founder Charles Hoskinson, who later left to create his own decentralized blockchain, Cardano.
However, the first decentralized exchange to launch on the Cardano testnet faced scaling issues. Further, a rumor about Cardano's smart contracts being incomplete is also in the air. However, if it succeeds in building a stable blockchain with a decent adoption before ETH 2.0 is out, there is a possibility that people would start moving to Cardano from Ethereum.
What is Cardano Wallet?
To effectively interact with the Cardano blockchain, we need a Cardano wallet. It's a cryptocurrency wallet that allows the users to send, store, manage and receive the ADA. Numerous types of wallets are available for storing your Cardano (ADA), such as hardware, software, online and mobile wallets. Some wallets have in-built Cardano exchanges, so it's easier for you to buy or exchange ADA.
1st Best Cardano Wallets: Ellipal Titan Cold Wallet
What is Ellipal Titan?
When it comes to Cold wallets, no one can beat Ellipal Titan! Yes, the wallet is widely known as the most secure wallet for storing crypto funds with the strongest air-gapped feature. Users can smoothly buy and exchange Cardano (ADA) through Ellipal Titan cold wallet.
Being a hardware wallet, Ellipal Titan comes with an extreme level of security and protection from any kind of online theft. Ellipal Titan supports more than 10000 crypto assets and keeps on upgrading every month.
How to get started with Ellipal Titan?
Install the Ellipal App on your device. Select "Create Account" and fill out the necessary details.
The wallet will display a set of mnemonics that will act as your recovery code in order to backup your account.
The next step is to add the Cardano (ADA) token in your wallet. Just select ADA and finish the final step of account creation.
The next step is pairing your account, for which select the top-right icon available on your screen. Open "Connect to App" on your device and select " Connect to Cold Wallet". A QR code will appear, scan it and connect both.
Ellipal Titan: Features
Ellipal Titan secures your funds from remote attacks through the air-gapped feature. It isolates your wallet completely from any online components. This provides excellent protection to your wallet and keeps your private key hidden.
Users can have complete control over their wallet as it transfers data only through QR codes which are verified, controlled and transparent.
Ellipal Titan is created fully metal sealed which prevents your funds from any kind of physical or supply chain attack. The metal chips delete every data from your wallet when deducting any infringement.
Price
Ellipal Titan is available in the price range of $39 along with free shipping.
| Pros | Cons |
| --- | --- |
| Air-gapped transactions. | Relatively new compared to Ledger and Trezor. |
| Safe transfer through QR codes. | High Cost |
2nd Best Cardano Wallets: Coinbase wallet
What is a Coinbase wallet?
The Coinbase wallet, being a software wallet, is considered one of the most trustworthy and secured wallets when it comes to Cardano.
With Coinbase wallet, you can easily store your assets and NFTS and trade in up to 500+ crypto and earn interest over it by purchasing crypto and carrying dollar-pegged stablecoins like Dai and USD Coin (USDC). Moreover, it does not require you to have a coinbase account.
Coinbase wallet protects your keys with the secured enclave, optional cloud backups, and biometric authentication. This way, there's no chance that you will lose your funds.
How to get started with Coinbase wallet?
In order to get started with Coinbase wallet, you need to follow a few steps, which are given below:
Download the Coinbase wallet application from its verified website or play store, or Apple Store.
The next step is to create an account for your wallet. Simply follow the instructions and fill out the necessary details.
Your wallet will display a 12-word phrase which will be your private key.
Now transfer crypto into your wallet.
Also Read: How to buy ADA (Cardano)
Coinbase wallet: Features
Users can have total control over their crypto funds. They can securely send, receive, store and manage their crypto. Alongside, users can secure their private key, which is available only on their device, through Secure Element Technology.
Users can send Cardano (ADA) and other types of crypto to anyone from anywhere through the wallet.
Users can back up their private key to Cloud so that they don't lose their crypto funds.
Coinbase wallet allows the access of Web 3 Decentralized Applications.
Price
Coinbase provides the wallet service for crypto and USD completely free of charge. You can easily download the wallet app and get started with trading Cardano (ADA) and other cryptos. The Coinbase wallet will charge a transaction fee of around 2.49% on all purchases including ATM withdrawals.
Pros & Cons
| Pros | Cons |
| --- | --- |
| Two-factor authentication protection. | The hosted wallet needs a steady internet connection |
| User-friendly interface. | Higher fees |
3rd Best Cardano Wallets: Gemini wallet
What is a Gemini wallet?
One of the best ways to trade your Cardano (ADA) tokens and other cryptocurrencies across the world is through the Gemini crypto exchange. Gemini works in a very simple, secure, and elegant manner for developing a crypto portfolio. Further, it provides a deposit address to its users through which they can easily store their crypto assets in the insured hot wallet of Gemini or in the cold storage system.
To know more, read our Gemini review.
How to get started with Gemini wallet?
Visit the official website of Gemini and follow the procedure to create your account.
After filling out the necessary details, the next step is activation. Gemini will send an activation email with a code. Paste it and submit.
You will receive a login verification code on your phone number. Follow the steps for the complete verification of your account.
Login into your Gemini account and add your bank account details to it. This way, your bank account will be linked to your Gemini account, and it would be easy to trade crypto.
Submit the required identifying details for finishing your account login.
Just select "Deposit ADA", and Gemini will create a deposit address for your wallet. You can now get started with trading Cardano (ADA) and other cryptos.
Also Read: Gemini vs Coinbase
Gemini wallet: Features
Gemini wallet provides high storage security such as insurance against theft, extensive internal controls, and capital in reserve.
Gemini wallet provides an easy-going storage experience but also 24×7 expert support.
Keeps on upgrading the infrastructure of wallet to enable supporting new cryptocurrencies and also optimizing customers experience and usage of the network.
Price
Gemini wallet charges 0.50%, which includes a convenience fee of $0.99 to $2.99 transaction fee. It charges around 1.49 % transaction fee for exchange over $200. For a better understanding, you can refer to the official fee page of Gemini wallet.
Pros & Cons
| Pros | Cons |
| --- | --- |
| Supports more than 30 cryptos. | Charges high fees. |
| Insurance against exchange hacks. | Supports Less number of trading pairs. |
4th Best Cardano Wallets: Daedalus Wallet
What is a Daedalus wallet?
Daedalus wallet is an extremely secure crypto wallet specially designed for Cardano (ADA). It was developed by IOHK and is available for Windows, iOS, and Linux.
Daedalus wallet is excellent with its features and functioning. Also, it works with Trezor Model T, Ledger Nano S and Ledger Nano X with great efficiency. In fact, Daedalus offers the facility to create multiple wallets at once for managing your ADA crypto when diversified based on staking or spending.
How to get started with Daedalus wallet?
Visit the official website of Daedalus and download the latest version of the wallet and install it on your preferable operating system like Windows, macOS or Linux. Once it's done, launch the app through the desktop icon and complete the setup.
You will find a "Create" option on your Daedalus wallet. Click it and follow the given instructions.
Your wallet will display a 24-word recovery phrase that will help you in recovering your account. Verify it and make sure you write it down somewhere safe and secured.
The next step is to add ADA funds to your wallet so that you can begin sending, receiving and exchanging your Cardano ADA crypto.
Also Read: How to Lend, Earn, and Stake Cardano (ADA)
Daedalus wallet: Features
Daedalus wallet provides hierarchical wallet implementation to manage multiple wallets at once.
Further, it downloads the complete copy of the Cardano blockchain and validates the transactions. This heightens the security.
The wallet smoothly runs on every desktop operating system, including macOS, Windows and Linux.
Users can personalize the display and feel of their Daedalus wallet. There are around six different themes available for users to try on.
Price
Daedalus wallet charges a transaction fee for transferring funds to the wallets, in order to protect the wallet from attacks. Apart from this, registration of a stake address requires a refundable deposit of 2 ADA. You'll get these 2 ADA back once you delegate your wallet. And users can easily download it from the official website and get started with trading Cardano (ADA).
Pros & Cons
| Pros | Cons |
| --- | --- |
| Compatible with Windows, Mac and Linux. | Only supports ADA crypto. |
| Hierarchical deterministic wallet technology. | Takes time for blockchain synchronisation. |
5th Best Cardano Wallets: Yoroi Wallet
What is a Yoroi wallet?
Yoroi wallet, widely known as the light wallet for Cardano. It was developed and launched by EMURGO and came under their product category. Further, the wallet is incredible with its high-quality code and tested security and protection. Yoroi wallet, being a software wallet, has a very simple structure and user interface. It's an open wallet, so you can simply download it. Yoroi wallet allows the user to stake ADA from the wallet.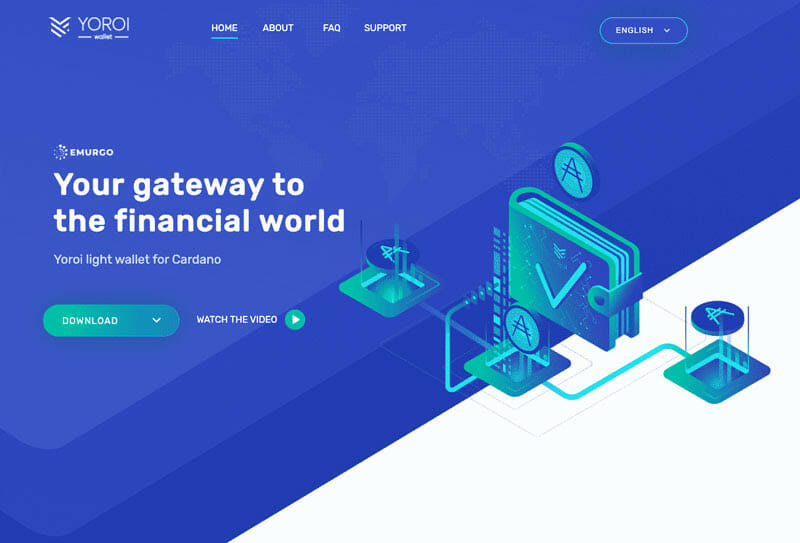 How to get started with Yoroi wallet?
The first step is downloading the wallet from the official website of the Yoroi wallet as a Chrome extension.
Click on the "Create Wallet" option from the launch screen and select the currency as Cardano. Put a name to your wallet and add a password to protect it.
Yoroi wallet will create a 15-word private key as your recovery phrase. Make sure you note it down somewhere safe and protected.
You are all ready to stake ADA on the Yoroi wallet.
Yoroi wallet: Features
Yoroi wallet functions as locally stored wallets and encrypted private keys. There is no third-party interface with the Yoroi wallet.
The setting up of the Yoroi wallet is a very simple and instant process.
Yoroi wallet does not require any blockchain synchronisation for sharp and simple operations.
Further, the wallet has low system resource consumption along with minimal storage space and bandwidth usage.
Yoroi wallet smoothly functions with hardware wallets like Ledger Nano X and Trezor Model T.
Price
Yoroi wallet, being an open-source Cardano wallet, is absolutely free of cost. Its code is available for free online for users to review clearly.
Pros and Cons
| Pros | Cons |
| --- | --- |
| Instant initial setup. | Better options are available like Trezor, Daedalus, and many others. |
| No blockchain synchronization. | |
Best Cardano Wallet: Conclusion
There are a wide number of wallets available in both online and offline modes that support Cardano (ADA). Through these wallets, you can buy, sell, exchange, and manage your Cardano very smoothly. In this article, we covered the top five Cardano wallets, which are best from all aspects and protect your Cardano (ADA) with an extreme level of security. And according to our choice going with a hardware wallet would be the best choice while opting for Cardano wallets.
Frequently Asked Questions
How does Cardano Wallet function?
Cardano Wallet basically functions as a tool that helps the users to interact with the Cardano blockchain. This way you can easily buy, sell and stake the Cardano (ADA) crypto. Also, you can exchange and buy Cardano in some wallets.
Why do I need a Cardano Wallet?
In order to begin Cardano trading, you need a wallet that will help you store your Cardano funds and send it later on if needed.
 Is Daedalus Wallet a Safe Choice?

Daedalus is a full node wallet that downloads the complete copy of Cardano Blockchain and validates every transaction independently. Daedalus wallet provides an extreme level of security to your Cardano wallet.
Also read,