Trading bots have become an essential service for traders in the cryptocurrency market. The manual processes associated with executing trades on an exchange without the aid of automation are cumbersome and inefficient. Without trading bots, crypto users are unable to effectively manage a portfolio of assets on exchanges.
Throughout this article, we will explore the 2 most popular trading bots in the market: 
3Commas — Smart trading terminal and auto trading bots
Cryptohopper — World-class automated crypto trading bot
Depending on our goals as a trader, each of these trading bots could be the ideal solution.
Cryptohopper vs 3Commas: Portfolio Tracking
Monitoring a portfolio of assets isn't always easy with cryptocurrency. The fragmented market makes it difficult to manage all of our assets on a single platform. As a result, each of these 3 trading bots provides features that can help us track our portfolio.
Cryptohopper
Cryptohopper is far more focused on individual positions than 3Commas. Rather than providing information on the entire portfolio, Cryptohopper focuses on providing stats for individual trades.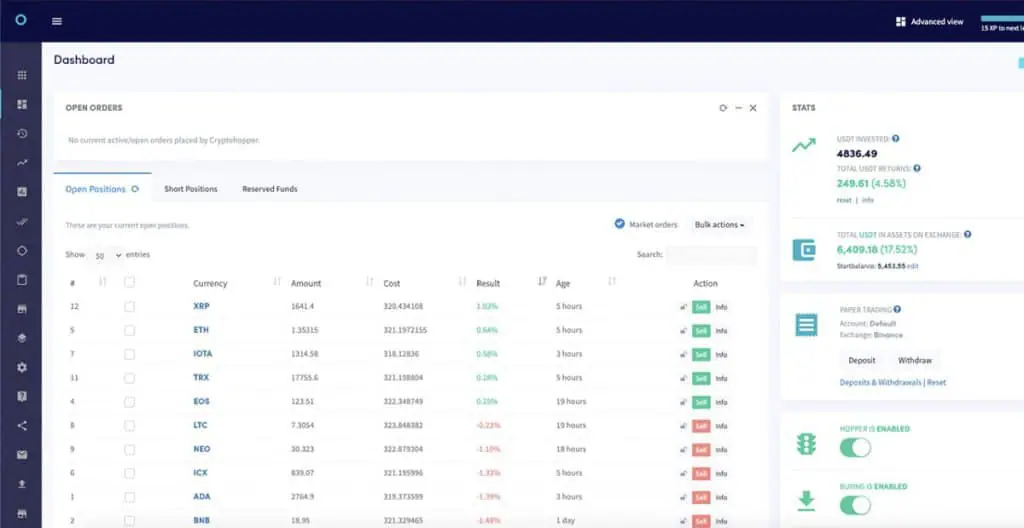 We can see from the Cryptohopper dashboard that the design is not suited for portfolio tracking, but instead for trade tracking.
3Commas
3Commas primarily focuses on the execution of trading strategies across single trading pairs. As a result, the platform has been built around tracking trades on individual trading pairs. Rather than providing a high-level overview of our entire portfolio, 3Commas is ideal for day traders who are looking to track their trades.
Investors won't find a wide variety of portfolio tracking features on 3Commas. Instead, only simple performance metrics are available for those traders that want a high-level overview of their portfolio performance.
Cryptohopper vs. 3Commas: Trading Bots
The difference in philosophies shines through when discussing trade automation. 3Commas and Cryptohopper focus on providing trading strategy automation on single trading pairs. Essentially, you can think of 3Commas as a short-term trading platform.
Cryptohopper
Much like 3Commas, Cryptohopper focuses on individual trading pairs. When configuring the trading strategies for bots, each individual trading pair is treated as a separate strategy.
While this allows for fine control over how each asset is traded, it also becomes burdensome to ensure everything is set up exactly as intended.
Over time, Cryptohopper users will also need to maintain their bots as the market conditions change and the effectiveness of specific trading strategies diminishes.
Cryptohopper is a great resource for advanced traders who have the time and patience to manage a complex set of strategies, but the novice trader will certainly have a difficult time managing a diverse portfolio with Cryptohopper.
3Commas
3Commas has become the go-to platform for day traders due to the large selection of automated trading bots. Instead of focusing on portfolio automation, 3Commas provides tools for trading across individual trading pairs.
Configuring a trading bot on 3Commas has endless possibilities. Customers can leverage signals, technical indicators, and countless other triggers.
The process for building an effective trading bot is not easy. Each bot needs to be individually configured and periodically maintained. This makes it time-intensive to get started managing a variety of trading bots on 3Commas.
In addition, getting started for the first time has left many investors feeling lost. The vast number of technical indicators and complex configurations make 3Commas far too complicated for new traders.
Cryptohopper vs 3Commas: Smart Trading Terminals
Smart trading terminals are an integral part of trading platforms. When complete automation isn't possible for a strategy, then a trader can take the reigns and execute a strategy manually.
Cryptohopper
Cryptohopper provides a wide range of resources for manual trading. Everything from stop-losses to options for taking the profit. However you want to manage your trading strategy, manually executing trades through the Cryptohopper trading terminal is a complete experience.
Of course, trading with an advanced terminal like Cryptohopper is not for everyone. Traders should be comfortable with advanced trading concepts before taking the dive into this solution.
3Commas
3Commas offers a wide range of technical indicators, controls, and smart trading features in its smart trading terminal.
The smart terminal provides a way for traders to manage their own order execution without relying on bots to automate the trades.
This resource is perfect for day traders or swing traders who want to maintain a manual strategy.
Cryptohopper vs. 3Commas vs Shrimpy: Copy & Social Trading
Social trading is becoming a growing industry within cryptocurrency. Over the last few years, platforms have been working to find new ways to differentiate themselves from the competition by integrating social trading, signals, and strategy marketplaces.
Cryptohopper
Cryptohopper provides access to 3 different types of market places. Each of these marketplaces is designed for different trading strategies.
Templates provide a way for traders to exchange ideas for configuring a trading bot. These templates can provide a foundation for inexperienced traders to understand how to get started setting up a trading strategy.
Strategies are a selection of indicators that are used to decide when trades should be executed. These indicators are picked by the seller of the strategy.
Signals are notifications provided by a trader to tell your bot which asset to buy and when the trade should be made. These signals can be manual or based on a number of custom indicators.
3Commas
3Commas has one of the largest marketplaces for trading signals. These signals can be attached to trading bots within the application to automatically trade based on the signal.
The price for these signals can range from free to a few hundred dollars each month. Both the price point and technical requirements for signals can make them problematic for novice crypto traders.
Copy the trading strategies from the top crypto traders in the market.
Cryptohopper vs. 3Commas: Supported Exchanges
Before deciding on a trading bot, we must first ensure our funds are on a supported exchange. Each trading bot supports only a finite selection of exchanges. Rather than attempting to integrate every exchange, most trading bots will select a few specific exchanges that are popular.
Cryptohopper
Cryptohopper currently supports 13 different exchanges. Each of these exchanges can be connected to the platform to automate trades, exchange strategies, and manage a diverse portfolio.
Although Cryptohopper supports fewer exchanges than some other trading bots, the most popular exchanges are still supported.
3Commas
3Commas supports 23 different exchanges. Each of these exchanges can be connected to the platform for managing diverse trading strategies.
Unfortunately, not all exchanges supported by 3Commas have the same features available inside the application. This can cause significant confusion for new investors looking to automate their strategy across multiple exchanges.
Cryptohopper vs 3Commas: Pricing
Building financial products is expensive. As a result, each of these platforms has decided to target the professional investor market. The most common way these platforms make money is through a tiered subscription offering.
Cryptohopper Pricing
The Cryptohopper pricing plans start at $19/mo. With this tier, you will get access to 80 positions, up to 15 assets in your portfolio, and 1 simulated trading bot.
Since the lower tiers have significant restrictions on what functionality can be used for trading, we believe the Hero package would be ideal for most traders. Unfortunately, this package starts at $99/mo.
The high price point for Cryptohopper might make this trading service out of reach for many smaller investors.
3Commas Pricing
The 3Commas pricing plan is more nuanced. The starter plan that starts at 14.50/mo is highly restrictive. That means you won't have access to most of the features that you would likely want.
The advanced plan has more functionality, but it still does not provide access to the full suite of trading tools.
The recommended plan, which provides access to all features, is the $49.50 professional plan. At this pricing point, 3Commas is expensive, but it does provide access to a wide range of trading features.
Cryptohopper vs 3Commas: Conclusion
The cryptocurrency community is beginning to see the emergence of powerful platforms that can automatically manage a selection of crypto assets. 3Commas and Cryptohopper are designed for advanced traders who want to implement complex strategies.
Seasoned professionals may gravitate more towards the complexity of 3Commas and Cryptohopper.
We recommend trying out each of these platforms to find the one that works best for you. There is no perfect platform that will work for everyone.
Alternative Trading Bots
1. Bitsgap
Bitsgap, is a one-stop crypto trading platform that caters to all your trading needs. It allows its users to bring all their crypto-exchange accounts under the same roof and trade from an integrated interface.
2. Quadency
Quadency, a crypto trading automation platform, launched in 2018. It brings you a smarter way to trade and manage your crypto.