Quadency vs Bitsgap vs NapBots | Which trading bot is for you?
The blockchain/crypto industry provides a variety of helpful resources for traders. Examples of these software programs are NapBots, Bitsgap & Quadency that simplifies and automates the trading cycle, allowing users to make steady profits.
Quadency is an all-in-one automated trading platform. It's super easy to use. You have the choice between Ready-made and custom trading bots. To start a trading bot, you only have to select one, tweak its parameters and it goes live a few minutes after.
Quadency allows traders to connect multiple cryptocurrency exchanges and trade from one place automatically. It is a single unified platform that provides effortless trading.
The platform is well designed for professional traders that need powerful technical analysis tools.
Bitsgap is a trading platform using the GRID algorithm which works by allowing the trader to define range and limits for investment and then it goes ahead to distribute these investments proportionally. Bitsgap is easy to use and an intuitive platform for trading. It allows traders to use more than 20 different exchanges among the best.
NapBots is an extensive cloud-based service that enables automated trading of cryptocurrencies. It was launched a few years ago and has thousands of users. Based on the trading frequency (weekly, daily & hourly) users can choose from a variety of pre-made crypto trading strategies to automate their trading. Many NapBots customers choose to diversify between multiple strategies to reduce risk, others prefer to stick to one crypto strategy.
In this article, we will compare Quadency vs Bitsgap vs NapBots based on multiple categories such as pricing, features, security, etc.
Pricing and Plan
Quadency starts for free but gets significantly higher as you move up the pricing tiers. The NapBots silver package is particularly affordable in this regard.
Bitsgap starts at a higher price than NapBots and Bitsgap but its pro package is almost at the same price as Napbots and Quadency.
NapBots starts at a higher price and increases substantially as you choose higher subscriptions, also it charges you an extra fee if you want to increase your trading limit of the plan.
| Plan | Quadency | Bitsgap | NapBots |
| --- | --- | --- | --- |
| Starter package | free | 19$/ Month | From €7/Month |
| Intermediate package | $49/Month | 44$/Month | From €39/Month |
| Pro package | $99 /Month | 110$/ Month | From €99/Month |
Quadency pricing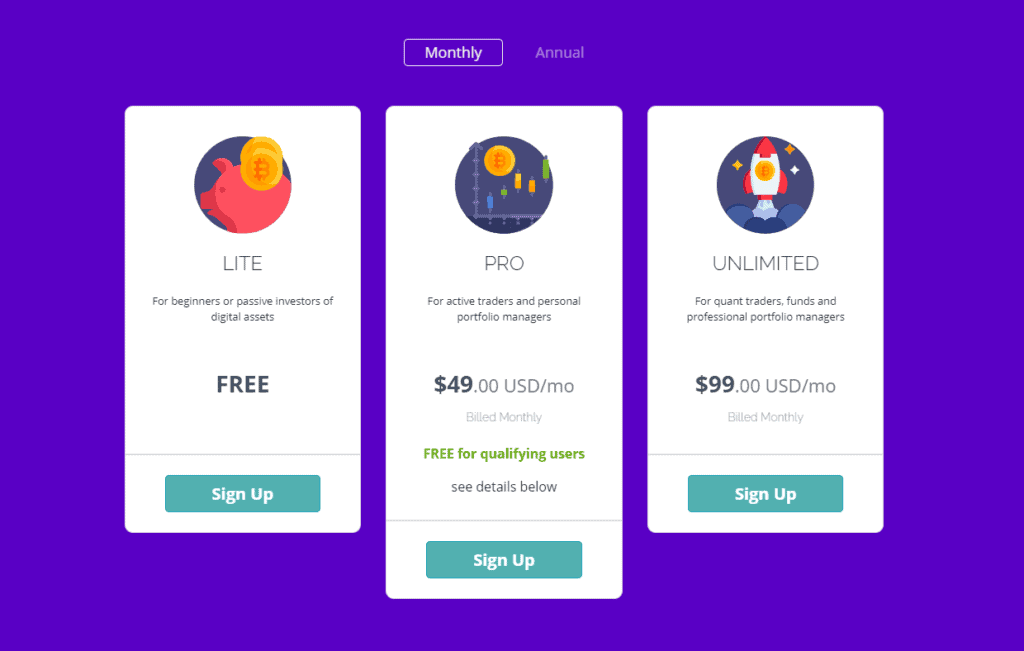 Users can evaluate the program in a trial phase before committing to a particular subscription. The greatest benefit is that payment details are not needed to access the platform. You can purchase a full subscription until the time ends.
What you get with a cheaper plan:
unlimited exchange accounts
Wallets & Cold Storage Tracking
Performance Analytics
Advanced Trading Terminal
A monthly trading limit of 10 000$
Simple Bots & Smart orders
only 1 Bots Running in the same time
customer support only by email
What you get with a medium plan:
All what you get in the cheaper plan
Custom Terminal Layout
Save/Load Chart Studies
A monthly trading limit of 100 000$
Only 20 Bots Running in the same time
customer support only by email and live Chat
What you get with the pro version:
All what you get in the medium plan
An unlimited monthly trading
An unlimited Bots Running in the same time
Unified REST & Streaming API
| Advantages | Disadvantages |
| --- | --- |
| Simple bot available in the starter plan | Higher price for the medium plan |
| Customer support by email | Only 1 bot running at the same time for the cheaper plan. |
Bitsgap pricing
With Bitsgap, users can enjoy different options with unlimited exchanges on the cheapest plan. The problem is that all the subscriptions are at a high price and even the basic one starts at 17 euros which is already huge.
What you get with a cheaper plan:
All their standard features
Unlimited exchanges
25 000$ monthly trading limit
2 Active Trading Bots
Trading Signals
Portfolio
Extended order types
Demo trading
What you get with a medium plan:
All their standard features
100 000$ monthly trading limit
5 Active trading Bots
Arbitrage
What you get with a pro plan:
All their standard features
Unlimited monthly trading limit
15 active trading Bots
Take profit for bots
Priority support
| | |
| --- | --- |
| Advantages | Disadvantages |
| Demo trading | High pricelack of customer support |
Napbots pricing
Subscription to Napbots is paid on a monthly basis, and can be cancelled at any time. You also have the option to pay with NPX token 25% of the subscription, receiving the token at the same as ICO price.
The Silver package at NapBots gives you access to:
Trading bot platform
Weekly Bots
Unlimited Execution
Budget included: €1000
All Supported Pairs
Auto Mode allocation
In addition to the features mentioned, the next pricing plan offers:
Custom Bot Allocation
Weekly & Daily bots
Long/Short Bots
Bot copying and viewing
Leverage Allowed
Budget included: €3000
Lastly, the professional package opens up:
All features available in other plans
Weekly, Daily & Hourly Bots
Leverage allowed
Switch exchanges
Budget included: €5000
Switch Exchange
| Advantages | Disadvantages |
| --- | --- |
| Bot available in the starter plan | High pricing for most plans |
| 7 days free trial | Limited features in the trial version |
There is also an exclusive enterprise package upon request. The pricing is established on a case-by-case basis. You will be offered priority support and custom features depending on what your particular case requires.
You can purchase any plan with credit card payments, transfers via PayPal, or cryptocurrency wallets. NapBots users choose the payment option depending on what type they prefer. NapBots teams offer custom mandates for people that are willing to trade more than $100,000. You can pay your monthly subscription with a debit/credit card or cryptocurrency. Based on what form, users in NapBots select the payment method.
Bitsgap is definitely the most expensive followed by Napbots and then Quadency but the prices of all stay reasonable.
Also read:
Ease of Use
This might take a while for newcomers to grasp how cryptocurrencies trading bots operate.
Quadency's user interface seems simple to use for beginners. You can create an account and start trading easily.
Bitsgap has a good user interface. It is not complicated to find what you are looking for on the website.
Napbots interface works well on desktop browsers but the mobile version can be improved, in general, and is laid out in an easy-to-comprehend way.
Exchange Platforms
All services have some major exchanges but Bitsgap is the one which has the most, followed by Qaundency and then Napbots.
With Quadency, you will have a limited number of choices concerning the platforms. You will have the choice between only 5 different platforms. However, the platforms proposed by them are among the biggest platforms.
Bitsgap is from far the one of the three which propose the most different platforms. It is simple, it almost proposes every platform and has all the big ones. More platforms mean more choice.
Napbots currently supports the best and most reliable cryptocurrency exchanges, including Bistamp, Bitmex, Bitfinex, Bitpanda Pro, Phemex, Binance, Okex, Kraken and more to come in the pipeline.
Trading Strategies: Quadency vs Bitsgap vs NapBots
All these trading bot platforms can operate off-shelf and customized strategies successfully.
Quadency proposes several strategies. There is a good and large choice. The only problem with this platform is the lack of information on the risk each strategy.
Bitsgap proposes some strategies but the number proposed is not big. On top of that you cannot have any description or information on the strategies which is making the choice even more complicated. However, all the strategies seem to make profits.
With Napbots, automated cryptocurrency trading can be done by copying a strategy from the marketplace. On top of their in-house built strategies, they require serious backtests and performance from the strategies, and to be added strategies built by other traders they require due diligence. Once you have chosen one or multiple strategies, you can allocate the weight you want to each one.
Privacy and security
Privacy and security should be a priority for the trading bots. For Quadency, user protection is guaranteed and illustrates in greater details. At contrary for Napbots and Bitgap the safety precautions are clarified less clearly but still exist.
With Quadency All network communication and sensitive data are encrypted using financial industry best practices and all systems undergo regular penetration testing.
Bitsgap does not have access to your funds. All the information delivered to their servers is encrypted. Bitsgap also supports 2FA.
Napbots never reported any breaches or fraud. Also, it allows you to add IP detection and other security measures. Napbots does not have 2FA.
Help and Customer support
The three services have good customer support. They resolve problems quickly.
Quadency's team of experts is there through the setup process and provides ongoing engineering support so you can focus on running your operations. The problem is you can contact them only by email except if you have the highest subscription.
Bitsgap has live chat support. You can also find their blog or contact them through email.
With Napbots, you can send a message to the chatbot or an email to support and also ask questions on the Telegram channel. There are also guidelines and the FAQ page written by the team.
Community
Quadency allows you to have access to the news about the cryptocurrencies market. It can be helpful, but they don't have a big community or forum. They also have a twitter account and youtube channel.
With Bitsgap, you can count on a big community. They are present in a lot of social media and are really active. They also have a blog which can be helpful, however they don't have any forum or place where their users can share information.
Napbots users can join the Telegram group, the Youtube Channel, and other social media channels to share trading tips and tricks. The blog offers useful material for beginners.
Features
Quadency Features
Quadency offers you a lot of different features :
You can connect any numbers of accounts from leading global crypto exchanges, and track assets in cold storage.
Quadency's library of bots featuring strategies ranging from simple to sophisticated.
Advanced order types, capture higher returns by defining profil targets and trailing or fixed stops using smart orders.
Trade unlimited monthly volume on Quadency's Official Partner Exchanges! See below for details.
Robust portfolio Management to gain deep insights into your trading performance with dashboard analytics, PnL reporting.
Bitsgap Features
Bitsgap offers you a lot of different features :
A unified interface to control all your exchanges
Analyze over 10,000 crypto pairs every second, their algorithms automatically detect the coins with the strongest potential.
Make a profit on a price difference by buying crypto on an exchange where the price is lower and then selling it on an exchange where the price is higher.
Smart strategy design, create your trading bot strategy with just a few clicks.
Test before you invest; a backtest will demonstrate how your settings would respond to profit and loss.
Your funds are kept on the exchange balance at all times.
The platform is always updated with cloud-based online service
Assess your bot performance with a fast TradingView chart.
Napbots Features
NapBots presents users with a feature called Copy Trading Bot. Similar to Mirror Trading, it allows you to follow winning strategies developed by other traders and follow other traders' portfolio allocations. Their effectiveness can be further boosted by features like order books, new exchanges, etc.
The NapBots services are plug and play style and do not offer other trading tools besides their strategies. However, beginners find it very useful and straightforward.
NapBots users can purchase automated bot algorithms developed by their team of professional traders as well as build strategies themselves. The platform also helps you to mix strategies and adjust leverage without having to make your own. Users should note that adjusting criteria to satisfy their particular specifications can be risky. But if you feel good about your skills, it's not going to be a problem.
Napbots provide equal opportunities to test the plans without wasting money. Backtesting helps you to see how the plan would work in the real-world based on historical evidence. Before you find the correct one, you should compare the efficacy of various methods.
Conclusion: Quadency vs Bitsgap vs NapBots
After reading through thousands of reviews and checking the three services, we have established a firm opinion on which one is better. Judging by our scores alone, NapBots gains the lead in more categories than Quadency or Bitsgap, mainly in the generated performance. By using one of the services, you can achieve some degree of success. But if you want to have a wider choice of exchanges and cryptocurrencies, secure functionality, Bitsgap should be your top choice. If you want to not pay a lot for your subscription, have secure functionality and an easy user experience choose Quadency.
Further reading: