In this article, we will review Holderlab a crypto portfolio management software. Holderlab optimizes and rebalances your crypto portfolio based on well-established techniques.
It is necessary to analyze a reasonably large number of projects to create a good necessary to analyze a reasonably large number of projects to create a good cryptocurrency portfolio. Besides, it is also difficult to optimize and rebalance the cryptocurrency portfolio in time correctly.
However, with the help of various mathematical models and automation of portfolio investment, you can correctly create a better cryptocurrency portfolio in the Holderlab.
Holderlab.io is a cryptocurrency portfolio management automation software. It will help you to analyze your portfolio using the correlation matrix and the optimization method.
Testing portfolio strategies, manual and automatic rebalancing, a single dashboard are the primary tools for automating a crypto portfolio.
Read Holderlab reviews on CoinCodeCap
Why do I need to rebalance a crypto portfolio, and how often?
Rebalancing the crypto portfolio helps smooth out the risks of your crypto portfolio and can increase the profitability of your portfolio.
The frequency of rebalancing depends on the direction of the market and the degree of deviation of assets in the portfolio.
In a growing market, with the optimal deviation of cryptocurrencies, you can choose frequent rebalancing, but do not forget about the fees on the exchange.
To assess the degree of influence of a particular rebalancing strategy on a portfolio, you can use the backtest.
Also Read: Rebalancing Strategy For Your Crypto Portfolio
Pro and cons
Pro
Single dashboard
Free correlation analysis
Rebalance options
Backtest cryptocurrency portfolio
Social portfolios
Cons
Need to create API keys on crypto exchanges to connect portfolios
Fees on crypto exchange when you rebalance your portfolio
Features
Portfolio correlation
Holderlab will analyze the correlation of your portfolio, the main goal of the correlation matrix to find uncorrelated or weakly correlated cryptocurrencies to create a diversified portfolio. You can switch between different timeframes (3 months, 6 months, 1 year, 2 years) and view the entire matrix (show matrix).
Portfolio optimization
Holderlab allows portfolio optimization testing by searching for an efficient frontier using the Markowitz method.
The idea of this method is to find the optimal portfolio in terms of profitability and risk. Therefore, distribute the weight over the portfolio according to the maximum Sharpe ratio.
Portfolio activation
With portfolio activation, you can change the weights in the portfolio as you wish, choose a rebalancing period. Or go to the backtest section.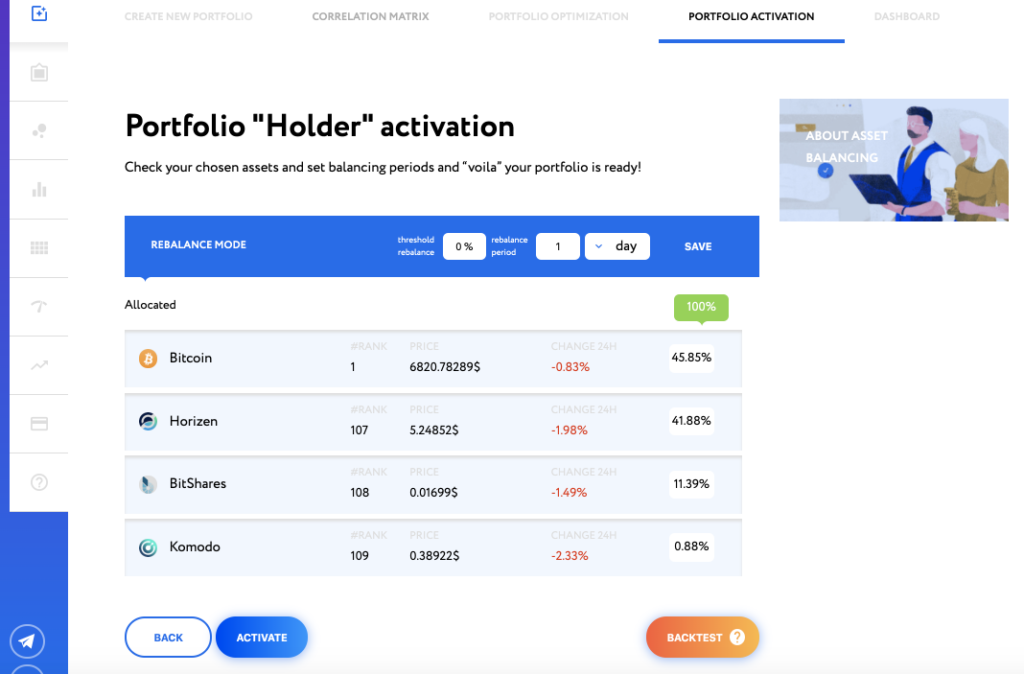 Backtest portfolio
In the crypto portfolio testing section, you can experiment with various rebalancing strategies, add and remove cryptocurrencies in the portfolio and change the% ratio in your portfolio.
Detailed information on the results is displayed by the total result, the maximum drawdown and detail for each asset.
Any tested portfolio can be saved and loaded, for example, into a section, optimizations or correlation matrix.
Holderlab only works with limit orders to prevent execution on the market at which you may receive unacceptable prices.
In the Dashboard, there is an option that allows you to immediately rebalance the cryptocurrencies in your portfolio to BTC or USDT.
Trailing stop allows you to set the portfolio deviation value in%, which will inform you that your portfolio has fallen by n%. You need to set this value yourself.
Holderlab.io does not in any way come into contact with user assets, wallets, etc. All interaction with exchanges goes through a secure connection. We store API keys using 256 hash encryption.
Pricing
Holderlab offers three use cases.
Free plan – connecting any exchange, one-time portfolio creation in steps, correlation matrix, a single dashboard for all connected portfolios.
Holder plan / 7.99 $ – Free plan options, manual and automatic rebalancing, portfolio backtest, portfolio optimization method, saving and loading portfolios, social portfolios. The plan is also available 7 days for free.
Holder Pro / $ 14.99 – includes Free and Holder plan options, as well as Trailing Stop, Emergency option and automatic portfolio optimization.
If you already have a cryptocurrency portfolio or want to create and analyze it, Holderlab will save your time and allow you to research the portfolio and put its performance. Rebalancing a portfolio has never been so easy.
Let us know what you think about our Holderlab review the comment section.