Estimated reading time: 10 minutes
Traditional savings accounts at banks are facing tough competition this year. With the rise of DeFi platforms and innovative FinTech startups, people are finding better ways to boost their investment returns in a safe, and stable manner using cryptocurrency savings accounts. But which one is the best?
There are dozens of Bitcoin savings accounts to choose from but before diving right in, one should understand the pros and cons of each option in addition to the risks that crypto platforms bring as opposed to traditional bank accounts. Once you have a firm knowledge of this though, you'll be able to take advantage of this new technology and making a passive income.
This table compares the most interesting features of the companies. Read below for more detailed information about each company.
| | YouHodler | Crypto.com | BlockFi | Binance | Celsius Network | Hodlnaut |
| --- | --- | --- | --- | --- | --- | --- |
| Min. Amount | From 100 USD | From 250 USD | No minimum | From 1 USD | No minimum | No minimum |
| Duration limit | Unlimited | Up to 90 days | Unlimited | Up to 90 days | Unlimited | Unlimited |
| Stablecoins max.APR % | 12% | 12% | 8.6% | 7% | 11.55% | 8.3% |
| StablecoinOptions | USDT, USDC, TUSD, HUSD, PAX, DAI, EURS | USDT, USDC, PAX, BUSD, TUSD, TGBP, TAUD, TCAD, | USDC, GUSD, PAX, USDT, PAXG | USDT, BUSD | USDT, USDC, TUSD, TGBP, TAUD, TCAD, THKD, PAX, DAI, etc. | USDT, USDC, DAI |
| Total coins /tokens supported | 25 | 95 | 8 | 1000+ | 38 | 5 |
| Buy/sell crypto inside the platform | YES | YES | YES | YES | YES | NO |
| Trading inside the platform | YES | YES | YES | YES | NO | NO |
| Loans | YES | YES | YES | YES | YES | YES |
| Founded | 2018 | 2016 | 2017 | 2017 | 2017 | 2019 |
| Security | Ledger Vault | Ledger Vault | Gemini | Internal fund | FireBlocks and PrimeTrust | BitGo |
Bank vs Bitcoin savings account
While crypto projects offer much higher interest rates than your traditional bank, they still lack a few key features that come with your traditional savings account at a bank. Here are a few topics and how both options differ:
Fund access
Using a traditional bank account, the money in your savings account is yours, but it is being held in the bank, and sometimes, the bank users that money to lend out to other clients. A similar thing happens in some crypto savings accounts as well. Your crypto is lent out to other people. In exchange, the platform promises to pay you high interest on the crypto you lend them. In either option, you can withdraw your money whenever you want.
Insurance
Depending on where you live in the world, your bank comes with some sort of insurance. FDIC insurance for example comes with $250,000 and there are even options above that.
Crypto platforms do not come with federal insurance like FDIC. However, some of them do provide private insurance that protects your funds. Not all private insurance companies are good though so you should look into companies that work with Ledger Vault since it is the most reputable.
Interest rates
Interest rates on Bitcoin savings accounts are generally 4-8% more than what you would see at a bank. This is significantly higher than banks since the supply and demand for crypto financing drive the interest rates in this manner.
Withdrawals
Banks have some limits when it comes to withdrawing money from a savings account. Some for example limit your withdrawals to just six times per month. However, many crypto platforms let you withdraw money whenever you want with no penalty.
Compounding interest
Some banks offer compounding interest on their savings accounts and so do some crypto platforms. If compounding interest is something you want, then make sure you find out the platform you are interested in offers that.
Security
This might be the most vital part to consider. Banks are difficult to break into and it's highly unlikely you would ever lose your funds in a bank That being said, crypto platforms of the modern age are extremely secure as well. It's not just a matter of losing your phone to lose your crypto anymore.
Most Bitcoin savings accounts come equipped with multi-factor authentication to ensure no one can ever access your account but you. While hacking events are still a problem for some weaker platforms, the high-profile ones are investing tons of money into state-of-the-art security to prevent such hacks.
What are the best bitcoin savings accounts?
Now that we've had a little introduction to how crypto savings accounts work vs. traditional banks, let's take a look at the top Bitcoin savings accounts on the market. Below, you'll see our recommendations. For more information about each company, simply click the links and you'll be directed to their landing pages.
1. YouHodler
The European-based FinTech platform is much more than just a bitcoin savings account. Clients can earn 4.8% on Bitcoin (compounding interest) in addition to 20+ other cryptocurrencies. The highest rate YouHodler offers is 12%.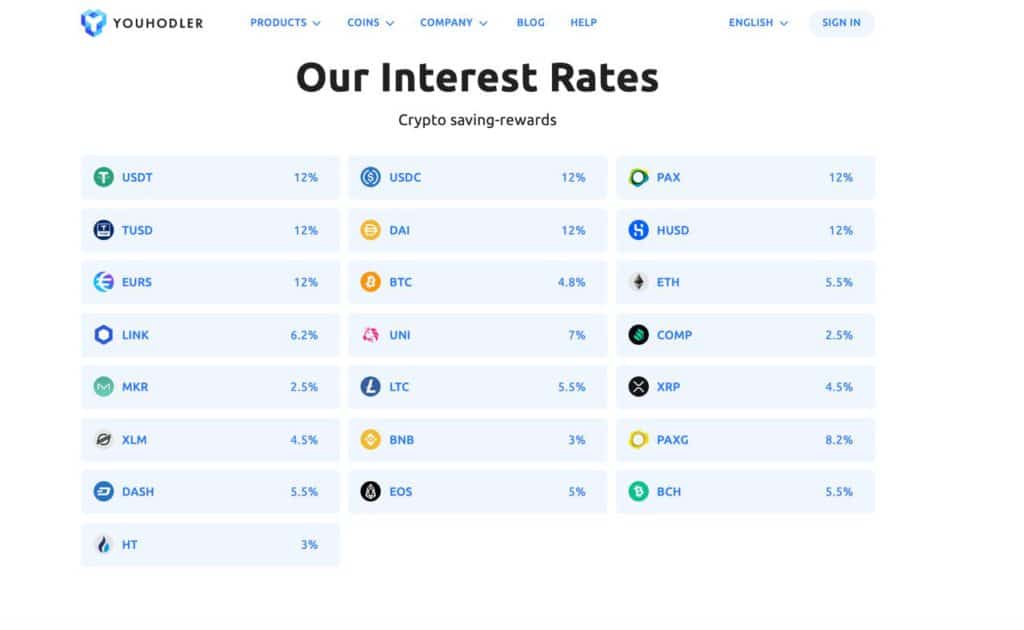 Aside from savings accounts, YouHodler offers crypto-backed loans, universal currency conversion, and crypto multiplication tools like Turbo Loans and Multi HODL.
All of this is packed inside a beautiful-looking platform that's easy to use and above all, safe. YouHodler's security is top-notch, offering 3-factor authentication to clients and a $150 million pooled crime insurance from the esteemed Ledger Vault.
This is the only platform that offers interest-earning potential on every single one of their cryptocurrencies and stablecoins and the only one with the universal crypto conversion with fees as low as 0.5%. The team holds regular Webinars and "AMA" events and the community is active and welcoming to new users.
Read our comprehensive YouHodler review to learn more about the platform.
2. BlockFi
For US citizens, BlockFi is a popular option since it pays interest in US dollars in addition to cryptocurrency. The interesting part about BlockFi is that it lends out client's US dollars to buy popular cryptocurrencies like Ethereum. If that makes you uncomfortable, then you may need to look elsewhere.
The main attraction to BlockFi is its user-friendly approach to crypto. Beginners can easily navigate the site, sign up and start earning interest on cryptocurrency while getting paid in USD. For insurance, BlockFi uses Gemini custody, meaning your funds are stored with Gemini and not on BlockFi. It's not "insurance" in the traditional sense but it's a step in the right direction for security. We recommend read BlockFi review to learn more about the platform.
3. Crypto.com
Crypto.com is one of the most popular crypto lending platforms out there and offers some of the highest rates on the market. However, to get these rates, one must follow some specific terms. If you are an investor with a small portfolio, you may want to look elsewhere to get consistent returns.
Currently, the platform pays interest on 20+ cryptocurrencies and Stablecoins, and the interest is calculated daily. To qualify for the highest yields, you need to hold your funds on the platform for at least ninety days.
4. Binance
Binance isn't exactly known for their Bitcoin savings accounts but over the last year, they have quietly climbed the ranks and are now one of the top options available. Binance savings works as follows. Clients lend their assets to margin traders on the platform and then the platform pays you back in interest as a "thank you" for letting them borrow your funds.
There are a wide variety of options to choose from such as Ethereum (ETH), Bitcoin (BTC), Binance USD (BUSD), and much more. Binance Lending has two products (fixed and flexible deposits). Flexible deposits let you withdraw your funds at any time and the interest rate changes over time. It's flexible (hence the name). For people that want more stability, then fixed deposits give you the same interest rate over a period of time.
Funds are not covered by traditional insurance policies on Binance. Instead, Binance states that 10% of all exchange fees will go to users in the event of an emergency.
5. Celsius Network
Celsius is a peer-to-peer crypto lending app that is gaining considerable attention to their native token (CEL). In terms of interest, it's quite easy to get started and open a Bitcoin saving account. Users just need to deposit and then the Celsius network starts paying interest every week until you withdraw (which can be at any time). The main problem with Celsius is low rates and transparency.
To get the high rates as advertised on the platform, users must first buy the platform's CEL token and hold it. More than 15% of your portfolio must be in CEL tokens at all times to get these high rates. As for security, Celsius no longer uses BitGo as their custody provider. instead, now using FireBlocks and PrimeTrust for both custody and insurance.
6. Hodlnaut
Hodlnaut is a cryptocurrency interest-earning and crypto lending platform based in Singapore. They offer up to 8.3% APY on five asset classes, with no lock-in periods or minimum deposits, Hodlnaut is a nice alternative to grow the productivity of crypto assets among crypto enthusiasts.
Currently, Hodlnaut supports Bitcoin (BTC), Ethereum (ETH), Dai (DAI), USD Coin (USDC), and Tether (USDT). As for security, Hodlnaut uses BitGo as their custody provider.
But comparing to other platforms this amount of coins seems insufficient. Also, there is no mobile application, only website and no option to buy or sell crypto inside the platform. Read our Hodlnaut review to learn more about the platform.
Conclusion: What is the best Bitcoin savings account?
The best bitcoin savings accounts have a mixture of high interest, no "marketing gimmicks", an insurance policy of some kind, many options to earn interest, and of course wallet security. Some platforms have some of these elements but we've concluded YouHodler and BlockFi have the full package.
Clients can get interest rates as high as 12% without having to buy a platform token while enjoying YouHodler's vast suite of crypto finance features. The fact it is backed by Ledger Vault's insurance is a huge bonus too and the team's 24/7 customer support and community interaction are certainly heartwarming as well.
On the other hand BlockFi has venture backing and serving very well to US customers.
But don't take our word for it. Give all these platforms a try and let us know what you think!