KuCoin is one of the major crypto exchange platforms. Moreover, the KuCoin bot offers plenty of trading strategies for free. It even provides different bots for spot, margin, and futures markets.
Summary (TL;DR)
KuCoin is a leading cryptocurrency exchange, and it has recently launched its trading bot.
Furthermore, the bot is easy to use and is available for free.
However, you can use KuCoin's bot only through its mobile application.
The bot allows you to enjoy free trading strategies.
Moreover, you can get started by simply selecting a strategy and investing funds into your KuCoin account.
You can also run up to 10 bots simultaneously and do not need to pay a third party for trading bots.
Kucoin bot is available on Android as well as iOS.
Use code – rJ45SVB to get a discount on the fees
What is KuCoin?
KuCoin is a leading crypto exchange and also offers its crypto trading bot. Furthermore, the platform provides very high liquidity and various ways to earn passive income, such as Lending. You can buy crypto using credit/ debit cards and trade in the futures market. To learn more, read the KuCoin review.
KuCoin Bot Mobile App
KuCoin's crypto trading bot can only be used through its mobile application. Apart from this, the KuCoin mobile app provides almost all the features that you are looking for on the web version. Moreover, a few mobile apps have such complex features, an interactive interface and a floating window.
The bot is available for Android as well as iOS devices. Moreover, KuCoin also supports a telegram community specially meant for traders to interact and share their strategies.
To try some third-party trading bots, read best Kucoin trading bots.
How KuCoin trading bot works?
The trading bot broadly covers two trading strategies at present. The first is DCA, and the latter one is classic GRID. The classic grid helps in buying short and selling high in a set price range. On the other hand, Dollar Cost Averaging is a method of investing in which investment is made regularly.
KuCoin Bot: Features
The KuCoin bot has many fascinating features to kickstart your journey. But, first, let us understand some of the main features of KuCoin's trading bot.
Free services: Most third-party bot providers such as CryptoHopper come with a monthly subscription. However, KuCoin provides trading bot completely free; moreover, you only have to pay the trading fees and nothing else.
Intelligent AI: Smart artificial intelligence makes it easy for beginners to execute trades by enabling pre-set investment strategies.
24×7 auto trading: The bot keeps track of the falling and rising market trends for you 24 hours a day. So you can invest your energy in other relevant things, and the bot will manage trades for you.
Deploy ten bots simultaneously: Furthermore, you can use ten bots simultaneously and diversify your earnings. Furthermore, it allows you to trade in multiple markets simultaneously and mitigate your risk by putting all your funds in different strategies.
Stability and security: By deploying KuCoin's trading bot, you do not need to connect the API keys, creating a more stable trading environment for you. Also, it is more secure than relying on third-party applications for automating your trades.
Trading Strategies at KuCoin
The KuCoin bot primarily offers six types of trading strategies; let's have a look at each one of them.
Classic GRID – Classic GRID is a trading strategy that aims to generate profits from the fluctuations in the market. It buys low and sells high in a specific price range. However, the classic GRID supports trading only in the spot market. If you don't want Kucoin's native Grid bots, then check our out these Grid bots.
DCA – DCA or dollar-cost averaging is one of the best investment strategies in which the funds are divided, and then the bots invest it based on a pre-fixed time cycle. These efforts mitigate the effects of market volatility in the long run.
Futures GRID – Futures grid is an upgraded version of the classic grid bot. It implements the buy short and sells high strategy on futures. However, since futures trading works on leverage, this bot can lead to liquidation risks in extreme market conditions. Also checkout Bitsgap future grid bots.
Margin GRID – Just like futures grid, margin trading bot implements grid strategy on margin trading. You can leverage your funds and magnify your profits with less determination. However, you must not leverage high positions as a margin grid bot can also put you in high risks akin to margin trading.
Infinity GRID – In the infinity grid, the price never goes beyond your preset conditions or boundaries.
Smart rebalance/ dynamic rebalancing – Portfolio rebalancing is a classic strategy that has been in use for decades. The bot in this strategy buys and sells assets to keep your portfolio balanced.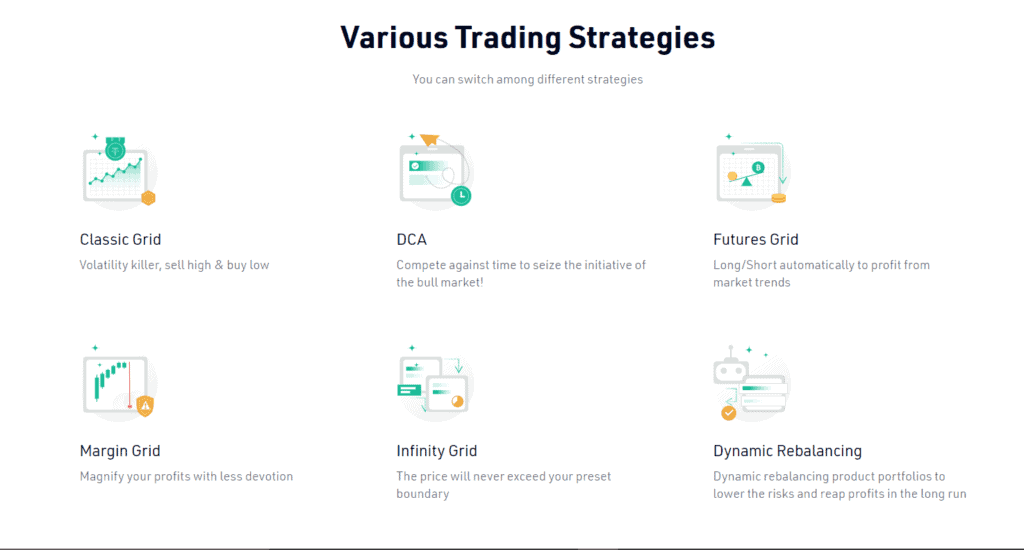 How to start with the KuCoin bot?
Here are seven easy steps to get you started on KuCoin's trading bot for free.
First of all, download the KuCoin mobile application. Android and iOS (Use code – rJ45SVB to get a discount on the fees)
Thereafter, enter the required credentials like name, email, and phone number up sign-up/ log-in to the app. Then, complete your verification by navigating the identification option on KuCoin's mobile app.
Make sure that you have already deposited funds into the KuCoin account. If not, deposit the funds which you wish to invest in the market.
Now, click on the trading bot option on the home screen of KuCoin app.
Further, select the strategy you wish to automate.
Now click on the create bot button after setting up your bot and the funds inside a particular strategy.
You can use more than one bot simultaneously. If you wish to run another strategy, follow the above steps for the same.
Remember, you can see the bot activity and currently running bots at the bottom of the trading bot section. Furthermore, you can activate the Floating window to monitor the market and step into extreme market conditions constantly.
KuCoin Trading bot security
So far, KuCoin has a decent reputation in the market. Also, KuCoin's trading bot is entirely safe and secure to deploy, just like other trading bots. Furthermore, the bot is on KuCoin; you do not have to worry about API keys.
Above all, traders around the globe created and deployed more than 2.5 million bots since its launch. Furthermore, the exchange is entirely legit, and the bot is easy to use. However, no trading bot ensures the complete security of your funds from market losses. So make sure you only invest funds that you can afford to lose.
KuCoin Bot Support
KuCoin has a separate support center for the trading bot. You can click on the support center and then hit the trading bot button inside it. Here you will find various articles and FAQs that can potentially clear almost all your doubts.
In case you still have any doubts or troubles, you can submit a ticket. In this ticket, you can attach relevant screenshots or documents and describe your issue thoroughly. The support team will contact you within a week to resolve your queries.
Advantages of using KuCoin bot:
First of all, you do not need to connect a third-party bot provider using API keys.
Secondly, the KuCoin bot is entirely free, and you only need to pay trading fees.
Thirdly, the trading bot can execute all your trades while you focus on other essential things.
Furthermore, the rebalancing bot can also work in extreme market conditions.
You wouldn't have to pay extra for a trading bot provider.
KuCoin trading bot: Pros and Cons
| Pros | Cons |
| --- | --- |
| It supports over 100+ coins/ tokens. | The minimum deposit amount is 100 USD. |
| You can deploy ten trading bots simultaneously. | A limited number of strategies are available at KuCoin. |
| All the trading bots are entirely free. | You cannot create your trading strategy. |
| Enjoy free trading strategies. | |
| Discussion group on telegram. | |
Kucoin Bot Pros and Cons
KuCoin bot conclusion
The KuCoin trading bot can be a better option for beginners who are not looking for anything complex. Furthermore, it supports strategies like the classic grid, DCA, smart rebalance, etc. Also, you can join the trading bot community on telegram for the latest updates and market trends. Apart from this, the bot supports around 100 coins/ tokens. Furthermore, KuCoin is a well-recognized trading platform, and its bot is legit and safe to use. Therefore, you can enjoy many trading strategies without paying a penny.
Frequently Asked Questions
How to buy on KuCoin?
To start buying on KuCoin, you need to create an account on the platform. Once you do that, you can either deposit USD or buy crypto assets using credit/ debit cards. To learn more, read the KuCoin review.
Where is KuCoin located?
KuCoin is a Seychelles-based cryptocurrency exchange.
What is a KuCoin Swing trading bot?
Swing trading entails taking short or intermediate-term profits. Swing trading may be accomplished with the KuCoin Margin Grid or Futures Grid trading bots. To learn more, read the best KuCoin Trading bots.