Automating your crypto trading is an easy task; however, finding the best trading bot provider is a tedious job. Especially when you are looking for a specific exchange such as Kucoin. Hence in this Kucoin bots article, we will be introducing you to the Kucoin trading bot and five other trading bot providers, which might be the best choices available.
Summary (TL;DR)
Kucoin is one of the best crypto exchanges; moreover, it provides trading bots for free.
You can also connect various other bots such as Bitsgap, CryptoHopper, 3Commas, Mudrex, and HaasOnline using API keys.
Firstly, Bitsgap supports over 25 crypto exchanges and provides one of a kind futures trading bot.
Secondly, CryptoHopper comes with various trading bots such as Market making bot, arbitrage tool, Telegram crypto signals bot, etc.
Furthermore, the platform 3Commas provides an option to copy trading bots of experienced traders.
Mudrex comes up with its unique Performance score, which helps you calculate better risk vs. reward.
Finally, HaasOnline trading bot software lets you code the entire bot using HaasScript.
Almost all the trading bots providers provide a paid service to their users. However, Pionex, a crypto trading bots provider and crypto exchange, provides free bots.

Get Pionex! Only pay a trading fee for your orders and enjoy FREE trading bots for a lifetime.
What are crypto trading bots?
Crypto trading bots are just algorithms that are intended to assist you in automating your trading approach. Moreover, you may build your trading strategy to construct your trading bot. Various platforms, however, charge a fee for this function. So, if you have no expertise in coding but would like to automate your investing technique, continue reading.
How does a trading bot work?
Professional programmers and market specialists collaborate to develop trading bots by programming an investment strategy. Therefore, if the bot comes upon a potential market opportunity, it will open and liquidate positions on your part. Furthermore, emotions and feelings are not present in crypto trading bots. As a result, they only employ a pre-planned approach.
What is Kucoin?
Michael Gan and Eric Don established KuCoin, an excellent cryptocurrency exchange with headquarters in Seychelles. The founding members have prior business expertise and have previously led Ant Financial and iBox PAY initiatives.
In addition, the fundamental goal behind the creation of KuCoin was to offer a secure and straightforward platform for the worldwide community to exchange digital currency.
Kucoin is commonly referred to as "The People's Exchange." As it provides a fantastic range of trading pairs as well as crypto-related services. To learn more, head over to the Kucoin review.
Kucoin Trading Bot (Their Own)
The trading platform Kucoin offers its trading bots to investors. Moreover, the Kucoin trading bot provides free trading strategies that let you take returns without monitoring the market. Furthermore, you do not need to connect a third-party bots provider using API keys to Kucoin. You can begin using the Kucoin trading bot by simply depositing funds, selecting your strategy, and enabling the bot.
Kucoin Bot: Features
The Kucoin trading bot provides six different trading strategies: Classic Grid, DCA, Futures Grid, Margin Grid, Infinite Grid, and Dynamic Rebalancing. Furthermore, you can run up to 10 bots at the same time. In addition, the Kucoin trading bot supports over 100 coins/ tokens and provides numerous bonuses and free essential services.
What is the Kucoin Swing trading bot?
Swing trading includes taking short or mid-term returns. You can use the Kucoin Margin Grid or Futures Grid trading bots for swing trading.
Kucoin Trading Bot Pricing
Here comes the best part of the Kucoin bot, it is entirely FREE of charge. Therefore, you do not have to pay anything apart from the regular trading fees on the platform.
Best trading Bot for Kucoin
Even if you are the most competent trader, no one can keep an eye on things while asleep. Furthermore, because crypto assets are so volatile, it'd be irresponsible to sleep on your leveraged investments.
That's where cryptocurrency trading bots come in; the bots automatically take returns if the market follows your plan. Furthermore, if it swings beyond your strategy, they minimize your losses.
So here are the best five trading bots for Kucoin.
1. 3Commas
What is 3commas?
3Commas is an online platform that automates the trading methods of its subscribers through its advanced trading bots.
It is a Miami-based firm that allows users to utilize pre-programmed trading methods or create one from scratch. In addition, using API keys, you can simply link your crypto exchange to 3Commas without granting the bot's withdrawal powers.
To learn more, read the 3Commas review.
3commas Features
The platform 3Commas comes with various trading bots such as the Grid trading bot, DCA bots, Options bots, etc. The one-of-a-kind Options trading bot offers a possibility of a very high return.
However, Options trading is equally risky. Furthermore, 3Commas Copy trading bots, you can simply copy the previously programmed bots of professional traders. To learn more, visit 3Commas.
3commas Pricing
3Commas provides its users with four subscription plans: Free, Starter, Advanced, and Pro. Furthermore, by selecting lengthier plans, you'll be saving extra. The following are the specifics of each of these plans: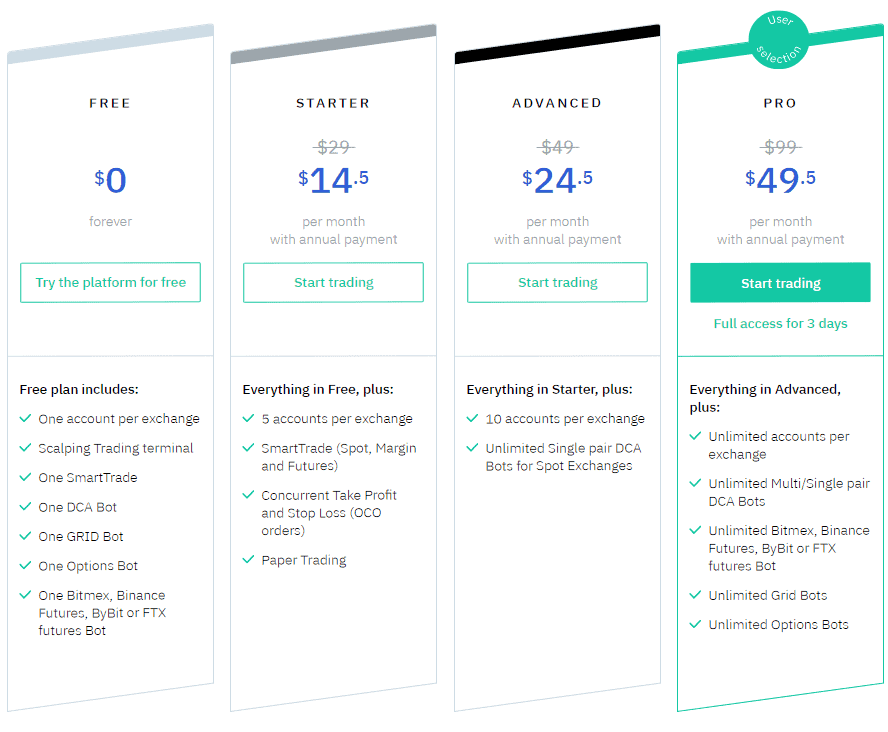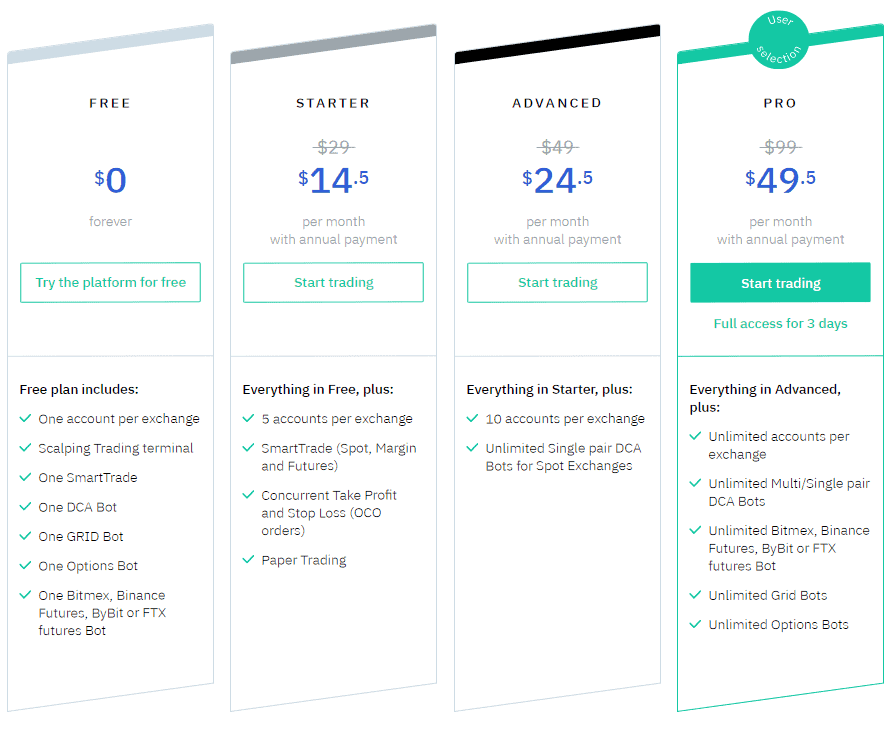 Is 3commas Safe?
3Commas' security measures are unclear; nevertheless, the trading bots at 3Commas cannot withdraw funds from any trading account since they use API keys. Furthermore, 3Commas gathers user trade data and utilizes it to improve its trading bots.
3Commas: Pros and Cons
| Pros | Cons |
| --- | --- |
| 3Commas comes with a user-friendly dashboard. | Things might be a bit overwhelming for beginners. |
| You can access all major crypto exchanges and connect them to your bot using API keys. | The mobile app comes with bugs. |
| The platform allows you to copy bots of professional traders. | |
| A set of educational tools and responsive customer service. | |
2. Bitsgap
What is Bitsgap?
Bitsgap is one of the most well-known trading bots on the market. With 25+ trading platforms supported, such as Coinbase, Poloniex, Binance, Kraken, Bitfinex, and others, it caters to nearly any platform you may be using. You may try the bots in the Bitsgap demo trade mode before investing real money in the market.
Furthermore, the Bitsgap bot comes with a Futures trading bot with a minimum risk level. However, as of June 2021, this bot is only available for Binance, and the platform is soon planning losses and other exchanges. To learn more, read the Bitsgap review.
Bitsgap Features
The trading platform comes with a series of features such as Demo mode, trading terminal, Grid trading bot, etc. Moreover, the platform recently came out with its Bitsgap Futures trading bot, a safer way to take small returns from the futures market. However, as of June 2021, the Bitsgap futures trading bot is only available for Binance. Therefore the platform is planning to expand it as soon as possible to other crypto exchanges.
Bitsgap also provides crypto trading signals to its users. Moreover, the platform allows you to search for a particular cryptocurrency or categorize them according to your trade exchange or assets.
Bitsgap Bot Pricing
Bitsgap principally provides three premium-featured plans to its consumers. You can begin with a 14-day trial period and then choose one of the options listed below: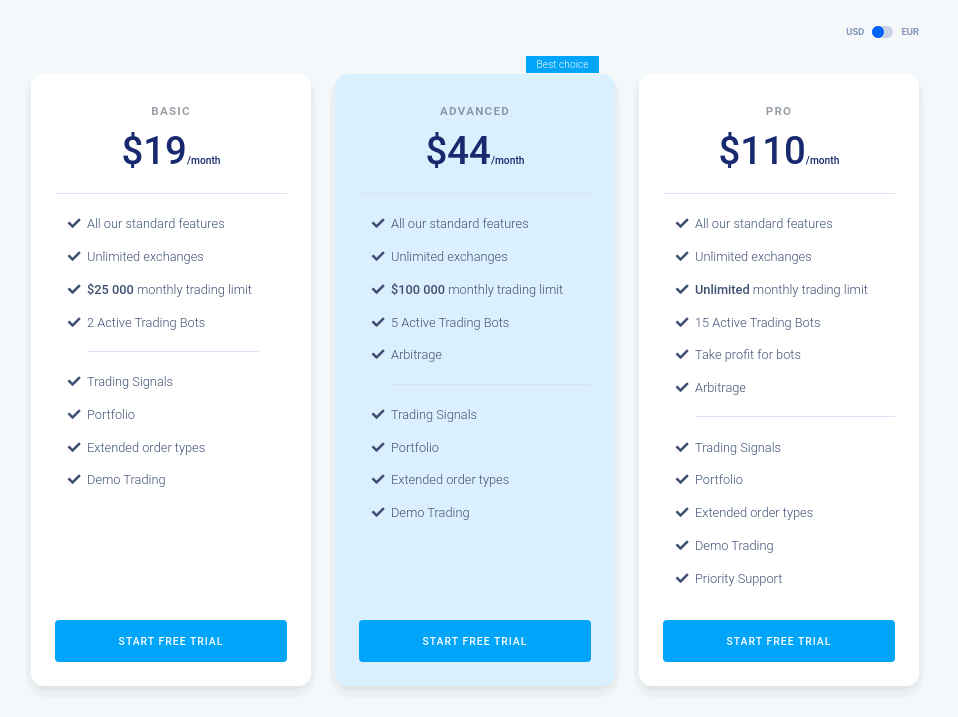 Is Bitsgap legit?
Most of your funds are stored securely on your cryptocurrency exchange platform's account. Since this bot uses API credentials to link your crypto exchange to the Bitsgap bot but does not have the permission to enact a withdrawal on your account. Furthermore, Bitsgap recommends utilizing 2FA, and if you attempt too many wrong logins, your account would be suspended.
Bitsgap Bot: Pros and Cons
| Pros | Cons |
| --- | --- |
| Bitsgap provides a simple configuration and preconfigured trading bots. | The platform does not have a mobile app yet. |
| The platform provides arbitrage opportunities. | |
| Bitsgap provides crypto signals through its dashboard. | |
| You can start with a 2-week trial with no credit card requirements. | |
3. CryptoHopper
What is CryptoHopper?
CryptoHopper is a stop-shop platform that offers trading bots, exchange arbitrage, copy trading, backtesting, strategy creation, and other services. Besides, the platform provides trading bots for crypto signals on Telegram channels. Furthermore, the MarketPlace is the most crucial element of CryptoHopper.
To learn more, read the CryptoHopper review. Furthermore, you can use our CryptoHopper discount code to get outstanding deals.
CryptoHopper Features
The platform comes with various trading features such as the Market-Making bot, Arbitrage tool, strategy designer, etc. Moreover, CryptoHopper provides its all-in-one, third-party Marketplace that offers services such as CryptoHopper signals, apps, trading strategies, and templates.
The platform goes a step ahead and provides a Telegram CryptoHopper signals bot. Moreover, the bot enables you to automate your trades coming from crypto signals. CryptoHopper also provides a paper trading mode to test your trading strategies and bots without putting your funds at risk.
CryptoHopper Pricing
The platform is primarily available in four subscription plans; see below. In addition, you may begin with the Explorer plan and take advantage of a free trial. You may also pick an annual membership and save money on monthly fees.
Is CryptoHopper safe?
The platform has been up and running for more than three years with no significant issues which have resulted in customer losses. Furthermore, since CryptoHopper uses API keys and does not have the authority to process withdrawals from your trading exchange.
Please be warned that trading using automated bots such as CryptoHopper is risky in volatile market circumstances. Therefore don't put more money in danger than you can afford to lose.
CryptoHopper: Pros and Cons
| Pros | Cons |
| --- | --- |
| No commissions apart from monthly subscription charges. | The platform does not provide phone numbers for customer service. |
| Investors can access high-lever research softwares. | You must be subscribed to a monthly plan to use all the features of the platform. |
| The mobile app comes with almost all the features. | |
| The CryptoHopper Marketplace is a haven for beginners. | |
4. HaasOnline Kucoin Bot
What is HaasOnline?
HaasOnline is one of the first companies to provide cryptocurrency trading bots. Moreover, the software makes it simple to construct a trading bot depending on your investment strategy. You may even backtest your trading bots and invest actual money only when you are confident in the bot's performance.
To learn more, read the HaasOnline review. Furthermore, you can also use the HaasOnline coupon "COINCODECAP" to get a 10% discount on HaasOnline.
HaasOnline trading Bot: Features
HaasOnline allows you to backtest your trading strategy and prevent and unnecessary losses. The platform provides its services using the desktop application and the HaasScript to create your trading bots. Furthermore, HaasOnline will soon introduce a Cloud Management service, which would let you skip the worry of software updates.
HaasOnline trading Bot: Pricing
HaasOnline offers three subscription plans: Beginner, Simple, and Advanced. Furthermore, you have the option of selecting a 3-month, bi-annual, or yearly plan term. However, you will have to pay the membership fees in BTC, and you will also receive a discount on the annual subscription. Refer to HaasOnline or the picture below for further information on features:
Is HaasOnline safe?
HaasOnline, situated in Rotterdam, is one of the earliest trading bot providers. Moreover, the platform is the product of the combined experience of Josh Becker, Quintus de Haas, and Rustim Rhoda. Moreover, they know what they're doing most significantly, providing the safest trading bot software. Additionally, with the addition of HaasOnline Cloud Management, the platform will become even more safe and efficient.
HaasOnline: Pros and Cons
| Pros | Cons |
| --- | --- |
| You can create an infinite number of strategies. | The platform is not beginner-friendly. |
| The software provides very high performance. | The subscription plans are too costly. |
| HaasOnline completely focuses on its users' privacy. | You have to update the software frequently. |
| With the launch of HaasCloud, you wouldn't have to download frequent software updates. | |
Kucoin Trading Bot: Conclusion
Kucoin is one of the best crypto exchanges out there. Moreover, the platform has an edge over others as it provides Kucoin trading bots to its users. However, if you wish to go for an alternate trading bot, you can connect the bots to Kucoin using API keys.
Firstly, Bitsgap comes with many features such as Bitsgap demo trade, Grid trading bot, Futures trading bot, etc. Secondly, the Options trading bot 3Commas is particularly very famous. Furthermore, CryptoHopper provides one of a kind Marketplace where you can find various third-party services such as crypto signals. And lastly, HaasOnline is the go-to software for coders who wish to create their trading bots from scratch.
For ease of use, we suggest going with the Kucoin trading bot or Bitsgap trading bot. However, you can also go with CryptoHopper or 3Commas if you're looking for a ton of features.
Frequently Asked Questions
Where can I find the Bitsgap app?
Bitsgap does not offer an app on iOS or Android as of July 2021. However, the platform has an interactive website and is planning to release an app soon.
Best CryptoHopper indicator settings?
The best indicator settings are relative to every trader. However, if you wish to trade on the safe side, then you can go for the following settings:
RSI: buy when it goes below 25 and sell when it goes above 75.
Williams %R: buy when it's near 100 and sell when it's near 0.
MACD histogram: Buy on the lowest bottom and sell on the highest top.
However, you must remember that these indicators can give false signals at times, and nothing in this article is financial advice. So trade at your own risk.
Is CryptoHopper bot cloud-based?
Yes, the CryptoHopper trading bots are cloud-based. Hence, the bot will be up and running even if you shut down your device and sleep.
Which is the best free crypto trading bot?
Pionex is one of the best free crypto trading bots out there. You don't have to pay any kind of subscription fee to the platform. All you have to do is deposit funds in your Pionex account and start using the bot.
How to hook up TradingView to 3Commas?
You can easily connect more than one indicator from TradingView to your trading bot, and the bot will execute trades based on those signals. Follow the below steps to combine the two:
– First of all, create a new bot from the DCA bots tab.
– Then head over to the bot viewing page, and find "Message to close order at Market Price" and "Message for deal start signal." 
– Thirdly, go to your TradingView account, and check the 'Webhook URL' checkbox from the "Alerts" tab. Now, paste the URL, https://3commas.io/trade_signal/trading_view
– Now paste the second message from step two into the 'Message field' to create a TradingView notification and initiate a trade.
– Finally, repeat steps 3 and 4, use the first message from step 2.