Crypto trading bots are used by traders to take their fear and emotion out of their trading. These trading bots allow you to run your trading strategies 24*7.
Here in this article, we have compiled a list of the Best Free Open Source Trading Bots that are currently available in the crypto market.
We have gathered a list of what we feel are the best free open-source trading bots available, and therefore this article is intended to be reasonably educational.
So, without further ado, we'll briefly discuss these trading bots so you can find the best one that suits you.
Also read, 5 memecoins ready to explode in Summer 2023
Summary (TL;DR)
Crypto trading bots are known as autonomous software programs that automate all the manual processes needed to trade.
Free, open-source trading bots are available to download and only require a bit of command-line experience to get up and run.
Superalgos is a token-incentivized free and open-source project building an open trading intelligent network. In short, we can say that it is an open-source trading bot.
3Commas is also free to use a crypto bot, However, it's not open source.
Pycrypto bot lets people contribute to the project by answering the community questions in the Telegram group.
Pionex is one of the biggest market makers of Huobi in the world and is invested by Gaorong Capital, Zhen Fund, and Shunwei Capital for more than 10,000,000 USD. (Not Open Source, but is free to use)
What are Crypto Trading bots?
Crypto trading bots are programmed to help you automate your trading strategy. With the help of these crypto trading bots, you could make money even while sleeping as they work until the crypto market is on, i.e., 24*7.
Moreover, these bots operate every second without getting tired of making a profit from crypto market volatility. By programming your trading strategy, you can create your own trading bot. However, there are paid subscriptions by various platforms that provide this service.
How do crypto trading bots work?
Market experts and professional coders get together to create crypto trading bots by coding a trading strategy. Additionally, these trading bots automatically open and close positions on your behalf if they encounter any market opportunity.
Moreover, these crypto trading bots analyze the market performance and the potential risk of a trade to make correct decisions. It will then only execute on low-risk trades and avoid high-risk options unless and until you ask it to do so. Furthermore, they only follow a pre-planned strategy as they are free from human emotions.
1. Superalgos
Superalgos is known as a trading automation and crypto market research platform. The specific goal of this platform is to integrate all the crucial elements required to produce trading intelligence. Superalgos allows end-users to create sophisticated trading strategies through a visual designer with built-in backtesting capabilities based on historical market data.
It has almost 2k monthly downloads and is an open beta that has been trading live since 2020. The platform has its own token, i.e., the Superalgos(SA) Token, which is distributed exclusively among contributors as an incentive for contributing towards the project.
Read our Superalgos review to know more.
Also, read Where and How to Buy SuperAlgos (SA) Token?
Features
Superalgos interface is highly visual as it is built around a visual environment. Hence, helping users understand the complex relationships among the many concepts that are involved in crypto trading.
Users can download open, high, low, close, volume data (OHLCV) from multiple exchanges and markets.
The platform allows the transformation of raw market data into traditional indicators.
The system features visual scripting solution where with minimal coding, you can build custom indicators.
Plotters can be built without coding. Plotters create graphics for custom data so that all the data, even the custom indicators, can be plotted over the charts.
The platform also implements the concept of Trading Farms. Here, all the tasks can be deployed over multiple virtual and physical machines in a coordinated fashion.
Moreover, Superalgos offers four types of trading sessions: backtesting, paper trading, live trading, and forward testing.
2. 3commas
3Commas is a crypto trading bot provider that is simple and easy to use. The platform is dedicated and aims to reduce risks and maximize the profit of the traders. 3Commas has a system and algorithm that is transparent and straightforward.
In addition, the platform offers various exciting features and ready-to-use strategies to its users. To know more readout 3Commas Review.
Features
3commas has SmartTrade combined with TradingView indicators to trade efficiently just by connecting API.
It accepts Credit cards, PayPal, and bitcoin as payment methods.
It deploys 2FA for security and does not hold your funds on its platform. Therefore it doesn't have the right to withdraw or manipulate your funds.
You can customize your 3commas bot which is susceptible to TradingView signals to receive notifications.
You can go through the academy and learn about setting up a 3commas bot.
For trial purposes, it provides a 3-day full access trial period.
It has a dynamic trading terminal, an interface that allows the management of multiple exchanges.
The bot services differ by platform. Check the limitations here.
Also, read 3Commas Review | An Excellent Crypto Trading Bot [Updated]
3. PyCrypto
PyCrypto or Python Crypto bot is a free and open-source crypto trading bot project under the Apache Version 2.0 license. Among the various features that the bot offers, it has recently launched a newly added feature that allows it to deliver status messages to mobile apps and the Telegram web. In addition to this, the users can add all commands to the bot for easy access, the show closed trades, show configuration for exchanges, show margins for open trades, and display stats for the market.
Features
PyCrypto bot is a collection of both secure hash functions like SHA256 & RIPEMD160 and several encryption algorithms like DES, AES, RSA, ElGamal, etc.
The package here is structured in a way that new modules can be added easily.
The bot supports Binance and Coinbase Pro.
PyCrypto lets you configure the bot in two main ways, i.e., either by passing options via command-line arguments or in a config.json file.
The bot gives you the option to run in live or test mode. The default is the test mode. Moreover, you can also switch to live mode from test mode.
The bot also uses technical analysis for buy and sell signals.
4. Freqtrade
Freqtrade is an open-source and free crypto trading bot written in Python. It is designed to support all significant exchanges and be controlled via Telegram. In addition, it contains backtesting, plotting and money management tools, and strategy optimization by machine learning. Moreover, the Freqtrade bot can be used to trade on Bittrex and Binance.
Freqtrade is a crypto-currency algorithmic trading software developed in Python (3.7+) and supported on Windows, macOS, and Linux.
Features
Users can develop their strategy in Python using pandas.
It lets users download historical data of the markets and crypto exchanges that they want to trade with.
There is always an option to test strategy on downloaded historical data.
With the help of hyper optimization, which employs machine learning methods, users can find the best parameters for their strategy.
Moreover, you can test your strategy with stimulated money or can deploy it with real money.
There is always an option to control/monitor data using Telegram or a REST API.
Pros and Cons of Crypto Trading Bots
| Pros | Cons |
| --- | --- |
| Trading bots do not have emotional outbursts to buying or selling while trading. | Implementing trading bots is a time-consuming process as it requires learning to manage the tools efficiently without any potential error. |
| The Crypto market never stops, nor does the trading bots, i.e., inaction 24*7. | Finding the right bot can be a little tricky. |
| It is easier to test your strategies with the help of backtesting and hence make it perfect to respond to the market only in a way that generates profit. | Some crypto trading bots can also present a security risk. |
| There is no need to have a market check all the time. Instead, you need to monitor the progress and status of the bot. | |
| Bots save a lot of time and are quick to make trades. | |
5. Pionex
Pionex is a crypto exchange and auto-trading platform that has over sixteen free trading bots. Pionex comes out to be the best choice among all kinds of traders as it offers them various categories of free bots. The crypto trading bot can help traders buy at a low price and sell in a high price range. The bot never stops even when you are working, having a holiday, or sleeping.
The exchange is regulated in Singapore and United States. Moreover, the crypto exchange is backed by some of the big names in the crypto industry, such as Banyan Capital, Zhen Fund, and Shunwei Capital. Furthermore, Pionex exchange gets most of its liquidity from Huobi and Binance, making it fast, to a point failure resistant and reliable.
Read our Pionex review to know more.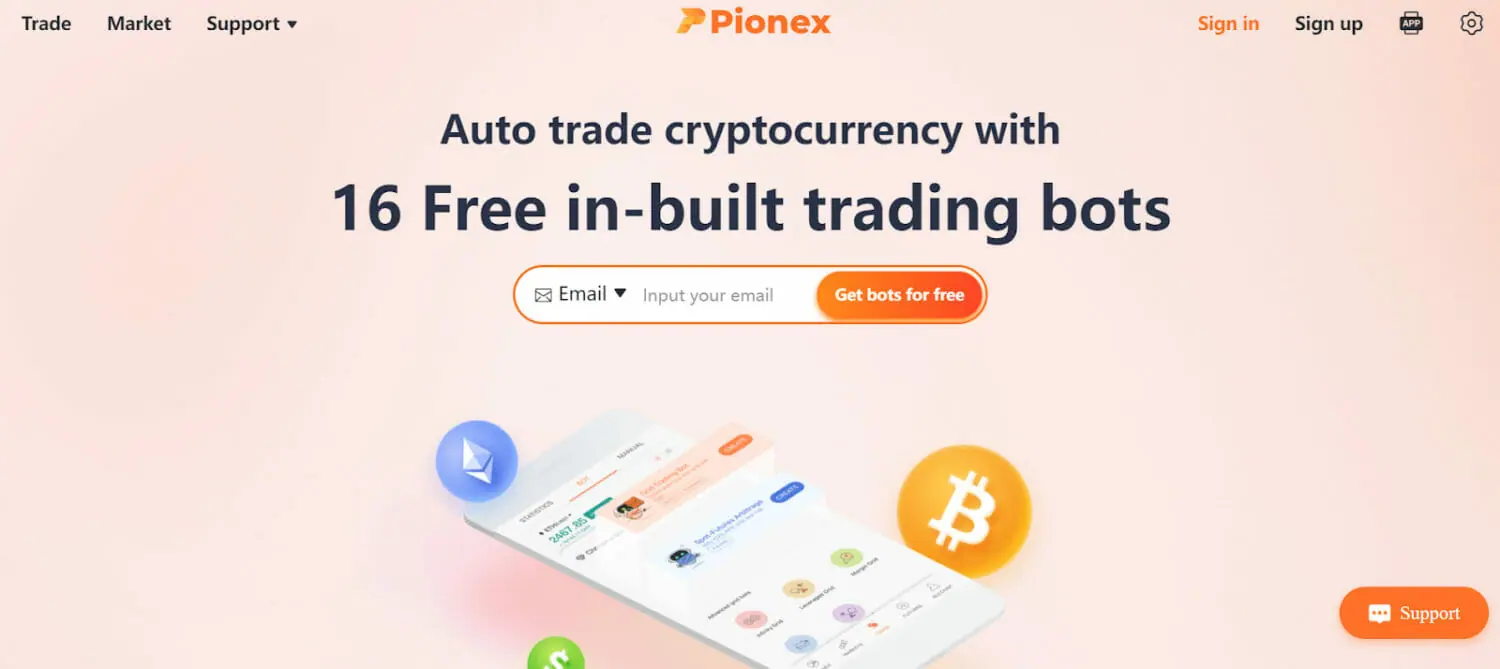 Also, read Pionex Arbitrage Bot | Earn through Spot – Futures Crypto Arbitrage
Features
Pionex provides users with in-built crypto trading bots.
The exchange trading fee is only 0.05% for the maker and taker, while the bots are free.
Its innovative liquidity engine aggregates the liquidity from Huobi and Binance.
With the Grid Trading bot, you can make profits from the volatility.
The trading bot helps you auto-buy low and sell high in a price range even when you are sleeping, having a holiday, or working.
Pionex arbitrage bot helps investors seize arbitrage opportunities in the volatile crypto market.
Pionex has acquired MSB (Money Services Business) license by FinCEN.
Conclusion
Crypto trading bots can only be effective only if the bot that the trader chooses suits him the most. These bots conduct several functions eliminating the need to monitor the market 24*7 for fluctuations, reducing the risk, automating most trading activities, and executing trading strategies. Here, we have shortlisted the Best Free Open Source Crypto Trading Bots that will surely help you choose your best fit.
Frequently Asked Questions
Why do we need Crypto trading bots?
The answer to this is pretty simple; crypto trading bots overcome humans' computational and physical limitations. In theory, these trading bots are supposed to generate profits by just looking through the exchanges for even the slightest changes in the crypto market, high-speed decision-making, and monitoring prices. 
How can you create a crypto trading bot yourself?
More or less, the creation of bots is the same around every platform, and for that, you need to follow the below steps:
First, you need to select the exchange and then connect to it via APIs.
Then, choose a strategy and some device rules for it either with a code or drag/drop.
It would be best if you always backtested your strategies. Observe the result of your newly created crypto bot on historical data, and then mark the results. 
Lastly, deploy and monitor. Once your crypto bot gives you satisfactory results, deploy it and monitor its performance. 
Can I open short positions in Freqtrade?
No, Freqtrade does not support trading with margin/leverage and cannot open short positions. However, in some cases, your exchange may provide leveraged spot tokens which can be traded with Freqtrade, e.g., BTCUP/USD, BTCDOWN/USD, ETHBULL/USD, ETHBEAR/USD, etc.