OKX is one of the best crypto exchanges that offer futures trading. Moreover, the platform supports nine crypto assets and up to 100X leverage. Furthermore, OKX is the best place to start your trading journey on the crypto futures market.
Summary (TL; DR)
OKX (Previously OKEx) is a crypto exchange with diverse crypto assets, services, trading pairs, payment options.
One of the services offered is Futures Trading in Standard and Perpetual Swaps contracts with up to 100X leverage.
The trading procedure is easy and comes with two margin modes- Fixed and Cross.
Traders get automation options for best bid offers.
You can move ahead with futures trading at OKX (Previously OKEx) easily and at low fees.
What is OKX (Previously OKEx)?
OKX (Previously OKEx) is an exchange curated for traders of all kinds, from beginners to veterans, with the scope of customization. In addition to being operational in over 200 countries, this platform offers 400+ trading pairs, multiple fiat currencies. It enables traders to convert over 30 local currencies into BTC, ETH, USDT, or desired crypto assets with VISA, Mastercard, and many more payment options. To learn more, read OKX (Previously OKEx) Review.
Moreover, trade-in Spot, Margin, DEX, Perpetual, Futures, and Options with various order types- limit, market, stop, and iceberg. Furthermore, OKX (Previously OKEx) enables crypto borrowing & lending and advanced tools for mining and wealth management.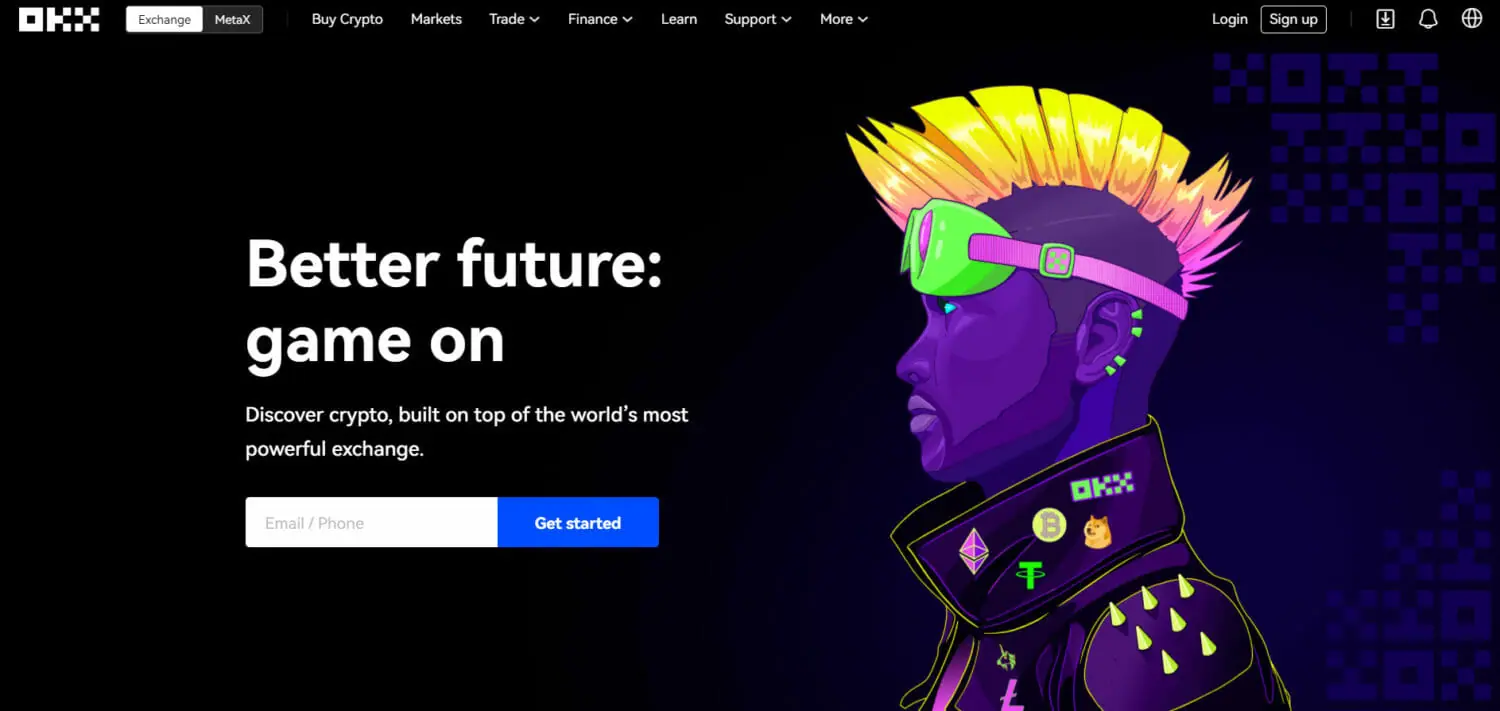 What is Crypto Futures Trading?
Crypto futures trading is buying or selling a contract at a predetermined price for a predetermined time. Here, a trader either buys or sells an underlying asset at a set price and date in the future. These crypto-assets are primarily BTC, ETH, LTC, DOT, XRP, ETC, and others. The trader can either trade in a time-framed futures contract or perpetual swaps.
The expiry date is used to identify futures. When the contract is about to expire or has already expired, the trader will close it with cash. To learn more, read our guide for trading futures in crypto.
OKX (Previously OKEx) Futures Trading
OKX (Previously OKEx) includes futures trading under the big umbrella of services. It is one of the best futures trading platforms. Furthermore, it is a derivative that OKX provides to buy/ sell crypto-asset contracts for digital assets like BTC or LTC with leverage ranging from 0.01 to 100.
Moreover, each of these contracts represents USD100 or USD10 for BTC or other digital assets, respectively. Furthermore, these contracts have a duration period of a week, two weeks, a quarter, or two quarters.
Derivatives trading (future and options) supports underlying asset's price discovery as they are necessary tools to predict or speculate price movement for the markets. The movements in the futures market are a good indicator of the market sentiments hence support in price movement.
Also read: OKX Margin Trading
OKX (Previously OKEx) USDT Margined Futures
On OKX, a trader can build their portfolio by trading in USDT margined futures. You can also keep track of them through Derivatives or mark prices. This helps in determining the movement of the asset.
Almost all contracts have good volume in both USDT margined and coin margined. Traders can have open positions in multiple contract types at the same time to hedge their positions well. Over the choice, the length of the time of the contract can also be determined by them. The trader can keep using the same tactics while trading perpetual swaps.
OKX (Previously OKEx) Perpetual Swap
OKX (Previously OKEx) Perpetual swaps are like future contracts with which traders can take long or short positions in the underlying assets. However, a futures contract has an expiry date or is valid for a specific time only. A perpetual swap can go on indefinitely in theory. The trader can continue to hold their position as long as they want. The price and the underlying asset price will converge as the contract nears expiry. But for a perpetual swap, traders will have to pay a funding fee to not diverge significantly from the underlying asset spot price.
OKX (Previously OKEx) Futures Trading: Features
High Liquidity- Traders can trade futures contracts on OKX at high liquidity, implying the best prices for these contracts.
Market Data Available- OKX provides market data and futures trading charts to understand market trends better. It gives both current and historical market data for maximum benefit.
Variety of Contracts- OKX offers standard and perpetual swap futures contracts for multiple digital assets.
Reducing the risk factor: OKX aims to reduce the risk factor in regards to price volatility and leverage position. For example, it fixes contract value to USD100 instead of BTC. Hence, it enables leverage multipliers to be constant and stabilize profit/ loss. Furthermore, it helps traders to plant and arbitrage to manage their funds. For instance, USD100 invested will generate profit in the following manner: USD100 * fixed leverage multiplier * BTC price change
Additionally, OKX gives a system to protect traders against manipulation strategies in the market. It computes indexes from indices of six different major crypto exchanges.
How to trade futures on OKX (Previously OKEx)?
OKX supports standard futures trading and perpetual swaps. It allows futures trading for nine primary digital assets: BTC, LTC, ETH, ETC, BCH, XRP, EOS, BTG, and USD.
Create an account
Visit the official website of OKX (Previously OKEx) and create an account by signing up. Furthermore, verify your email and log into your OKX (Previously OKEx) account.
Use this link to create an account on OKX (Previously OKEx) and get a discount on the trading fees.
Funding Futures Account
Traders need to fund their accounts to start trading futures on the platform. So, firstly, navigate to funds under the dropdown menu at Assets. Thereafter, click on the transfer option and then, move funds from Funding Account to Trading Account.
Select a Futures Contract
Firstly, choose the margin type positioned on top of the page. For example, here are two types of margin:
Crypto Margined Futures
USDT Margined Futures
Secondly, choose the desired duration frame for the expiration of the contract. Depending upon the name, traders get information about the contract.
For instance: BTCUSD0807. Here, 0807 indicates the expiration date of 7 August 2020.
Select Leverage for the Contract
After the completion of funding, choose the margin mode and desired leverage multiplier. There are two margin modes at OKX (Previously OKEx).
Fixed: The margin does not change with price fluctuations.
Cross: The margin varies with the price change.
Order Details and Execution
Enter desired Order Type, Price, and Amount for the trade. However, If you wish to save time, click BBO, which executes a trade at the best bid offer. Finally, decide whether to go long or short. A long/ short position means buying/ selling crypto.
Examine your Order
Finally, once the trade executes, traders can evaluate the status of their position by navigating to the Open Positions tab on the bottom of the trading view. The screen reflects Average Price, Liquidation Price, Unrealised P&L, and other beneficial information.
Close your Position (optional)
If the traders want to balance the open position, they can tap Close on the Open Positions tab.
Also, read 3 Best Futures Trading Bots | Future Bot.
OKX (Previously OKEx) trading fees
OKX futures trading fees are competitive and different for VIP and regular users. Moreover, you can see the complete list by visiting the OKX fees section.
OKX Futures Trading: Conclusion
OKX is a beneficial crypto exchange for beginners and experienced traders. It offers many services, order types, and trading pairs, one of them is futures trading. However, The contracts themselves are risky and primarily advisable for veteran traders. Futures trading comes with a lot of options to customize the order and get maximum benefit. Although, The process itself is easy and comes with up to 100X leverage and low fees. Overall, futures trading on OKX is easy, inexpensive, and profitable.
Frequently Asked Questions
Which crypto assets are allowed for futures trading on OKX (Previously OKEx)?
OKX (Previously OKEx) supports futures trading on the exchange with up to 100X leverage. It supports nine Cryptocurrencies- BTC, LTC, ETH, ETC, BCH, XRP, EOS, BTG / USD.
Is OKX (Previously OKEx) futures trading safe?
OKX (Previously OKEx) is the safest crypto platform with high trading liquidity and volume. It is globally operational. Futures trading on OKX (Previously OKEx) is secure. Traders get to customize their contracts to keep volatility and risk under control. Moreover, OKX (Previously OKEx) provides a system for the prevention of price manipulation in futures trading. OKX is safe for futures or trading in general.